Things get stranger the farther away you are from home, and wherever you come from, there's nowhere farther than the North Pole. That's where Longyearbyen is located. It somehow resides on an Arctic Ocean archipelago called Svalbard. More than 2,000 residents live here, including hundreds of children who were rescued from abusive homes. Everyone here is subject to Norwegian law—and some bizarre restrictions, including one that prohibits death.
You can't die in Longyearbyen, but the place is constantly trying to kill you. Every year, the permafrost expands at a rate of about 4 centimeters, and with it, the graves of virus-ridden corpses (apparently death wasn't always against the law). The climate keeps the bodies from decaying, to the delight of the few animals that can survive the Arctic winter, namely the carnivorous—and surprisingly swift—polar bears, which are why you're required to carry a rifle at all times.
I arrived here at the end of October, the last leg of an Arctic journey with a friend, during the long polar nights. For months, darkness blankets the sky, save for the green-red glow of the northern lights.
The town is erected on an immense ice cube, located between twin icy peaks. There are barely any shops or buildings, and the few that exist sell a bit of everything: You can rent a Mauser rifle at the clothing store and send a letter at the supermarket. All products have to be imported—from salt to brandy—thanks to a climate that kills even the most tenacious plants. What's also here is the Svalbard Global Seed Vault, a futuristic, underground bunker that stores millions of seeds from around the world—and is capable of surviving a nuclear holocaust.
There was no such extinction-level event while I was in town, but not long after I arrived, my companion came down with a severe fever. Longyearbyen is home to the northernmost medical center on Earth. But since death is not an option, if you get really sick, you'll kindly, but firmly, be escorted back to the Norwegian mainland, which is what happened to my friend.
Shortly after he departed, I wandered aimlessly around town until I found a cognac bar tucked away in a building. The owner is an Irish hipster with prison tattoos and a life story that ended in disappointment. Here, everyone seemed to have their own mysterious reason for leaving civilization behind.
After a few drinks, I walked toward the pier, where a small group of tourists were boarding a boat. I asked the guide where they were headed. "We are sailing to Pyramiden," she replied, "the lost Arctic city."
I had never even heard of Pyramiden. But since most of Longyearbyen's tourist attractions are closed during the dark polar months, and it was the final day of my trip, I decided to join the group—a few tourists and the Filipino crew.
On the way to Pyramiden, we stopped for lunch: minke whale steak and some million-year-old ice chunks that cooled my glass of 18-year-old Macallan whisky. "It's the purest water on Earth, but it's also devoid of any nutrients—even vitamins," a Filipina boat worker told me. "So if you live here and sustain yourself from these ice waters, you'll need to take pills."
Not long into our six-hour sojourn, we lost all means of communication, and our only entertainment was the whales and walruses escorting us through the icy blue waters.
As we approached Pyramiden's port, our Scandinavian guide gave us a stern lecture and two hours to explore. "Please stay close," she said. "You must keep in line with the local representative's instructions and are forbidden from entering, exploring or touching anything, other than what he shows you. I'll be staying on the boat, so please follow these rules carefully, as you are now entering Soviet sovereignty."
"Don't you mean Russian?" I asked.
"No," she replied, forcing a smile. "Soviet."
Back to the USSR
There are only three people who live on Pyramiden, and one of them was our tour guide for the afternoon. Ivan, a 7-foot-tall, bald Ukrainian with a blond Viking-warrior beard and penetrating blue eyes, looked as wild and mysterious as the place he inhabited. He wore thermal military gear, carried a rifle and a handgun and had rounds of 8 mm bullets slung across his chest.
We met Ivan at the entrance to the town, near a tall, red triangular monument that displayed the town's name in Russian and English. Behind it, a narrow valley unfolded, sheltered by icy peaks that cast a strange shadow over the dozens of buildings that composed the settlement.
Ivan took us around the central plaza. His manner and bearing were very Russian: He didn't try to be nice or accommodating. Instead, he saw the tour as his patriotic duty, one he carried out with the utmost sincerity. His Russian accent didn't mix well with the Macallan, so I barely understood a word he was saying. He was persuasive nonetheless.
What I gleaned is that the Swedes created Pyramiden in 1910 as a coal-mining station and named it after the surrounding glaciers, which resemble the Giza pyramid complex of Egypt. Not long after its inception, the Swedes abandoned the station due to the harsh climate, selling it to the Soviets 17 years later.
During the 1940s, the Soviets decided to turn Pyramiden into a settlement, sending 1,000 men, women and children to tame this Arctic frontier. They designed buildings, paved roads, mined coal and brought sand and grass from Siberia. Why the Soviets did this is still a mystery. Some of it had to do with the grandiosity of imperialism; if the USSR could conquer the Arctic, surely it could conquer anything. The settlement's proximity to North America, some say, made it a strategic foothold for intelligence gathering or maybe even a surprise attack. Others have wondered if the site was a spy training facility or a secret testing ground for unconventional weapons.
Whatever the reason, surviving here demanded creativity and endurance. Bound by nature but free from politics, this Soviet ice colony endured and even prospered for more than four decades. In 1998, years after the collapse of the USSR, residents of Pyramiden abandoned it. The coal mine, apparently, wasn't profitable. But then, it had never been profitable. I wondered what really caused them to leave. What had turned this place into a ghost town, a time capsule of its Communist past?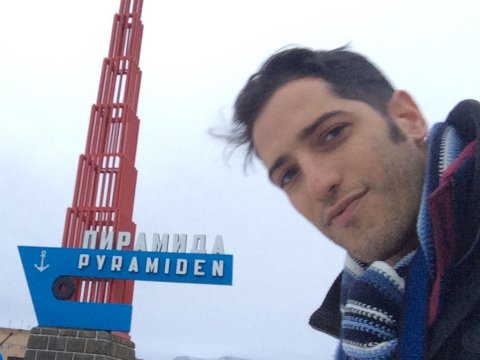 As we continued our tour, I noticed the relics around us: wooden cabins along the main boulevard that housed the settlement's bachelors, as well as a grand, Soviet-style building called the "Mad House," where families had lived. (The children's laughter and screams apparently inspired its nickname.) Art nouveau buildings—all exquisitely preserved—checkered the main road, housing a dining hall and a "culture palace," which boasts a grand piano Ivan called "Red October." There was also a school, a hockey field and an indoor swimming pool. Nearby, a coal mine train track connected the base of the settlement to the peak of the northwestern glacier. In the town's center was a statue of Vladimir Lenin, his squinting eyes fiercely inspecting this Arctic riviera. Behind Lenin was an enormous building, an old government headquarters, which I suspected was used for intelligence purposes.
Ivan continued his spiel, and maybe it was the Macallan wearing off, but I slowly began to understand what he was saying. "Pyramiden was meant to be the utopian Soviet society," he said, a place "where any foreigner could come without a visa, serving as an exhibition of the Soviet Union at its best and proving that not only can Communism work, but it can be a true heaven on Earth."
The group took selfies with Lenin, but I couldn't help but snicker.
"Why do you laugh?" Ivan scolded me. "This is our great culture."
"Oh, no, comrade!" I reassured him. "I was told that if I travel far enough north, I might encounter Santa Claus and his reindeer. But it seems that the exact opposite is true. If Santa Claus is a symbol of excessive capitalistic consumption, a statue of Lenin is surely the antidote!"
Ivan was not amused and hurried us along on the rest of the tour. If the outside of the buildings seemed like a quaint, Communist museum, the inside of these buildings looked like the set of a Soviet horror film: There was a children's nursery with rows of beds, a chamber pot under each, and tiny pairs of perfectly arranged children's shoes. The classroom's desks were piled with books and pencils, Soviet comics and half-finished math exercises, as if a fire alarm had interrupted them mid-class, and everyone had fled.
"Why would you live in this freezing, lonely no-man's-land?" I asked Ivan.
"We are not alone," he replied. "There are thousands of angry polar bears all around us."
Our tour ended at the Pyramiden Hotel, a stylish building with a lobby painted Stalin red. There's a small, lavish bar here, which Ivan and company recently renovated after a polar bear broke in and drained the beer supply. Or so he said.
Working the bar was a 19-year-old Russian in a black bowtie and vest, whom Ivan warmly referred to as Tom Cruise. He did vaguely resemble the actor, and his outfit seemed oddly natural considering the circumstances. Though he wears it for only half an hour each month, he took great pride in his work and presentation. Tom Cruise didn't speak a word of English—nor did the third "Soviet" on the glacier, a 50-something cook named Irena—but when I pointed at a strange bottle distilled with a suspicious root, he said, "Chrain," a word I knew from my Polish-Israeli grandmother. Chrain is a locally distilled horseradish moonshine, and it's a perfect cure for both freezing weather and homesickness.