The FX series Atlanta is labeled a comedy, but that's a simplification. The show is actually undefinable—an indelible and engagingly weird universe that seemed to emerge fully formed from the minds of co-creators (and brothers) Donald and Stephen Glover. Its tone— laid-back and dry-witted, with occasional helpings of Lynchian eccentricity (like, for example, an invisible car)—manages to evoke both a physical place and a state of mind. Mostly, though, Atlanta is about black writers and actors telling their story their way.
Season 2 premieres on Thursday, and the main characters—aspiring rap manager Earn Marks (Donald Glover); his cousin, rising rapper and drug dealer Alfred "Paper Boi" Miles (Brian Tyree Henry); and Paper Boi's odd roommate, Darius (Lakeith Stanfield)—continue to navigate Atlanta, a city where violence erupts quickly, the gap between rich and poor seems to widen daily and "lemon pepper wet" wings are the balm.
The cast took a yearlong break between seasons (the first ended in November 2016), but, says Henry, returning to Atlanta and Paper Boi "was just like getting back on a bike, except that the bike was kinda souped up, had some rims and the training wheels were off."
Paper Boi and Henry had best get used to rims. In addition to Atlanta, the actor landed a guest spot on This Is Us, which earned him a 2017 Emmy nomination, and a semi-regular role on HBO's Vice Principals. In addition to seven films due in 2018 (one directed by Moonlight's Barry Jenkins, another by 12 Years a Slave's Steve McQueen), he's preparing for a new Kenneth Lonergan play, Lobby Hero, co-starring Chris Evans and Michael Cera (opening March 26). It's a return to New York theater after years way; the Yale Drama School grad made his Broadway debut as part of the original cast of The Book of Mormon.
Newsweek spoke to Henry about his big year and Atlanta's unsettling first episode, "Robbin' Season," named for the city's annual pre-Christmas spike in crime. Prepare yourself, says the actor. "Season 2 gets a little dark."
The Season 2 opener begins with two random guys playing video games before they commit a robbery at a fast-food place. It's pretty grim.
It's also winter; it's colder outside. Everyone is being monitored [because of the crime wave]. I think Paper Boi gets a gun pulled on him every other episode this season. The humor is still there, but the show's plotlines have become more linear, especially for Alfred. Paper Boi's become this major entity in Atlanta, and he gotta take the reins and go along with it, and he's got to reconfigure some things. He can't navigate the same corners that he used to. Can he trap [deal weed] and be a rapper? Can he get rich and introduce new people to his life at this point? Who's got him? And I think the same situation is going on with him and Earn. The personal relationships, those familial relationships and business relationships, can they maintain at this time? Who can he trust and count on?
In Season 1's finale, Alfred tosses Earn a wad of cash, finally giving his cousin a little credit for managing his career. "We need to start stunting [showing off] on niggas more," Alfred tells him. But based on the first few episodes, it seems Alfred is struggling hard with fame.
Alfred has this desire to stunt on everybody—he's trying to, but he feels like he's being stunted on. Stunt or be stunted on—that's kinda like a lifestyle which happens, especially [when you're new in the game]. It's like, "Oh yeah, you got new gifts, you got new money, you got new clothes. Who you gone stunt on next?" It's not just survival anymore; it's eat or be eaten. Like, [in Episode 2 of Season 2] there's a scene in a car with Alfred's plug [supplier]. He congratulates Alfred on his success, being like, "You gone be good. You gone be great. That single is fire, man," and then he pulls a gun and robs him!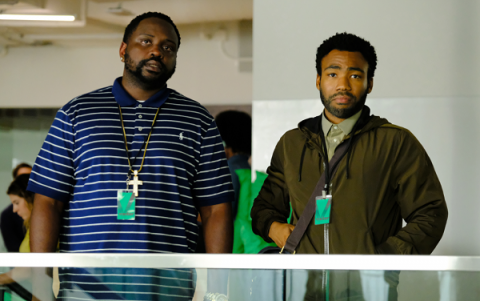 Episode 2 has a hilarious scene at a Spotify office, where Paper Boi is doing a promotional spot. As Earn diplomatically says of the white hipster staff, "This place has a certain vibe." Alfred looks (understandably) like he wants to kill them all.
Restraint is the biggest thing for Alfred this season. He's already been on house arrest. He's already slapped somebody with cash. Now, he's at a different level of his career, so he has to focus on restraint. And that is not the easiest thing for him.
Paper Boi and Darius have one of the most intriguing friendships on TV. Boi is gruff and direct; Darius is mellow and surreal. What's it like working with Lakeith Stanfield?
What's so great about our TV friendship is that is exactly how we are in real life. He is my little brother, and there's nothing that I wouldn't do for him. It was an instant connection when we first met, a long time ago. He's a great teammate to play with. Darius and Alfred have something that's kinda impenetrable, that we don't think Earn can recognize, and Earn gets a little pissed off about. And I know it's not gonna make Earn any happier now that [ex-con] Tracy is living in the house too.
One of the most unsettling things about the first episode is that Alfred and Darius aren't speaking.
The script said we were beefing, but we didn't know why. So Lakeith and I didn't talk to each other the day [we were filming]. It was ridiculous; we would look at each other and nod or whatever, but there were no verbal acknowledgments of any kind. When the scenes were done, we just ran to each other and hugged, like, 'I'm sorry, man!" [Laughs.]
How much of Alfred is on the page and how much is what you bring to the part? Are the show's writers open to your suggestions?
The set is a really familial environment, very collaborative—we improv together, and we bounce things off of each other. Our writers are so dynamic that we can just go into [a scene] with what's on the page, but when it comes to how we feel about our characters or a situation they're facing, we throw things in and improv and play around.
What's your favorite thing about Atlanta?
I love how extremely absurd, abstract, black, kamikaze we can be in this show without caring about anybody's judgment, without caring about how we're interpreted. But what I love most about the show is that it's ours. It's through-and-through ours. Our DNA is running through this project, and no one can duplicate or replicate it.
What are you hoping people take away from Season 2?
That these characters are human and still going through the same things that you're going through. They're young, black upstarts in Atlanta trying to find their way, and sometimes you don't find your way, and that's OK, too. Also, stunting is not always the best thing to do. That's definitely a message I had to learn. What's really important is to look to your left and to your right, to see your brothers and sisters next to you— ya'll coming up together—and to ask, How do we hold each other up?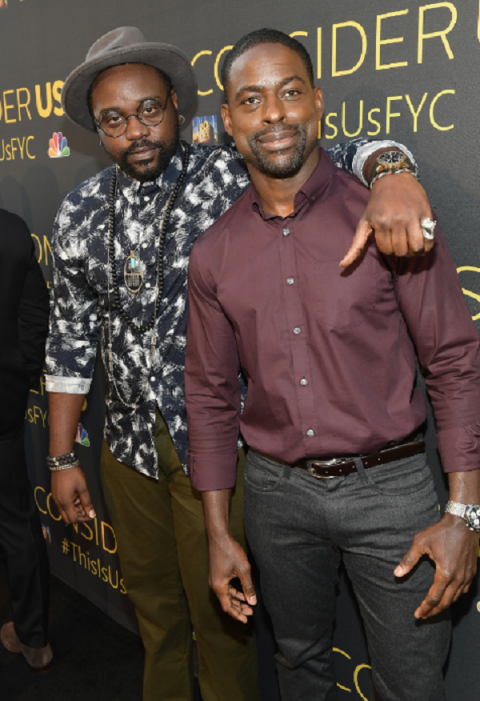 Speaking of holding each other up: You met your best friend, Sterling K. Brown, years ago, and your careers have exploded simultaneously—his with The People v. OJ Simpson, then This Is Us. He suggested you for the part that got you an Emmy nomination, playing his character's brother, a musician. How did you two meet?
We were in theater class together with another one of my friends, Tarell Alvin McCraney [the actor and playwright author of Moonlight], who I went to Yale with. Sterling and I ended up doing a show together, and we've been inseparable ever since. I was just telling him last night, "You know how your movie Black Panther is coming out this weekend? Do you remember how you were filming that at the same time that I was recording my song for This Is Us? And he was still filming when I went back to start work on Season 2 of Atlanta. It's like, "Bro, what's going on?"
It's really good to have a brother that's rooting for you, that is a fan of your work, but at the same time you're rooting for, too, to know you've got someone walking along with you and pushing you at the same time.
When I was growing up, there were a lot of black stereotypes on TV, with almost no strong, complex, black male characters leading shows, like you and Sterling are doing now. It's so good to see.
I love that I can hear you smiling as you say that. The greatest part is that we are nowhere near done. There's so many things going on in this world that can make us feel like there's nothing ahead for us. But I'm shredding all that [type of thinking], and that's exactly what we're doing with this season of Atlanta and projects like Black Panther. It's going to continue to be this way—we're going to continue to rise up and listen to each other and cultivate our own shit.