It took a while for the world to embrace a bomb thrower like Krysten Ritter. The actress began her career in the early 2000s, and for nearly a decade she played the funnier, smarter best-friend-with-no-last-name opposite more classically palatable heroines—she was Lucy on TV's Gilmore Girls (2006), Suze in the film Confessions of a Shopaholic (2009) and Patty in She's Out of My League (2010). She'd deliver profane lines ("Are you a plane doctor? No? So shut the fuck up!"), give the leading lady some tough love and steal every scene.
That began to change in 2009, with a recurring role on Season 2 of Breaking Bad. As recovering addict Jane Margolis, Ritter—a Goth Juliet to Jesse Pinkman's drug-dealing Romeo—revealed a range well beyond a killer riposte. That was followed by the titular role in the sitcom Don't Trust the B---- in Apartment 23, which lasted one underappreciated season.
And then came Jessica Jones in 2015. The Netflix collaboration with Marvel Studios, which returns this month for a second season, checks all of the actress's boxes: a superpowered, emotional wreck of a private investigator with the most deadpan delivery on TV. "It's like candy, getting to play Jessica," says Ritter, 36. "It's like going into savasana in yoga."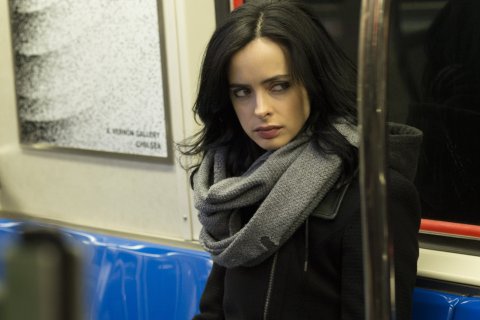 The actress credits Don't Trust the B's creator, Nahnatchka Khan, with liberating her from one-trick-pony parts. Khan, says Ritter, "knew what I was capable of comedically." It also showcased the physicality of her work, something Jessica Jones creator Melissa Rosenberg has come to rely on.
"Sometimes we'll even cut dialogue during rehearsals, because Krysten expresses it more profoundly through her physicality or what she's doing with her face," says Rosenberg, whose previous work includes writing for the series Dexter and the screenplay for The Twilight Saga: Breaking Dawn. "With Krysten, there is no holding back. She goes so deep." Ritter refers to the process as "cracking myself open."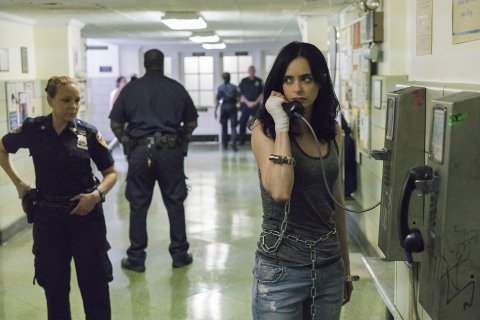 Jessica Jones is an uncostumed Marvel hero, and Ritter insisted on her character's unofficial uniform: bleached jeans and a black leather jacket. "In previous projects, when I was younger," she says, "if I felt I hadn't been given a seat at the table, I'd just stay quiet. But on Jessica Jones, I felt I could say, 'I don't think she cares about how she looks.' She's not secretly hoping the women in her life will think she looks good, or that the men will think she's hot. She dresses dumb, wears the same thing every day, no makeup, nothing going on with her hair. It's all an act of defiance."
In Season 1, Jessica battled rapist and abuser Kilgrave, a psychic supervillain played with delicious malevolence by David Tennant. Kilgrave tormented the city of New York until Jessica snapped his neck in the last episode. In the two years since, Jessica has appeared as part of a Marvel superhero team—along with Daredevil, Luke Cage and Iron Fist—on the Netflix series The Defenders.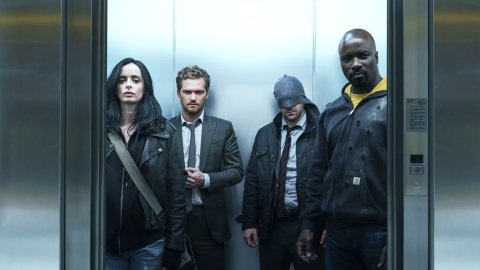 "Shooting that was honestly just a party," Ritter says. "It was more about the stunts, more time with the boys, who I really love. Some days, we'd destroy a set and have an hour until the crew could put it back together. On Jessica Jones, my butt does not hit a chair until we're done.
"Melissa and I are like two girls with a rock band in a garage," she adds. "That's how the set feels every day."
The show covers unusual topics for superhero dramas—like sexual assault and drug addiction—which makes it both physically and emotionally grueling. "After Season 1," Ritter says, "I was depressed. I'm a person who likes to feel light and free, and Jessica's headspace is very dark. I had to learn how to manage my schedule filming Season 2, whether it's knitting between takes or listening to music."
In her character's origin story, Jessica's family is killed in a car crash when she's a child, and in the new season she investigates the hospital where she mysteriously gained her powers. The season's villain is played by the powerful British actress Janet McTeer. Another storyline, involving Jessica's adopted sister, Trish, gets into sexual harassment, though Rosenberg says the show was completed before #MeToo picked up steam."I was texting Melissa as fast as I could when the Harvey Weinstein story came out, 'Oh my god, it's like you have a crystal ball,'" says Ritter. "We had no idea the Trish storyline would be so relevant."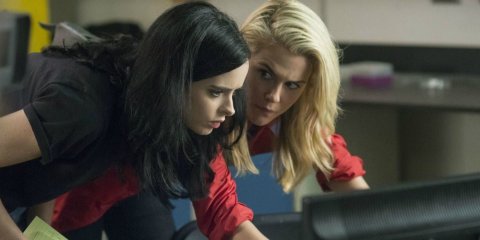 Long before that movement, during the show's first season, Jessica Jones was widely praised for its perceived feminist stance on emotional trauma. It wasn't about a message, says Rosenberg, who sees her creation as simply the next step in a cultural progression. "It's a conversation women have been trying to have forever, from Katharine Hepburn to Anita Hill to Thelma and Louise to Buffy the Vampire Slayer," says Rosenberg, who has assembled a crew of mostly women, which is still highly unusual in Hollywood. "It accrues over time, across suffragettes in the 19th century to feminism in the '70s."
In Season 2, several characters on the street, including children, ask Jessica whether she's a superhero or a vigilante, a question she never answers. For Rosenberg, it's simple. "I had to learn this on Dexter," she says, "but it's never about the powers or the case file or the villain. It's about the character, no matter the genre, and Jessica is a damaged, embattled person who just wants to put good into the world. That's what she is."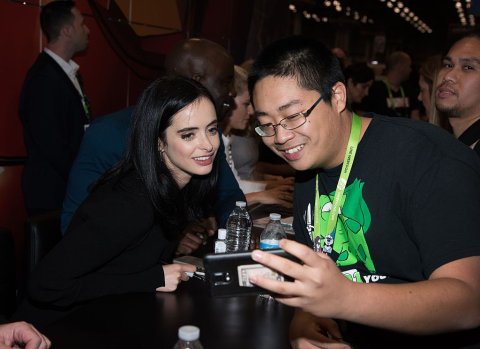 Ritter says fans seem to want her to be a superhero. "After our first season, women who had trauma in their lives came up to me to say what the show had meant to them," the actress says. "And then there were women at conventions saying, 'Hell yes, thank you for playing this badass!'"
Jessica Jones Season 2 begins streaming on Netflix Friday.