Tourists are lured to Havana by the ruin porn: the capital's decaying, pastel colonial architecture, its 1950s-era cars and the fading faces of its founding revolutionaries, Che Guevara and Fidel Castro. But when photographer Greg Kahn was on assignment in the city in 2012, he stumbled on a scene that gave him a glimpse of a different Cuba: a plaza full of young Cubans partying as a DJ played contemporary electronic dance music.
"They told me they hate this attitude of 'I want to go down there and see the crumbling buildings,'" Kahn said. "'We live here. We want these buildings to be fixed. We're a generation that wants to turn this around. We want to stay here. We love Cuba. We love being Cuban. And we want that to be depicted as well.'"
When he left the island, Kahn, a 2011 Pulitzer Prize finalist for his Naples Daily News series documenting the Great Recession's impact on Florida, knew he needed to tell that story. After seven trips to the city, he does just that in the book Havana Youth, an essential record of Cuba's transformational moment, due out this summer.
Havana, a city of 2.1 million people, with roughly half of them under 35, is an unlikely epicenter for a cultural revolution. Nearly 60 years of repressive government, economic embargoes and superpower tug-of-war left Cuba's capital a crumbling relic. But anyone who views the city through the lens of the past risks missing the youthquake reshaping the country, one typically characterized by scarcity and uniformity. Its millennials are "embracing what can be considered materialistic," Kahn says. "But it's also a way for them to connect and become part of the larger conversation. This is about the rise of individuality in a country built on collectivism."
Kahn photographed Cubans born after 1989, the start of the country's Special Period, when the collapse of the Soviet Union, Cuba's closest ally and primary economic benefactor, led to massive food and resource shortages. Out of extreme hardship, they developed a foundation of perseverance and ingenuity. And with the unprecedented new economic and cultural opportunities that followed Raúl Castro's succession as president in 2008, as well as President Barack Obama's move to normalize relations with the country—this ambitious, entrepreneurial, fashion-forward generation is finding its moment.
"The young Cubans that I have talked to are not burdened by the past," Kahn says. "They are redefining what it means to be Cuban."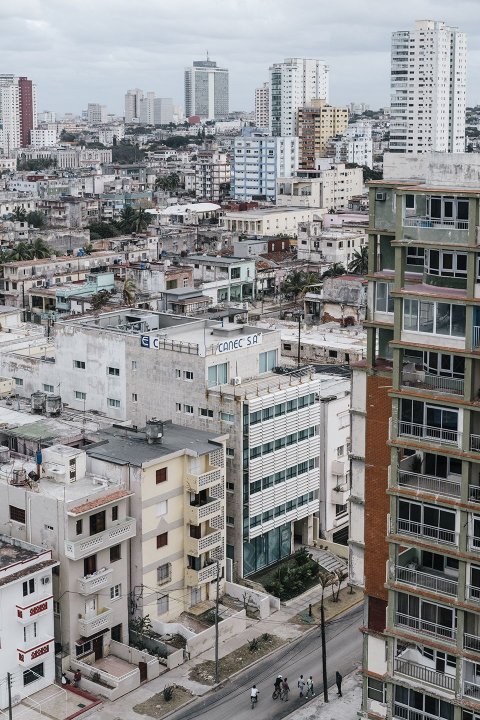 BRIGHT LIGHTS OF A BIG CITY
Since Obama opened the doors to American tourism again in December 2014, waves of visitors have poured in to capture Havana's picturesque decay, as well as the country's rich traditions of music and dance—all of which contribute to a stereotype of what it means to be Cuban. Kahn was interested in breaking that down. In the city's young adults, he found a cohort actively subverting expectation with their devotion to self-expression. For these millennials, it is important that we see a living, evolving country and not a dilapidated caricature. When Kahn's photographs would show up online, "they would say to me, 'You're showing a side that no one else is showing.'"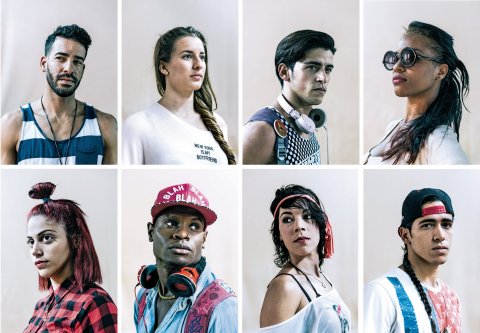 EXPRESS YOURSELF
The young people Kahn met and photographed upended the idea that in a collectivist state like Cuba, a person is part of the whole and has no value of his or her own. "These kids are going, 'No, no, no, I'm an individual,'" Kahn says, "and all of a sudden there's a rise of the culture of exploring their own individuality." After decades of scarcity and conformity, Havana's young men and women have embraced objects and brands, like Beats headphones, as a show of identity—like the young dancer in the middle row, far left. "She asked if she could wear her glasses because she was really proud of having them," Kahn says.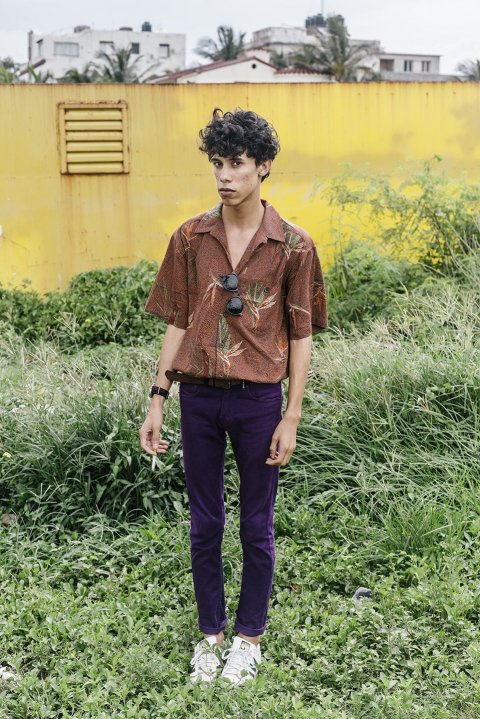 COMMON THREADS
Miguel Leyva, 22, is the epitome of the young entrepreneurs reshaping Cuba. He is a brand promoter, model, owner of his own agency (This Is This) and a fashion writer who publishes a digital underground blog. He also curates an Instagram account where he shares looks, styles and images from a lifestyle that would have been unthinkable 30 years ago. "Clothes have a strong connotation here, like a journalist writing an article against the government," he told Kahn. "It means to be free."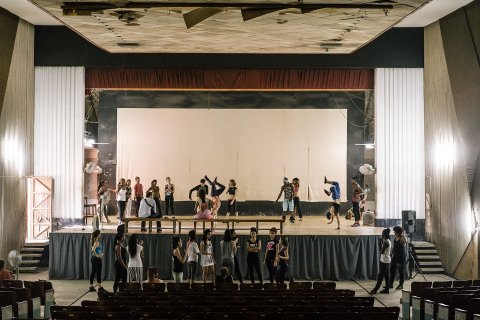 RHYTHM NATION
Danzón, ballet and mambo are traditionally associated with Cuba, and also another big tourist draw, but Kahn was drawn to companies of dancers, like the troupe above, who were performing hip-hop, modern dance and all kinds of interpretative dance.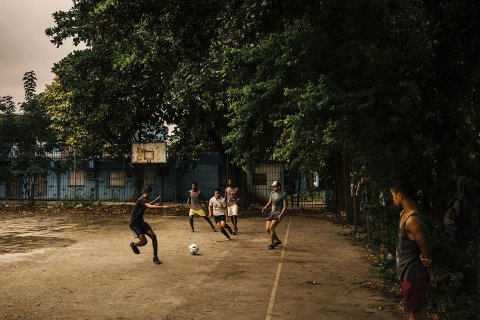 For decades, baseball was Cuba's (and Fidel Castro's) favorite sport, but soccer is now on the rise. One reason is the wave of superstar defectors depleting the country's leagues. But younger Cubans also love the game's faster pace and global reach.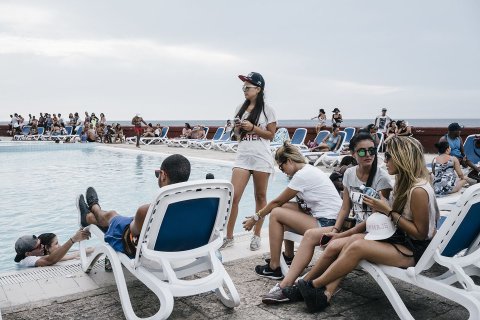 HIPSTERS IN HAVANA
One of Kahn's most striking photos is also one of his most mundane, as least from the point of view of an American. A group of 20-somethings, looking much like what we call hipsters, lounge poolside at a party. "I was like, 'Man, I could be in Miami right now,'" Kahn says. And that kind of identification—and sense of the everyday—is entirely the point. "It took it out of that setting of being in Cuba. You were looking at the people rather than just the people within the context, which overshadows them. That's what I thought was so interesting. It just turned it around completely."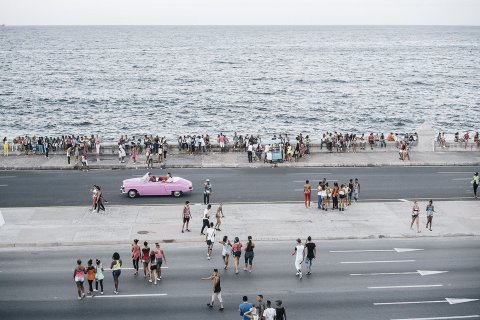 BOULEVARD OF DREAMS
After the revolution, various forms of repression made it impossible for Cubans to stand out, and that extended to fashion, which consisted of uniform khaki clothing. Today, a Friday night visit to Havana's Malecón—the esplanade and seawall that runs along the city's coast—means seeing Cubans "dressed in everything imaginable," says Kahn, who was struck by the idiosyncrasy of local style. "Americans don't realize how much we're advertised to," he says. "People have invested millions of dollars into dictating how we look and the decisions we make." In Cuba, "the only billboards they have are for Communist propaganda."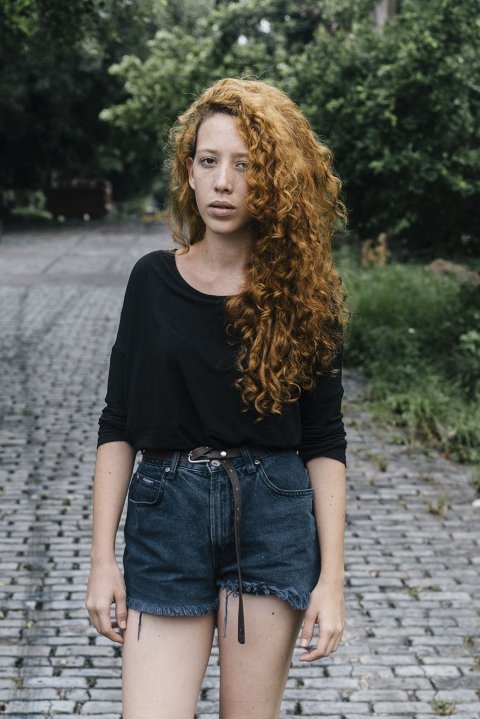 THERE'S NO PLACE LIKE UTOPIA
"I don't think they're naive," Kahn says of Cuba's millennials. "I don't think they're going about this like they don't understand the history and the context of it. They're all extremely well educated. They just realize that they have an opportunity to do something new, and they're embracing it." Marina Alfonso, 21, a recent graduate of the University of Havana, where she majored in history, told Kahn, "We used to have the same patterns in life, but they don't work anymore. We're living in the utopia of the moment right now."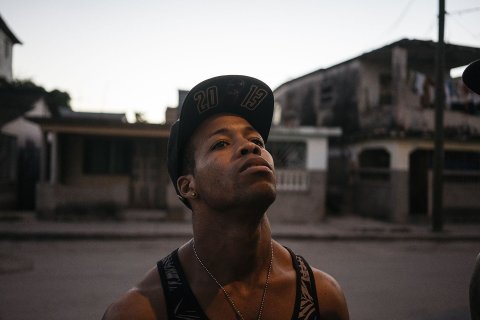 WHAT LIES BENEATH
Unlike in London, New York or Tokyo, the street style of Havana's millennials—what Kahn calls "their counterrevolution"—has less to do with amplifying current fashion trends than in expressing confidence and individuality. It's whatever they think looks good, even if it means a man wearing a woman's shirt. "There isn't that kind of hang-up," Kahn says.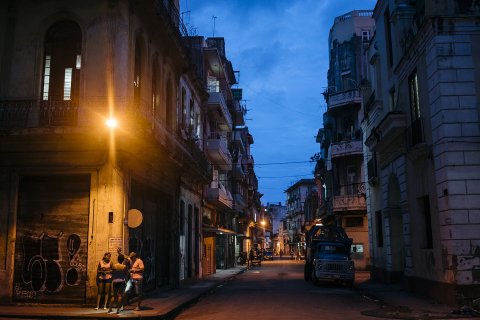 STEP UP REVOLUTION
Despite the new openness, the threat of a government crackdown still looms. The people Kahn photographed "work within what they call the gray area," he says. "They do things that are not quite illegal, but they're not quite legal." That includes passing flash drives with American films, TV shows and music—called packets—through underground networks. But Cubans can still gather for outdoor parties soundtracked to contemporary American music; see major acts like the Rolling Stones, Usher or Diplo perform live; or watch a movie like The Fate of the Furious get shot on Havana's streets.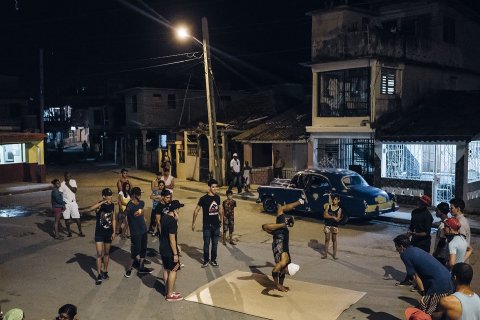 "It's a little bit of a game," Kahn says. "They allow just enough to not allow people to think that they can change the government. But they want to give them enough to feel like they have the opportunity to do what they want. As one Cuban explained it to me, if they go in and they want to shut this down, five more are going to pop up the next day."
Kahn's book Havana Youth can be preordered at havanayouth.com.