Ronald Reagan came to North Carolina on October 8, 1984, a month before American voters would decide whether to give him another four years in the White House. In 1980, running against Jimmy Carter, he'd won the state by only 39,000 votes, but it was now morning in America again, and the president was in an appropriately sunny mood as his rally began, shortly after noon, in downtown Charlotte.
As is customary in politics, Reagan praised his audience, then himself. Soon, he turned to attacking the Democrats, whom he accused of keeping people "in bondage as wards of the state." They wanted dependents, not citizens. And instead of listening to Americans, liberals would tell Americans what to do.
To illustrate his point, Reagan alluded to a matter of fierce contention across the South: the court-ordered integration of public schools and the yellow buses that frequently made that integration happen, carrying white children to predominantly black schools and black children to white ones.
But there was no cheering, no applause, only the stony silence that accompanies an errant note. And when a reaction did come, it was in the form of a Charlotte Observer editorial titled, flatly, "You Were Wrong, Mr. President." The paper's editors chided Reagan, writing that Charlotte's "proudest achievement of the past 20 years is not the city's impressive new skyline or its strong, growing economy. Its proudest achievement is its fully integrated schools."
Back then, the claim was true. Charlotte-Mecklenburg (the district includes Charlotte's surrounding suburbs in Mecklenburg County) had achieved true racial parity in its schools, and had done so without the violence or rancor that accompanied similar efforts, not only in the Deep South but in Northern cities like Boston and Chicago. In Memphis, Tennessee, opponents of integration buried a school bus. In Charlotte, the buses came and went. Long known as the Queen City, Charlotte had an enviable new nickname: "The city that made desegregation work."
The nickname would not apply today. Charlotte, in 2018, looks like most other American cities, where schools are nearly as segregated as they were before the 1954 Supreme Court decision of Brown v. Board of Education, which declared separate but equal schools to be unconstitutional. Some cities, like New York, never really integrated their schools, hiding for decades under the guise of Northern liberalism. Many others complied with court orders, but did so unwillingly and incompletely, without ever convincing people that integration was a public good. Charlotte was the rare city that made its citizens believe in integration, and those citizens in turn made integration work. Their retreat from that experiment has been revealing—and complete.
Earlier this year, Charlotte-Mecklenburg Schools, or CMS, published a report titled "Breaking the Link," which explored the relationship between poverty and education. A single sentence in the introduction grimly sums up the state of things: "If you are born poor in Charlotte, you are likely to stay that way." In a low-poverty school (i.e., a school where less than a quarter of students are eligible for a free lunch and breakfast program), 95.2 percent of students graduate; only 77.6 percent graduate in a high-poverty school, where more than half of students are eligible for free lunch. The latter have younger, less experienced teachers. There are more disciplinary problems at these schools, and test scores are lower.
The links between poverty and education also pertain to race. "For all grade spans, low-poverty schools were composed of mostly white students," the report's authors wrote, "whereas in high-poverty schools, the majority of students were black and Hispanic." This was the toxic nexus that Charlotte had once tried to dispel. And it did so with success, so that its schools made it onto the front page of The Wall Street Journal in 1991. Only a decade after that, the experiment ended, and now the gains of that time have been squandered.
James Ferguson is a civil rights lawyer who worked on the legal effort to desegregate Charlotte's schools. That was 50 years ago. He does not want to believe the work was futile, but a life of fighting discrimination cautions against shows of optimism. History is littered with disappointments, including his own. He was in junior high, at a segregated school in Asheville, North Carolina, when the Supreme Court delivered the Brown ruling. Like many, he thought things would change at once. But they didn't change at all because people in Birmingham, Alabama weren't going to take orders from Washington.
The nation delivered on the promise of Brown only because men and women like Ferguson forced it to, and to have the nation renege on that promise has been crushing. Ferguson is a civil leader in Charlotte, a power broker, and the sadness haunts him; he thought he'd won a battle, when it turns out he lost. "There is no core of people who are actively pushing for school desegregation," he laments. "We're almost back to where we started from."
We, in this case, could mean the entire United States. We came closest to integration in 1988, when nearly half of all African-American children attended majority white schools. Since then, districts have been casting off federal court orders like rusted shackles. The result, a Government Accountability Office report found in the spring of 2016, the number of African-American and Hispanic students attending segregated schools is rapidly growing.
Charlotte was never supposed to be among those districts, though. That was the promise of Charlotte. For many decades, it was a promise realized.
Frightened, White and Middle-Class
The bus may well be the most potent symbol of African-Americans' struggle for racial equality in the 20th century. In Montgomery, Alabama, a squat yellow-and-lime bus, numbered 2857, became the epicenter of the civil rights movement on December 1, 1955, when seamstress Rosa Parks refused to move toward the back, where blacks were forced to sit. About a decade later, as the administration of President Lyndon B. Johnson took up the work of actually enforcing the Brown decision, it was the yellow school bus that became a vehicle of both social progress and deep-seated fears that made that progress so difficult.
Matthew Delmont, the author of Why Busing Failed, has concluded that the first protest by white parents against the use of busing to redress racial imbalances in public schools took place in New York City in 1957. New York was exempt from Brown because its schools were not segregated by law, like those in the Deep South. That made white residents all the more furious, because they felt they had done nothing to segregate schools and should therefore not be forced to integrate them.
Journalists were aware of these fears, and some played to them. A Wall Street Journal article warned that the city's Board of Education "proposes extensive use of city-financed buses to create racially balanced schools." Delmont believes this was the first time a national outlet deployed the specter of "busing" to frighten middle-class whites. (Buses had been transporting children for decades, and plenty of districts were already using racial criteria in zoning decisions to keep schools segregated.)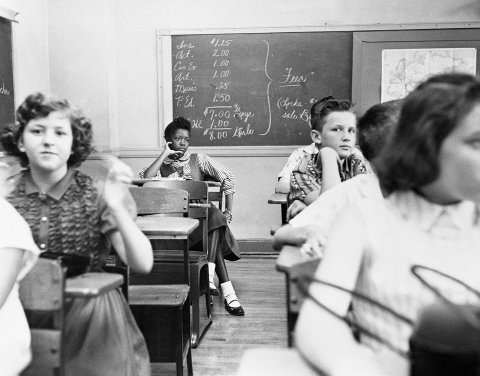 The fearmongering worked, and it encouraged newspapers and television stations to report with greater avidity on what came to be known as "forced busing." Opponents of busing predictably directed their anger at education bureaucrats, whom they accused of social engineering. As one letter to New York's central schools administration put it, "The Negro is emerging from ignorance, savagery, disease and total lack of any culture. Is it necessary to foist the Negro on the White Americans for fair play?"
Despite a halting effort at integration that began in 1957, little changed in Charlotte during the 1960s. Busing came to the city only after a 1969 federal district court ruling in Swann v. Charlotte-Mecklenburg County Board of Education, a suit brought by an African-American preacher who didn't understand why his son had to attend effectively segregated schools. The judge in the case was a white Southerner without especially strong liberal convictions. But he also understood that there was no legal standing for those who resisted integration. "When racial segregation was required by law, nobody evoked the neighborhood school theory to permit black children to attend white schools closer to where they lived," he wrote. "There is no reason except emotion…why school buses can not be used…to desegregate the schools."
And so busing began in Charlotte on September 9, 1970, with 525 buses serving as the army of integration. White parents protested, and Charlotte, which claimed to be a city of the "New South," anxiously waited to discover whether its claim was anything more than a clever marketing pitch.
Goodbye, White Flight
Integration turned out to look a lot like war. Mobs welcomed buses carrying black children into white neighborhoods. Whites threw rocks and hurled racial taunts. White children stayed away from schools. On the television sets that now graced nearly every home in the nation, Americans watched and wondered if racial reconciliation would ever be possible.
The year was 1974, and the city was Boston, not Charlotte. There, a court order mandated that Irish-Americans in South Boston enter into a busing arrangement with black Roxbury. Feeling that they were being bullied into integration by judges and politicians, aggrieved residents of Southie reacted with shows of violence and rage more associated with the Deep South than this city of patricians and academics.
Meanwhile, 840 miles to the south, things were going just fine in Charlotte, now in its fourth year of integrated schooling. Watching the reports from Boston with confusion and dismay, students at West Charlotte High School, which had quickly become the centerpiece of Charlotte's success, decided to do something novel: They invited students from Boston to come down South, to see that integration could be done peacefully, to the benefit of all students. Five high schools students traveled to Charlotte that November. "I think every KKK member in the South wrote me a personal letter calling me a nigger-lover and threatening me," recalled West Charlotte Principal Sam Haywood to historian Pamela Grundy many years later. He added, "You know, if adults had got out of the way, kids could solve most of the problems."
But adults had helped solve the problem in Charlotte. Specifically, well-off white adults who seemingly had the least to gain from integration. Some of the city's leading families decided they would send their children to West Charlotte High School, a sign that they were invested in the integration experiment. Maybe there was something selfish in this, too—a desire to separate Charlotte from symbols of racial strife like Birmingham and Montgomery. Even so, they put their own children on school buses instead of merely watching as middle- and working-class whites did.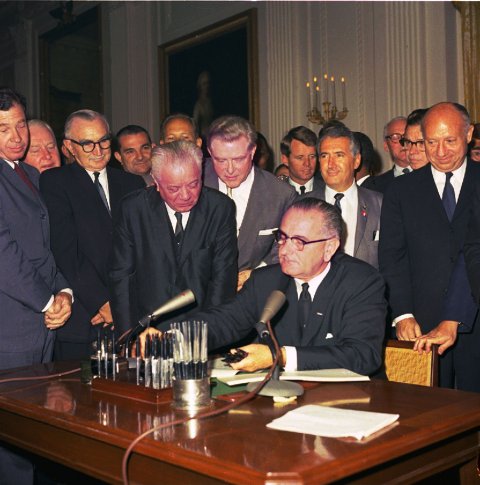 Everyone was uneasy about the experiment. As one African-American student recalled years later, "[People] thought it was going to be racial tension every day. 'Here we go again. Six o'clock news. A riot at West Charlotte again.' Never happened." Whites and blacks made the requisite effort. It wasn't a seamless union, but the rivets held.
Eventually, integration became a normal part of life in Charlotte, which made the city exceptional in the eyes of the nation. During his eight years in the White House, Reagan had appointed 364 judges to the federal bench, many of whom could be expected to execute his conservative, anti-government agenda, which included opposition to busing; his successor, George H.W. Bush, ran a racially divisive campaign predicated on raw fears about black criminality. In March 1991, the video of white police officers beating a black resident of Los Angeles named Rodney King confirmed a new mood of racial hostility—or, even worse, that racial hostility had never gone away.
Two months after Americans learned of King's plight, The Wall Street Journal reported on the goings-on at West Charlotte. In a front-page article, the paper praised the school as a "warm picture of integrated young America," a hazy but hopeful vision of the type of society we have been trying to realize for half a century. "Particularly in a city with a history of racial confrontation," the article said, "it does seem extraordinary. In many urban centers, white flight has left school districts overwhelmingly black…. Not Charlotte. Its school board has steadfastly rejected any proposals to end its forced busing program."
But by the time that article was published, some were already trying to undo the experiment.
'Race Is Not The Issue'
In the early morning of January 17, 1994, a massive earthquake shook Los Angeles. After that, Bill Capacchione remembers, his wife said it was time to leave. She was a native of Southern California, and the quake had rattled her. "If this is not the big one, I don't want to be around for it," Capacchione recalls her saying. He offered Phoenix as a relatively close alternative. Too hot, she countered. Capacchione had gone to college in North Carolina, at Campbell University, so he suggested a city 130 miles due west of that school: Charlotte.
Around that time, a lot of people were thinking of moving to Charlotte; it had recently become the third-biggest banking center in the nation, after New York and San Francisco. The same year that Capacchione arrived, The New York Times wrote of Charlotte's "relentlessly upbeat, look-at-me corporate culture." The city's "downtown, which goes by the appropriately cheery appellation of Uptown, is a vital business center, and its green geography and relaxed, friendly style make it an inviting place," the article said.