Updated | As a biology professor at Yale, Valerie Horsley has commanded the attention of students in lecture halls. But on April 22, 2017, she stood in front of a far larger crowd—3,000 people—as one of the organizers of the New Haven March for Science. "It might have been the quietest march I've ever been to," said Horsley. "I don't know if scientists just aren't used to screaming on the streets."
Even if scientists weren't making noise last Earth Day, they will be in towns and state capitals across the country come November. Horsley is one of more than 50 candidates running in state and local races endorsed by the science-­oriented political action committee 314 Action Fund. In the past year, a non-profit associated with the political action committee has raised $2 million, according to the group. Its goal: Elect more candidates with serious science credIts goal: Elect more candidates with serious science cred.
Traditional politicians are, of course, perfectly capable of supporting pro-science policies. But 314 Action founder Shaughnessy Naughton believes the expertise of scientists is well suited to legislature. "They are, essentially, problem solvers," Naughton said. "And when you look at Congress or a lot of state legislatures, we certainly could use more problem solvers and less ideologues."
That need is particularly acute when it comes to health-­related issues, where state governments can enact real change. They run Medicaid and smoking cessation programs; they can implement paid family leave policies beyond federal requirements (a priority for Horsley, if she is elected); and they influence drug prices and energy policies. For example, the Connecticut legislature passed a bill last year that may save consumers money at the pharmacy: Formerly pharmaceutical middlemen could try to stop pharmacists from telling customers if paying cash for a drug would cost less than their co-pay; that practice is now illegal. Connecticut also is participating in a regional cap-and-trade initiative to reduce greenhouse gas emissions.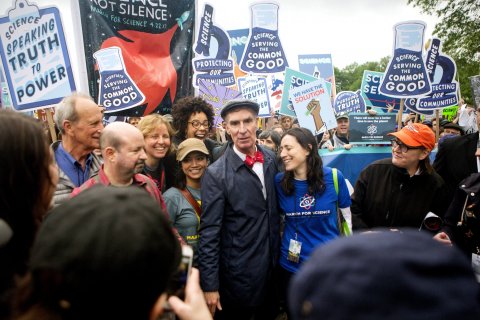 "The national government has, for several decades, been characterized by stalemate, gridlock, paralysis," said Adam Myers, a political scientist at Providence College. "Meanwhile, at the state level, we've seen a lot of policy dynamism." As well as the ability to defy the party in power. California, for example, has strengthened sanctuary city laws as President Donald Trump continues to advocate for a wall along the border with Mexico.
At least two other Democrats have filed to run against Horsley in the state Senate primary on August 14, but "I'm going to win," she said without hesitation. The government job is part-time, but she'd still have to step back from some of her campus responsibilities. Horsley has come to terms with that. "There was this moment during the science march when I had the microphone, and I had the ability to influence thousands of people," she said. "I could keep being a professor. I could keep running my activist organization. Or I could hold the mic."
This article has been updated to correctly state that 314 Action's non-profit has raised $2 million, not the 314 Action Fund political action committee.