Updated | If Captain America saves the world from apocalypse in Avengers: Infinity War, you can thank Joe and Anthony Russo: Four years ago, they saved Marvel from the apocalyptic ire of its fans.
The siblings are the directors of the film, which opens April 27, and they joined Disney-owned Marvel four years ago, on the heels of Iron Man 3 and Thor: The Dark World—blockbusters at the box office but bummers for ultra-picky comic book geeks. Both films traded the punchy, bright-colored fun of the best Marvel movies for a muddy, tortured moodiness. Fans didn't want to see Tony Stark (aka Iron Man) suffering from post-traumatic stress disorder; they wanted the joyous blend of humor and heroism that Joss Whedon brought to The Avengers in 2012, which has grossed $1.5 billion in the U.S. alone.
Enter the Russos with 2014's Captain America: The Winter Soldier, a witty, meticulously plotted political thriller. The duo had never made a big-budget film before. They came from the world of comedy, directing a couple of features, including 2006's You, Me and Dupree, and two of the smartest sitcoms on TV, Arrested Development and Community. But what seemed like an odd fit proved just right, not only in terms of well-aimed quips (the brothers wisely gave a lot of comedic space to Samuel L. Jackson's Nick Fury) but also in creating a movie that has heart, not just the usual kapow, blam, boom. And because they were new to the genre, they also managed to make the story coherent to die-hards and neophytes.
For their second Marvel film, 2016's Captain America: Civil War, the Russo brothers had a few dilemmas: In two and a half hours, they had to lay the groundwork for a pair of sequels (Infinity War, with a rumored budget of $400 million, is the first), launch Spider-Man under Marvel creative control and satisfy a lot of charismatic stars looking for a "hero moment." The film included a total of 12 super­heroes, including Captain America (Chris Evans), Iron Man (Robert Downey Jr.), Hawkeye (Jeremy Renner) and Black Widow (Scarlett Johansson); it also introduced Black Panther (Chadwick Boseman).
Once again, the Russos proved deft at juggling action, comedy and emotion—so deft, it became the first Captain America film to gross over a billion dollars worldwide. Their sitcom background proved to be great prep for the large cast. "We really love ensemble storytelling, where you can enter a narrative from different characters' points of view," says Anthony. With Civil War, that meant "not every character is in the same dramatic situation. We knew Ant-Man (Paul Rudd) and Spider-Man (Tom Holland) didn't have the baggage of the conflict that was pulling the rest of the Avengers apart. They could enter the movie and carry a lighter tone."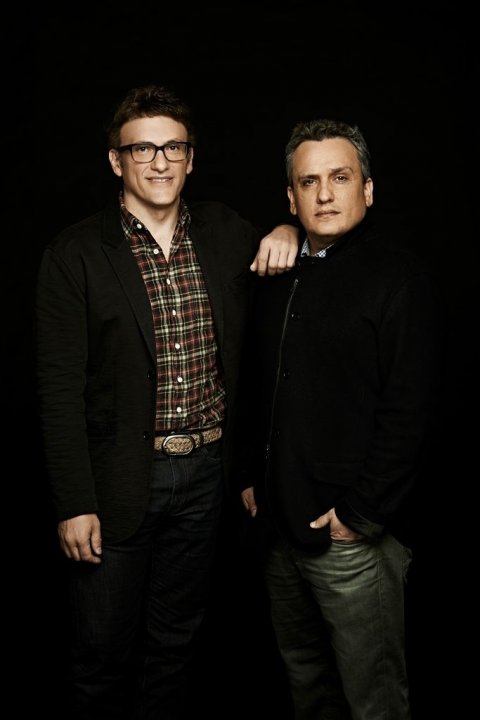 Infinity Wars stacks the credits even more, doubling the number of stars. This time there are "22 primary characters and five or six villains," says stunt supervisor Sam Hargrave. For the brothers, that broke down to countless opportunities for funny superhero meetups, a Russo trademark. Joe says the Star-Lord (Chris Pratt) and Thor (Chris Hemsworth) encounter is his favorite, closely followed by Iron Man and Doctor Strange (Benedict Cumberbatch)—"like two narcissistic beta fish trapped in a tank."
Professionally, the brothers also occupy the same space, and they've been collaborating for so long that their working relationship is intuitive. "We don't really have any formal division in terms of how we approach things," says Anthony. Evans had played Captain America twice before meeting the Russos, and what he appreciates is that, despite the massive ambition behind such blockbusters, "they don't make it feel like a huge enterprise. It's as if I'm making a movie with my friends."
They also have an encyclopedic knowledge of film, which comes in handy for inspiration. "They get their point across by making references they know we know," Evans adds. "It's never 'Hey, remember, you're angry in this scene.' It's 'Remember that scene in Heat when Pacino does this?'"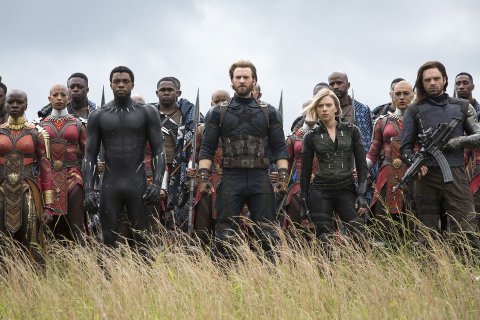 According to the Russos, Winter Soldier was partially inspired by Alan Pakula's 1974 political thriller The Parallax View and Captain America: Civil War by David Fincher's Se7en. Their North Stars for Infinity War were John Herzfeld's 1994 ensemble drama 2 Days in the Valley and Steven Soderbergh's 1998 American crime comedy Out of Sight.
Pulling ideas from outside of the comic book universe has produced quieter, more realistic performances. "Joe Russo has a line, which I make fun of him for but I secretly admire and appreciate," says Johansson. "'Go under,' which means 'Play against your instinct to go big, to make a declaration, to be emphatic.' Those are the nuances that most resonate with fanboys and fangirls."
Hargrave notes the eccentric methods the Russos employed for keeping their sets relaxed, borrowed from his stunt department. What's called "the exercise challenge" encourages cast and crew to stop what they're doing once an hour to do 15 pushups or squats or lunges together.
Beneath the loose structure, though, is rigorous planning. The Russos spent months mapping out the list of character imperatives with screenwriters Christopher Markus and Stephen McFeely. "We all sit together with a magnetic whiteboard, with a photo of every character in the movie," Joe says. "We talk through each one in relation to the plot and hammer out their personal stakes. It's an arduous, disciplined process." And one that began with the plotting of Civil Wars.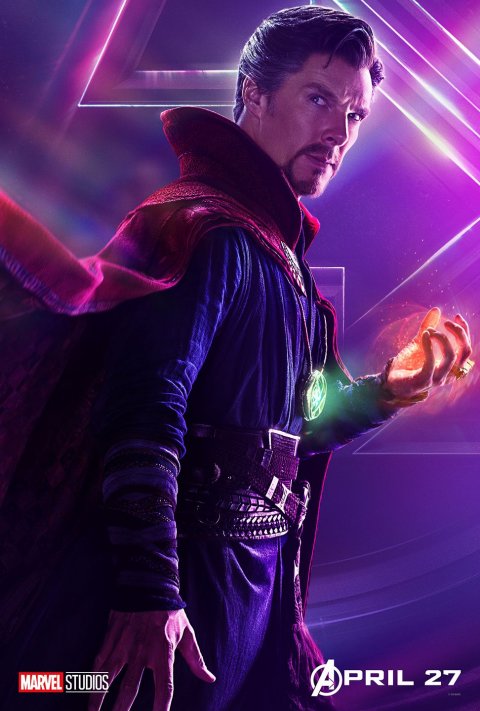 That was the last time Marvel fans saw most of the Avengers, and it ended with them being rocked by the loss of public approval and by friendly fire, with various superheroes turning on each other. Those grudges are preserved in Infinity War, especially between the two characters the Russos worked with most extensively: Cap and Black Widow. "They have been most interested in peeling away the layers of Natasha's façade," says Johansson. "She's been running rogue for a few years and has abandoned the idea that there is another, more 'normal' life in the cards for her. She has come to terms with that reality."
In Iron Man 2 and The Avengers, Black Widow was the quintessential killer sexpot. The Russos emphasized context, turning her into a more strategic operative. When SHIELD, the militarized government organization that brought the Avengers together, fell to a Nazi insurgency called Hydra, she and Captain America forged a friendship. That was a Russo spark of genius—as was the decision to then tear their bond apart in Civil War.
Anthony admits he and Joe like to "lean on certain characters more heavily than others," but they've added inspired complications to the web of superhero and sidekick relationships—to the point where a crossover film was the only way to find catharsis. It was their ensemble movies that cracked open what Marvel calls Phase Three, which includes the wildly successful Spider-Man: Homecoming (2017) and the recent Black Panther.
So many beloved characters return in Infinity War—including T'Challa's entire family and Wakanda support team—that it's easy to forget what many fans will be showing up for: the debut of Thanos (Josh Brolin), an 8-foot alien and the most anticipated villain in Marvel movie history. In over two decades of movies, fans have been presented with Thanos teasers and asides. Let's just say expectations are high.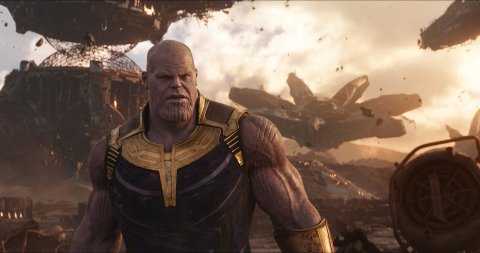 The computer-generated challenges were the least of it. The Russos' goal was to give Thanos enough emotional heft to make him a supervillain for the ages, not just a purple dude who will, naturally, wipe out half the universe. "The most frightening thing about Thanos is that while he has a horrific goal in mind, he has a lot of conviction," says Anthony. "Some of what he's looking for in the movie is actually very understandable. That, I think, is where it gets very uncomfortable and challenging. You find yourself empathizing with him."
"You don't root for Thanos," says Dan DeLeeuw, Infinity War's visual effects supervisor, "but there's something very charismatic about him. There's a light in Brolin's eyes when he's considering how to deliver a line, and we captured all of that, his whole face almost at pore level." The team used an advanced motion-­capture technology called Medusa, and DeLeeuw says they simply kept the camera running while Brolin worked out his character with the Russos. "We even captured his teeth and just enlarged them for Thanos."
Fans, of course, will care less about the verisimilitude of Thanos's teeth than whether the Russos can pull off the most ambitious Marvel film to date. For the brothers, though, coming back to direct the untitled sequel in 2019 will put a cap on a longtime infatuation.
"I'll never forget seeing Iron Man for the first time in 2008 and loving that film so much," says Joe. "So having gotten to tell an interesting Iron Man story in Civil War, and the fact that these two movies are supposed to be the culmination of this run of Marvel movies that began with the first Iron Man? That's major. We love, we adore Robert Downey Jr. The character is looming very large in the sequels—and not just for him but for Marvel."
Correction: An earlier version of this story referenced Marvel's Phase Four. The studio is in Phase Three, not Phase Four.