Every journalist dreams of winning a Pulitzer Prize someday.
For Ryan Kelly, that day came eight months after he started a full-time job outside of journalism.
Kelly, 31, is the photojournalist who captured the brutal moment a car rammed into a crowd of counterprotesters at a white nationalist rally in Charlottesville, Virginia, on August 12, 2017. That attack killed one person, Heather Heyer, and injured nearly 20 others. Kelly's searing image—which shows the violent and chaotic seconds just after impact—was published in The Daily Progress in Charlottesville, where he was a staff photographer.
Remarkably, it was Kelly's last day on staff: He had already put in his notice and accepted a digital marketing job at a brewery. While he remains active as a photojournalist, today it's only on a part-time, freelance basis.
On Monday, Kelly was amazed to discover that his photograph had been awarded a Pulitzer, alongside rapper Kendrick Lamar, art critic Jerry Saltz, the investigative reporters who broke the Harvey Weinstein scandal and other prize winners.
This is a depressingly familiar story: The lag time between when Pulitzer-worthy work is produced and when the prizes are unveiled in April of the following year—coupled with the severe ongoing revenue crisis in local media—pretty much guarantees that some winners will leave journalism before receiving the prize. Kelly wasn't laid off, but the anxiety of eventual layoffs contributed to his decision.
Journalism jobs outside of major U.S. cities are shrinking at an alarming rate. In 2017, the U.S. Bureau of Labor Statistics reported that more than half of all newspaper jobs had disappeared in the 15 years between 2001 and 2016. In 2015, two Pulitzer winners, Rob Kuznia and Natalie Caula Hauff, had already left the industry for positions in public relations by the time they won the award.
Kelly now works at a brewery in Richmond. His reasons for accepting a job outside of journalism should be familiar to anyone presently or recently employed by a local newspaper: "Bad pay, bad hours, high stress. And I just burnt out." (His editor at The Daily Progress, Wes Hester, has also since left the newspaper for a job in university communications.)
We spoke with the photographer about his extraordinary image, his "complicated feelings" about benefiting from a tragedy he wishes never happened and his decision to leave journalism. This interview has been condensed and edited.
Where were you when you found out you won a Pulitzer?
I found out after the rest of the world because I was on an airplane on our final descent at 3:00. I didn't know until we were on the ground and I had my phone turned back on. [I was] swamped with texts and tweets and calls all at once.
What was your reaction?
I was completely shocked. Everybody outside of journalism understands the weight of the Pulitzer. It's been a complicated ride with this photo. It's such a tragic event. Somebody died. Dozens of people were injured. It was a devastating, tragic day, [and] being recognized for that is complicated.
Tell me about the day you took this photo. I read that it was your last day at the newspaper.
That is correct. I put in my notice weeks before. But I wanted to stick it out through that weekend. I knew it was going to be a big news event.
You went to the rally. You immediately saw the car ram into the protesters and had your camera ready?
I showed up at nine in the morning. This photo happened a couple hours later, when a whole bunch of counterprotesters were marching. Nobody was antagonizing anybody. They were chanting, singing, shouting slogans. My guard was down more than it had been earlier in the day. A few seconds after I crossed the street, as I was taking pictures of the crowd, the car sped by me and hit the crowd and backed up the hill. I happened to be there. There was no way to plan for that. As the car sped past, I heard it pass me. I picked up my camera and followed it with my lens and took 60 to 80 pictures, all in a string. I ended up finding one in there that really told the story.
It's a devastating image. Did you see the man hitting the car as you were shooting the photo, or did it become clear later?
I knew I was watching a car [drive] into a crowd of people and then back away. I didn't have a sense of details or the true horror of all the little details you see in the picture. When you're looking through the viewfinder, you're a little removed and disconnected. It wasn't until I had a moment to scroll through pictures on the back of the camera that I knew what I had. Especially when I was looking at them full-size on a laptop. That was when it first hit me that this was a really powerful, dramatic attack. The carnage that you can see is something else.
Did you fear for your own safety in that moment?
No, because I didn't have a chance to. I didn't know anything was coming. The car came from behind me, since I was facing the crowd. Once he was past me, he was past me and I just started taking pictures. It was just reaction and instinct—muscle memory.
What do you think the image captures about the protest and the violence?
The story changed the moment he drove that car into the crowd. I think the picture captures a lot of that all at once. It shows the car. It's got people in motion all over the picture. There are the signs of the counterprotesters: "Love." There's all this symbolic imagery.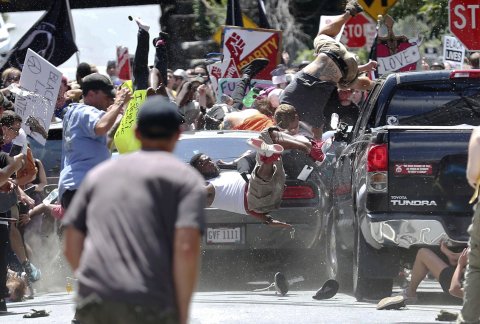 You tweeted that you're proud the photo exists so the world "can never forget exactly what violence and hatred looks like."
I have a lot of complicated feelings about this photo. I wish it didn't happen. But if it did, I'm glad the photo exists. That's journalism, unfortunately. It's being there to witness things that are happening. I have no regrets about doing my job.
I feel as though many journalists have struggled with that feeling you're describing—of wishing that their journalism did not have to exist.
The one thing that did give me some solace was that I reached out to Susan Bro, Heather Heyer's mother, this morning. I told her that I had been thinking of her and Heather almost every day since then. And I am so sorry she had to keep seeing this picture. I imagined her seeing this picture over and over and having to relive the trauma of losing her daughter. She thanked me for taking the picture and said she was glad I was there to do what I did. Because people need to see that so it never happens again. I think that will help me sleep soundly tonight.
Related: Heather Heyer's mother honored her daughter with a heartfelt VMAs speech
Had you spoken with Heather Heyer's mother before this week?
I had not. I had her number for a while. To be honest, I was a little nervous about reaching out to her. After this latest news cycle, I couldn't wait any longer.
Is Heather Heyer visible in the photo?
She is not, as far as I'm aware. I think she got trapped between another car or something like that.
Have you met any of the people who are visible in the image?
I haven't. Part of that is because I started a new job right after this. That photo was the 12th [of August]. I was at a new job in a new town on the 14th.
You left journalism almost immediately after taking this image.
Yeah. I had given my notice weeks before that. It was the same story you hear from a lot of journalists. Even though I love journalism and I love the newspaper, after four years I was just burning out on the bad hours, low pay, high stress. Lots of nights and weekends. I wasn't seeing a lot of my wife. I started looking for other job opportunities and found one in a different town outside of journalism. It just so happened that that weekend was my last weekend of work at the paper. It was just a fluke of timing.
You're one of many journalists who have left local media for similar reasons.
It's a sad state of affairs. I love journalism. I believe in journalism and local newspapers. But I still had to get out because you see stories all the time about layoffs coming. You never know how stable or secure your job really is. Add that on top of bad pay, bad hours, high stress. I just burnt out. I can't speak for other local journalists, but I imagine when they choose to take a job outside of journalism, it's for a general quality of life increase. I miss the newspaper, and I miss the newsroom, but my quality of life is so much better than it was a year ago. I don't have to stress about filling newspaper or wait to see if something's going to happen. I don't take work home with me. I'm working 9-to-5. I've got a stable job. I don't have to worry about a layoff in a month or a year. And I work at a brewery, so there's free beer at the end of the day!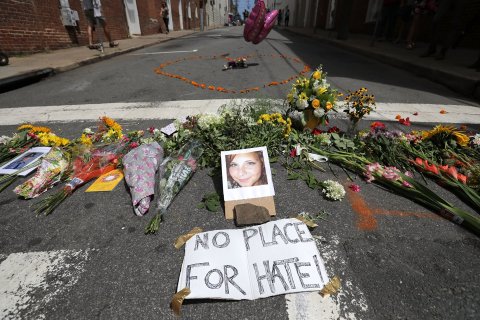 You do social media for a brewery now?
My title is digital and social media coordinator. Website and social media.
What would it take to bring you back to journalism?
I'm still freelancing pretty regularly. For Getty Images, I covered the fall and winter athletic seasons at the University of Virginia.
Do you think the crisis in local journalism is as severe as it looks?
I absolutely do. I've seen the brain drain myself. Looking at the newsroom that was doing the work last summer, almost half the reporters and editors who were there at the time are no longer there. Some left for other journalism jobs. Some left for jobs outside of journalism. Turnover is real. People burn out. It's a detriment to the local communities that these newspapers cover. I don't know what the answer is if the financial situation doesn't improve. It's a scary thought. As staff are cut further and further, more things are going to slip under the radar.
So many stories will go untold.
Communities aren't served when they don't know what's happening, and we don't have professional journalists digging into local politics and local crime. These things that aren't sexy but [are] important all the same.
I really hope people understand the value of local journalism. I was the local photographer at the local newspaper. I was one of a staff of two in the photography department. But the whole newsroom had followed the story the months and years leading up to it. The work that we did that weekend was directly because of having worked on it every single day—as opposed to some major outlet that parachuted in and just showed up for the day. We knew a lot of the characters and story lines. I think that was really valuable. I'm proud the Daily Progress has a Pulitzer.