For 33 years, readers of The Handmaid's Tale reached the end of the book and thought, What happens next? Now, thanks to Bruce Miller, there's an answer. He is the executive producer of the critically acclaimed, Emmy-winning adaptation of Margaret Atwood's classic 1985 dystopian novel, which returned to Hulu on April 25. The first two episodes of second season picked up where the novel and the Season 1 finale left off: Offred (played by Elisabeth Moss) getting into a van that will either take her, as Atwood wrote, "into the darkness within; or else the light."
And so to Miller's task: extending the author's tale beyond the pages of her novel, much as the writers of The Leftovers did with Tom Perrotta's book. Rather than spoil those first two episodes for future bingers, let's just say that determining Offred's next few steps was a comparative cinch.
"Everybody had an idea of what happened. It's the ultimate parlor game for Handmaid's Tale fans," says Miller, who, like those fans, had the advantage of Atwood's metafictional epilogue to her novel, "Historical Notes on The Handmaid's Tale." In it, we learn that academics discover an audio recording by Offred in 2195, long after the fall of the totalitarian Republic of Gilead, a fundamentalist Christian regime that turned fertile women like Offred into baby-making slaves (their new names indications of who they belong to—Of Fred, in other words). The academics speculate that the recording means that she managed to escape, at least briefly.
The far bigger challenge for Miller involved the issue of race. Atwood, 78, serves as a consulting producer on the series—which, she says, "doesn't mean I have veto power." One of her most intense conversations with Miller arose because of his decision to take the show out of the '80s and place it in the present—or, as Atwood calls it, "the land of cellphones and cafe lattes." In her Gilead, the government collects and ships "Children of Ham," or African-Americans, to "National Homeland One," somewhere in North Dakota. In the novel, Offred learns of this in passing; it's the only reference to people of color—all of the women chosen to bear children for Gilead's evangelical elite are, like their masters, white.
Some readers found that decision racist. Atwood thinks they "should read some history. [Evangelicals] were segregationists. Remember how old I am," she adds. "I existed for quite a while before the civil rights movement. I saw [racism] in action."
Fast-forward to 2016 and the rising tide of identity politics, and Miller could foresee a far tougher response to a lack of diversity—particularly for a show as left-leaning as The Handmaid's Tale. The shift to the present was, to his mind, essential. "Margaret and I had a long talk about the difference between a novel that has only white characters and a TV show—a visual medium—that has all white characters." The evangelical movement, he argued, isn't as racist as it was three decades ago. Therefore, would it not make sense that in a fertility crisis like Gilead's, the government would overlook race for a viable womb? "I wanted our audience to be able to relate to the world of the show," Miller says, "and to exclude people of color is leaving so much of our audience out."
Atwood made her peace with the shift, to a time when "being a fertile women trumped race." ("I probably shouldn't have said 'trumped,'" she says with a laugh.) Offred remained white, but her husband, Luke (actor O.T. Fagbenle), is black, as is her best friend, Moira (Samira Wiley). Unnamed characters of color appear in the background, as handmaids and guards. But race? That remained a non-issue on Season 1—it's never even mentioned.
And that, according, to some of the show's followers, was a flaw, particularly in light of the plot points clearly inspired by American slavery. (The handmaids' network of escape, for example, is called the Underground Femaleroad.) The show's "race problem" swiftly became a hot internet topic.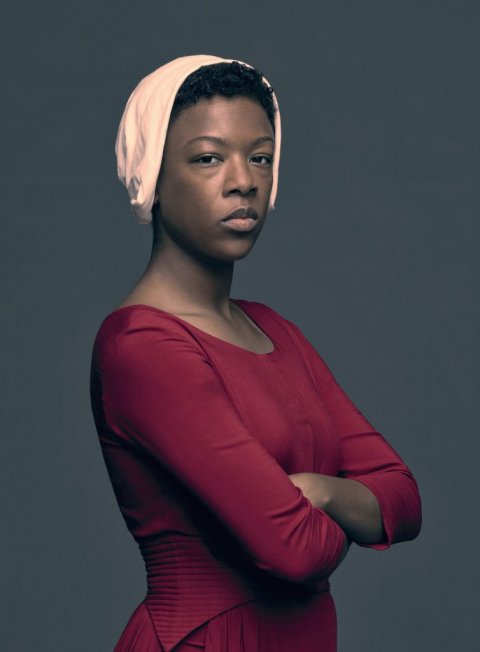 "The Handmaid's Tale's silence on race grows more awkward as the show goes on, particularly in light of its marketing as a politically astute salve for these troubled times," wrote Angelica Jade Bastién for Vulture last June. "How can you attempt to craft a political, artistically rich narrative that trades in the real-life experiences of black and brown women, while ignoring them and the ways sexism intersects with racism?"
"We certainly take it to heart," Miller says of such criticism. "We want the show to feel like the real world, and we know we have room for improvement." After reading the Twitter discussions—which he called "incredibly respectful and helpful"—the showrunner vowed to do better in Season 2. And in the first six episodes made available to the press, more characters of color are introduced. But there's still no reference to race as a concept. "We try to address it in big and small ways, and we'll continue try to address it in big and small ways" is all Miller will say.
Other current headlines are front and center, however. In one on-the-nose flashback, Serena Joy (Yvonne Strahovski), the wife of Offred's master, attempts to spread her message of "biological destiny" at a university talk but gets shouted down by protesters holding signs that say "Resist" and "Stop Nazi hate." Miller says that, given the "news junkies" in the writer's room, that was inevitable. "It's affecting everybody's life, and it certainly affects the way we come up with stories." At the same time, he adds, the TV show is "not trying to make direct connections." There are "plenty of differences between Gilead and America."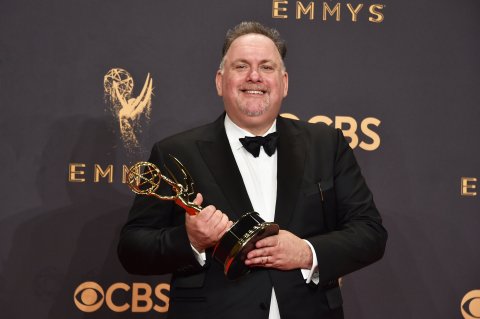 Still, with American abortion clinics disappearing faster than you can say "blessed be the fruit," direct connections between right-to-life conservatives and Gilead extremists are hard to ignore. Atwood is well acquainted with the panic spread by religious fundamentalists; she recalls graffiti that read "The Handmaid's Tale is here" on a Venice Beach wall in 1985, the year the book was published. But the current political divide in the United States surprises even her. "It's more extreme now than anytime that I can remember," she says.
Handmaid's Tale's central topic, of course, is acutely relevant. But female subjugation existed long before the TimesUp movement. The book is "historically situated," says Atwood, "and the past 3,000 years have not been very feminist, to put it mildly. " Still her Gilead is very pointedly a world where neither gender is blameless. Atwood has described the matriarchal network of "aunts," who police the handmaids, as "a new form of misogyny: women's hatred of women."
She is, nevertheless, continuously asked if her book is "feminist," and her refusal to give a definitive answer "seems very worrisome to people. If you ask them, 'What do you mean by feminist?' they quite frequently do not have an answer," says Atwood. "Any novel that has women at the center, in the way Handmaid's Tale does, is going to be viewed as, in some way, feminist. Anna Karenina has women at the center—does that make it feminist?
Miller's adaptation, however, is "absolutely" feminist. "As a man, I don't know what it's like to walk through the world as a woman," he says. "But I'm lucky: I have three sisters, a wife and a huge writing staff of pretty much all women who are super honest. That helps."