On a sunny day this April, teenage girls from a local school were having a picnic in a park. I was on a bench near them, reading a book, until the noise got too much. The students were in uniform, easy with one another and bursting with adolescent enthusiasm. They reflected London's infinite class, race and ethnic variety. Some had clustered around a lovely, mixed-race girl and were weaving wild flowers around her curly hair: "Straighten your hair," one said. "You'll look just like Meghan!" They took selfies, squealed over sites for bridal gowns and pored over celeb mags with pictures of Meghan Markle. Idolized and envied by them, she was the luckiest woman in the world. The girl with the floral crown broke the spell: "That's silly. It will be hard, like, so far from her family, being a princess, mixed race and that." Her quiet voice went unheard.
The U.K. is extravagantly upbeat, awash with joy over the nuptials of Prince Harry and Markle. They met in London through a mutual friend in the summer of 2016. By October, rumors were rife that Harry, sixth in line to the British throne, had found an unlikely girlfriend—a mixed-race, divorced woman of 36 who is, in addition to being an activist and actress, an American. Kensington Palace confirmed the relationship, and a year later the couple were engaged. The public immediately warmed to this refreshingly real royal-to-be, who seemed to be having a positive influence on the once wayward Harry as well.
And now the wedding, to take place on May 19 in St. George's Chapel, Windsor Castle. Instead of presents, guests have been asked to donate to charities. The guest list includes, in addition to friends and family members, 1,200 "ordinary" people selected to gather on the grounds in celebration. These decisions make the event seem as accessible and open as Markle.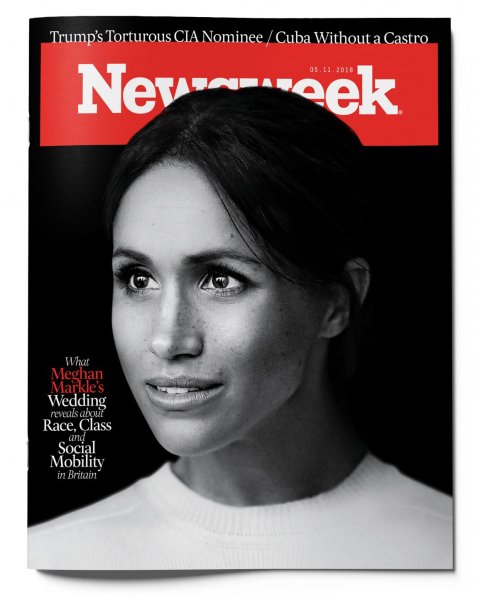 Her relaxed entry into the royal family suggests a transformed, cosmopolitan nation. And some of this hype is justified. Great Britain has long been culturally diverse, dynamic and biologically heterogeneous. The first biracial couples were spotted back in the age of Queen Elizabeth I. It was the fashion then for rich families to have "exotic" black and Indian servants, mostly men. Soon, white Englishwomen were pairing up with these freed slaves and servants, causing much moral panic. In 1764, The Gentleman's Magazine estimated there were 20,000 black people living in London.
More had settled in other cities, melting into the population.
Although white British nationalists repudiate this history, the accumulated evidence is irrefutable. I describe some of the early cross-racial couples in my book Mixed Feelings. They defied society and were made to suffer. That didn't stop them. Edward Long, who owned slave plantations in Jamaica, issued warnings in 1772 about the "malignancy," which, in the course of a few generations, would "contaminate English blood." Purist rage had little effect. Hybridity transfigured the DNA of the nation.
Today, the fastest-growing category of children in the U.K. is biracial. When it comes to interracial friendships, love and sex, this country is more progressive than the rest of Europe or the U.S. Professor Anthony Heath of Nuffield College, Oxford, who is writing a book on race and class, tells me that "white prejudice against mixed-race relationships and individuals is declining significantly." That indicates an ease with diversity and a major shift in attitudes. Over half the children in Caribbean families have a white parent or grandparent, and in the past decade, the number of people in England and Wales living with or married to someone from another ethnic group has gone up by more than 35 percent. According to the Office for National Statistics, almost one in 10 people living in Britain is married to or living with someone from outside his or her own ethnic group.
You could say that the British royals have, at long last, caught up with societal trends and belatedly become part of the uplifting story of British race relations. But there is a bleaker reality too.
The Marketing of Markle
Less than a month before Prince Harry's marriage to Markle, reports in The Guardian revealed that legally settled Caribbean British subjects and their British-born children had been ruthlessly persecuted and harassed by immigration officials. In May 1948, a former troop ship, the Empire Windrush, transported the first generation of Jamaican and Trinidadian migrants to Britain, brought to fill postwar labor shortages. Among the passengers were soldiers who had joined the British army and fought against the Nazis. These immigrants—British subjects—helped build the National Health Service and transport systems, and later generations dedicated themselves to public services.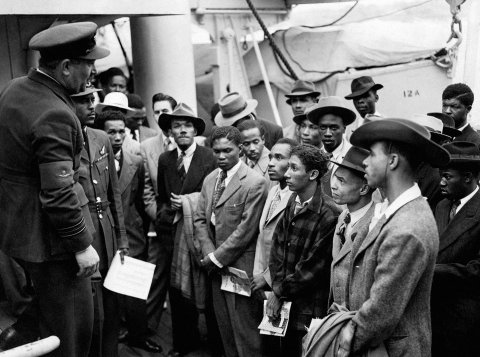 But in 2014, the state arbitrarily withdrew their citizenship rights. Many found that official documents proving their status had been destroyed by civil servants. Individuals, including retired nurses, were even denied health care, while others were detained in harsh immigration detention centers and deported back to their original countries. The bewildered, hurt, rejected citizens became the faces of what is now called the Windrush scandal—a sorry saga that is as much about race as immigration.
There are more American migrants in the U.K. than there are Bangladeshis, Jamaicans or Nigerians; more Australians than Trinidadians or Tanzanians. White immigrants are never seen as problems, burdens or undesirables. Racist immigration policies have been implemented by every British government since World War II. However, the past nine years have been particularly callous and immoral. The Conservative government was determined to create a hostile environment for new and old nonwhite migrants. It succeeded. Exiled from my birthplace of Uganda in 1972, I moved to the U.K. with my British passport. Today, immigrants are seen as interlopers. The most integrated of us now feel insecure and unwanted.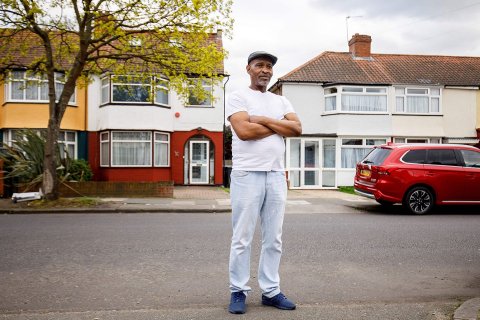 Until now, the royal family has embodied whiteness. More troubling, some of its members have held pernicious views or displayed unthinking bigotry. (The exception was Queen Victoria, an imperialist who denounced the instinctive racism of her courtiers and family members.) The queen mother, Harry's great-grandmother, made racially charged comments that were covered up. She once told an upper-class editor that "Africans just don't know how to govern themselves.... What a pity we're not still looking after them."
That was quite some time ago, you say. But when I met Prince Philip at an event to celebrate William Shakespeare, he turned to my English husband and inquired, "Is she really yours?" Princess Michael of Kent, no stranger to racist comments, attended the queen's Christmas luncheon in December wearing a blackamoor pin. And this April, Prince Charles, father of Harry, asked Anita Sethi, a brown-skinned British journalist, where she came from. "Manchester," she replied. "You don't look like it," he said.
And Harry? In 2005, he caused a scandal by dressing as a Nazi for a costume party. In 2006, he was filmed using the racist terms Paki and raghead while on army duty in Afghanistan. Surely Markle has Googled "Windsor family racist," but you have to wonder if she really knows how illiberal, spoiled, stuffy, culturally stagnant and wily her future in-laws are. With Brexit on the horizon, projecting Great Britain as fair and internationalist has now become an urgent necessity. To safeguard the institution and maintain their wealth and position, the strategic Windsors badly need a makeover.
A royal nuptial is just what is required. Meghan Markle—daringly modern, biracial and social media–savvy—is a gift the country needs and the royals are eager to use. For now.
A Firm, Not a Family
The whole world loves a royal British wedding, even if, thus far, most of the blessed couples have been denied a fairy-tale ending. This is not a family but a firm. Its values and expectations can crush those who join it. Diana was their most conspicuous victim. Sarah Ferguson, ex-wife of Prince Andrew, was scorned; the husband of Princess Margaret and the first husband of Princess Anne (Antony Armstrong-Jones and Mark Phillips, respectively) never quite fit in and slipped away. The Windsors carry on in spite of the dysfunction and scandals. The incredible success of Netflix's The Crown proves there is a huge appetite for splendorous old pageantry mixed with modern twists. It keeps the masses ecstatic and loyal.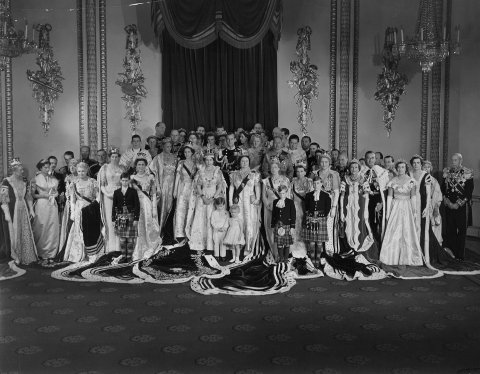 Though not a royalist, I have watched this dynasty since I was a little girl. What a long way they seem to have come, these supreme survivors.
In 1931, Edward, the Prince of Wales, fell in love with a divorced American socialite, Wallis Simpson. After George V's death, the prince became King Edward VIII. Not for long. The establishment decided Edward's marriage made him unfit to be king. He abdicated. In 1952, Princess Margaret, the queen's willful sister, fell in love with Peter Townsend, a wartime hero but divorced, and so forbidden. She renounced her lover one rainy day in October 1955.
In 1977, along came Diana—a 16-year-old virgin when she met Prince Charles. Four years later, she had the big dress and wedding. Her husband carried on with his long-term mistress, the also-married Camilla Parker-Bowles, while unhappy Di produced two sons, William and Harry. This lovely aristocrat rejected royal protocol and hauteur, instinctively treated people as equals and embraced diverse individuals, sometimes literally. The public loved their princess, but the unyielding Windsors were frightened by her. Her inclusivity was an asset to the firm, but they could not value what she was or did. (There are lessons for Meghan in these histories.)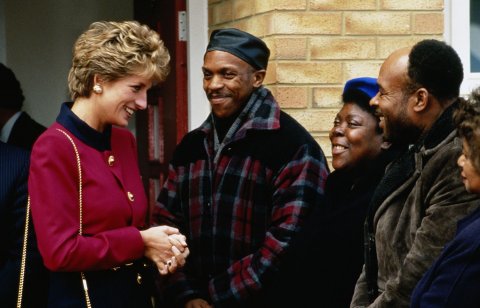 The divorce was painful, but it freed Diana. She fell in love with two Muslim men and might have married one of them. Imagine how the royal family would have coped with that! Luckily for them, she died before she tested them further. Charles, meanwhile, married his Camilla, now Duchess of Cornwall. Divorce was no longer a sin or a red line. Harry's kinfolk, Markle's future in-laws, now come across as welcoming and responsive, more Diana-like.
Class lines are also dissolving. The queen's youngest boy, Edward, married Sophie, whose father was a tire salesman. Catherine, the Duchess of Cambridge, is the daughter of a retired airline hostess and a businessman who runs a successful party supplies company. Markle's mother, Doria Ragland, is a social worker and yoga instructor; her father, Thomas Markle, is a former TV lighting director. And Markle, once a star of the TV show Suits, is, as one Spectator magazine article commented, "the kind of woman the prince would have had for a mistress, not a wife," 70 years ago. Inbreeding and arranged marriages with natural-born aristocrats are out; middle-class tradespeople are in.
A source who worked as part of a press team in one of the palaces tells me Harry delivered the perfect PR opportunity. "The royal family will be seen as today's people, not archaic souvenirs of some past age," she says. "They know their future depends on changing the myth. Charles is a bore—demanding, not popular. He needs William, Harry, Kate and Meghan to give him the shine he desperately lacks. People will be manipulated. Just as they have always been."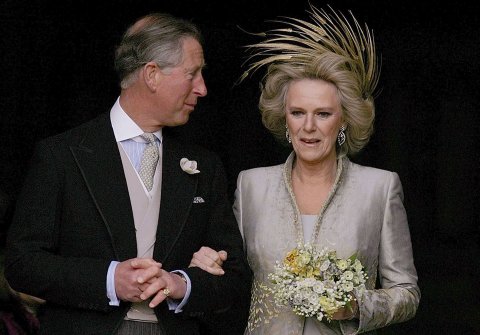 So expect the wildest and most hyperbolic claims when Harry weds Markle. Magazines and newspapers—including those promoting the most vicious, anti-immigrant views—adulate the dark-eyed beauty, selling the idea that the union symbolizes social and racial mobility. Markle is the equivalent of an equality Band-Aid.
Recently, at a fancy dinner, one tipsy male journalist instructed me to "stop banging the noisy anti-racist drum. Racism is yesterday's story. Get it? Meghan is the proof. People like you build careers on complaining about white people. Show some gratitude, some patriotism."
The Myth of Post-Racial Britain
Afua Hirsch, a feisty, biracial lawyer and writer, deconstructs the fantasy that Markle is some sign of a radical about-face. "While I welcome Meghan's entry into the royal family as a symbolic change in a symbolic institution, it will not and cannot change centuries of structural unfairness," says Hirsch, the author of the book Brit(ish), which explores national identity and race, and who has written about the symbolism of the the upcoming wedding for The Guardian. "Britain fools itself into a self-congratulatory position of thinking we had no U.S.-type segregation or slavery or the kind of institutionalized, legalized racism well into the 20th century. But Britain's colonies were practicing plantation economies and apartheid systems for just as long. We have inherited a racism that is far removed from the visibility of daily life but is nevertheless pernicious and pervasive."
Black British journalist Gary Younge, the author of the 2016 book Another Day in the Death of America, has lived and worked in the US. He sees Britai's post-racial myth as "more delusory than the claims made by Americans after Obama's election. These things have symbolic importance which should not be mistaken for substance. It's telling," he adds, "that the biggest eruption in racial activism came under a black president but with almost no reference to him. He is the framed poster in the barbershop or the nail salon, the mural on the underpass." Younge notes that while the question of whether America can have a black president has been answered, "the issue of the sanctity of black life remains to be settled. Similarly, Meghan and Harry's wedding comes at a time when racial attacks are high and immigrants are being persecuted."
Britain did become less racially conflicted and fairer in the early aughts. The April 1993 murder in London of black teenager Stephen Lawrence and the subsequent failures of the police were a wake-up moment. His parents doggedly fought to get justice, deeply impressing the public, the media and politicians. In 1999, Prime Minister Tony Blair's government held an inquiry, led by a judge. The report concluded that racism was embedded in institutional practice and British society. More effective anti-discrimination laws came into force. More important, businesses and powerful individuals did what they could to combat conscious racism and unconscious prejudices.
But jingoism and nativism are on the rise again. On the 25th anniversary of Lawrence's murder, Prime Minister Theresa May announced an annual remembrance day for him. (Markle, who attended the ceremony, was chastised in numerous tweets for "messy hair" and wearing a sleeveless dress. Welcome to England!) Some white Britons became furious that a black life was being honored. These critics believe themselves to be victims of equality policies and political correctness. Many minorities, meanwhile, considered the gesture one of pacification, coming, as it did, right after the Windrush scandal.
Since 2009, xenophobic political parties and politicians have become more vocal and influential. Brexit has further befouled the atmosphere. Not all those who voted to leave the European Union were racist, but it's likely all racists who voted chose Brexit. And they remain agitated. According to the National Police Chiefs Council, hate crime went up 49 percent after the referendum. Brexiters interviewed for this article were furious that dark-skinned people and Eastern Europeans are still living in Great Britain. A retired zoo worker tells me, "We want our country back. Ham and spam, and you lot gone. You are married to that English chap but will never be one of us. I am not racist. Each to their own. I don't want Pakis like you in my country."
Apparently, we migrants and people of color snatch everything—jobs, houses, health care, lovers. And now Harry.
Based on a 2017 online survey, academics at the University of Oxford's Migration Observatory found that "British people make clear distinctions between immigrants based on their country of origin…. Just 10% said that no Australians should be allowed to come and live in Britain compared to 37% saying that no Nigerians should be allowed." At the preferred end of the scale: those who are white, English-speaking, European and from Christian countries. Least preferred were nonwhites, non-Europeans and Muslim countries.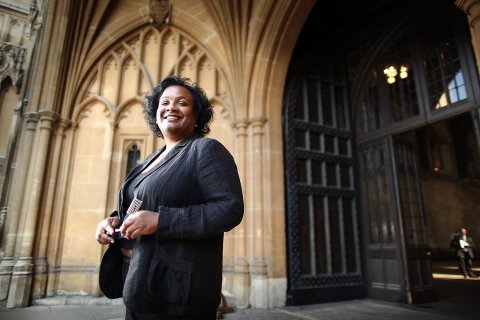 Lately, I've been feeling the burn of racism on my skin again. I have been spat at and insulted. Death threats come along too, and I need police protection. Gina Miller, an extraordinary British Guyanese businesswoman who forced our government to give members of Parliament a vote on Brexit deals, gets terrorized by violent racists. Diane Abbott, the first female black member of Parliament, suffers more savage abuse than any other public figure. She recently wrote: "I've had people tweeting that I should be hung if 'they could find a tree big enough to take the fat b****'s weight'…. I've had rape threats, described as a pathetic, useless, fat, black piece of s***, ugly, fat, black b**** and n*****."'
Markle has not been spared racism or hatred. When the engagement was announced November 27, some newspapers were so crudely sexist and racist that Kensington Palace issued a statement condemning the coverage. The Daily Mail tweeted: "from slaves to royalty, Meghan Markle's upwardly mobile family." Last year, that same newspaper suggested that Markle was "[almost] straight outta Compton." Journalist Rachel Johnson, sister of British Foreign Secretary Boris Johnson, wrote in the Mail on Sunday that Markle could help bring "rich and exotic DNA" to the royal family. She also described Markle's mother as "a dreadlocked African-American lady from the wrong side of the tracks."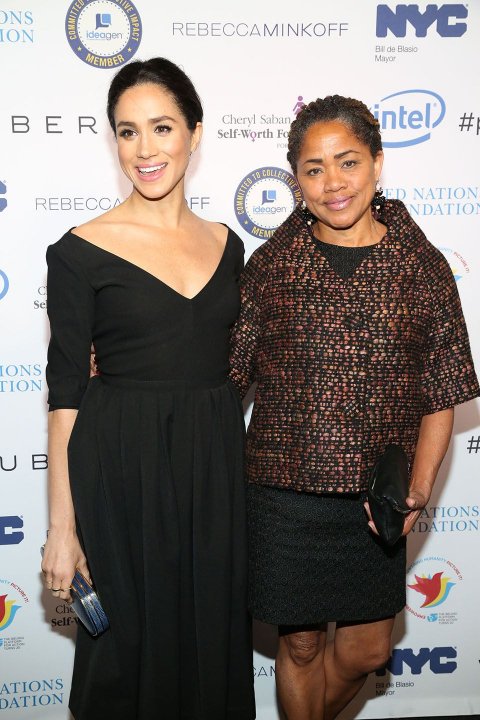 This January, Jo Marney, girlfriend of Henry Bolton, then the leader of UKIP, a hard-right, popular anti-EU party, texted that Harry's wife-to-be would "taint" the blood of the royal family. In February, a racist note and suspicious white powder were sent to St. James's Palace, addressed to Meghan Markle.
The Runnymede Trust, an established think tank that monitors racial, religious and ethnic discrimination, has found that one in four white Britons now admits to being racially prejudiced, and that about half the population would not want a relative to marry a Muslim. Black and Asian Britons have to send twice as many résumés as white Britons with the same qualifications do to get interviews, and according to former Higher Education Minister David Lammy, not one black student was offered a place at 13 Oxford colleges in 2017. The Office for National Statistics has reported that black male graduates are nearly twice as likely to be unemployed as white male graduates. I used to teach young black and Asian teenagers and spent hours persuading them to go to university. Some borrowed a lot of money and were accepted. Of the six who got degrees, only one found a suitable job. Another killed himself, disenchanted and depressed.
A further alarming development is the rise of the hard right. Neo-Nazi parties are creeping into the mainstream from the fringes, their views appropriated by mainstream parties to get populist votes. The government is belatedly trying to tackle this problem.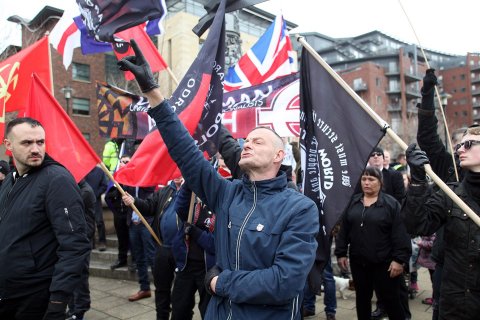 Danny Dorling, a social geographer, tells me not to succumb to pessimism and to take the longer view. "Since the day after the Brexit vote, a great deal of evidence has emerged that attacks and abuse have risen," he says. "This can be seen as a step back, but in general we are moving forward. A small group of racists have become more emboldened, while at the same time the majority of the population are still gradually becoming less racist." That's not how it feels to many of us. I hope he is right. I'm sure Markle does too.
Dorling also believes the wedding will be a boost for Britain, just as people realize how painful Brexit will be for the economy. Tourists and goodwill are what the nation needs.
But is it what Markle needs? She is now being vigorously groomed for her role by palace and state insiders, who will keep her away from inconvenient realities, but the whispered rumors among the tabloid reporters who stick to the Windsors like glue is that Markle is not happy. "She feels isolated and alone," one tells me.
Even as we wish the couple much joy and a long marriage, the hope is that the future princess will be smart and mindful. The family and country she is joining are not what they appear to be.
Yasmin Alibhai-Brown is an award-winning journalist who has written for The Independent, The Guardian, The Observer, The Sunday Times, the Daily Mail and The New York Times. Currently, she is a columnist for I newspaper, the International Business Times and The New European. She has twice been voted the 10th most influential Asian in Britain.