On February 10, an unmanned Iranian reconnaissance aircraft lifted off from a military base in central Syria and penetrated Israeli airspace over the Golan Heights. An Israeli Apache helicopter tracked the drone, filmed it and blasted it from the sky with an air-to-air missile. Israeli warplanes then roared into Syria and bombed the military base where the drone had been launched, destroying an Iranian control center. Amid the strike, Syrian anti-aircraft missiles shot down an Israeli F-16, the first Israeli fighter downed since 1982.
It was two months before Israel responded, but on April 9, after Prime Minister Benjamin Netanyahu conferred with President Donald Trump, Israeli warplanes attacked Iranian forces in Syria head-on. In addition to destroying additional Iranian drones, the Israelis wiped out an advanced Iranian air-defense system that had been shipped from Tehran to Syria and killed seven members of Iran's elite Quds Force, including the commander of the drone unit.
Hard as it is to fathom, these skirmishes between Israel and Iran represent yet another conflict on the blood-soaked battleground of Syria.
The country is already host to one war between government troops and Sunni rebels; another between a U.S.-trained Arab militia and the Islamic State militant group (ISIS); and a third pitting invading Turkish troops against Kurdish fighters. Yet even after seven years of fighting that have left half -million dead and uprooted two-thirds of Syria's 18 million people, the country is bracing itself for a fourth war, this one between Israel and the Iranian forces that have established a sizable military presence in Syria. As both sides trade military blows there, current and former Israeli officials warn that a larger battle between the Jewish state and its archnemesis Iran is just a matter of time. "The confrontation with Iran is unavoidable," former Major General Yaakov Amidror recently told the Israeli daily Yediot Ahronot.
Military analysts in Washington agree. "The trend line that both countries are taking seems headed in the direction of a serious clash," Michael Eisenstadt, director of military and security studies at the Washington Institute for Near East Policy, a think tank with close ties to the Israeli military, tells Newsweek.
On April 29, Israel confirmed those predictions once again when its military aircraft attacked and destroyed a major Iranian weapons cache near the Syrian city of Hama that included surface-to-surface missiles. The explosions registered as a 2.6-magnitude earthquake in the Hama area, the European-Mediterranean Seismological Centre said.
The attack, which Syrian officials said killed 16 people, including 11 Iranians stationed at the base, may have been an effort to prevent an Iranian response to Israel's earlier strike against the airbase, Israeli analysts said.
Eisenstadt and other analysts say that dynamic began to develop as far back as 2012, when Israeli warplanes began attacking shipments of Iranian missiles and other weapons after the hardware had arrived by air in Damascus and was being trucked overland to the Hezbollah, Iran's proxy militia in Lebanon. Over the past five years, Israeli warplanes have bombed these weapons convoys more than 100 times, Israeli officials now acknowledge.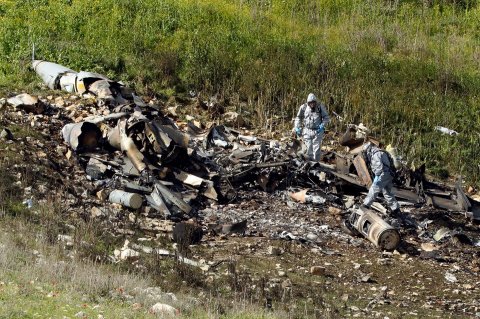 But those airstrikes represented indirect attacks on Iran, part of a shadowy war between the two rivals that also included Israeli cyberattacks on Iran's nuclear program and assassinations in Europe of Iranian nuclear scientists. Israel refrained from taking credit to avoid provoking Iranian retaliation. When Iran did strike back, it also chose to act indirectly, using proxies to strike at distant Israeli targets, such as the attacks in 2012 on Israeli diplomats in India, Turkey, Thailand and the Republic of Georgia.
That shadowy dynamic changed when Iranian forces sent their drone into Israel, setting in motion the retaliatory Israeli airstrikes. Initially, Israel didn't claim credit for the April 9 attack, which came just five days before the U.S., Britain and France launched missiles against three Syrian chemical weapons facilities in response to an alleged Syrian poison gas attack on a Damascus suburb. It was Russia that identified the Israelis.
But since then, Israeli military officials have admitted they launched their attack in response to what they deemed to be an attempted Iranian strike against Israel. The evidence: According to The New York Times, further Israeli study of the film of the Iranian reconnaissance drone that penetrated Israeli airspace back in February showed it was carrying explosives. "The one who takes this path must know that it ends with a difficult war," said Amidror.
Newsweek has been unable to confirm the veracity of the Israeli claim, but events on the ground have rendered it a moot point. Iranian officials have vowed revenge. The big question now is how General Qassem Soleimani, commander of the Iranian Quds Force will respond.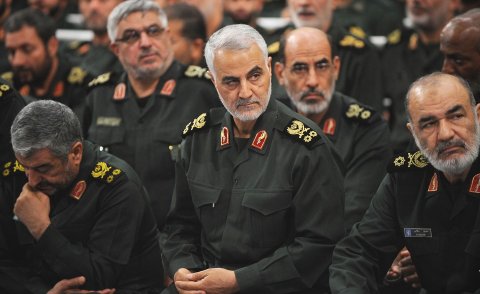 Eisenstadt, who has closely studied Soleimani's tactics, says he expects the Iranian military leader will press ahead with his strategy to turn Syria into a missile platform against Israel. The role of the estimated 2,000 Iranian troops now in Syria, he adds, is to set up the military infrastructure for that endeavor, including factories to produce sophisticated GPS-guided missiles with increased accuracy to hit high-value military and economic targets in Israel. Once this has been accomplished, he said, Soleimani will turn these bases over to Hezbollah and allied Shiite militias. "The goal is to surround Israel on almost every side with proxies equipped with rockets to be able to bombard Israel," Eisenstadt says. "He wants to do in Syria what he did for Hezbollah in Lebanon and, to a lesser extent, for Hamas in Gaza."
As Israel braces for Iran's response, its military officials have vowed they will not allow Iran to do in Syria what it did in Lebanon, which was arm Hezbollah with enough missiles so that the Lebanese Shiite militia presented Israel with a serious threat. Israel eventually went to war against Hezbollah in 2006, resulting in massive damage to Lebanon's infrastructure, a stinging blow to Hezbollah's political popularity in Lebanon and an enduring state of calm along Israel's northern border. Still, Israeli military intelligence estimates Hezbollah now has more than 120,000 missiles in southern Lebanon that could be unleashed in any war between Israel and Iran.
As Iranian forces populate forward air bases in Syria, Israeli military officials recently indicated they are drawing up target lists for counterstrikes against a broad range of Iranian military installations in Syria. These officials recently publicized satellite images and a map showing five air bases in Syria that Iran allegedly uses for its drones and cargo aircraft. The officials also provided the names of three senior Iranian Revolutionary Guard officers allegedly commanding missile units and related projects in Syria. Eisenstadt says the disclosure was a clear warning to Iran. "The message is 'You're totally exposed. If you retaliate, these targets are next,'" he said.
Last year, Israel's land, air, naval and intelligence forces also conducted their largest military exercises in two decades along the country's northern border in what was seen as preparations to invade Lebanon in the event of another war with Hezbollah. The aim of any invasion, Israeli military officials said, would be to "vanquish Hezbollah" so that it "either has no ability or desire to attack anymore."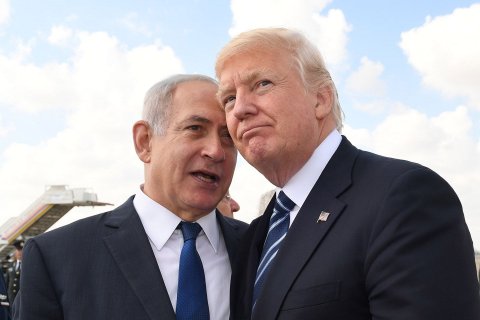 Another danger is the threat that Israeli and Russian forces in Syria could come to blows during any future Israeli airstrikes against Syria. Russian officials recently announced that Moscow will soon supply Syrian President Bashar al-Assad with advanced S-300 air defense missile systems. They add that if Israel attacks these missile systems, it will suffer what an official called "catastrophic consequences."
Israeli Defense Minister Avigdor Lieberman threw the threat right back at the Russians. "One thing should be clear," he told Yediot Ahronot. "If someone fires on our planes, we will destroy them. What's important to us is that the weapons systems that the Russians transfer to Syria are not used against us. If they are used against us, we will act against them. It doesn't matter what system—S-300, S-700 or something else."
Dennis Ross, a former Middle East adviser to both Republican and Democratic presidents, notes that while Israel, Iran and now Russia are rattling their sabers, Trump has publicly stated his intention to pull U.S. troops out of Syria, an announcement that Ross says has "emboldened Iran and Russia and signaled Israel that it's on its own."
"As time goes by, the potential for war increases, and it increases precisely because the U.S. is on the sidelines," Ross tells Newsweek. "And with the U.S. on the sidelines, Israel can't send its signals with words; it has to send them with actions." He adds that Trump's threats to pull out of the 2015 Iran nuclear deal and reimpose sanctions on Tehran play into the hands of Iranian hard-liners like Soleimani, who never trusted the United States in the first place and sees the Quds Force as the spearhead of Iran's drive to dominate the Middle East and confront Israel.
Ever since Israel's founding, in 1948, its defense forces have followed a dictum found in the Babylonian Talmud, the fourth-century compendium of Jewish religious law and theology: "When an enemy awakes in the morning to kill you, wake up earlier and kill him first." As the tensions with Iran escalate, that advice appears, once again, to be Israel's order of the day.