A few months into the Trump administration, former CIA Director Michael Hayden took a reconnaissance mission of sorts to Pittsburgh, where he grew up in a blue-collar, Roman Catholic family and worked summers in Steelers training camps. He'd asked his brother to gather a couple dozen people to talk politics in a sports bar "over some Iron City beer," a local brew.
"I knew many of the participants, indeed had grown up with several," Hayden writes in his troubling and important new book, The Assault on Intelligence: American National Security in an Age of Lies. "But we could have been from different planets." Virtually everyone in the crowd, he recalls, were supporters of the erratic New York business mogul who had improbably won election and moved into the White House a few months earlier. "He is an American," they would say. "He is genuine.... He is authentic.... He doesn't filter everything or parse every word."
Most distressing to Hayden, though, was the revelation that President Donald Trump's supporters were uninterested in facts—"or at least not in my 'facts,'" including the finding by U.S. intelligence that Russian President Vladimir Putin favored Trump and labored mightily to get him elected. When Hayden asked how many in the bar still believed the president's claim that Barack Obama had spied on Trump Tower, hands shot up. Why? "They simply replied, 'Obama.'"
A year later, the partisan divide over Russiagate's well-established facts has widened into a dangerous chasm. With his popularity creeping up in the polls, the president recently sharpened his attacks on the FBI, accusing the bureau of spying on his campaign and demanding the Justice Department turn over the identity of an informant reporting on Russian contacts with Trump associates.
U.S. intelligence veterans fought back. "Complete nonsense," responded former FBI Special Agent Clint Watts, a cyberwarfare expert and author of Messing With the Enemy: Surviving in a Social Media World of Hackers, Terrorists, Russians and Fake News. "This fabricated conspiracy will run wild and be repeated as truth by his supporters, further hurting U.S. institutions." Former CIA Director John Brennan implored Republican leaders in Congress to block Trump from subverting the Justice Department. "If Mr. Trump continues along this disastrous path," he tweeted, "you will bear major responsibility for the harm done to our democracy." (On Tuesday, Representative Trey Gowdy, the House Oversight Committee chairman, told Fox News the FBI had used an informant to assist in its Russia investigation, not to undermine Trump's campaign. "I am even more convinced that the FBI did exactly what my fellow citizens would want them to do when they got the information they got," he said.)
Trump's assaults have cast U.S. intelligence agencies into the unprecedented role of public "truth tellers," Hayden writes in his book, likening them to "scholars, journalists, scientists."
This is rich. CIA leaders long ago forfeited the right to expect the unquestioning faith of the American public. Their role in attesting to the George W. Bush administration's false claims of Iraq having chemical, biological and possibly nuclear weapons comes to mind. Then there was James Clapper, the former head of national intelligence, who lied under oath about surveillance by the National Security Agency. And the FBI still lives with the stain from its long-ago operations to destroy Martin Luther King Jr., the Black Panthers and antiwar groups during the conflicts in Vietnam and Central America. More recently, they enticed feckless terrorist-wannabes into bombing conspiracies.
Now comes Hayden (who as NSA director in the aftermath of 9/11 oversaw the illegal monitoring of Americans' emails) to make the case that today's national security agencies deserve the support of the American people against a Russia-backed president who's trying to destroy their independence.
Irony aside, he's right. Trump's unprecedented attacks on key American national security institutions demand an unprecedented response. The president's claim that this amounts to a "deep state" assault on him is bogus, Hayden and other top U.S. intelligence veterans argue again and again.
"I have worked in intelligence for over three decades. I know what anti-democratic forces look like," Hayden writes. "I have seen them in multiple foreign countries," meaning the secret police and military officers that hold the keys to power in places like Turkey. "There is no 'deep state' in the American republic," he adds. "There is merely 'the state'—or, as I characterize it, career professionals doing their best within the rule of law."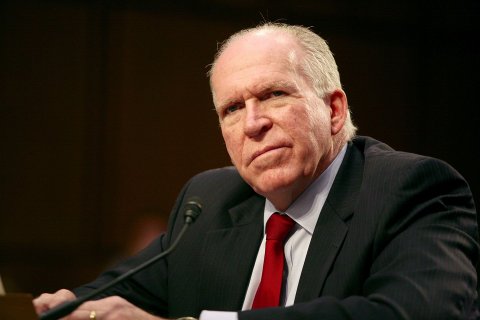 But how do U.S. intelligence agencies, which traffic in secret sources and classified information, transition to a public role? Not easily. Last year, the NSA's then-chief, Admiral Mike Rogers, and then-FBI Director James Comey were clearly uncomfortable on the Hill publicly torpedoing Trump's claim that Obama or his British friends had wiretapped him during the campaign. But that hardly slowed Trump. He only upped his conspiratorial theme, distributed through constant tweets, that special counsel Robert Mueller's investigation into suspected collaboration between Trump campaign officials and the Kremlin is "A TOTAL WITCH HUNT."
It's one thing for U.S. intelligence leaders to counter Trump's claims when they're called to testify under oath in congressional hearings; it's another matter entirely when they continue their campaign out of office via tweets or leaks: They risk validating the president's theme that the "deep state" is out to get him. Hayden's attempt to recast the intelligence agencies as an extension of the fourth estate also "misses an obvious point about the essence of truth telling," Mark Galeotti, an authority on the Russian mafia, wrote recently. "Spooks funnel their truths to their own cadre while engaging in duplicity and misdirection with most everyone else. This has never been an easy line to walk, and in an age when truth is suffering, it only gets more treacherous."
Damn the torpedoes, say Hayden, Brennan and Clapper, who has called Trump's tweets "a very disturbing assault on the independence of the Department of Justice." Hayden revisits the many instances of candidate Trump attacking the leadership of the CIA and FBI before the 2016 election—a practice the president has continued in office, even after installing Mike Pompeo, his own Tea Party Republican spy chief, in Langley and firing Comey for refusing to drop his investigation into Russiagate. But Hayden is equally concerned about Trump's alliance with conspiracy mongers and racists of the so-called alt-right, whose messages are amplified by Russian cyberwarriors and automated bots that "grab any divisive social issue they [can] identify."
Judging by the political discord that has exploded with Trump's rise, Hayden concludes, the Kremlin's social media strategy has been effective enough to pose an existential threat to American democracy. In this, he sees a faint echo of the ethnic wars that broke out in the former Yugoslavia in the 1990s. He even opens his book in the wreckage of postwar Sarajevo, which was a "cultured, tolerant, even vibrant city" until Serbian nationalists launched ethnic wars that eventually left 100,000 people dead and 2 million displaced. "What struck me most as I walked through the city was not how much Sarajevans were different from the rest of us," he writes, "but how much they weren't. The veneer of civilization, I sadly concluded then, was quite thin."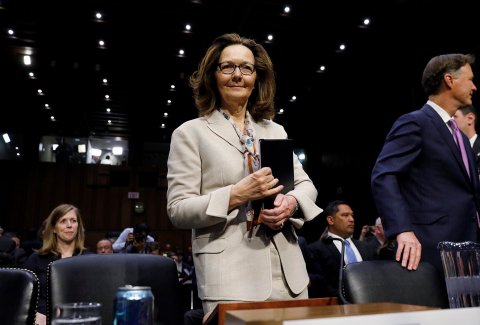 Trump may not (yet) be a Slobodan Milosevic, but he's already proved such an outlier, Hayden concludes, that nobody with a reputation worth preserving should take a job in his administration. A few months after Trump was sworn in, Hayden got a call from a former colleague, who said he was being considered for a "very senior position" in the new administration. What should he do?
Hayden, who devoted 41 years to government service, counseled him to turn down the job, arguing that he wouldn't make a difference in a regime that values loyalty over expertise. "You'll be frustrated and then tarred by the other activities of the administration," Hayden advised, and probably won't last through the first term. "You're a young man. Don't put yourself at risk for the future."
In early May, I asked Hayden if he'd given the same advice to Gina Haspel, the controversial CIA lifer nominated to run the spy agency. No, he says. He'd talked with Haspel, who was confirmed only after a bitter public debate over her roles in the agency's secret counterterrorism renditions and "enhanced interrogations" program. "It was clear after our conversation that she knew the challenges she was embracing and was doing it on behalf of the agency and all of us," Hayden says. Plus, he added, she had "no further ambitions," unlike other senior career officials whose service to Trump could well leave a permanent stain on their résumés. Haspel could afford to tell Trump to go to hell, Hayden was implying, or block some illegal or unethical machinations related to Russia, China, Iran and the like. Only time will tell how that turns out.
At a recent retirement ceremony for a CIA officer, Hayden says, he gazed at the assembled group of agency employees and wondered whether they "realized how much we are now counting on them." It reminds me of something in The Assault on Intelligence: "We are accustomed to relying on their truth telling to protect us from foreign enemies," he wrote. "Now we may need their truth telling to save us from ourselves."