My 84-year-old mother has a crush on Bill Hader. This is surprising; she's more of a Tom Hardy girl. But when she watched HBO's Barry, the edgy comedy Hader co-created with Alec Berg, she became a little obsessed. She hadn't watched the comedian during his eight seasons on Saturday Night Live or seen the films Trainwreck or Superbad. She did not, in other words, decide to watch Barry because of Hader; she watched because it was about a contract killer. (She's also a crime and murder girl.)
At the end of the pilot, as Hader and Berg broke down the episode for viewers, my mother finally heard the high-pitched voice and giggle familiar to his fans. She burst into laughter, delighted by the disparity between the deep-voiced former Marine he plays and the outright nerd he is in real life. "How does he do that?" she asked. "You mean sound like Kermit the frog?" asks Hader when I bring up her response. "I'm attractive to people of that age," he adds. "Tell your mother I'm single again."
No other TV performance this year has produced a double take like Hader's in Barry. He proved he could do more than comedy in the critically praised 2014 film The Skeleton Twins, co-starring Kristen Wiig, his frequent partner on SNL. And even his most frivolous characters on that show had tension—between the native Oklahoman's extreme, unassuming likability and a watchful anxiety (blame the smirk, the furtive eyes, the gymnastic brows with their eternally skeptical arch). But Barry is something different, as daffy as a truly dark show can be. Credited with expanding the possibilities of the half-hour comedy, the show manages, as one critic put it, "to encompass the nausea of thrillers and the mortal tension of thoughtful suspense."
Hader plays Barry Berwick, a veteran of Afghanistan with post-traumatic stress disorder. His condition is exploited by a family friend, Monroe Fuches (Stephen Root), who employs the former Marine to murder small-time crooks. When a hit takes Barry to L.A., he stumbles into an acting class filled with sweetly desperate wannabes.
"Once we got into this idea of a hit man taking an acting class, we noticed some weird parallels, of working in the shadows but wanting to live in the spotlight," says Hader. "You have to be emotionally available as an actor, and as a killer you have to be completely closed off emotionally." At the same time, he adds, Barry couldn't be "a glassy-eyed cypher. You see something roiling beneath the surface."
From the start, Hader and Berg (Silicon Valley, Curb Your Enthusiasm) were intent on sidestepping glib: Killing, says Hader, is not funny. "What Barry does is really fucked up. He's a sad person." The two creators were more interested in the challenge of capturing two opposite tones and playing both as real. A big influence for Barry was William Munny, played by Clint Eastwood in his 1992 Western, Unforgiven. "The idea of violence and how it destroys you and eats up your soul," says Hader. "The first conversation I had with Alec was, What if Munny's therapy for learning how to be a human being was joining the acting group in Waiting for Guffman?"
Too bad death follows Barry wherever he goes. In Season 1, that comes via a motley crew of Chechen mobsters. The show's superb ensemble (particularly Henry Winkler, Sarah Goldberg and Paula Newsome) includes the scene-stealing Anthony Carrigan as Noho Hank, an inexplicably sunny, juice box–loving sidekick to the Chechen boss, Goran (Glenn Fleshler). Hank is modeled on the sort of unflappably helpful guy who works at a genius bar in an Apple store. "It's why he always wears a polo shirt," says Hader. Carrigan got the part because of "the look on his face when he was listening during the audition. He was so earnest—it made us laugh really hard."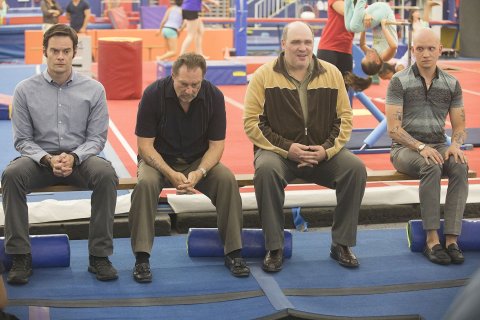 Hader had to buff up for the part; a female trainer "beat the crap out of me three times a week," he says. "Barry's a marine. And I'm not a marine. We thought he should at least look as if he was in shape at one time."
Season 2 is in the works, and Hader and Berg have promised it will be even darker that the first—a prospect set up in the recent finale, which suggested that, as well intentioned and normal as Barry would like to think he is, he might simply be a psychopath.
Hader's in no hurry to spell out his character's past, which is something of a mystery. "I always get restless in TV shows or books where you take a pause in the narrative to find out about somebody, and it's usually explaining why is this person the way they are," he says. "I look at it from the viewpoint of meeting somebody. People don't immediately provide total context—you know, 'Here's my wound.'" Hader giggles. "You learn that after a couple of years, if ever. That's what makes people interesting."
I ask if he's seen Killing Eve, Phoebe Waller-Bridge's superb BBC show that is also, coincidentally, a dark comedy about a contract killer. "No, but I really liked what I saw of Fleabag [also created by Waller-Bridge]," says Hader, whose viewing is mostly limited to true crime shows like Snapped and Forensic Files. "Or kids shows because I have three young daughters. I mainly watch old movies or read because I'm….boring?"
The only current TV he's binged is Donald Glover's Atlanta. "It's like when Sgt. Pepper came out," says Hader, whose high-pitched voice rises even higher when he's excited, as it does now. "What the fuck is that? It's amazing! You wouldn't have another Atlanta—you can't compare it to anything. It comes out and you go, Wow, that is such an expression of an artist!"
Director Hiro Murai, Glover's collaborator on Atlanta and the astonishing "This is America" video, directed two episodes of Barry—a beautiful looking show, with cinematic flourishes. "At a screening of Barry, someone told me it was like a United Artists movie from the '70s. That was the best compliment they could have given me," says Hader. "Those are the films I grew up with." He and cinematographer Paola Huidobro watched classic films like Asphalt Jungle and Ace in the Hole: "We love their simple dynamic coverage." Barry's little daydreams of what his life could be like if he didn't kill people for a living were inspired by Martin Scorsese's The King of Comedy. "On a subconscious level," Hader adds, "there's a lot of Taxi Driver in this."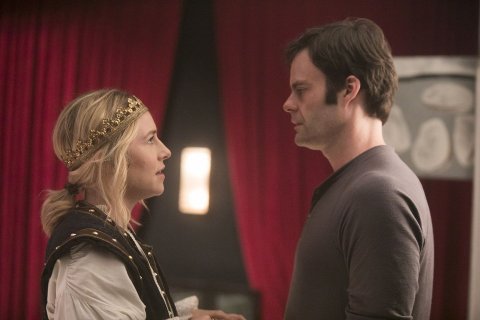 Emmy award nominations will likely rain down on Barry. Hader, who should be a lock for an acting nod (he got three for SNL), will almost certainly get one for writing as well. (He won in that category for South Park after consulting for one season.)
When the nominations are announced, on July 12, the actor will be on the set of the sequel to the 2017 blockbuster It, an adaptation of Stephen King's 1986 horror classic in which the eponymous clown terrorizes seven children. They've grown up in the sequel, and Finn Wolfhard (Stranger Things) suggested to director Andy Muschietti that Hader play his character, Richie Tozier. "Andy calls me and says, 'Finn would love it if you would play Richie,'" says Hader. "I said, 'I don't know Finn, but I would hate to bum him out.'"
The longtime King fan couldn't be happier about landing the role. "When I was a kid, my grandfather took me to a bookstore to buy Red Badge of Courage for school," says Hader. "After I found it, he said, 'Why don't you get a book for yourself?' I started walking towards the young adult section, and he said, 'No, look for something in adult fiction.'" He chose Salem's Lot, which he devoured in a week. "I still have the copy, with little mustard stains on it," he says. The Shining was next, then It, which, at 1,138 pages, "took a whole summer."
It was King's novels that inspired the adolescent Hader "to pull my parents' old Selectric out of the closet and start writing horror stories. It was like other kids hearing the Beatles for the first time and picking up a guitar."
He's become email friends with Owen King, one of the author's two sons, both of whom are "phenomenal writers," says Hader. "I told Owen I was doing It. He wrote back, 'Watch out for the clown.'"