It was August 2017, and white nationalist shock jock Mike Peinovich was firing up his audience on The Daily Shoah, the signature podcast of an "alt-right" network that attracts tens of thousands of listeners a week. Many of them were preparing for the "Unite the Right" rally in Charlottesville, Virginia. Counterprotesters, however, were promising to disrupt the event in Emancipation Park, where city officials planned to remove a statue of Confederate General Robert E. Lee. Peinovich told his audience to come prepared for a fight. "Bring whatever you need, that you feel you need for your self-defense," he intoned. "We don't want them to have the impression that we are going to be showing up there unarmed.… That is not the case."
Some of his listeners apparently got the message. Soon after, members of the Ku Klux Klan and droves of younger, more internet-savvy white nationalists arrived with guns, clubs and Plexiglas shields. Fights broke out, and men and women were attacked with blunt objects. A 20-year-old man who had marched with a neo-Nazi group drove his car into a crowd of counterprotesters, injuring 19 people and killing 32-year-old Heather Heyer. (The driver is charged with first-degree murder.) The story became international news.
Before Charlottesville, few outside the dark corners of the internet had ever heard of Peinovich or his blog The Right Stuff, commonly referred to as TRS. But, as tech companies like Twitter, PayPal and GoDaddy slowly attempt to purge their platforms of alt-right voices in the aftermath of the rally, Peinovich's podcasting network has developed into arguably the loudest and most influential gathering place for white nationalists on the web. His website, TheRightStuff.biz, now hosts more than two dozen podcasts and draws close to 1.5 million views per month. Until recently, a separate fan forum had nearly 10,000 registered users and, according to the Southern Poverty Law Center, appears to be spawning new hate groups. One organization, True Cascadia, operates throughout the Pacific Northwest and has recently drawn headlines for pasting neo-Nazi flyers in local towns. Researchers who study the far-right say it's become difficult to keep up with Peinovich's massive output of white nationalist propaganda.
Some alt-right leaders see his network as a kind of last refuge for a political movement on the run. While his peers at the neo-Nazi website Daily Stormer have been reduced to arranging secretive cash transactions or asking fans for cryptocurrency donations, Peinovich is still able to raise money using the payment processing company Stripe.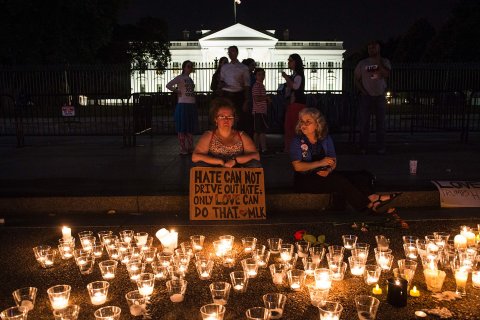 Critics, however, argue that the podcaster is using his website and his voice to hawk a violent ideology: A coalition of students, clergy and Charlottesville residents are suing Peinovich and a handful of other white nationalists—including regular TRS guests Richard Spencer and Andrew Anglin of Daily Stormer—for allegedly using their platforms for "planning, promoting and carrying out" the attacks in Charlottesville last year. If successful, the lawsuit could potentially unmask anonymous Peinovich fans, expose secret funding sources and silence the alt-right's largest microphone.
For his part, Peinovich has repeatedly denied that he intended to provoke violence in Charlottesville—he blames counterprotesters for the clashes that weekend—and expressed regret to Newsweek that it happened. But he and the other defendants have dismissed the legal challenge as "lawfare" designed to dismantle the alt-right. Their speech, they argue, is protected under the First Amendment.
"The facts alleged by plaintiffs in this lawsuit, even if totally true, are not sufficient to establish the elements of a conspiracy," Peinovich tells Newsweek. "All they are really describing are political activists attending a rally."
Peinovich's rise was relatively quick. Broadcasting under the name Mike Enoch (a reference to a far-right British politician who staunchly opposed immigration), the former tech worker posted the first episode of his flagship show, The Daily Shoah, in 2014. The name is a pun mocking the genocide of Jews during World War II. Other shows were quickly added—all of them focusing on building a separate country for white, non-Jewish people and reveling in irony and inside jokes. They have names like The Poz Button, a term mocking people diagnosed with HIV/AIDS, and This Week in White Genocide, which refers to the belief that white people are being slowly eradicated through race-mixing. Another show, Third Rail, which is hosted by anonymous performers who call themselves Spectre and Lauritz von Guildhausen, urged their listeners to call the police on black people and file baseless claims that they had stolen something or possessed weapons.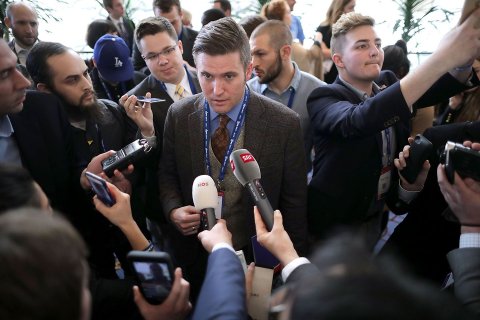 The biggest draw, however, was Peinovich himself, a thick and burly carnival barker adept at channeling his extremist point of view through comedy. His humor is frequently racist and personal. (He has referred to Heyer, the fallen Charlottesville activist, as "the fat chick that died.") He also creates new slurs and lists grievances that get repeated in alt-right circles for months after he speaks. He claims to have invented the omnipresent "echoes" meme, in which Jewish people's names are written with three sets of parentheses around them to single them out for derision by anti-Semites.
Like many other white nationalist podcasts, TRS shows are typically recorded out of a home. But their superior sound quality—enhanced by indie metal band guitarist Jesse Craig Dunstan—distinguished them from the pack. Some say this nod toward professionalism helped turn a home-brew network into an alt-right sensation, simply because it changed the perception of how white supremacists broadcast their messages. "Most of these other white nationalist podcasts sound like they were recorded in a tin can," says Keegan Hankes, an intelligence analyst at the Southern Poverty Law Center. (Dunstan, who did not respond to requests for comment, also contributes song parodies to TRS shows. One example: "Santa Claus Is Coming to Town," replaced with the lyrics "Donald Trump Is Sending You Back.")
Most importantly, Peinovich and his collaborators gave his fans a venue where they could gather—first in the comment threads of the TRS website and later on its forum—encouraging them to participate in political discussions on a daily basis. While topics on the forum could range from anti-Semitic conspiracies to relationship advice (typically with a gleefully misogynistic tone), it also became the place to settle arguments within the alt-right movement, attracting a who's who of white nationalist leaders. One thread from early March debating the subject of how nationalists should present themselves at rallies lasted for 107 pages and read more like a dramatic stage play than a political debate by the time it was finished. (Supporters of the alt-right have developed a reputation for throwing personal insults at one another when things don't go according to plan.)
Peinovich fans also got together in real life at "pool parties." Researchers of the far right say these private meet-ups of TRS listeners represented the next step in the evolution of the alt-right movement, as it stepped out of obscure chat rooms and into spaces like Charlottesville.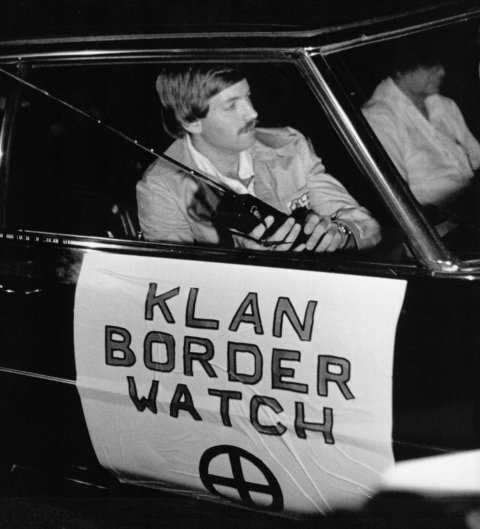 Anonymous activists tried to stop all of this last year by unearthing and leaking the podcaster's real name and personal information, including his marriage to a Jewish woman. As a result, he lost his job as a computer programmer, and some of his fans turned on him. But thousands more stuck around, and Spencer, Anglin and former Ku Klux Klan Grand Wizard David Duke vouched for Peinovich, helping him rehabilitate his image among the white nationalists who often shun people with personal ties to Jews. Hankes believes Peinovich survived largely because of his enormous clout. As Anglin put it in a post on Daily Stormer: "Tens of thousands—maybe even hundreds of thousands—of men have been brought into the [alt-right] movement through TRS and Mike's work." He went on to describe Peinovich's echoes meme as "one of the biggest propaganda coups since the death of Adolf Hitler."
Without a shield of anonymity, Peinovich's commitment to the white nationalist cause seemed only to sharpen, and he began making public appearances with more extreme figures, like the neo-Nazis of National Socialist Movement and the now-defunct Traditionalist Worker Party. He also ramped up TRS's content and invested more time in its growth.
Those efforts are now jeopardized by the Charlottesville coalition's lawsuit, which could potentially force Peinovich to reveal the identities of his anonymous fans. Roberta Kaplan, the attorney leading the suit, tells Newsweek that he should be expected to produce only information about his fans that is relevant to the case at hand, concerning whether they conspired to commit acts of violence in Charlottesville last summer.
But even the mere prospect of being exposed has created a panic: Many fans fear losing their jobs and being isolated from their communities. Peinovich, who is representing himself in the case, has argued that he has a right to protect the privacy of unnamed individuals that contribute to his site. In court documents, he said that "his 'reputation and ability to earn a living' will be 'irreparably damage[d]' if those visitors 'no longer feel they can browse' the website's 'politically controversial' content without fear that their 'personally identifiable information' will be disclosed in litigation." The judge shot these attempts down in April.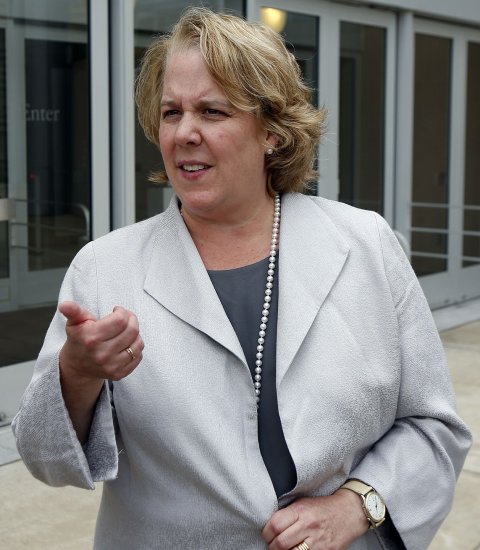 "Dude, get a lawyer," a TRS forum user named @j-r-ewing wrote in a thread about a recent Newsweek story on Peinovich. "The fact that you are [defending yourself] is the most concerning fact in the article. It means that you don't have competent representation."
"You don't know what you're talking about," Peinovich responded.
He further alarmed fans in May, when, during a court proceeding, he accidentally called his Charlottesville security detail his "conspiracy" team, according to people who were present in the courtroom. ("Say the words security and conspiracy five times in a row without making a mistake," he tells Newsweek about the flub. "Now, do it in front of a federal judge. Go.")
As the legal battle continued, the TRS forum and its thousands of posts abruptly disappeared from the internet. Peinovich denied to Newsweek that he was responsible for apparently deleting its history, and he blamed collaborators instead.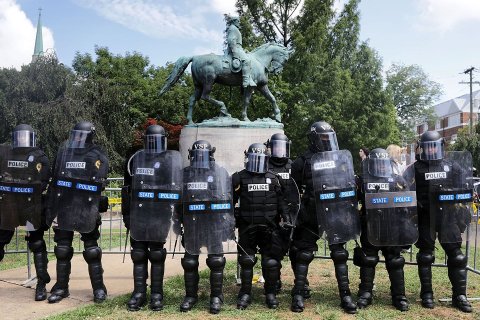 Meanwhile, on air, the podcaster has verbally attacked Kaplan, lapsing into insults when the subject of the lawsuit arises. "Alright, Roberta Kaplan, you poor, swine, sweaty dyke-y, little f***ing Jewish lesbian!" he said on an episode of The Daily Shoah. "F*** you! You don't even know how the internet works."
Kaplan, whose arguments during the 2013 Supreme Court case of United States v. Windsor paved the way for the legalization of gay marriage, says Peinovich has struck a more deferential tone with her and others in the presence of the judge, perhaps indicating that he understands the threat the lawsuit represents to his podcast business.
She provided Newsweek with a transcript of a court hearing as an example. At one point, Peinovich reminded the judge that he was representing himself, without much legal muscle. "I'm kind of up against a lot of stuff here," he said.