Six years before Daveed Diggs made Thomas Jefferson cooler than any history teacher thought possible in the musical Hamilton, he was huddled over a pirated version of the screenwriting software Final Draft with his best friend, Rafael Casal. A producer had offered Casal a movie after seeing his slam poetry on YouTube and HBO's Def Poetry. Casal brought Diggs on board, and right away they knew what the subject had to be: their city, Oakland, California.
In 2009, that topic was weighted with tragedy. "Oscar Grant was murdered at Fruitvale Station, blocks away from where I was living," says Diggs, referring to the unarmed black man shot by a white police officer on January 1 of that year, an incident dramatized by Ryan Coogler in his 2013 film Fruitvale Station. At that point, says Diggs, "you couldn't write about Oakland without talking about that."
But unlike Coogler, Diggs and Casal intended to charge their politics with dark humor. "So many comedies ignore race except when it's funny," says Casal. "We wanted to write a buddy comedy without ignoring the world these guys live in.
In January, Blindspotting debuted at the Sundance Film Festival, starring Diggs and Casal; six months after that, on July 27, it will open nationwide. And that's exactly eight years after the duo expected the film to be made. Diggs laughs: "As I learned," he says of their crash course in the film business, "you can have a movie fully green-lit, ready to go, and then it disappears."
According to Casal, the original plan was to shoot the film for a minuscule budget with limited equipment. At one point, he adds, they even had a director. But the film's producers, Jess and Keith Calder, had just launched their production company, Snoot Entertainment, and they kept getting pulled into outside-funded projects. After three false starts, says Casal, the heartbroken writers told the producers, "We don't even want to talk about this movie anymore. Let's move on."
The persistent Calders, however, came back to the project in 2015. This time, Diggs was the roadblock. He had just signed on to do Hamilton, which debuted off-Broadway. He remembers telling the producers, "I'm sure it will only last three months." A year later, the musical was a record-breaking Broadway hit, earning Diggs a Tony and a Grammy for his two roles (Jefferson and the Marquis de Lafayette).
In February 2017, as Moonlight won best picture at the Academy Awards for its depiction of a black gay man's coming-of-age, Casal drunk-texted the Calders something along the lines of: "We could have had a Moonlight." The Calders jumped back in. "This was the beginning of Trump's America," says Casal, "and we all got reinspired."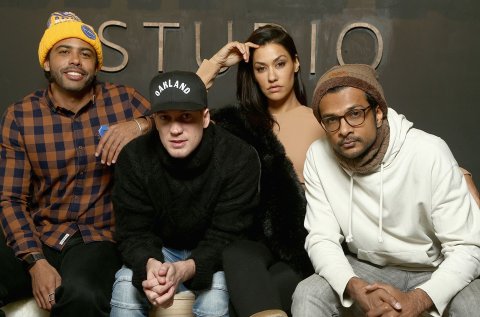 At that point, like many in the original cast, Diggs had left Hamilton, but the rising star's new management team had to sign off on the script. They did, pending a massive rewrite, due in two months. Diggs was busy with acting—guest roles on TV and the Julia Roberts film Wonder —so it was left to Casal.
The basic plot stayed the same: Collin, a convicted felon with a gentle demeanor (played by Diggs), is determined to get through the last three days of his yearlong probation without incident. Miles, his white, hot-headed best friend (Casal), is eager to stir up trouble. Early on, Collin witnesses a white police officer fatally shoot a black man. He tries to bury what he saw, but it eats away at him.
What changed, says Casal, was how the aftermath of the shooting played out. "Over 10 years, that conversation has evolved so much," he says. "When we started the script, there were protests in the street when something like that would happen. Now, nothing."
"The momentum behind movements like [Black Lives Matter] has been tough to sustain," says Diggs. "We thought a lot would change, but it didn't." A big protest scene was dropped. "Now, Collin is the only person affected by the shooting," Diggs says, "with no response from the city. And once word gets out that the black victim was a felon, suddenly he's not perfect enough to warrant protests."
Production began in June 2017. Casal chose a friend, Carlos López Estrada, to direct. Casal sent him references for the Oakland he and Diggs wanted to see, "like Whoville: big cars, big hats, big sunglasses, bright shorts."
Casal's highly stylized vision borders on surreal. "Oakland is a place like nowhere else," he says, adding wistfully, "Well, that was more true when we were growing up."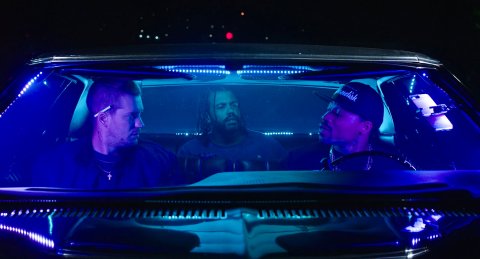 The Bay Area tech boom, which pushed real estate prices into the stratosphere, means the once–predominantly black and Latino city is gentrifying. Collin and Miles resent the young hipsters moving in, but Miles is particularly incensed—as well as desperate to prove that, despite his skin color, he's not one of them. When he and Collin attend a housewarming party, it's not the tech-bro host Miles punches in the face but a black Oakland native who accuses Miles of cultural appropriation.
"When I'm back home," says Casal, who lives in Los Angeles now, "I'm aware of the glaring hostility between presumed locals and presumed outsiders—and I say 'presumed' because no one is actually checking. We're just using race as a placeholder for knowing who's from there and who's not."
Misinterpretation aside, the screenwriters tend to side with natives. The privileged white newcomers in Collin and Miles's world serve, in part, as comic relief, but as Diggs notes, in real life, gentrification "is more complicated than painting bad guys."
He knows because when he moved to New York City for his role in Hamilton, "I lived in Washington Heights and disappointed people every day because I didn't speak Spanish. That was a moment for me to learn something and be—to the degree that I could—part of a community that had thrived for a long time before I got there and will continue for a long time after I've left."
As much as Diggs tried to be sensitive, "it's hard to walk around thinking that way every day," he says. Similarly, Blindspotting is attempting to show that "in any given situation there's something you're missing, through no fault of your own.
"We're not intentionally trying to offend anybody," adds Diggs, "but if you're offended, maybe you should ask yourself why."
The first scene the two friends wrote, back in 2009, comes toward the end of the film. Collin challenges Miles to use a racial slur. Miles refuses. It leads to a confrontation that's been percolating: Miles gets away with his antagonistic behavior because he's white, while the more cautious Collin is stereotyped as a thug because of his skin color and dreadlocks. For Diggs, it was the hardest day of the shoot. "It's the only time I thought, Damn, this would be a lot easier if I wasn't acting with my best friend," he says. "We'd meet up after each take to hug it out."