There has been one Asian-American woman, in the history of television, to be nominated for an Emmy as a lead actress in a drama. That happened this year, when Sandra Oh received a nod for the BBC's Killing Eve. In the history of movies, there has been one Academy Award–winning best actor of Asian descent: Ben Kingsley, who is British and part Indian, for 1982's Gandhi. The only woman of Asian descent nominated for best actress, Merle Oberon (part Indian and Maori), did not win for The Dark Angel, a movie that was made more than 80 years ago.
Constance Wu noted those odds growing up in Virginia as the daughter of two Taiwanese immigrants. For years, Lucy Liu, on the series Elementary and in numerous films, and Oh, who starred for 10 seasons on Grey's Anatomy, have been among the few Asian-American women in leading roles in mainstream entertainment. Wu added another welcome face to the mix when she landed the part of Jessica Huang, the anxious and feisty Taiwanese immigrant mother on ABC's Fresh Off the Boat. Now, she's starring in Crazy Rich Asians (opening August 15), the first major Hollywood film with all Asian American and Asian British leads in 25 years, since 1993's Joy Luck Club. It's also, as Allyson Chiu noted in The Washington Post, "an entire movie about Asians without martial arts and stereotypical nerds."
The pressure to make the film all things to all Asian-Americans is thus intense. Margaret Cho understood that weight when looking back years later at her sitcom All-American Girl—the first American TV show focused on an Asian family—which lasted one season, beginning in 1994. Because the edgy Cho had no creative control, the series ended up endorsing, rather than erasing, stereotypes and myths. "With ethnic identity, there's a right way to be and a wrong way to be, and that's a really weird thing," Cho told Kore Asian Media on the 20th anniversary of her show. "The panic comes from not seeing Asian-Americans on television, so the few images we do have of them become overly scrutinized."
Cho also noted that diversity in entertainment has come a long way (she's a big fan of Fresh Off the Boat ), but hypersensitivity remains, with some worried that Crazy Rich Asians will err on the side of too Asian or its opposite: Accusations of whitewashing surfaced on Twitter when one of the stars, Henry Golding, was called "not Asian enough" (his father is British, and his mother is from Borneo's Iban tribe).
Wu gets it, and she is familiar with social media activism; she was at the center of a Twitter campaign, #StarringConstanceWu, which imagined Wu as the lead of various white-centric blockbusters like The Hunger Games. Even the "starring Constance Wu" credit for Crazy Rich Asians comes with complicated feelings, after years of struggling to find work in Hollywood. "It's difficult to take ownership of being treated with respect," she says. "Usually, you're asked to be grateful for whatever scraps you get, and if you're not grateful for your scraps, then you're shunned."
In the film, adapted from Kevin Kwan's best-selling novel of the same name, Wu plays Rachel Chu, a down-to-earth Chinese-American professor at New York University who is invited to a Singapore wedding by her boyfriend, Nick (Golding). She soon discovers he's filthy rich, and Rachel falls victim to the snobbery of Singapore's elite, including Nick's controlling mother, Eleanor (Michelle Yeoh), who disapproves of her son's "mainland" girlfriend. A psychological game of chicken ensues.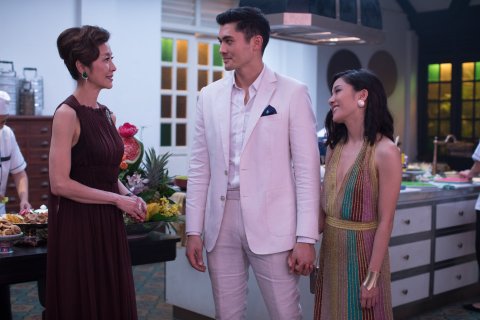 Unlike the broadly funny immigrant Jessica on Fresh Off the Boat, the challenge with Rachel was adding nuance to a "straight woman" surrounded by big personalities. "When you play someone from the outside, you can make that character sing, because they're either a badass or funny—one thing or the other," she says. "You're painting with just blue, but there's a lot you can do with that blue. This time," she adds, "I had more tools, which is great, but it also came with more responsibility."
Director Jon M. Chu is cautiously optimistic about how the film will be received following early test screenings. Audiences cried "not because of what happens in the movie," he says, "but just at the idea of the representation." And representation that offers a full spectrum of contemporary Asians, rather than simple clichés. Many are fabulously wealthy and entitled, like a Singaporean, played by Ken Jeong, who tells his son to finish his food, because "there are a lot of starving child in America."
Chu and screenwriters Peter Chiarelli and Adele Lim actually downplayed the over-the-top wealth in the novel. "Our budget wasn't big enough for all those designer labels," Chu says with a laugh. (Wu jokes that white viewers might question the legitimacy of such consumerism: "Hey, they didn't buy designer clothes in Crouching Tiger, Hidden Dragon!")
Instead, the writers focused on the emotional journey any Asian-American takes when traveling to Asia for the first time—like Chu's own trip, when he was 9. "Your cultural identity splits," says the California-raised director, with a Taiwanese mother and a Chinese father. "You think you have to make a choice, whether you're Asian or not. But then you get to remix your cultures—reassessing the philosophies of each and deciding what to carry on."
It's personal for the 36-year-old Wu, too. Her own family's journey began when her parents emigrated from Taiwan to the U.S., where her father found a job teaching biology and genetics at Virginia Commonwealth University. She started acting at 12, playing the mole in a community theater production of The Wind in the Willows, and studied acting at the Conservatory of Theatre Arts at Purchase College of the State University of New York. After graduating, she struggled to find work in theater, nearly quitting acting to study linguistics at Columbia.
What saved her career, in 2010, was getting dumped. "I never planned to do TV or film," says Wu. "But because I was brokenhearted over a New York guy, I had to get the hell out of Dodge." The good news in Los Angeles: She was getting auditions, thanks to Hollywood diversity quotas. But Wu soon wearied of the token roles offered to minorities: the best friends, the funny assistants. "I don't think I had a single TV audition that was for the No. 1 role."
Landing Fresh Off the Boat in 2015 was its own mixed blessing. "Even on that I'm not No. 1—that's Randall [Park, who plays Wu's husband]. I love him, and I'm glad he's in that position, but Asian-American women so rarely get to center our stories. We're always to the side or objectified."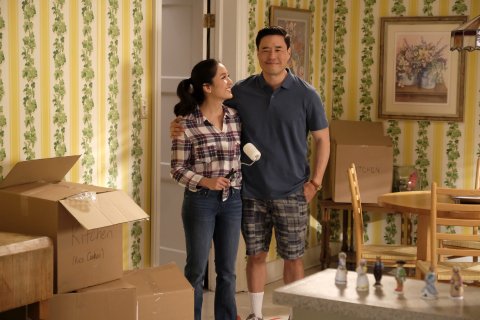 Wu was always Chu's top choice for Rachel. The director, whose credits include the film Now You See Me 2 and the upcoming adaptation of Lin-Manuel Miranda's musical In the Heights, was impressed by Wu's Twitter. "It woke me up. The articles she shares, and the interviews she does about Asian-American representation had a big influence on me when I was deciding what movies to make." (Wu was among Time 's 100 most influential people for speaking out against sexism in Hollywood in 2017.) The two had a great first meeting, but when her Fresh Off the Boat schedule conflicted with the film's start time, they reluctantly parted ways.
"A few months later," says Wu, "I was like, Well, let me just let him know how much I would put into the role." She sent Chu an impassioned email, which went something like, "No hard feelings, obviously, if you still need to shoot in the fall. But if you can wait to shoot, I would be so excited to be a part of this." (Chu recalls another line: "If I didn't write this email, I'd regret it for the rest of my life.") He immediately pushed the shoot three months. "I just knew it was meant to be," he says.
Only box office will tell if Crazy Rich Asians will provide a springboard to more leading parts for Asian-Americans. But Wu is heartened by the alternative platforms offering more Asian-American content, including Netflix having great success with Aziz Ansari's Master of None, as well as YouTube, which hosts web series like "Yappie," from Wong Fu Productions.
"Asian-Americans are not waiting around for permission; they are making their own content," says Wu. "We don't need to worry about the Hollywood gates, because we're now making our own."