Elon Musk wants to save the planet, and in July that meant a boys' soccer team trapped in a flooded cave in Thailand. One diver had died on the treacherous route, and as monsoons approached and oxygen dwindled, time was running out.
Musk tweeted solutions—perhaps a nylon tube inflated like "a bouncy castle" could "create an air tunnel underwater." The tech billionaire sent 10 engineers to Thailand; he traveled to the cave himself; he posted video of teams from SpaceX and the Boring Company (two of his businesses developing a "tiny, kid-size submarine" and delivered the vessel to the scene.
But the rescuers, rejecting the invention as impractical, developed a Musk-free plan to save all 12 boys and their coach. British diver Vern Unsworth, who played a key role in the rescue, dismissed the mogul's efforts as a "PR stunt," telling CNN that Musk could "stick his submarine where it hurts."
Musk snapped. He inexplicably called Unsworth a "pedo guy"—as in pedophile—and then doubled down amid a Twitter backlash. "Bet ya a signed dollar it's true," he wrote, with no evidence.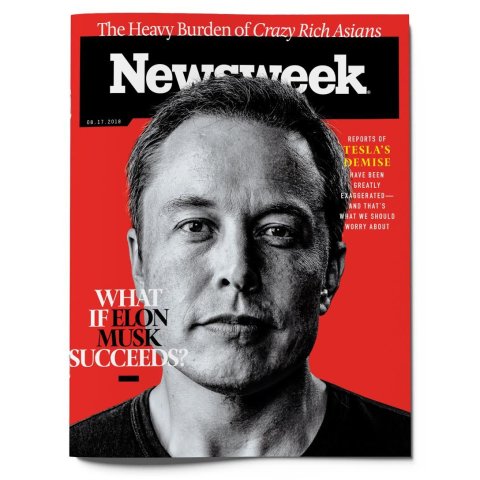 Musk later took back the unfounded accusation and apologized. But he's making a habit of being shocking. Tuesday afternoon he tweeted that he was ready to take publicly held Telsa private, having secured funding that would buy back outstanding shares of stock at $420—a 15 percent premium over its then-price of $366. The stock quickly climbed but trading had to be halted as everyone from investors to the SEC tried to figure out if the Tweet was a weed joke (given the 420 reference), a potentially illegal effort to manipulate stock price, or a genuine financial disclosure of unheard-of magnitude and form.
During a conference call with Wall Street investment analysts in May, Musk, who declined to be interviewed for this story, had refused to answer basic questions about Tesla's faltering financial prospects. "Boring, bonehead questions are not cool," he said. Investors responded by lopping 5.6 percent off his company's stock price the next day.
A few months before, Musk treated his 22 million Twitter followers to harassing rants against reporters who published critical pieces about Tesla, accusing them of bias, conflicts of interest and outright fabrications—also without evidence. He threatened to start a news site that evaluates the accuracy of news articles, tentatively called Pravda—the Russian word for "truth," but better known as the propaganda newspaper of the Communist Party in the former Soviet Union, and now of Russia.
Critics and allies alike began asking: What happened to Elon Musk, the hero of Silicon Valley, the high-tech visionary who was going to save the planet with electric vehicles?
But if you're focusing on Musk's "bad manners," as he called his meltdown, you're missing the point. His plan to transform the car industry is picking up speed. Along the way, it could put tens of millions of people out of work (and that's not a bug, it's a feature), dismantling what has been a foundation of the nation's social and economic life for a century. And it's happening in the service of plying the wealthy with cooler cars.
"Technological innovation has throughout history increased total wealth," says Ryan Lackey, a founder of cybersecurity company ResetSecurity and a veteran Silicon Valley entrepreneur. "But it's often said the gains are going to a smaller and smaller subset of the population."
So the worrisome future may be one not where Musk fails but where he succeeds.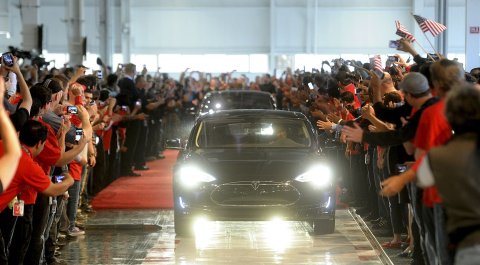 'What the Future Looks Like'
"There's a savior mentality in Silicon Valley," says Lucie Greene, worldwide director of the Innovation Group at advertising and marketing giant J. Walter Thompson and author of the forthcoming book Silicon States, about the growing influence of high-tech companies. "Because these companies can attract so much money despite not having to succeed by traditional metrics like profitability, they're able to position themselves to define what the future looks like."
For Musk, that means transforming the auto industry through innovative manufacturing built around leading-edge robots, advances in batteries and a unique approach to sales that cuts out the need for car dealerships. Tesla has almost single-handedly energized the electric car industry by bringing out sleek, fast, luxurious vehicles that can travel over 300 miles between charges—a welcome development on a planet devastated by our over-reliance on fossil fuels.
Tesla's revenues are climbing as shipments of its first mass-market model start to take off. The company has already taken deposits on the car from half a million apparently eager buyers, and Musk announced in August that Tesla is poised to turn a profit for the first time in the next six months. There's a consensus among analysts that should Tesla burn through the nearly $2 billion it still has on hand—the company incinerated a billion dollars in the first quarter of 2018 alone—Musk can raise the funding he needs to keep going, in part because Tesla may have already become too big to fail.
"The company has a market value of $60 billion, so investors will give him more money," says Colin Rusch, lead analyst on sustainable energy for Wall Street investment company Oppenheimer. Even with the beating Tesla stock has taken recently, the company is still worth more than Ford.
To be sure, high-tech companies have long boasted of disrupting industries with innovative products and new ways to do business. They've unleashed vast improvements in information access, communications and productivity while creating incredible wealth for investors, entrepreneurs and key employees. What Musk represents is the problematic Silicon Valley Effect—the troubling contradiction between tech companies' loudly proclaimed dedication to making the world a better place and their quieter dedication to making products for the rich at the expense of workers.
Just as Amazon's rise has been a disaster for many of the 12 million American workers in the retail industry, Tesla's ascendance could decimate U.S. manufacturing—and not just the automobile industry, which at last count employed 7 million people and supports the livelihood of many millions more.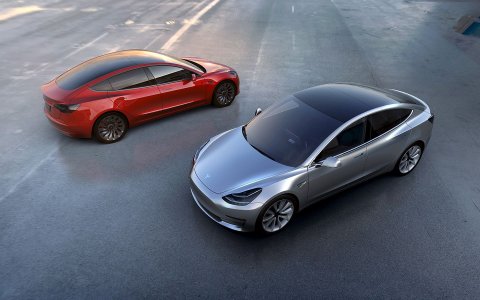 The catch to building world-changing companies, of course, is that they eventually have to turn a profit. That pressure to make money tends to push even leading-edge companies to focus on those who can afford premium, higher-priced products, and to slash labor costs through automation and squeezing fewer workers to do more for lower wages. Tesla is not exempt from the laws of financial gravity. The cheapest vehicle that the company will currently accept an order for is a $49,000 version of its newest model, the Model 3—a car Musk has long bragged would have a starting price of $35,000. That's essentially the average price for a new car in the U.S., but there are plenty of models priced under $20,000.
His disputed claim—that Tesla can make money selling a $35,000 car to millions of people—has come to sound like the practice Silicon Valley fondly calls "fake it till you make it." That is, a disruptive new company that has a lot of kinks to work out needs to drum up a certain amount of hype to pull in the investors, talent and customers it needs to sustain itself while it tries to make a profit. And then it has to figure out how to deliver on that hype before everyone notices.
Musk had a good run of living up to his hype, until his ability to deliver the Model 3 slipped well behind his promises to start shipping in the beginning of 2018. At present, no cheaper Model 3s will be rolling off the assembly lines in the hundreds of thousands anytime soon. And according to some reports, the lower-priced versions won't reach customers until 2020. That's a problem, because most analysts agree Tesla's survival is pegged to its ability to deliver a $35,000 car in big numbers.
Making matters worse, a growing litany of complaints and safety concerns have dogged the company. The much-touted Autopilot driver-assist system has been implicated in several crashes, a few of them serious and one of them fatal. Earlier this year, Consumer Reports rated the Tesla Model 3 one of the worst-braking cars it had ever tested. A software update to the car—which, like Tesla's other models, is available with the Autopilot system—apparently helped, but concerns recently rose again when Tesla dropped a standard factory braking test, apparently to boost lagging production rates. (The company has claimed it thoroughly tests braking in other ways.)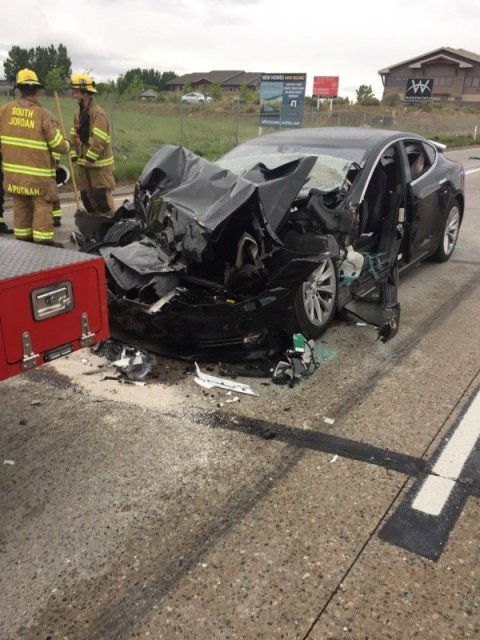 Meanwhile, Tesla's highly regarded top engineer, Doug Field—a former Apple executive considered among the most influential in the valley—left in early July amid the struggle to fix production woes, the latest in a long string of management departures over the past few years. And a former employee has turned whistleblower, alleging Tesla shipped cars with dangerously damaged versions of its potentially highly flammable batteries, drawing a $1 million lawsuit from the company over what it says are false claims. It doesn't help that a federal tax credit that effectively knocked $7,500 off the price of a Tesla is phasing out.
Even some of Tesla's customers, whose loyalty is the stuff of legend—500,000 buyers have plunked down $1,000 deposits on the Tesla 3, sight unseen—may be getting tired of the delays and bad news. One financial analyst estimates that about a quarter of those advance orders have been canceled. Wall Street is growing increasingly dubious as well. Investors have shorted more than 35 million shares of the company's stock—essentially betting the stock price will dive—saddling it with the distinction of being America's most shorted.
The stock price recently spiked 15 percent in one day on a less-grim-than-expected quarterly earnings report that included the company's prediction it will be profitable by year's end. But that still leaves the stock down $35 from mid-September last year. In March, Moody downgraded Tesla's credit rating, flipping the company's outlook from "stable" to "negative."