A senior adviser for the United Nations Entity for Gender Equality and the Empowerment of Women is under investigation for sexual misconduct. The U.N. has "a job of work to do" to reform its culture and restore trust, a U.N. spokesperson said.
At least eight men have accused Ravi Karkara, senior adviser to a former U.N. assistant secretary-general, of using his prestige and position to sexually harass them, five sources with knowledge of the investigation told Newsweek.
Karkara did not respond to multiple requests for comment this week and dating back to December 2017, when the U.N. announced a sexual misconduct investigation (without identifying the subject by name). No charges have been filed in the 13-month ongoing investigation. On July 26, a spokesperson for the United Nations entity, also known as U.N. Women, said that the probe's "subject remains on administrative leave" and that, while still on U.N. payroll, the person "is not currently performing any active function."
U.N. officials confirmed on August 1 that an investigation is ongoing but declined to comment on whether Karkara was the subject of the probe.
U.N. Women is the youngest division of the U.N., becoming a distinct branch in 2011. It sets global standards for seeking gender equality and then helps member countries turn those standards into laws, policies and programs.
Mandy Sanghera and Kerry Gibson, international human rights activists and U.N. Women Planet 50-50 Champions, told Newsweek the subject of the investigation is Karkara, who is currently on leave from U.N. Women. Gibson and an alleged victim filed complaints that started the investigation, while Sanghera learned of it through a former U.N. official and confirmed it with several alleged victims.
Two other former U.N. staffers with knowledge of the investigation confirmed that Karkara is the subject of the probe, as did one of his alleged victims whom U.N. investigators interviewed 13 months ago.
Sanghera called the senior adviser "a predator." Speaking from her home in London, she said, "What's finally coming to light is a long pattern of inappropriate sexual behavior."
The U.N. Development Programme's Office of Audit and Investigation is running the investigation and will ultimately submit its report to the development program's Legal Support Office to determine whether disciplinary proceedings, administrative actions or a public reporting of findings are warranted. Even if he is charged locally in state or federal court, Karkara could avoid punishment if he has diplomatic immunity.
Sanghera, Gibson and an alleged victim, Steve Lee, said the sexual misconduct accusations against Karkara include touching or grabbing a subordinate's genitals in a hotel room, using work devices to send pornography and follow-up questions to male subordinates, creating a climate of sexual innuendo and obscene gestures in the workplace, and using his position and access as leverage to initiate sexual encounters. They said Karkara is also accused of nonsexual harassment and abuse of power for his conduct with subordinates in and out of the workplace.
Others associated with Karkara and his alleged victims confirmed the basis of the probe. Aashish Khullar, the former organizing partner of the United Nations Major Group for Children and Youth, said some of the young people in his organization approached the group's leadership with complaints about a senior staff member at U.N. Women.
Khullar, reached by phone in Boston, said he personally spoke with "seven or eight" young men who reported varying levels of sexual misconduct by Karkara and spoke with investigators from the U.N. Development Programme's Office of Audit and Investigation.
"There was a prevailing sense among all who had worked with him that misconduct was his modus operandi," Khullar said of Karkara. "No one was surprised when this was formally raised."
'Prepare...and Practice'
Lee, a 25-year-old policy activist who has addressed the United Nations and was a member of the Major Group for Children and Youth, is among the men accusing Karkara of misconduct. He spoke to Newsweek and gave his name in hopes that the U.N. would invest more in sexual harassment policy enforcement, as well as human resources and hiring practices.
Lee said he first met Karkara in 2009 as a 16-year-old delegate for UNICEF. They were just acquaintances until January 2016, Lee said, when Karkara invited him to join a policy working group he co-chaired. As Lee began to work more closely with U.N. Women and Karkara's working group, Lee said Karkara made him feel both grateful and uncomfortable.
Lee said he was naive then, a devout Christian who was inexperienced in relationships, facts that Karkara would harp on—in texts, by Skype, on social media and every time they saw each other. The two men would meet up at 10 events in New York City and across Canada over the next 15 months, Lee said.
On December 1, 2016, Lee made a five-hour drive from Ottawa to Montreal, just to clock in with his mentor—Karkara—who was in town to speak at McGill University, Lee said, and he was staying at the Hotel Omni Mont-Royal.
At the hotel, Lee said, he went upstairs with Karkara to help with his luggage. When the door closed, Karkara and Lee were alone, which made Lee nervous. Whenever they were isolated, he said—whether in Karkara's office, the U.N. elevator, a car or a hotel somewhere—Karkara would taunt him by making oral sex or masturbation gestures, or asking inappropriate sexual questions. Lee said Karkara would ask: After all he had done for him at the U.N., didn't Lee owe him oral sex?
This talk about receiving oral sex from Lee became a constant refrain for Karkara, Lee said. "Prepare," Karkara texted Lee on WhatsApp, in screenshots reviewed by Newsweek. "Practice. See videos…and send me links that you like."
In the hotel room in Montreal, Lee said, the older man took off his clothes and changed into shorts and a T-shirt while Lee stayed clothed, sitting in a chair and looking at email on his laptop. Then Karkara grabbed the younger man's computer and started going through his search history, Lee said, keeping it just out of his reach.
Two of Karkara's former subordinates said this was a common occurrence: He followed minute developments in young staffers' social media profiles, demanding credit and gratitude, snapping at them if he was not invited to an event, thanked on a program, mentioned in an article or named to a panel. He would grab their phone or device and log in to their email, social media or internet search histories, Lee said, adding that he developed a habit of deleting his recent texts, posts and search history before meeting with Karkara.
Back in the Montreal hotel room, the senior adviser to the assistant secretary-general of the United Nations started asking Lee sexual questions, Lee said. Do you look at porn. What kind? What do you think of it? Are you sexually active? Do you masturbate? Have you been practicing?
Lee said he laughed and asked the senior diplomat to please stop talking that way. As he reached across Karkara to get back his laptop, Karkara grabbed Lee by his genitals through his pants, Lee said.
"He does this with a lot of young men, and I don't really think it's sexual favors he's looking for," Lee said. "He enjoys the fact that he's at a position of such high authority that he can do this and they can't really do anything about it."
Lee said he pulled away and was leaving the room when Karkara asked a question that disturbed him the most: Was I your first?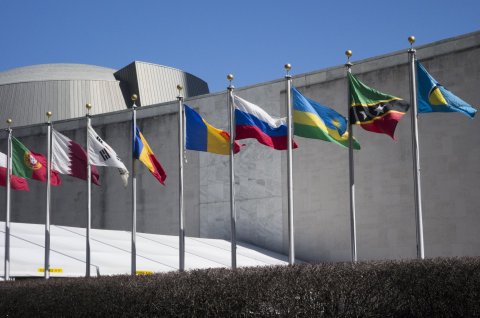 Command and Control
The news of a sexual misconduct investigation into a senior official comes at a precarious time for the United Nations.
The Guardian and PBS's Frontline have investigated U.N. peacekeepers this year over the sexual abuse of vulnerable people in war zones. Frontline identified more than 2,000 victims worldwide and concluded that it is hard for them to get help and that the "unacceptable" U.N. response fell short of justice.
This sexual misconduct probe, by contrast, is looking inside the U.N. headquarters in New York and into U.N.-related events in other cities around the world. National security lawyer Mark Zaid, an expert in international law, said diplomats are usually "the best of the best of their country," which makes this U.N. probe into a senior staffer more notable and surprising.
"There's a big difference between U.N. peacekeepers and U.N. diplomats," Zaid said. "The peacekeepers, they are basically some local nation's military who could be completely uneducated and just as brutal as anybody else. I would hope to never see it or hear about it, especially from Blue Helmets, but it wouldn't surprise me in the slightest. But when you tell me about an actual diplomat, that's a problem."
The U.N. Women spokesperson on sexual harassment, Purna Sen, appointed for a six-month position in March, would not comment on Karkara or the investigation. But she said she was saddened during her first three months on the job to hear so many sexual misconduct horror stories from U.N. staffers, most of them female.
She said there is a connection between misconduct in the "field" and misconduct inside the United Nations headquarters.
"I would argue there's a link between the sexual exploitation that goes on with civilians and others outside the U.N. and what goes on within the U.N.," Sen told Newsweek. "There are cultural issues in common with this organizational behavior."
She said that to move forward and regain the trust of its staffers, the U.N. needs to limit confidentiality restraints on witnesses and victims in internal investigations and institute greater transparency, accountability and timeliness in its hiring and investigations processes. The U.N.'s emphasis on seniority and hierarchy makes sexual misconduct problems worse, she added, especially when investigators are seen to be close to senior leaders and other people being investigated.
"I do think there are big questions about making due process work for victims," Sen said. "There's growing evidence that organizations which have a command and control structure with a particularly strong hierarchy are witnessing a higher number of sexual harassment reports that are not dealt with, because the cultural norms are about not questioning authority, about some degree of excusal from examination—and some of that is reflected inside the U.N. too."
Gibson, the U.N. Women 50-50 Champion and president of EcoCentury Technologies in Vancouver, British Columbia, said the "patriarchal and hierarchical" nature of the United Nations makes it ripe for misconduct by the powerful.
"There's an entire culture within the United Nations that allowed this to happen," Gibson said. "This is an elitist organization that was very hush-hush about everything on the pretense of protecting the greater entity. That allowed for many scandalous behaviors to occur."
Innocence, Ambition and Fear
U.N. Women issued a press release on December 16, 2017, that announced an internal sexual misconduct investigation into an unnamed "staff member." Sanghera and Gibson told Newsweek the probe actually began almost six months before the news release, in June 2017, when the Office of Audit and Investigation interviewed the first alleged victim. After issuing the December release, U.N. Women said it "recognizes the gravity with which such cases should be treated."
Many of the U.N.'s lower-level staffers and interns are 16 to 23 years old, with little professional experience. One such former staffer, now the executive director of a nongovernmental organization, said she started like them, in what would later be called U.N. Women.
"Imagine what it's like," she said. "You're an 18-year-old young person, you come from maybe an underprivileged area of the world, it's your first time to New York, it's your first time in the [U.N.] corridors that you have aspired to. You feel like you're changing the world—you're making a huge difference—and then you come across this individual who on one hand tells you he can open all the doors but on the other hand behaves inappropriately.
"What are you left to do?" she asked. "Who are you going to talk to if there is no clear mechanism to do that?"
She said inexperience, ambition and fear keep young people's mouths shut.
"The perception at least was that if you're shunned out of the space, then you won't be able to continue your advocacy," she said. "You might be ruining your career chances."
Karkara worked at U.N. Women under Lakshmi Puri, the former U.N. assistant secretary-general for intergovernmental support and strategic partnerships. Puri was appointed by former United Nations Secretary-General Ban Ki-Moon in March 2011. Her husband, Hardeep Singh Puri, is a top Indian government official and senior adviser to Indian Prime Minister Narendra Modi.
Four sources close to the investigation who were interviewed by Newsweek said that they perceived Karkara to be almost untouchable because of his close relationship with the Puris, and that alleged victims kept quiet because they feared retaliation. A U.N. Women spokesperson said Puri's resignation in January 2018 was not related to the sexual misconduct investigation and had to do with supporting her husband's political career in India.
Karkara stopped posting to his social media accounts in December 2017, but he still casts a long shadow online. He has years of experience working on youth issues for international diplomatic organizations, including the U.N., where he was an expert adviser on children and youth issues in the Partners and Youth Branch of the United Nations Human Settlements Programme (aka U.N.-Habitat) and a global adviser on youth for the program. Earlier, he worked as a youth issues consultant with UNICEF and Save the Children. The government of Sri Lanka in 2014 appointed him a global adviser to the World Conference on Youth.
In August 2017, with the U.N. investigation into his conduct already underway, Karkara attended and gave a keynote address to a Youth Assembly held at the U.N. headquarters in New York.
The Office of Audit and Investigation probe is now in its 14th month. Karkara was offered the opportunity to be interviewed; it's not known whether he spoke to the investigators. At the conclusion of the probe, the audit and investigation office will submit its findings to the Legal Support Office for possible further action.
Like all high-level U.N. officials and staff members, Karkara, who has not been charged with any crime, likely would have immunity from state or federal charges, and even from civil liability, under the authority of the United Nations or of his home country, India.
The only legal action available to the host country in diplomatic immunity cases is the expulsion of the subject, Zaid, the national security lawyer, said. "The U.S. could declare him persona non grata and require him to leave the country."
He recalled a 1997 case in which the Republic of Georgia waived diplomatic immunity for Gueorgui Makharadze, the first secretary of Georgia's embassy in Washington, D.C., after he killed a Maryland teenager while driving drunk. Makharadze was tried in federal court, pleaded guilty to involuntary manslaughter and was sentenced to between seven and 21 years.
While diplomatic immunity can be waived by the U.N. or by a diplomat's home country (as in the Makharadze case), Zaid said it is extremely rare for either entity to do so, because it means allowing free range for prosecution by local authorities.
"The level of diplomatic immunity [a U.N. staffer] has is obviously going to make a difference," Zaid said. "It is possible [such a staffer] is immune from prosecution from any crimes, up to and including murder."
United Nations policy, at least, is clear. The Standards of Conduct policy forbids sexual harassment and has "zero tolerance" for sexual abuse and exploitation, including "any actual or threatened physical intrusion of a sexual nature, whether by force or under unequal or coercive conditions; any actual or attempted abuse of position of vulnerability, differential power or trust, for sexual purposes…. This includes acts of transactional sex, solicitation of transactional sex, and exploitative relationships."
Purna Sen, the U.N. sexual harassment spokesperson, said the United Nations should not only be above reproach on its own issues of sexual misconduct but should lead the way internationally by setting an example for other hierarchical institutions on how to adapt to a new era.
"The U.N. should be a beacon, it should be leading, it should be ahead of the curve," Sen said. "The values of dignity, respect and autonomy need to filter through the fabric of everything we do. I think we are very much wanting."
How to get help: In the U.S., call the National Sexual Assault Hotline at 1-800-656-HOPE (4673). For international assistance, the University of Minnesota has produced a handbook on sexual assault resources; it can be accessed here.
Editor's note: If you have experienced abuse by U.N. officials and want to share your story, you can contact Newsweek at newsweektips@protonmail.com.