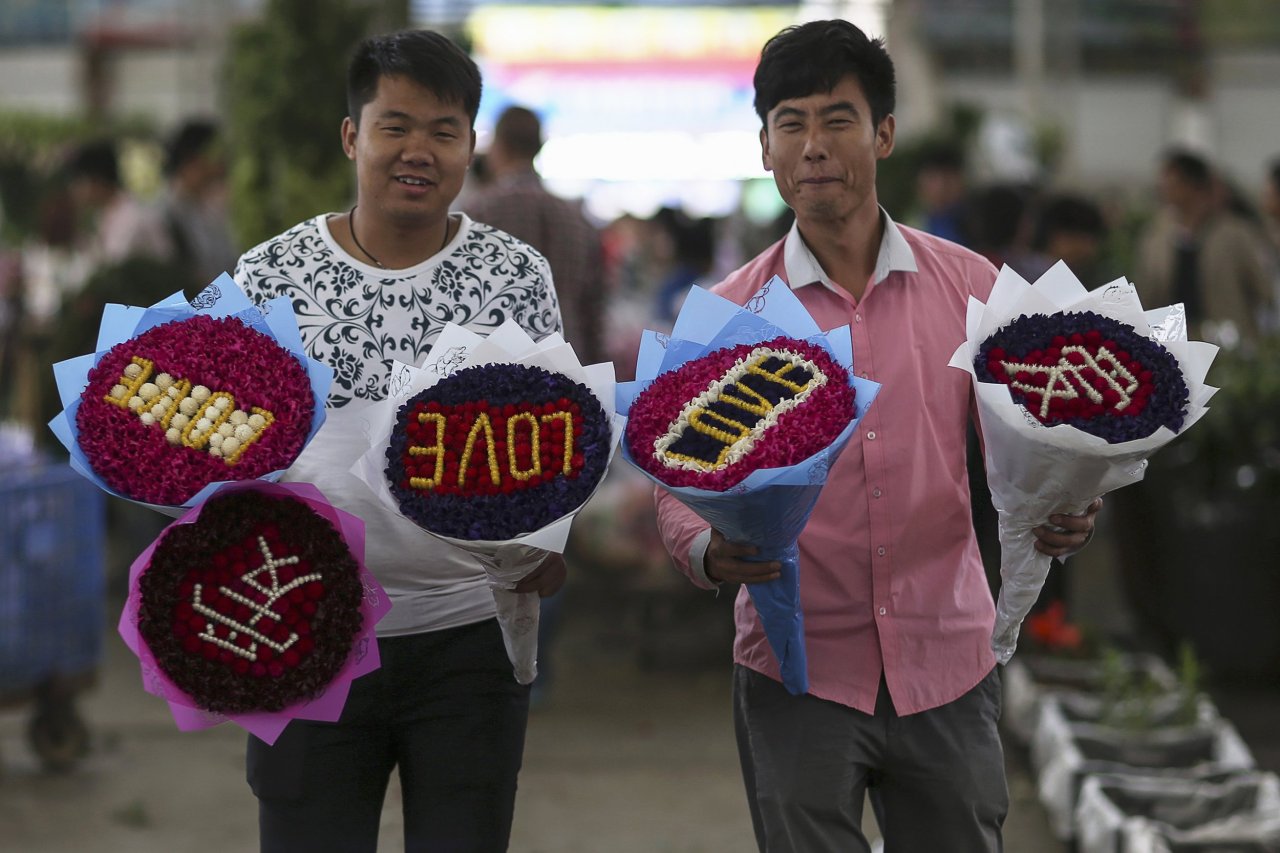 Valentine's Day is a time to celebrate love and lavish your significant other with extravagant gifts or overpriced flowers. But in China, it's not all roses.
Friday is Qixi festival, also known as Chinese Valentine's Day. The festival's origins date back 2,600 years to a Han Dynasty legend about two lovers—Zhinu and Niulang, also known as the weaver girl and the cowherd—who fall in love but are only permitted to meet once a year: on the seventh day of the seventh lunar month on the Chinese calendar.
Traditionally in ancient China, women celebrated Qixi by worshiping celestials, taking part in rituals and burning paper items as offerings. But, in the modern age, the occasion is heavily marketed toward single, middle-class urban millennials who often have—in the eyes of their parents—fallen behind on the intergenerational quest to carry on their family lineage.
"Chinese single people have a lot of pressure from their parents, peers and society to get married," Dr. Jieyu Liu, deputy director of SOAS China Institute told Newsweek. "The celebration of this festival will put additional pressure upon those people who are single."
As millions of Chinese men and women in their 20s and 30s prepare to spend the day looking for love or strengthening their budding relationships, the ruling Communist Party will be observing in anticipation.
Encouraging singles to settle down isn't just a family issue, it's has a become a matter of state concern. China is now one of the world's fastest aging populations with rapidly declining fertility rates caused by the introduction of the one-child policy almost 40 years ago. Recently, the U.N. estimated that Chinese citizens over 60 will hit 440 million by 2050, a figure larger than the entire population of America.
Together, these two trends have caused the labor market to shrink substantially. In 2014, Beijing's National Bureau of Statistics reported that the mainland's working-age population dropped 4 million to 915.8 million.
The Communist Party are aware that fostering an environment for youth to get married and, more importantly, have children will help mitigate these economic concerns. And they are taking action. Last June, the Communist Youth League—not usually known for playing cupid—organized a mass speed dating event for 100,000 singles in Zhejiang.
Meanwhile, the All-China Women's Federation in the northern Gansu province hosted a similar function for "leftover men and women," a term commonly used to describe unmarried women over 27 and unmarried men over 30.
State-owned newspapers also worry about China's lonely hearts. In 2014, Global Times reported that more men were growing lonely and feeling unwanted due to the gender imbalance caused by a preference for sons. "Skewed birth rate and high marriage expectations casting single guys on scrapheap," the paper wrote.
That same year, the National Statistic Bureau estimated that there'll be approximately 30 million more men than women between ages 24 and 40 by 2020. "The continual accumulation of unmarried men of legal marrying age greatly increases the risk of social instability and insecurity," admitted the People's Daily.
And throughout the past decade, the patriarchal state has also launched numerous campaigns warning urban-dwelling single females of the pitfalls of being a "leftover woman."
However, governmental pressures pale in comparison to that placed on Chinese singles by their families and the inner community. Finding a partner in the mainland is just as much about social status and parental approval as it is about love.
"The societal expectation is that everybody should get married. That's the general trend, it is taken for granted," Liu said. "That's why parents become anxious if their children reach their late twenties and still haven't been married."
With that in mind, Chinese singles have turned to unorthodox dating methods. In recent years, mass blind dating events have emerged in cosmopolitan cities, such as Beijing and Shanghai, where thousands of hopefuls gather at parks or stadiums to meet the opposite sex. These chaotic, strange affairs have been growing in popularity, with some people even attending on behalf of a relative.
In addition to "Tantan," China's answer to Tinder, the creation of numerous unconventional apps demonstrates another response to the rise in dating across the mainland. In 2015, Cao Tiantian launched "Hire Me Plz," a Chinese date-for-hire app that offers singles the opportunity to rent a fake girlfriend or boyfriend for dinners or social events. From anywhere between $0.15 to $288 an hour, singles can find a last minute date for any occasion, although sex is not part of the service offered. Prostitution is still illegal in China.
Last January, Cao revealed that the Lunar New Year and other holidays experience an explosion of users despite surges in price. "Over 1,000 users on our platform have signed up as dates for hire for the New Year break," he said, noting that he expects the date-rental industry will grow into a multibillion-dollar market by 2022.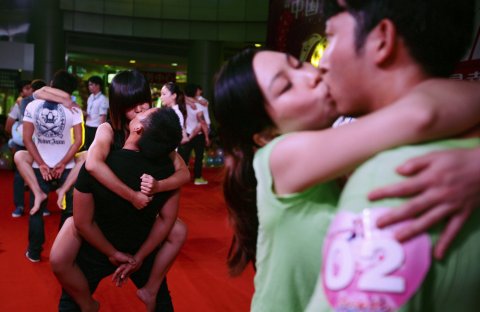 Twenty-five-year-old Cecilia Cao from Guangzhou blames the rise in unconventional dating on an increasingly hardworking society and general laziness to socialize. "Chinese people are always at work and don't have time to go to parties," she said. "There are also people who don't want to go out, they just want to stay at home. They have to be introduced to people."
Other Chinese women also echoed these sentiments. Zhao Xuewei, 20, from Tianjin, told Newsweek that youth have increasingly been choosing to browse the internet and play computer games at home rather than attend social events. "Most people date for marriage," she said. "But now, more and more young people are unwilling to get married because of the heavy life burden and high expenditure of raising a child."
Although the Communist Party relaxed the one-child policy a few years ago—allowing all families to have two children—the high costs associated with raising a child have deterred many couples from making use of the opportunity.
In 2015, the Chinese Academy of Social Sciences estimated the average cost of raising a child to 16 years old was $71,644. According to the Ministry of Human Resources and Social Security, the mainland's per capita disposable income was just $3,212—falling well short of the projected child-raising cost, especially as it would be implausible for a family to put every cent of their disposable income to the sole goal of child-raising.
While these costs have meant Chinese singles are less determined to get married, their relatives often take matters into their own hands. Every weekend between noon and 5 p.m., thousands of parents flock to The Shanghai Marriage Market at the People's Park in hopes of finding a suitable addition for their families.
There, they hang up a piece of paper with details about their son or daughter, including (but not limited to) their photo, age, height, income, education, zodiac sign, family values and personality. If two parties align with their requirements, they engage in conversation to determine family compatibility before proceeding to organize a meeting.
Although the event has been described as "match.com meets farmers' market" and boasts a relatively low success rate, thousands of parents still attend the gatherings each week hoping to get lucky. The concept seems bizarre to outsiders, but for decades Chinese marriages were mostly arranged through families or matchmakers—until the idea of "freedom of love" rose to prominence around the 1950s.
Unsurprisingly, the societal coercion of singles into marriage has troubling consequences. According to the Ministry of Civil Affairs, the "crude divorce rate" doubled from 1.46 in 1,000 to three in the decade through 2016. That year, 4.2 million couples divorced, an 8.3 percent increase from the previous year.
Sandy To Sin-chi, a Hong Kong sociologist, partially attributes the continued rise in divorces to changing attitudes toward women and their place in society.
"Women are now less willing to tolerate an unhappy marriage," To said. "They are more independent and financially equipped, and they can opt out if things go wrong."
This story has been updated to include details on the cost of raising a child in China.