To win the presidency in 2017, Emmanuel Macron had to reinvent himself. The insider turned outsider disrupted French politics, creating his own center-left party and promising to rescue the continent from a wave of euroskeptic populism. He beat the National Front's Marine Le Pen—exactly the sort of nationalist who was threatening the liberal values that helped shape the European Union.
But a little over a year later, Macron is facing a greater challenge. With Germany's Angela Merkel weakened, Italy's radical new government threatening to launch a parallel national currency and the United Kingdom drifting toward a no-deal Brexit, the 40-year-old French president finds himself outnumbered by the EU's increasingly right-wing leaders.
"It is up to us today to take our responsibilities and guarantee our own security, and thus have European sovereignty," Macron said on August 27, adding that in the age of Donald Trump, Europe can no longer rely on the United States for security.
Energetic and unabashedly idealistic, Macron has promised to be "the president of all the patriots against the threat of all the nationalists." While campaigning, he told voters, "We have to be amenable once again to creating grand narratives." He urged them "to rediscover a taste for the future, rather than a morbid fascination for an uncertain past."
But fear of immigration, economic weakness and Islamist terrorism are turning millions of Europeans away from grand ideals and narratives. As a result, from Hungary to Austria, the Czech Republic, Poland and, most dramatically, Italy, anti-establishment and euroskeptic candidates have won power (or, in the case of Hungary's nationalist prime minister, Viktor Orbán, grown stronger).
At the same time, Merkel's decision to allow a million migrants into Germany decimated her support and forced her into a coalition with partners less amenable to her message. Merkel had previously been the stalwart champion of EU ideals: open borders, financial aid for weaker members and collective decision-making.
With his German ally hamstrung, Macron must take the lead on the defense of the union's principles.
Macron's election "showed that it was possible in a liberal democracy to defeat a populist campaign on a pro-European ticket and a broadly open message about trade, markets and migration," says Sophie Pedder, author of Revolution Française, a study of Macron's rise. But as subsequent events have shown, his rise was "less the turning of the populist tide than the defiance of that wave.… It didn't settle the debate, even in France."
If Macron fails, Europe faces increased tribalism, a collapse of the free movement of people and goods on which the trade block is built—and the possible creation of an opening for Russia to woo splintered countries away from the West and closer to Moscow.
Existential Threats
Every fundamental problem faced by Europe can be found in microcosm in France. Its aging population demands the economically impossible: on the one hand, job security, a 36-hour workweek and retirement at 55; on the other, dynamic economic growth and a cut in unemployment. France's two-century-old tradition of street protests and crippling strikes has scuppered all previous presidents' attempts to reform labor laws, universities and a bloated state sector.
As a result, the French unemployment rate is still at more than 10 percent, and the youth jobless rate is above 20 percent—comparable to that in Italy and Spain. In 2002, French and German workers enjoyed roughly the same incomes; now, Germans are 17 percent richer, and the country's jobless rate is less than half of France's. The last time a French government balanced its budget? 1974.
Immigration—the proximate cause of Brexit and of the rise of the far right across Europe—has become an existential threat to France's security and its very sense of self. A recent study by France's National Institute of Statistics and Economic Studies showed that second-generation immigrants often fared less well than the first generation, and that members of France's nonwhite population were "highly disadvantaged" in the labor market, according to Cris Beauchemin, the study's author.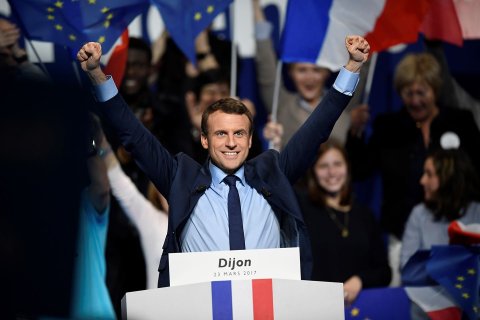 The banlieues—high-rise suburbs around French cities— have become ethnic minority ghettos prone to sporadic rioting. In an attempt to curb the rise of Muslim radicalism, France in 2010 became the first European country to ban citizens from covering their faces in public, a law that directly targeted the Islamic veil. Despite efforts to integrate the 12 percent of France's population that is Muslim, a series of attacks across the country by homegrown jihadis has mobilized the far right.
Both conservative President Nicolas Sarkozy and his leftist successor François Hollande attempted to reform France's sclerotic economy and heal its social divisions. Both failed. In the process, they discredited the old-style machine politics and opened the way for Le Pen's nationalist appeals to white, working-class voters—the same demographic that backed Britain's Brexit movement (and Trump).
Then came Macron with a political insurgency of his own. In a single year, he created a new centrist political party, the Republic on the Move, which out-campaigned and raised more money than the stagnant major parties. He used techniques hitherto unknown in France, including canvassing voters door to door and using digital databases to identify potential supporters.
But Macron's most remarkable trick was to reinvent himself as a radical disruptor and political outsider. Macron studied philosophy at Paris's École Normale Supérieure, the school that traditionally produces France's administrative elite. Then, he worked as an investment banker for Rothschild & Cie Banque before briefly becoming a minister under Hollande. He quotes Hegel, Molière and the philosopher Paul Ricœur (under whom Macron studied) in his speeches and plays Chopin to relax. His glamorous wife, Brigitte, his former high school drama teacher, is 24 years his senior.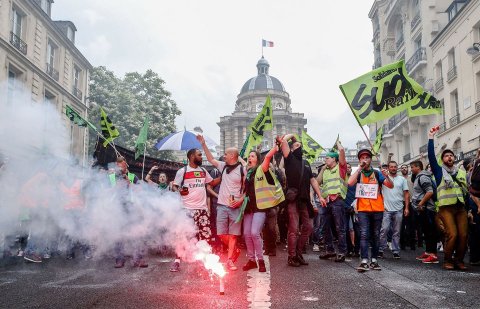 Despite that establishment background, Macron succeeded in casting himself as a pure pragmatist, free of the party dogmas of the past. He presented himself as a post-ideological, modern leader for a world reshaped by technology and free movement. Like Trump, though, he also understood that the main tension in modern society was no longer between left and right but between the inhabitants of booming, liberal cities and residents of the smaller towns and countryside who saw themselves as left behind. He was able to speak to the misère blanche—the cultural and economic alienation of France's poor, working-class whites.
"France is a revolutionary country and only advances by breaking with the past," says Sylvain Fort, a speechwriter for Macron. The secret of the dynamic new president's appeal was "to rethink the framework and undertake an ideological renovation…[to] build a form of neo-progressivism, structured around the idea of individual progress for all." At the same time, Macron could rely on his credentials as a member of the very system he hoped to disrupt.
Populists across Europe argued that the EU is heading for disaster, ruined by mass immigration, an out-of-touch elite and economies strangled by over-regulation by Brussels, the seat of the EU Parliament. Macron countered by proposing a platform he claimed was neither left nor right: cutting corporate and payroll taxes, reducing class sizes in schools, increasing military spending and culling 120,000 jobs from the bloated public sector. On the EU, he offered a resolutely upbeat and pro-European message, vowing to persuade Germany to adopt pro-growth policies for Europe as a whole.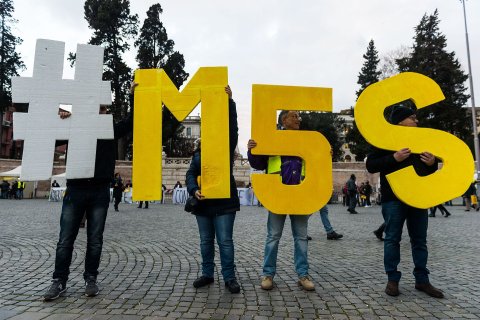 Perhaps more important than any of Macron's specific strategies was the vigor with which he presented them. "He is very charismatic, very seductive and effective at communications," says Anne Nivat, author of the nonfiction best-seller The France in Which We Live and a good friend of Macron. "His fluidity of reaction, his pragmatism is very attractive."
And despite his youth, Macron projects what Nivat calls "the stature of power"—that elusive charisma of grandeur, embodied by former President General Charles de Gaulle, to which every French leader has since aspired. Certainly, he is as strategic as any general in shaping his image. When giving one of his rare media interviews—just two since he has been in office—his talking points are crafted, weeks in advance, by a team of speechwriters, according to one senior French journalist who spoke on background. Macron personally chooses both left- and right-wing news outlets, and deliberately selects notoriously tough interviewers such as the BBC's Andrew Marr, to whom he spoke in precise and idiomatic English. The setting for that interview was a stately 18th-century drawing room at the Royal Military Academy at Sandhurst—chosen to impress.
The calculation and preparation pay off: When Macron speaks, he projects the Olympian confidence French citizens require of a president, the mythical man of destiny, or l'homme providentiel.
A Knight in Left-Wing Armor
Macron's grandest idea is to save Europe from the centriFugal forces that threaten to destroy it. In an era when many European politicians reflexively criticize the EU, the passion and urgency of Macron's calls for a stronger union are striking. "We can't carry on as if this is any old debate," he told the European Parliament in April, adding that he did not want to belong "to a generation of sleepwalkers."
Macron's vision of a reinvigorated Europe is twofold: to make the EU more responsive and accountable to its people, and to halt the waves of financial crises in the eurozone that have impoverished Greece, Italy and Spain, turning millions of voters across southern Europe against the very concept of the single currency.
Macron's is "a passionately pro-European message, warning voters that a unified Europe is the best response to rising China and erratic American leadership," says Pedder. But his "real challenge is to find enough strong partners in Europe with whom he can work both to defend the liberal order and the European idea."
Traditionally, Germany has been the strongest champion of the European ideal—as well as being the main beneficiary of the single currency—and the Franco-German relationship has been the cornerstone of the European project. But for much of the last decade, France has, in effect, played junior partner to Germany because of France's relative economic weakness. "Macron's election restored an equilibrium," says Pedder. With speeches in Athens and to the U.S. Congress in April, he "has clearly emerged as a powerful new spokesman for European values and is of a generation that tends to take those values for granted."