There used to be a bar in downtown Moscow called Sanctions, featuring caricatures of Western politicians and serving only Russian booze—a one-stop summation of President Vladimir Putin's attitude toward the efforts of the U.S. and Europe to economically kneecap his country. Putin and his Kremlin-controlled propaganda machine have a history of shrugging off sanctions, despite a 55 percent crash in the value of the ruble, a collapse in foreign investment and rising inflation. Russia, Putin boasts, will always survive the West's efforts to destroy it.
That narrative will be aggressively tested in the coming months should the U.S. government make good on the harshest economic sanctions ever ­imposed on Russia.
There are three separate efforts to inflict ­economic pain. On September 12, President Donald Trump signed an executive order that declared election interference a "national emergency" and authorized sanctions on foreign companies, institutions or individual meddling. The Office of ­National Intelligence would take charge of assessing any ­potential interference. Although the executive order isn't directed solely at Russia—the administration said it was also concerned about China, Iran and North Korea—it was instigated by Russian hacking during the 2016 election, currently being ­investigated by special counsel Robert Mueller.
Trump's order was an attempt to forestall Congress, which, on the same day, voted through the first stage of legislation aimed at more severe and ­pointed punishment of Russian election interference. Trump's cordiality toward Putin has been startling—as in Helsinki this past July, when he appeared to credit Putin's denials of election interference over the unanimous conclusions of his own intelligence services. He was also slow to implement an earlier sanctions bill passed by Congress last year.
But with widespread support for a tougher line on Russia in Congress and within Trump's administration, the U.S. president has been forced to bow to prevailing sentiment. "We felt it was important to demonstrate that the president was taking command of this issue," national security adviser John Bolton said of Trump's executive order.
The measures under consideration in Congress—known as the Defending American Security From Kremlin Aggression Act—seek to deter further Russian interference in elections by effectively cutting off the country from the world economy. The proposals include banning major Russian banks from capital markets and freezing overseas acquisitions by Russian gas and oil companies, as well as shutting down Russian botnets and the companies that host them. In addition, there would be an investigation into the personal wealth of Putin and members of the Russian elite.
The bill is set to do more damage to Russia than a "tactical nuclear weapon," Senate Foreign Relations Chairman Bob Corker of Tennessee, one of the bill's many Republican supporters, told reporters on August 20. Other Republican supporters include former House Speaker Newt Gingrich, who called Trump's friendliness to Putin in Helsinki "the most serious mistake of his presidency."
"We are going into a different phase now," says one senior Obama-era official who was directly involved in drafting sanctions against Moscow between 2014 and 2016, and who is not authorized to speak on the record. "The original intent was to show [Putin] how closely interlinked the Russian economy was to the global economy, not to shut down the Russian economy. The idea was to stop further Russian aggression" in Ukraine. But now, four years on, the political climate in Washington has changed. "After the [2016 electoral] hacking the mood has become 'Punish Russia as hard as possible. Turn the screws all the way.'"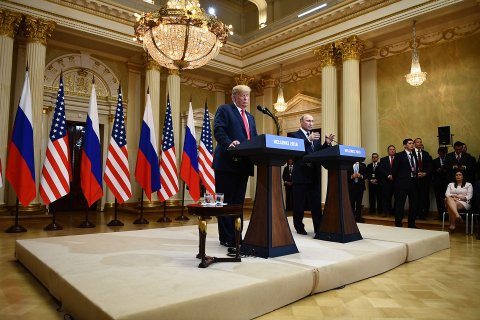 The congressional effort runs parallel to a third set of sanctions, imposed by the Treasury and State Department on August 22 in response to the attempted nerve-agent poisoning of ex-spy Sergei Skripal and three others in Salisbury, England, in March. These are based on a violation of a 1991 U.S. law that requires the president to act against any country that has "used chemical or biological weapons in violation of international law." The measures require Russia to allow international inspectors into its secret chemical weapons facilities within 90 days or face even more stringent punishment. Effectively, the U.S. is on course to brand Russia a state sponsor of chemical weapons terrorism alongside North Korea and Iran.
As a result, Russia can no longer receive high-tech U.S. goods, such as superfast computers, state-of-the-art oil exploration machinery and lasers. The measure is intended to hit the economy where it hurts the most: in the oil extraction and arms industries.
Russia has already dismissed the idea of allowing inspectors. So come November, the Treasury is ­expected to turn those screws even tighter, and that could include Iran-style restrictions on Russian banks and companies doing business in the West.
And there's more: Additional measures under ­consideration, by both Congress and the Treasury Department, are the sanctioning of Russian local and international sovereign bonds—a third of which are held by foreign investors—and a full-scale investigation into Russian officials' money abroad. This would be followed by a much wider version of the asset freezes and visa bans already imposed on a handful of Putin cronies by earlier rounds of sanctions.
It might be time to reopen that bar.
'A Global Plot to Destroy Russia'
The pressure to punish Russia put Trump in a political and diplomatic bind. He seemed to ­attempt to reposition himself as a hard-liner on Russia in a July tweet, adding a curious prediction: that the Kremlin would again interfere in November's midterm elections—on the side of Democrats. "I'm very concerned that Russia will be fighting very hard to have an impact on the upcoming Election. Based on the fact that no President has been tougher on Russia than me, they will be pushing very hard for the Democrats," the president tweeted. "They definitely don't want Trump!"
Still, the president continues to resist criticizing Putin directly. The warmth he displayed toward the Russian leader in Helsinki was likely instigated by his antipathy toward special counsel Robert Mueller and the ongoing investigation into collusion between Trump's campaign and Russia. For much of the first 200 days of the Trump administration, there were effectively "two separate Russia policies in America—Trump's and Congress's," says Vladimir Vasiliyev of the Russian Academy of Sciences' Institute for U.S. and Canadian Studies, a think tank. "It is clear that one is conciliatory and constructive, the other hostile."
Trump's signing of the executive order on September 12, therefore, marked a decisive victory for Russia hawks over the president. Instead of the reset of relations Trump promised in Helsinki, the U.S. is heading for all-out economic warfare with Moscow.
Less clear, of course, is how Putin and Russian citizens will respond. Every time Russia has ­violated international law—by annexing the Ukrainian territory of Crimea in 2014, for instance, or interfering in the 2016 U.S. presidential elections—the U.S. and European Union have announced packages of economic sanctions on the Kremlin. None has put a dent in Putin's popularity ratings, or changed Russia's aggressive behavior in Syria, Ukraine or toward the regime's opponents at home.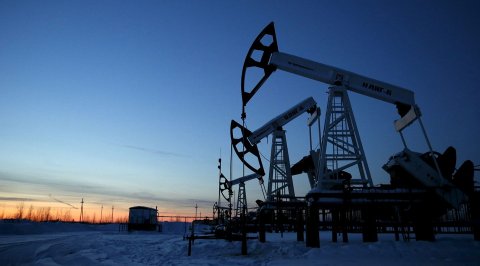 Until now, Putin has countered sanctions by blaming a slumping economy on foreign enemies, a narrative pushed at home by the Kremlin's near-­total control of the Russian media landscape. Franz Klintsevich, a member of the Defense Committee of Russia's upper house of parliament, recently told state television that the sanctions were part of a "multifaceted global plot to destroy Russia." The Kremlin-controlled media have dismissed economic penalties as ineffective and more damaging to the West than to Russia.
Putin denounced Congress's proposed Defending American Security bill as "boorish," "beyond all reasonable bounds" and "abso­lutely unlawful from the point of view of international law." He promised that Russia would retal­iate. "When will our response follow? What will it be? That will depend on the final version of the draft law, which is now being debated in the U.S. Senate."
The reaction to the September 12 sanctions ­included top Russian officials denouncing U.S. "hysteria," declaring Russia to be mighty enough to go it alone. "Our electronics are far more ­advanced than America's," Sergei Zheleznyak, deputy chairman of the Russian Duma, or lower house of parliament, told Russian television.
In fact, Russia produces no international brands of telephones or computers, and the only airplane it makes, the Sukhoi Superjet, depends on French avionics and engines. Russia's one major export, accounting for nearly 52 percent of federal income and 70 percent of total exports, is oil and gas, with arms, steel and aluminum making up most of the rest.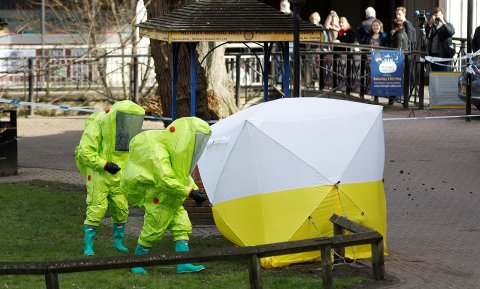 Russia's Federation Council, parliament's upper house, has begun drafting a raft of counter-­sanctions that could include banning the export of Russian-made rocket boosters to the U.S. (currently used by NASA to supply to the International Space Station). And Deputy Foreign Minister Sergei Ryabkov threatened on Russian state TV to retaliate against the U.S. by using what he called the "info-component" of Russia's power, a seeming signal for a new round of interference in U.S. politics by Russian hackers. When pressed to elaborate by the talk show's host, Ryabkov added cryptically, "Our methods will work. They'll be effective—I'm certain of that."
Despite the Kremlin's downplaying of the ­impact of sanctions, Washington "undoubtedly has the power to strangle Russia's economy if it so ­wishes," says the Obama-era official. "The question is whether consequences of that are in [America's] real interests."
Already, a perfect storm of falling oil prices and Western sanctions has crashed the value of major Russian corporations. In August 2008, Gazprom, Russia's state-owned energy giant, was valued at $261 billion to Apple's $131 billion. Ten years later, under pressure from falling energy prices and U.S. and EU sanctions, Gazprom's market capitalization has fallen to $52 billion, while Apple has become the world's first trillion-dollar company.
"The quality of life and wealth of ordinary ­Russians [has] obviously dropped," says Ilya Zaslavskiy, head of research at the Free Russia Foundation, a Washington, D.C.–based nongovernmental ­organization.
At the same, he adds, the fortunes of Russia's oligarchs have remained largely untouched. Putin's "various confidants that have been targeted [by personal sanctions] still have lots of money in offshore accounts, so they only feel threatened, not bitten."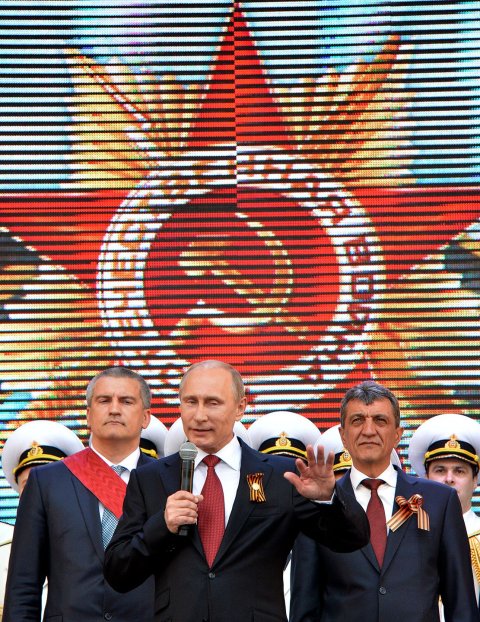 So far, the Kremlin's propaganda machine has ­allowed Putin to weather the 55 percent drop in the value of the ruble since 2014, as well as ­rising inflation. His approval figures in late August ­remained above 80 percent (though unpopular pension ­reforms, due to the flagging economy, threaten to put a dent in that). A poll by the Pew Research Center that month showed that while 47 percent of Russians believe that sanctions have so far had a "serious" impact on the economy, 58 percent ­expressed "strong confidence" in Putin's ability to handle international affairs.
The new U.S. sanctions, however, would likely change that by isolating Russia from the world economy in an unprecedented way. If Congress decides to target overseas projects by Russian state energy giants, the future of the Nord Stream 2 pipeline—a multibillion-dollar partnership between Russia's gas giant Gazprom and French, Austrian, U.K.-Dutch and German power behemoths—would be in doubt. The pipeline is designed to deliver 55 billion cubic meters of natural gas to Europe under the Baltic Sea, bypassing current transit routes through Ukraine.
The EU is watching carefully. In early August, it imposed sanctions on six Russian construction companies involved in building a vast new bridge linking mainland Russia to the annexed territory of Crimea. If the EU should join the U.S. in ­harsher sanctions against, for example, Gazprom, it would sink Nord Stream 2.
The Skripal attack has already put the EU on high alert. In early September, the U.K. government ­announced that police had gathered enough evidence to charge two Russian citizens, identified as officers of Russia's military intelligence service, the GRU, with the attempted murder of the former spy and his daughter, as well as with violations of chemical weapons laws. The two suspects, who flew back to Russia immediately after the poisoning, claim they were sports nutritionists. (Russian Foreign Ministry spokeswoman Maria Zakharova responded that their names "mean nothing to us.") As the Russian constitution bans extradition of its citizens abroad, there's little chance the suspects will ever be brought to trial in the U.K.
The Waiting Game
From the beginning of his rule in 1999, Putin's power has been based on his image as a strongman defending his country's interests against a hostile West. Putin has given "every Russian a pride in belonging to a great nation," says Leonid Gozman, president of the opposition political group Union of Right Forces. "The problem is that this self-image is based on an absolutely false picture of the world. We are surrounded by 'enemies,' 'fascists' in Kiev…America, who wants to 'put us on our knees.' It's based on a hatred for the whole world—everyone is an enemy."
That central ideology makes sanctions a tricky bet for U.S. policymakers since they play right into the Russian president's hands: The more devastating the pressure from the U.S. and EU, the more it bolsters his mythology.
Some of the framers of the earliest rounds of sanctions, put into place by the Obama administration four years ago, believed that going after the assets of Putin's close circle of oligarchs could force a change of policy. It did not. But those sanctions only targeted a few dozen named individuals. Could penalties applied to the Russian elite as a whole have a better chance of bringing change?
"Unlike the Soviet Politburo, today's elite not only rules Russia but also owns her," says Konstantin von Eggert, a commentator on Moscow's independent, internet-based Dozd TV. They "are welded to the global economy because they live on selling oil, gas, gold and metals to the rest of the world. Their families and children cannot live without penthouses in Miami, private planes, Ferraris and shopping at Selfridges." The old Polit­buro, he adds, was "much less vulnerable in the face of American pressure."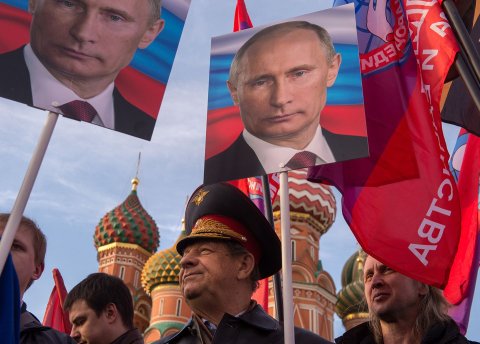 Modern middle-class Russians are more ­connected to the wider world, through the internet and ­vacations abroad. And that makes recent attempts by the Kremlin to tighten control over ordinary Russians—by restricting travel, access to the World Wide Web or ownership of overseas assets—far riskier ­politically. The key is the ability to wait.
As recent U.S. measures against Putin and Turkish President Recep Tayyip Erdogan have shown, sanctions tend to boost dictators in the short term. In the long term, they have a chance of wearing ­regimes down, as Iran demonstrated when its leaders agreed to scrap the country's nuclear program in exchange for a lifting of crippling economic sanctions—a deal that Trump has since scrapped.
Eggers, for one, believes America has the advantage. "A sanctions war is like a long-distance race," he says. "It will be won by whoever is objectively stronger and more patient. And that, however you look at it, is the United States."
When it comes to patience, of course, Putin has proved to be a master. The more critical question might be: Can the U.S. Congress and government hold their tough line on Russia in defiance of the least patient president in American history?