In 1993, Sacha Gervasi was in the newsroom of Britain's Daily Mail, surrounded by banks of TV sets. The freelance journalist, 26 at the time, was pitching ideas for stories to the paper's Sunday magazine, You, when a familiar figure popped up on one of the screens: Hervé Villechaize, star of the kitschy '70s TV series Fantasy Island. You know, Tattoo, the diminutive, white-suited sidekick to an identically dressed Ricardo Montalban. The one who shouted, "Da plane! Da plane!"
What happened to that fucking guy? Gervasi thought. Is he even alive? Some digging revealed that yes, he was. A cache of articles detailed Villechaize's rise (beginning with the 1974 James Bond film The Man With the Golden Gun, playing Nick Nack) and spectacular fall: drinking, drugs, self-destructive meltdowns, a messy divorce, and lots and lots of women: "You Haven't Lived Until You've Had a Naked, Chocolate-Covered Dwarf in the Shower With You," read one National Enquirer headline. On paper, and otherwise, what writer could resist that story?
Villechaize on his own wasn't worth a trip to Los Angeles, but Gervasi's You editor agreed to run a short, "jokey" piece if he could find the time between interviewing the stars of Beverly Hills 90210, the biggest TV show at the time, and novelist Elmore Leonard. "The 90210 stars were not particularly memorable," says Gervasi, and Leonard cancelled at the last minute. But Villechaize? "That interview changed my life."
And career. Gervasi is now a filmmaker, and his encounter with Villechaize became My Dinner With Hervé, starring Peter Dinklage and Jamie Dornan (50 Shades of Grey), as an Irish-accented version of Gervasi. Some things were changed for dramatic effect, but the most outrageous moments are as they happened. With Villechaize, truth really was stranger than fiction.
Their first meeting was scheduled at a Melrose Avenue café, after the lunch rush. Villechaize didn't show up. Gervasi was outside, on his way to his next interview, when a white stretch limo screeched up to the valet stand, "and a dwarf exploded out of the door, wearing a loud Hawaiian shirt and carrying a green Samsonite vanity case." Gervasi approximates Villechaize's raspy, French accent. "'I'm so sorry. I was reading your articles and lost track of the time.' As soon as you were in his presence, it was like being in a Fellini movie. He was immediately compelling."
Gervasi agreed to delay his next appointment. Back in the café, he asked Villechaize his six or so predictable questions—about the fame, the womanizing, the widely reported tensions with Montalban. "Hervé was charming, irascible and funny," says Gervasi, but after half an hour he had what he needed. As he began to pack his briefcase, "I sense rapid movement out of the corner of my eye, and suddenly he is right next to me—with a knife!"
Villechaize accused Gervasi of writing the story before he got there. "Which was true," says Gervasi. "Hervé says, 'I'm a fucking human being. You've heard all the bullshit stories. Do you want to hear the real one?'" Gervasi could smell the alcohol on Villechaize's breath. "I thought, I'm about to be stabbed to death by the dwarf on Fantasy Island! I didn't know whether to laugh or cry."
But Villechaize's theatrical attempt to get Gervasi's attention succeeded. The writer was intrigued, and what he learned over the course of three days would move him profoundly. Gervasi was his own mess at the time, a year sober and still making amends for some dreadful behavior. The HBO movie thus becomes the story of "two people who, on the surface, are dramatically opposed," says Gervasi. "One a 3-foot-10-inch Frenchman, the other a handsome but raggedy bruiser. What makes their relationship work is that they both have a fantasy about themselves. By the end, they've dropped their masks."
Over their time together—careening through the streets of L.A. in the back of that stretch limo, at a strip club, over elaborate meals—"Hervé poured out his heart to me," says Gervasi. "His childhood was barbaric. His mother was ashamed of him—for the first seven years of his life, he was literally kept in the attic. Or he was traveling around the world with his father—a doctor!—looking for cures for his dwarfism." One bizarre experimental treatment involved injecting sheep blood into their spines.
Villechaize grew up in France in the '40s and early '50s. "There was still a horrible, almost medieval intolerance towards dwarves," says Gervasi. "His older brother Patrick told me that when he would walk with Hervé, people would literally walk up and kick him in the head."
Villechaize, it turned out, was a talented painter, the youngest to have his work exhibited in the Museum of Paris. But his father feared he would be killed in France, so he gave his son money and shipped him off to New York, where he learned English watching John Wayne movies. "Hervé walked around in a poncho. He had knives. He was never going to be bested in a fight again," says Gervasi.
It was the '60s, and Villechaize became part of Greenwich Village's avant-garde theater scene, where the Bond producers found him. Golden Gun made him an overnight star in 1974, but three years later, when the Fantasy Island offer came to his agent, Villechaize had disappeared. He was found broke and living out of his car.
Villechaize thanked the show's creator, Aaron Spelling, for saving his life, but within two years he was "a nightmare," says Gervasi, and demanded the same salary as Montalban. "I'm not going to be blackmailed by a French dwarf. Fuck him," said Spelling, who ultimately fired Villechaize in 1983, knowing the wildly popular show wouldn't last without him (it was canceled a year later).
The actor's life devolved from there. "What I loved about Hervé was this attitude of, 'Fuck you, I don't care that I'm 3-foot-10. In fact, I'm going to make the joke first,'" Gervasi says of provocative statements like his "Bionic Midget" T-shirt. "But underneath all that pride was tremendous pain and regret. He had a golden opportunity, and he blew it. And he kind of knew that he had."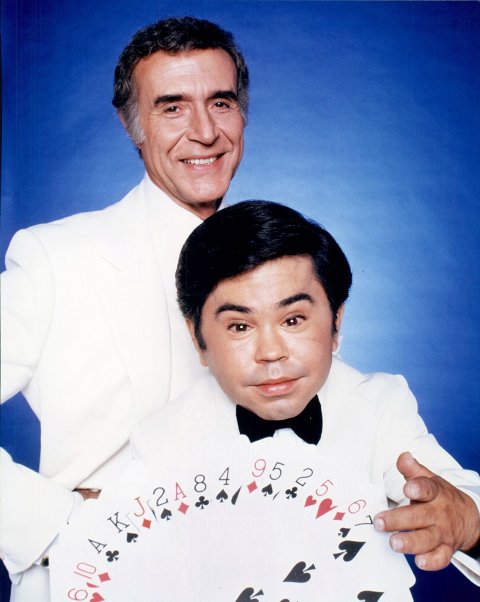 At their last meeting, at a hotel in L.A., Villechaize had tugged on Gervasi's sleeve as they said goodbye. "'Will you promise to tell this story?' he asked. And I promised."
Days after he returned to London, on September 4, 1993, the actor committed suicide. Gervasi still gets emotional talking about it. "I had no idea it was the last week of his life. I got a sense that he was unwell—that green Samsonite vanity he always carried was filled with pills. He was in a lot of physical pain." Gervasi remembers crying as he listened to the tapes of the interview—in essence, a suicide note. "He grabbed on to a random stranger and let it all out."
Despite the actor's death and a world exclusive, You wouldn't give Gervasi what he thought the story deserved: the cover of the magazine. You's mass-market readers "would choke on their morning croissant," argued his editor. Gervasi refused to do the story, so it was written by someone else. The final days of Villechaize added up to four pages of fluff between a David Frost interview and the recipe section.
But this is where a tortured French dwarf changed Gervasi's life. The story he would have written became the screenplay that got him into UCLA's film school. A mentor there, producer Steve Zaillian, passed it on to Steven Spielberg, who hired Gervasi to write his 2004 film The Terminal. Gervasi then went on to direct his own movie, the award-winning 2008 rockumentary Anvil: The Story of Anvil.
All the while, for 25 years, Gervasi shopped My Dinner With Hervé. Dinklage signed on 15 years ago. "Peter says that every part he's played up until now is sort of a version of himself," says Gervasi. "This is the first that's not him. But he did connect with Hervé on some very deep level."
The two decided they would do it right or not at all. In 2009, they reluctantly shelved it: The film, with its jumps between '40s France and '70s and '90s L.A., was too expensive, and Dinklage was largely unknown—a situation Game of Thrones rectified in 2011. HBO agreed to produce.
"I needed to honor my promise to Hervé," says Gervasi of the epic journey to Dinner. "At the end of my time with him, he was my friend. He was a wreck and a nightmare—sometimes blotto, sometimes frankly dangerous—but I really loved him."
Gervasi's voice cracks, and he takes a moment to collect himself. "Hervé made me look at him as a human being." That experience, he adds, "showed me that the similarities between people are much greater than the differences—if we care to take the time to look."
My Dinner with Hervé debuts on HBO on October 20th at 8pm.