Three wunderkind singer-songwriters with a shared reverence for Crosby, Stills & Nash walk into a bar—well, a studio.
That's the story behind the year's most promising indie-rock supergroup. The trio is composed of three rising talents: Julien Baker, 23, Phoebe Bridgers, 24, and Lucy Dacus, 23. Each released an acclaimed record in the past 14 months, and all have a knack for thoughtful, melancholy songcraft. Together, they are boygenius, with their debut eponymous EP coming out November 9. (The EP has been made available on streaming platforms ahead of its physical release.)
"We're all in very similar places in our career," says Bridgers. "We've done a lot of opening slots. We know what it's like to be talked down to because you're young or a woman. And there isn't a bandleader, which is fucking awesome." Of her two bandmates, Baker says, "They're both natural empaths. They feel so deeply. And I'm the same way."
Like the best supergroups (see: Traveling Wilburys), this one formed largely through happenstance. Bridgers and Baker toured together in 2016 and immediately bonded. "[Phoebe] was coming up the stairs, and I was coming down, and we just said 'Dude' to each other like 30 times," says Baker. Dacus opened one of the shows in Washington, D.C., and when Baker watched her play her song "Map on a Wall," "I just started crying," she says. (It was a fast friendship: Within 10 minutes of meeting Dacus, they had a secret handshake.)
At the time, Baker, who grew up in a religious family in Tennessee and identifies as both Christian and queer, was slowly building an audience on the strength of a disarmingly raw debut LP, Sprained Ankle. Several years later, she is a rising indie-rock star, and in early 2018 she booked a co-headline tour with Bridgers, with Dacus opening.
In a group text, the trio discussed collaborating on a single together, an idea that blossomed into an actual band. "All at once, we realized we had to do it," says Dacus, who drew a triple Venn diagram plotting out when they were available and booked studio time. In June, the three members arrived at Sound City Studios in Los Angeles with one fully written song and one song sketch each.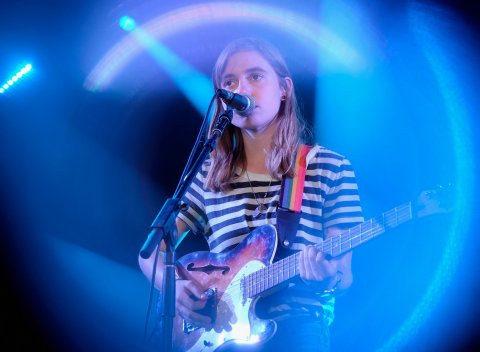 The EP's cover is a play on the famous Crosby, Stills & Nash album photo: three songwriters perched on a couch. (Bridgers was friends with the late photographer who snapped that photo, Gary Burden—"he was a crazy awesome stoner wizard," she says.) So it makes sense that boygenius is full of three-part vocal harmonies and yearning guitar progressions. Baker's "Souvenir" is a neat introduction to the trembling angst of her own music; Dacus's "Bite the Hand" is a louder, grungier confessional.
"One song was recorded around a mic 20 minutes after we wrote it," Bridgers says. That track, "Ketchum, ID," is a waltzy campfire sing-along about the loneliness of spending your life on tour. Bridgers had written the lyrics while staring out at an Idaho landscape and feeling trapped. When she showed them to Baker and Dacus, "they both started jumping up and down and pulled out their phones," she says. It turned out both bandmates had composed lyrics about eerily similar emotions.
"We all bonded about talking to your partner when you're in a van full of people," says Bridgers. "One of the best parts of this project is the weird shorthand you can only have if you're a woman of our age who tours as much as we do."
The name boygenius stems from an inside joke. It refers to "the archetype of the tortured genius, [a] specifically male artist who has been told since birth that their every thought is not only worthwhile but brilliant," says Baker. "Conversely, women are socialized to make themselves small." When Bridgers overheard Dacus and Baker using the term in conversation, she grasped its meaning without having to ask. "I do this thing where I apologize for myself 15 times—I'm like, 'I don't know, I'm sorry'—and that was immediately dispelled upon getting in the room with Lucy and Julien," she says.
Will boygenius be around long enough to make a full-length album? "I don't know," says Bridgers. "I fucking hope so."