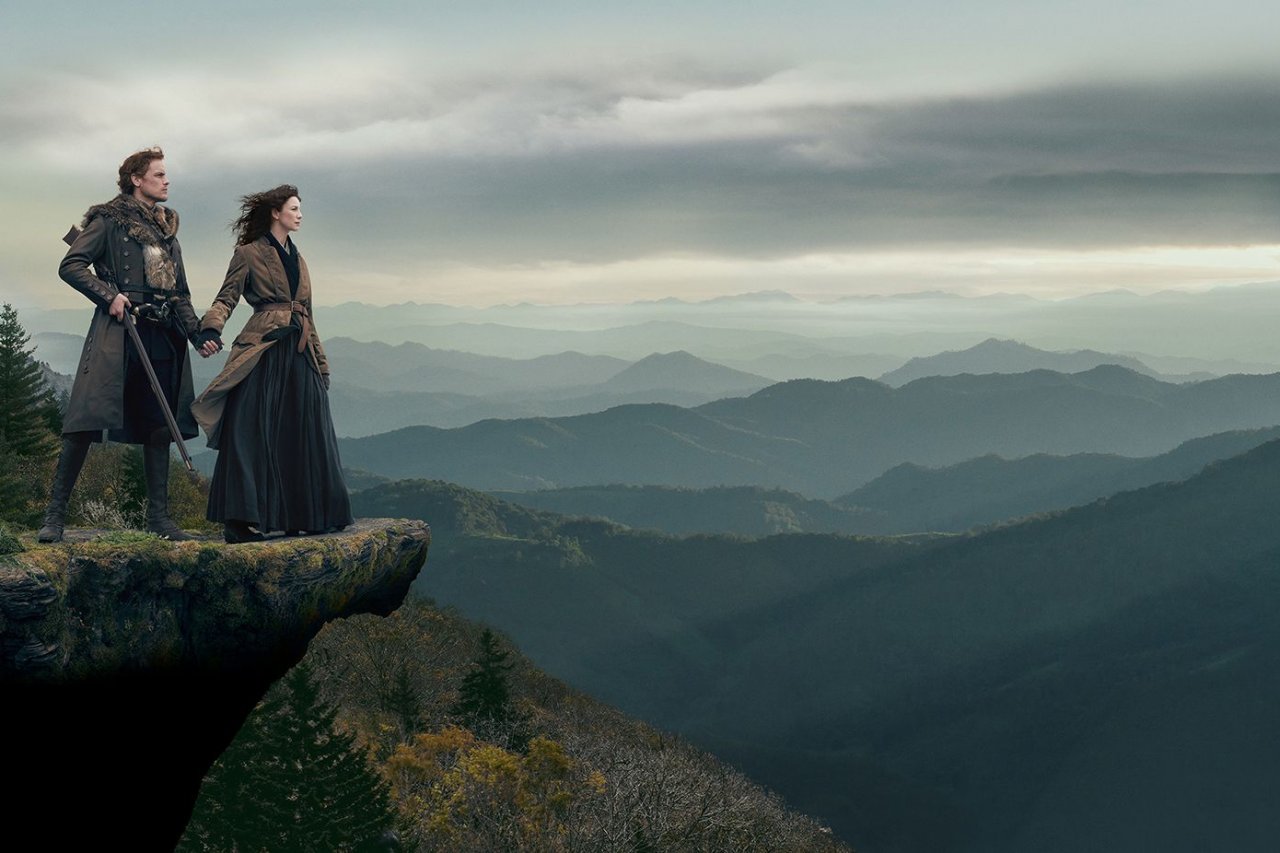 Neither Anne Epstein, 75, nor her husband has a drop of Scottish blood, but the pair have been to the country three times since 2015. Sue Nestasia, 58, has been twice, and Arlene Boeree, 67, four times. The reason behind all those trips? Outlander.
Starz's historical fantasy drama, based on Diana Gabaldon's best-selling series, is headed into its fourth season on November 4, meaning "Droughtlander"—what fans call the time between seasons—is finally over.
At Comic Con in New York in early October, thousands like Epstein, Nestasia and Boeree gathered to preview the Season 4 premiere and meet the stars. "I went down the Outlander rabbit hole in 1992," says Epstein, who traveled from Southern California to attend Comic Con. "A friend loaned me the book. I read it through and said to her, 'Nancy, I'm not going to return it to you right away, because I need to read it again.'"
A brief recap: Gabaldon's story begins when Claire Randall (played by Caitriona Balfe)—a married British nurse living in 1940s London—finds a passageway to 18th-century Scotland. There she falls in love with a Highland warrior, Jamie Fraser (Sam Heughan), fighting for independence from the British. Over three seasons, Claire has used her modern-day know-how to aid Jamie's band of greasy-haired, kilt-wearing clansmen in their fight against a villainous British officer—who happens to be a lookalike ancestor of Claire's 20th-century husband. Claire travels back and forth in time, allowing for romantic pining and swooning, followed by steamy reunions with Jamie. "It's the hottest sex on TV," says 85-year-old Mary, who has watched each season multiple times. "It's my happy place."
Jamie, as played by Heughan, is appealing for many reasons: he's romantic, respectful, honest and surprisingly (perhaps anachronistically) progressive when it comes to the very independent Claire. Also, Gabaldon tells Newsweek wryly, he "likes to talk in bed."
"Jamie is the man of our dreams," says Nestasia. "King of men," adds Ann Gaul, 52, a proud "Heughligan," as fans of the actor call themselves.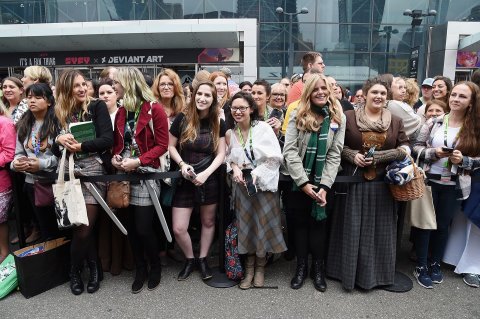 The appeal of a show based on best-selling books with a built-in fan base was obvious. But executive producer Matthew Roberts was unprepared for the reaction to Season 1. Their first event, held before the show's debut, packed a 2,500 seat theater in L.A. "It was like a rock concert," he says. "We hadn't even aired one episode!"
Outlander is one of Starz's biggest hits and has been renewed for a fifth and sixth season. That, combined with epic battle scenes, the aforementioned hot sex and historical-fantasy source material, has some comparing it to HBO's Game of Thrones. But unlike Thrones's notoriously procrastinating author, George R. R. Martin, Gabaldon assures fans the show will not surpass the source material. "They'll never catch me! I'm four books ahead," says the author, who has written eight so far and plans to complete 10.
"I wrote the first book as practice, for how to write a novel," says Gabaldon, who was an assistant professor in environmental studies at Arizona State University when Outlander was published in 1991. (Jamie and the show's setting, by the way, were initially inspired by an 18th-century Scottish character, also named Jamie, on the British sci-fi show Doctor Who.) There are now close to 25 million copies of the novels in print, and the show has put them back on top of best-seller lists more than once. The ninth book, Go Tell the Bees That I Am Gone, expected in 2019, sold for more than $6 million.
Gabaldon says her fan base "covers the neighborhood. My youngest fan letter is from a 10-year-old boy; the oldest is from an 86-year-old woman. But the bulk of them tend to be over 30—and therefore grew up with manners. They're educated, friendly, compassionate and civil."
Well, at least until Heughan appears on the Comic Con stage, to deafening shrieks. ("The show's fans tend to be a little more intense about the actors than the book fans," says Gabaldon.)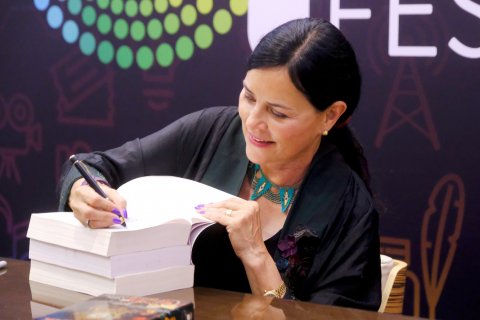 At a broad-shouldered 6 feet, 3 inches, with the chiseled jaw of a matinee idol (Jamie's ginger locks are courtesy of hair dye), you can see why British bookies are wagering he'll be the next 007—the first Scottish James Bond since Sean Connery.
Heughan didn't know what he was getting into. "I had little idea how popular the book series was," says the actor, who is beloved for his humility and philanthropy. "It has been a whirlwind and an amazing journey to go on with them."
Scotland has done OK too. Outlander' s sweeping, wide-angle shots of the ruggedly beautiful Highlands are essentially travel porn, and visiting the show's landmarks has become a rite of passage for fans. A record number of overseas visitors to Scotland— 3.2 million—in 2017 is attributed, in part, to "the Outlander effect," VisitScotland's chief executive, Malcolm Roughead, has said.
The tourist boom makes Roberts's job easier: "When we started scouting for Season 1, it was difficult to find locations. Let's just say the arms weren't open as wide," he says. "When we started scouting for the second and third, a woman walked up and said, 'You can use my house. It's right down the street.'"
Doune Castle (Outlander's Castle Leoch), in central Scotland, told Roberts its tourism increased 60 percent and Blackness Castle (the show's Fort Williams), on the south shore of the Firth of Forth, 45 percent.
As fans walk the moors, they might wear Outlander T-shirts or picnic on an Outlander blanket carried in an Outlander tote bag. Gaul, who has yet to visit Scotland but organizes local events in Pittsburgh, owns a replica of the wedding ring Jamie gives Claire in Season 1. But the bigger takeaway, says Gaul, is the global fan network. "Our love of Outlander is the starting point for amazing friendships with people from all over the world."