John Lennon, Paul McCartney, George Harrison and Ringo Starr created what would be the longest Beatles album (around 93 minutes) between May 30 and October 14, 1968.
Released a month later as simply The Beatles, it became, for obvious reasons, better known as The White Album. Produced by George Martin, the album ambitiously merged rock, blues, folk, country, music hall and avant-garde music; its scaled-down production and monochromatic cover were intended as a dramatic departure from the trailblazing psychedelia of 1967's Sgt. Pepper's Lonely Hearts Club Band.
Upon release, some critics found the approach scattershot, the quality of songs dramatically uneven. But most raved. The Observer's Tony Palmer called Lennon and McCartney the greatest songwriters since Schubert. Derek Jewell of The Sunday Times wrote, "Musically, there is beauty, horror, surprise, chaos, order. And that is the world; and that is what the Beatles are on about." And it has continued to thrill. In 2009, Chuck Klosterman called the album "almost beyond an A+."
And yet The White Album is also the sound of a great band splintering, with three solo projects jostling for space in the same studio. "Every track is an individual track," Lennon reflected in a 1970 Rolling Stone interview. "There isn't any Beatle music on it." Lennon and McCartney had found themselves creatively and personally at odds. By all accounts the experience was supremely challenging—more fraught, McCartney later stated, than the recording of any other Beatles album.
Of the 30 songs—many written during the Fab Four's stay with Maharishi Mahesh Yogi in India in early 1968—McCartney would sing lead on 12, Lennon on 11, Harrison on four and Ringo on two. ("Revolution 9," a sound collage, has no lead vocals.) In all, around 53 musicians, producers and engineers contributed to its recording—one of whom, longtime engineer Geoff Emerick, quit over the escalating friction between the band members. (Emerick eventually returned to work on 1969's Abbey Road.)
The cracks between the four would deepen. In 1970, after releasing two more albums, the Beatles would break up. Now the surviving Beatles are celebrating the 50th anniversary of their masterpiece by releasing a seven-disc box set (out November 9), which includes outtakes, acoustic demos, rare photographs and handwritten lyrics. The super-deluxe set costs $159.98; a more modest 3-CD reissue is available for $24.98.
Here's a numerical guide to The White Album.
30 Total number of songs on The White Album, making it the lengthiest Beatles album by far.
16 Number of songs on which all four Beatles played. (The song "Julia," written by Lennon for his mother, is the only time in the Beatles catalog that he performed unaccompanied.)
9.5 MILLION Number of White Album copies sold in the United States as of 2014 (more than three million copies were sold within the first four days of release). It has been certified platinum 19 times.
155 Number of weeks the album spent on Billboard's 200 (with nine at No. 1).

3 Number of guitarists Harrison's "While My Guitar Gently Weeps." In addition to Harrison, you can hear Lennon and Eric Clapton. The above 1959 Gibson Les Paul Standard, named "Lucy," was given to Harrison by Clapton in 1968 and can be heard on the track.
15 Number of times McCartney sings "Why don't we do it in the road?" in the less-than-two-minute song of the same name. (The idea for the track came after he observed two monkeys in India, well, "doing it" in the road.)
103 Number of failed attempts to record "Not Guilty," a song ultimately rejected from the album. It was finally released on the 1996 Beatles compilation album Anthology 3. (Harrison also included a version of the song on his 1979 album George Harrison.)
3 Number of credited appearances by Yoko Ono, including hand claps on "The Continuing Story of Bungalow Bill." The constant presence in the studio of the Japanese artist—Lennon's then-new girlfriend—is believed to have contributed to tension between him and McCartney. (Although Lennon dismissing McCartney's song "Ob-La-Di, Ob-La-Da" as "granny music shit" surely didn't help.)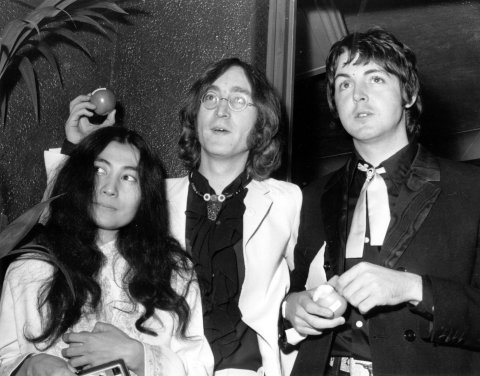 8.22 Length of the longest Beatles composition ever, "Revolution 9," in minutes and seconds. Lennon's sound collage drew from decidedly anticommercial influences, such as experimental composer Karlheinz Stockhausen. It also features classical samples of Sibelius's Symphony No. 7, Beethoven's Choral Fantasy and Schumann's Symphonic Studies. Lennon later said he was attempting to create an unconscious "drawing of a revolution."
52 Length of the album's briefest song, "Wild Honey Pie," in seconds.
14 Number of days Ringo was gone after temporarily quitting the band during a particularly tense recording of "Back in the U.S.S.R." The drummer reconciled with his bandmates after the others begged him to return; Harrison covered his drum kit in flowers as a conciliatory measure. The whole event was kept secret from fans.
0 Number of White Album singles released in the band's native Britain and America. (McCartney's "Hey Jude," recorded during the sessions, was released in August 1968 but did not appear on the album.)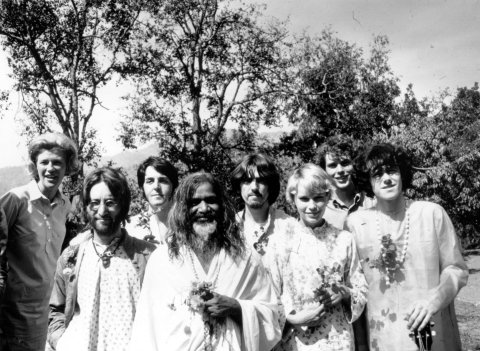 9 Number of people murdered by the followers of cult leader Charles Manson, who believed McCartney's "Helter Skelter" contained coded messages about an apocalyptic race war. There was nothing dark in the raucous proto-punk song's intention: It was McCartney's response to critics who charged that he wrote too many ballads. (Also: That's Ringo's voice screaming "I got blisters on my fingers!" during the song's cacophonic ending.)
1 Number of parodies: "Back in the U.S.S.R.," McCartney's satirical take on Chuck Berry's "Back in the U.S.A.," became an undergound hit in the Soviet Union.
51 Years since the real McCartney died and was replaced by a lookalike impostor—at least according to conspiracy theorists who claimed to hear backward messages hidden in "Revolution 9."