After 18 years at the helm of Germany's ruling Christian Democratic Union (CDU), Chancellor Angela Merkel revealed that she was ready to relinquish her role as the party's leader.
It was a stunning reversal for a politician who had frequently claimed that leading the CDU would always go hand in hand with her role as German chancellor. On Monday, however, Merkel told the members of her party that she planned to remain as chancellor until the next federal elections in 2021 but would soon give up her role as the leader of the CDU.
The announcement has raised questions about who will replace Merkel as the head of Germany's largest party. If one of the chancellor's allies takes the role, it is likely Merkel will remain chancellor until the next elections. But the appointment of a rival could cause her to be pushed out of power prematurely. The party is expected to choose its new leader during a party conference in Hamburg in December. Some analysts said that the CDU's dipping popularity might prevent the new party leader from pushing the chancellor out immediately. Nevertheless, the selection of a new CDU leader will be a referendum on Merkel and her legacy.
"Few within her party will want to challenge her role as chancellor openly and risk severe losses in new federal elections that would almost inevitably follow. But whether a new party chairman, or chairwoman, who has to make their mark will accept Merkel in the role of chancellor for another three years seems highly questionable," Jorn Flek, a Germany analyst and former chief of staff for a British member of the European Parliament, told Newsweek. "More fundamentally, the election for a new party chairman will be about what strategy the CDU should follow: continue Merkel's moderate course that primarily targeted centrist voters, or return to a stronger conservative profile."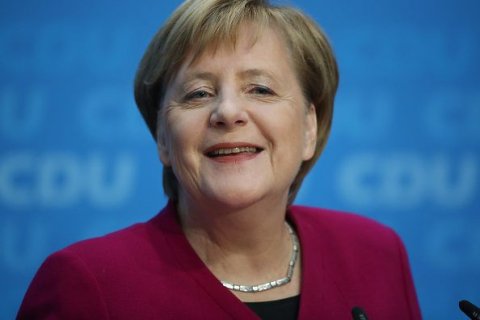 One of Merkel's greatest rivals, Friedrich Merz, has already announced his intention to run for the party's leadership. Merz was previously one of the CDU's five deputy chairmen and was elected as a member of the European Parliament.
Health Minister Jens Spahn's name has also been floated as a potential candidate. The 38-year-old, a member of the CDU's more conservative faction, has been critical of Merkel.
Armin Laschet, prime minister of Germany's North Rhine-Westphalia, is also a possibility. Laschet is the head of the CDU in his home state and has served as deputy chairman of the party.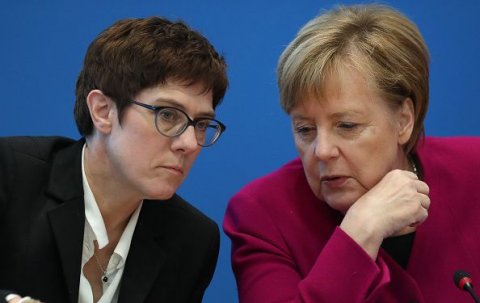 Meanwhile, many analysts said that Merkel's favorite to replace her is Annegret Kramp-Karrenbauer, the CDU's general secretary. Kramp-Karrenbauer was once the leader of the German state of Saarland and is viewed as a moderate of the same ilk as Merkel. Experts said the new election will ultimately pit the CDU's competing factions, one pro- and another anti-Merkel, against each other.
"The ideological clash that CDU is facing will pitch Annegret and Jens Spahn. They represent two opposing poles within the party. Merkel will support her 'clone,' but her power is waning. If Jens is elected, Merkel may find herself further weakened and probably will not survive until 2021," Ariel Cohen, a senior fellow at the Atlantic Council, told Newsweek.
The shift in leadership is taking place after the CDU experienced major losses during regional elections. Many speculated that Merkel was losing her grip on power, and Monday's announcement was widely seen as a confirmation of that. Merkel has been chancellor of Germany since 2005.