Remember when Kanye West stormed the stage at the MTV Video Music Awards to interrupt a 19-year-old Taylor Swift's acceptance speech? Or the time he got sucked into a bizarre Twitter beef with Wiz Khalifa?
That was just a warm-up for 2018. Bob Dylan once confused his fans by embracing born-again Christianity. West has embraced a more controversial religion: Trumpism. During the past couple of years, but especially in the past eight months, fans have watched with bewilderment as he threw his support behind a far-right president—a move that culminated with a surreal visit to the Oval Office. West had first expressed his support of Donald Trump in late 2016, but he was subsequently hospitalized for apparent psychosis and appeared to rescind his support. This year's about-face had friends and critics debating his mental health again.
All throughout, West the rapper and producer has remained unusually prolific. "It's been a shaky-ass year," he rapped on his recent album Ye. No kidding. Here's our recap.
January 1:
West and his wife, Kim Kardashian, welcome their third child, a baby girl, whose name is later revealed to be Chicago West.
February 14:
During a mystifying Valentine's Day blitz, he spends hours posting photos of celebrity couples (including himself and Kardashian) on Instagram. He then goes largely silent for two months.
April 13:
West returns to Twitter with claims that he's writing a philosophy book titled Break the Simulation. (Nothing of the sort ever materializes.)
April 15–19:
His Twitter output is close to nonstop as he dispenses philosophical insights such as: "Distraction is the enemy of vision." He also declares that he will release two new albums in June.
April 21–23:
West's feverish Twitter spree begins to take on a more political tone. He praises Candace Owens, the pro-Trump conservative commentator.
April 25:
West unleashes social media mayhem after explicitly praising Trump in a puzzling missive: "You don't have to agree with trump but the mob can't make me not love him. We are both dragon energy. He is my brother." He also shares a selfie in a MAGA hat. President Dragon-Brother responds: "Thank you Kanye, very cool!"
April 26:
John Legend privately rebukes West for endorsing a racist president. West accuses Legend of "manipulating my free thought"—and shares the texts on Twitter.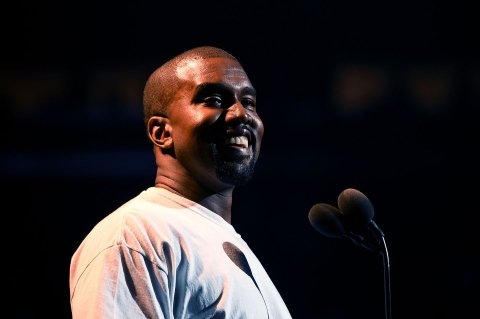 April 30:
He tweets a screenshot of a text message declaring that Abraham Lincoln was a Republican. (Looks like he slept through that eighth-grade history lesson on party realignment.)
May 4:
West makes several startling statements during a surprise appearance at TMZ's headquarters, including proclaiming that 400 years of slavery was "a choice." (TMZ producer Van Lathan tells the rapper he is "appalled.")
Unknown dates in April, May, June:
West holes up in Jackson Hole, Wyoming, to work on new music with a revolving door of other artists. Eventually, in a burst of productivity, he releases five short albums in five weeks: one album of his own (Ye) and one collaborative work with Kid Cudi (Kids See Ghosts), as well as producing records by Nas, Pusha T and Teyana Taylor. The first of these Wyoming Session albums, Pusha T's Daytona, is released in late May to substantial acclaim.
May 31:
He flies out journalists and industry types on private jets for the Ye listening party, a surreal spectacle of bonfires and hip-hop on a remote Wyoming ranch. (West creates the album's artwork on his iPhone on the way to the listening party.)
June 1:
Ye is officially released and receives some of the least-enthusiastic reviews of West's career. He explicitly addresses his mental health on the song "Yikes," which refers to his "bipolar shit" as "my superpower." He also alludes to his apparent bipolar diagnosis on the album cover.
June 8:
West's second album in as many weeks, Kids See Ghosts (a collaboration with Kid Cudi), is greeted more warmly.
June 25:
West admits in a New York Times interview that he worried that Kardashian West was considering leaving him after his recent statements.
August 9:
On Jimmy Kimmel Live! he insists that his Trump love represents "overcoming fear." When Jimmy Kimmel asks if Trump cares about black people, West goes uncharacteristically silent.
August 10:
Trump—who is so accustomed to being denounced by pop stars that he had to resort to having 3 Doors Down play at his inauguration—tweets: "Thank you to Kanye West and the fact that he is willing to tell the TRUTH."
September 7:
West drops an obscene new song with Lil Pump at the 2018 Pornhub Awards (yes, really). The song surges to the top of Billboard's streaming charts.
September 17:
West teases his third album of 2018, apparently titled Yandhi (yes, really).
September 27:
He tweets: "We're releasing Yandhi Saturday night."
September 29:
He does not release Yandhi Saturday night. He does perform several songs on Saturday Night Live, though his most provocative performance comes as the show ends, when West launches into a rambling pro-Trump speech off-camera, later released on video. The SNL cast remains onstage and tries not to cringe. (Trump later denounces SNL but says West "was great.")
September 29:
In a tweet, West also declares that "the being formerly known as Kanye West" will now be known as simply "YE." Pretty much everybody ignores this directive.
October 1:
Kardashian tweets that Yandhi will definitely, totally be released on Black Friday.
October 6:
West deletes his Twitter and Instagram accounts—again.
October 8:
The New York Times reports that West will meet Trump at the White House to discuss manufacturing jobs and criminal justice reform. If only that were all they discussed...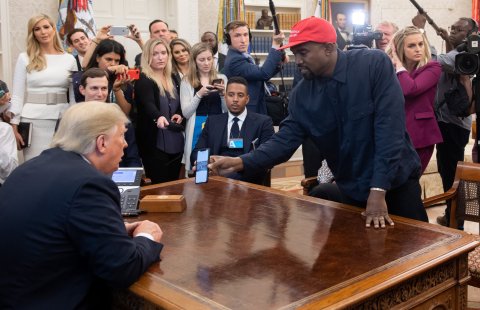 October 11:
West launches into a bizarre monologue in the Oval Office, during which he says Hillary Clinton's presidential campaign lacked "male energy" and that putting on his MAGA hat makes him "feel like Superman." He also announces that he was misdiagnosed with bipolar disorder. The president is photographed beaming alongside him.
October 14:
West returns to Twitter… again. He also rails against "mind control" in a series of video rants.
October 30:
West's MAGA period apparently ends. The rapper abruptly distances himself from politics, announcing on Twitter: "My eyes are now wide open and [I] now realize I've been used to spread messages I don't believe in."
October 31:
What will newly apolitical West tweet about? First order of business: a picture of himself as a giant pickle, captioned "PICKLE YE!" (a reference to a character on the TV hit Rick and Morty).
November 12:
West admits that Yandhi won't actually be released on Black Friday, a surprise to nobody except perhaps his 10-month-old daughter. ("I realize the new album I've been working on isn't ready yet," tweets the rapper.)
November 24:
Fans mark the 10th anniversary of West's depression-on-autotune classic 808s & Heartbreak, recorded in the aftermath of his mother's death. Critics debate whether it was a failed experiment or, as Stereogum claims, "one of the most important albums in music history." In retrospect, 808s signaled to fans that West's career would be full of sharp left turns.
December 25:
West enjoys a quiet Christmas with his family and looks ahead to a relaxing, uneventful year of avoiding controversy. Just kidding.