2019 Indianapolis 500: How To Watch, Live Stream the Race; Rain Policy
There are only a few key elements essential to every successful Memorial Day weekend: A grill, a new Hollywood blockbuster movie, and the Indianapolis 500.
The annual event kicks off Sunday, May 26, at 12:45 p.m. ET. Coverage begins at noon ET on NBC, with Mike Tirico, Danica Patrick and Dale Earnhardt, Jr. calling the race. Pre-race coverage begins at 11:00 a.m. on NBC Sports Network.
The race will also stream live on the NBC Sports app, and on streaming video services like YouTube TV, Hulu with Live TV, PlayStation Vue or Sling, so long as that service includes NBC in your market.
Weather at the start of the race is expected to be cloudy and in the high 70s, but there is the threat of rain pushing through the area starting at around 2:00 p.m. ET. If the rain interrupts the race before 101 laps have been run, it will be halted and continued on the next dry day. If rain is definitely looking to interrupt the race, officials could choose to preemptively postpone the start of the race until the next dry day. But if the race has passed the 101 lap threshold to make it official, a rain-shortened result could be called. This has happened a number of times at the Indy 500, most recently in 2007 when Dario Franchitti was named the champ in a rain-shortened race after completing 166 laps.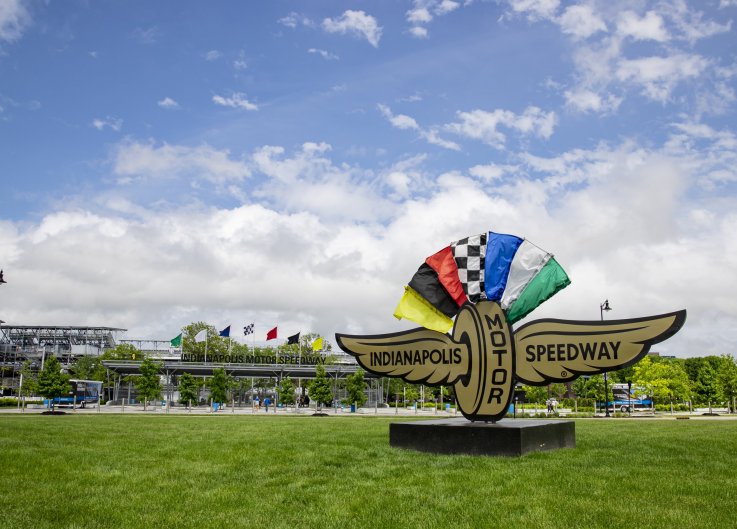 Going into the race, reigning Indy 500 champ Will Power was the oddsmakers' favorite to win again at 7-1. Both Simon Pagenaud, who has the number-one start position in the race, current IndyCar Series leader Josef Newgarden came into race day listed at 8-1 odds to win the race, as was driver Alexander Rossi.
For those not familiar with the Indy 500 or its format, the drivers in the race will make 200 laps around the track at Indianapolis Motor Speedway for a total of 500 miles.
While the Indy 500 may be the namesake race of the annual IndyCar Series, it is only the sixth race out of more than a dozen that will be run in the Series this year. The 2019 IndyCar Series began March 10 with the Firestone Grand Prix in St. Petersburg, Florida. That race — and the following race at the IndyCar Classic in Austin, Texas — were both won by Power, the favorite to win at Indianapolis.
The IndyCar Series will continue next weekend at the Chevrolet Detroit Grand Prix. The Series doesn't wrap up until September 22, at the Firestone Grand Prix of Monterey, in Monterey, California.
2019 Indianapolis 500: How To Watch, Live Stream the Race; Rain Policy | Sports