2019 Measles Outbreak: Symptoms, What is Measles? Can You Get it If You've Been Vaccinated? Everything to Know
Amid the measles outbreak, a Senate committee held a hearing about the importance of vaccinations and the causes of outbreaks of preventable diseases.
On Tuesday, at 10:00 a.m. EST, several experts testified before the Health, Education Labor & Pensions Committee. Ethan Lindenberger, 18, a teenager who got vaccinated against his mother's wishes, also spoke before committee members.
Who Is Ethan Lindenberger?
Lindenberger's mother, Jill Wheeler, vaccinated her oldest daughter and partially vaccinated her oldest son but opted to not vaccinate her youngest five children. After learning about the negative side effects of vaccines from his mother and having siblings who weren't vaccinated, Lindenberger said he believed it was normal not to have immunizations.
However, when he learned all of his friends were vaccinated, he conducted research on his own and found that a lot of the information he had been taught had been debunked. When he turned 18, he decided to get vaccinated, and on Sunday, Lindenberger shared in a YouTube video that he had since gotten caught up on his immunizations.
What Is Measles?
The measles virus was first identified in the ninth century and is highly contagious. Clark County Public Health Director Dr. Alan Melnick told CNN that the disease was so infectious that someone could still contract it if they entered a room where someone with measles had been within two hours.
Symptoms of measles typically appear within seven to 10 days after a person is infected and include a high fever, cough, runny nose and red, watery eyes. Three to five days after symptoms appear, a rash breaks out that usually begins as flat, red spots that start at the hairline and spread downward over the neck, chest and feet.
A vaccine was made available to the public in 1963, according to the Centers for Disease Control and Prevention (CDC), and the disease had been declared eliminated in 2000. Although there have been cases of measles each year, the CDC still considers it to be eliminated because there is no constant presence in the United States.
The MMR vaccine works in two doses. The first should be administered between 12 and 15 months of age and the second when a child is between four and six years old. Two doses of the vaccine are about 97 percent effective for preventing measles. So, you can still contract the virus if you were vaccinated, but it's very unlikely.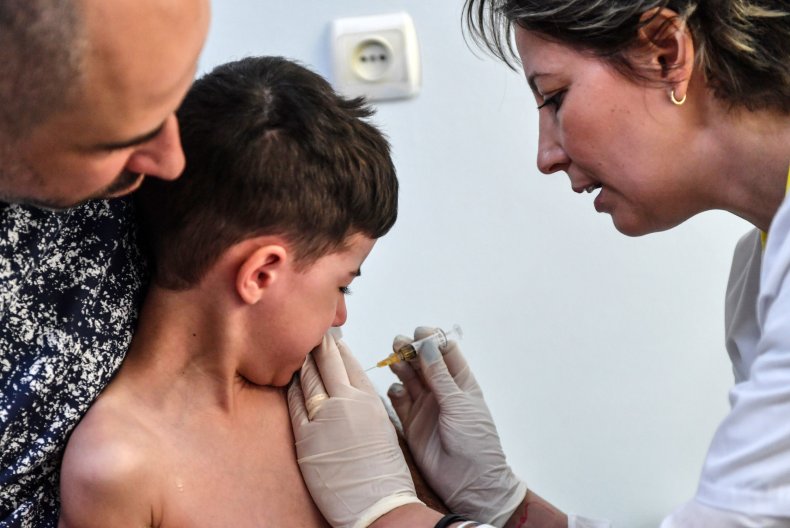 Where Are the Measles Outbreaks?
This year, between January 1 and February 28, 206 individual cases of measles were confirmed in 11 states, according to the CDC, including:
California
Colorado
Connecticut
Georgia
Illinois
Kentucky
New Jersey
New York
Oregon
Texas
Washington
Four of those states experienced an outbreak, which the CDC described as having three or more cases. New York state had three outbreaks, impacting Rockland County, Monroe County and New York City. Rockland County had 143 confirmed reported cases, Monroe County had seven confirmed reported cases, and New York City had 121 confirmed cases.
Five counties in Texas had confirmed cases of measles for a total of eight cases across the state. Illinois has also had five confirmed cases of measles.
In Washington, measles had been confirmed in two different counties, although, the outbreak was overwhelmingly affecting a single county. King County had one confirmed case as of Monday and Clark County had 70.
What Caused the Outbreaks?
The CDC said the six outbreaks were linked to travelers who brought measles to the United States from countries such as Israel and Ukraine. Since a vaccination can prevent people from contracting the disease, the CDC said that the spread of measles was more prevalent in communities within the United States where there were larger numbers of unvaccinated people.
New York City's outbreak was heavily concentrated in Brooklyn and largely involved members of the Orthodox Jewish community. It began with an unvaccinated child who had acquired the disease while on a trip to Israel. Other Brooklyn and Queens residents contracted measles during separate trips to Israel, as well, bringing it into unvaccinated communities and infecting others.
In Washington, of the 70 confirmed cases of measles, 61 of those people weren't vaccinated.
Why Do Vaccinations Matter?
Some states don't require people to be vaccinated and while not vaccinating a child may seem like a personal choice, Dr. Michelle Mello, a professor of health research and policy at Stanford School of Medicine, explained herd immunity is only achievable when there is a high level of vaccination.
"This is not rocket science. When people are permitted to opt out, some of them do," Mello said. "If even a few percentages of people opt out, the whole population becomes highly vulnerable."
She credited the anti-vaccination movement with knowing how to organize and get their message out to the public. Mello added that since people trust their own doctors more than the government, the way to change the narrative is to change the messenger. Other than doctors, she recommended mothers talk to other mothers.
How Bad Is It?
Mello told Newsweek that it was normal to have measles outbreaks every year. Since at least 2010, the CDC recorded over 50 cases of measles each year:
2010: 63
2011: 220
2012: 55
2013: 187
2014: 667
2015: 188
2016: 86
2017: 120
2018: 372
2019: 206
However, Mello added that the current outbreak is larger than usual and that the resurgence of measles is something that shouldn't be ignored, because it highlights a false sense of safety.
"I think the lesson is the diseases that we think we have vanquished lay in wait for us," Mello said.
Daniel Moritz-Rabson contributed reporting to this story.