Miss Universe 2019: How to Watch, Channel, Start Time And Everything to Know
Candidates from more than 90 countries will compete for the title of Miss Universe in a three-hour televised contest broadcast Sunday from Tyler Perry Studios in Atlanta.
Both Fox and Telemundo will air the event live from the 330-acre venue, which has 12 soundstages and opened in October. For those without TV, and a live stream of the event will be available from Fox, however there will be no live stream on the Miss Universe website. Viewers can tune in at 7 p.m. EST.
Comedian Steve Harvey will host the event as the pageant's contestants go head-to-head in the long-standing evening gown, swimsuit and personal statement categories.
"It takes a lot of work to compete in a Miss Universe pageant," Insider wrote in an article along with photos of the candidates, who arrived in the competition's host city earlier this week. "Not only do contestants follow strict diets and exercise routines to prepare, but they also must arrive at the pageant early to get fitted for their outfits and meet their fellow participants."
Simply making it into the contest, founded by Catalina Swimsuits in 1952, is a major challenge in itself. The contest rules say each participant must be at least 18 and under 28 by the time the national competition begins. Also, contestants cannot be married or pregnant and can compete for the Miss Universe crown only once.
Earlier this week, 2018 Miss Universe winner Catriona Gray and luxury jewelry designer Pascal Mouawad arrived in Atlanta to unveil the crown for this year's event. According to reports, the "Power of Unity" creation was made with 18-karat gold and more than 1,770 diamonds, with a 62.83-carat golden canary diamond at its center.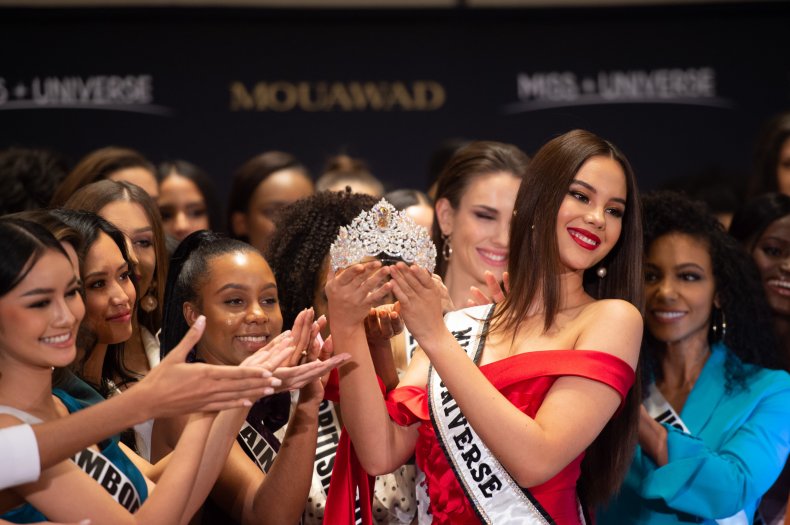 Unlike Miss America, there is no talent competition in Miss Universe, which still showcases the swimsuit category, a hot button topic in the #MeToo era. Both the Miss Universe and Miss USA pageants were once associated with President Donald Trump, who owned the Miss Universe Organization from 1996 to 2015, with the events broadcast on NBC.
"When I owned Miss Universe, they always had great people," Trump reportedly told Ukrainian President Volodymyr Zelensky in April, shortly after that country's election. "Ukraine was always well represented."
According to reports before the 2016 U.S. election, Trump boasted about having walked in on pageant contestants who were in the middle of changing. That revelation surfaced along with the 2005 Access Hollywood video in which Trump talks about grabbing women by the genitals.
The Miss Universe pageant now says it is "by women, for women" and "empowers women to realize their personal, professional and philanthropic goals through experiences that build self-confidence and act as catalysts for future success."
While it is too soon to predict who the winner of Miss Universe 2019 will be, popular blogs and sports-betting sites place high odds on Paweensuda Saetan-Drouin of Thailand, Gazini Ganados of the Philippines and Julia Horta of Brazil.
"This year's contestants continue to raise the bar for what it means to be a Miss Universe. These women are diverse, ambitious and strong," the organization told Newsweek in an email Friday afternoon. "We have pilots, engineers, lawyers and a firefighter in this year's class of Miss Universe competitors. Airing live from Atlanta for the first time ever, this year's pageant will allow the audience to learn more about the contestants than ever before, with four opportunities for contestants to speak during the live telecast."
UPDATE: viewing information for the 2019 Miss Universe pageant has been updated based on information received from a spokesperson for the event.