2019 MTV VMAs: Outrageous Moments From Miley Cyrus, Beyonce, Taylor Swift and More From VMAs Past
There are few awards shows that can compare to the pop culture impact of the MTV Video Music Awards. The show has defined so many moments in modern music history. Think about it: Madonna's "Like a Virgin" performance in a wedding dress, Michael Jackson kissing Lisa Marie Presley or even when Kanye West interrupted Taylor Swift's acceptance speech. The show has become the spot for artists to make a statement (and hopefully earn a place in music history). The 2019 MTV VMAs on Monday are sure to make great moments, but will they compare to some of the most outrageous moments in the awards' history?
The 2019 MTV VMAs will be hosted by comedian Sebastian Maniscalco and is the 36 anniversary of the show. Ariana Grande and Taylor Swift lead with the most nominations, 12 each. Swift, Shawn Mendes, Lizzo, the Jonas Brothers and Missy Elliott are all expected to perform. Elliott will also receive the Michael Jackson Video Vanguard award.
It's a fool's errand to even attempt to rank the most outrageous moments from past VMAs, because frankly there are just so many. So here are, in no particular order, some of the most outrageous moments from VMAs past.
Kanye West interrupts Taylor Swift in 2009.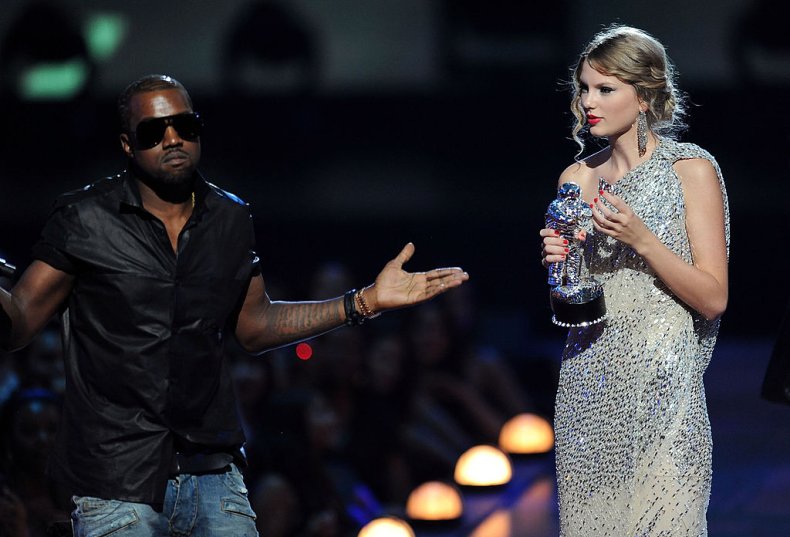 The longtime feud between the two music superstars started at the 2009 VMAs. When Swift won the Best Female Video award for "You Belong to Me," West stormed the stage in protest. "Imma let you finish, but Beyoncé had one of the best videos of all time," West said. Swift didn't know what to do, but Beyonce did. When Beyonce won Video of the Year for "Single Ladies (Put a Ring On It)," she gave Swift the stage to give her original acceptance speech.
Britney Spears performs with a python in 2001.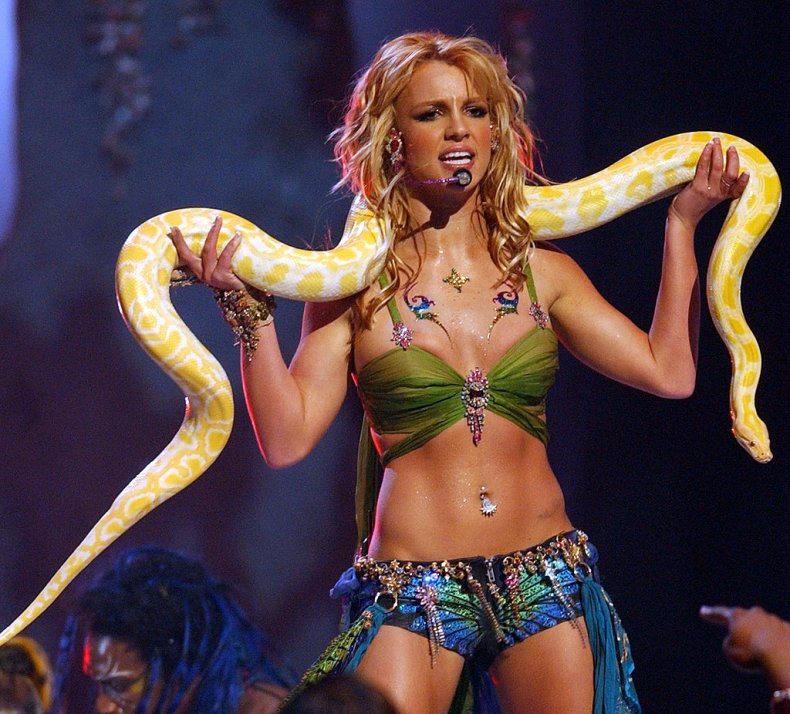 Like Miley Cyrus would do ten years later, when Spears needed to break away from her teeny-bopper years, she used the VMAs to do it. While performing her sexually infused performance of "I'm a Slave 4U," she appeared on stage with a python wearing next to nothing. The python served as a very scary visual statement for Spears being able to handle, well, just about anything.
Lady Gaga wore an actual meat dress in 2010.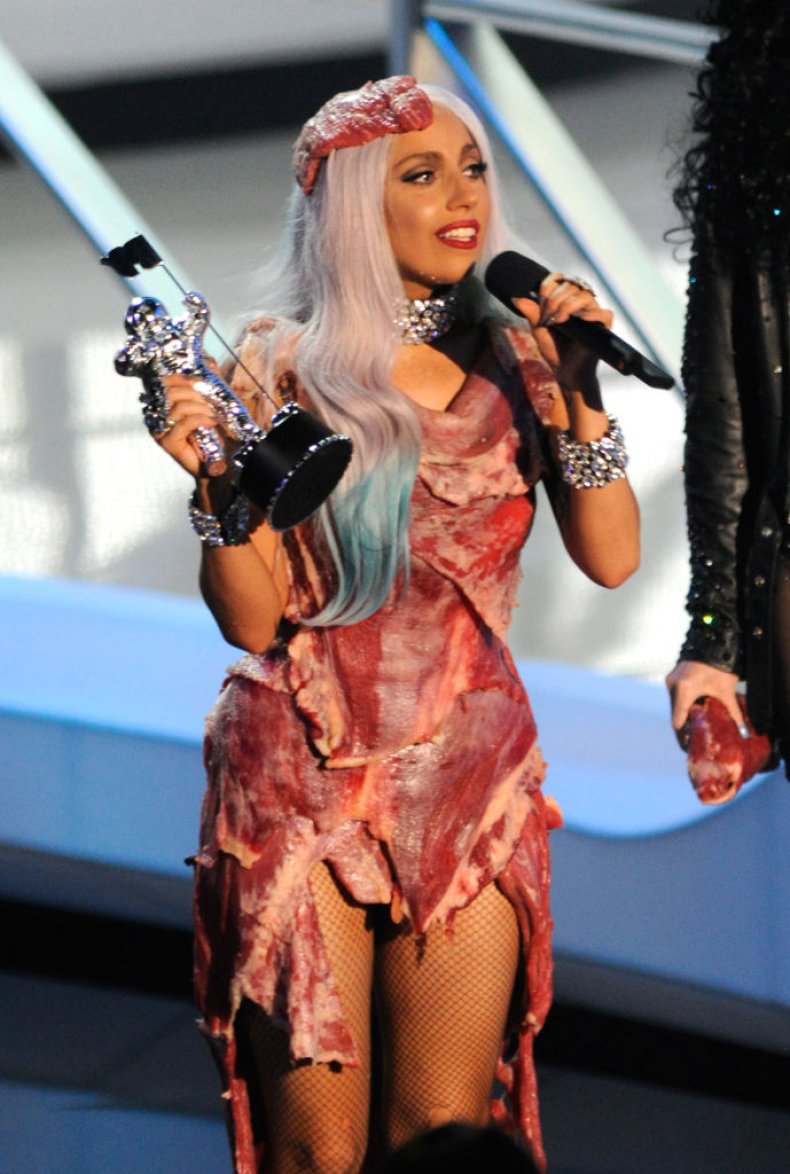 Gaga has made many memorable appearances at the VMAs (remember when she "bled" on stage?), but the meat dress she wore in 2010 really takes the cake... or steak? The dress—made out of 40 pounds of Argentinian meat—was meant as a statement to imply the singer is not a piece of meat. The dress was preserved and is now on display at the Rock and Roll Hall of Fame.
Madonna performs "Like a Virgin" in a white wedding dress in 1984.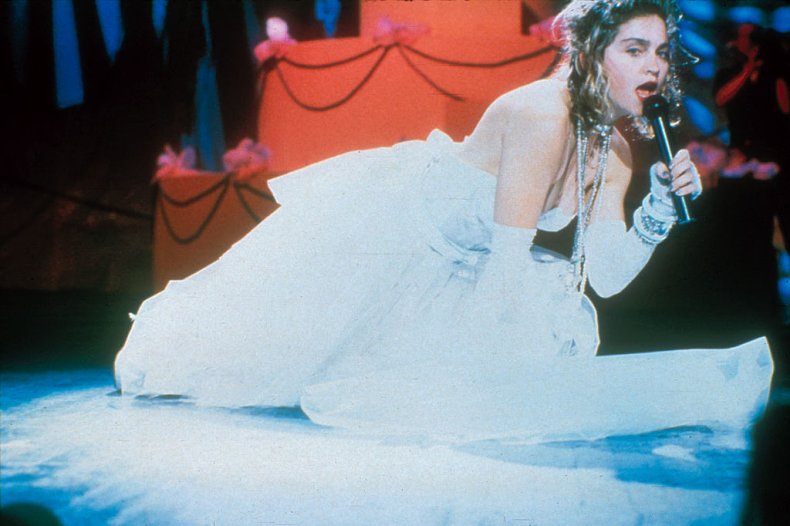 Madonna was all over the news in 1984. The Catholic Church was criticizing her for wearing crosses during her sexualized performances. At the VMAs that year, she decided to perform a song from her new album. Donned in a wedding dress, a cross around her neck, "Boy Toy" belt around her waist, Madonna rolled across the stage in a sexualized way while singing "Like a Virgin," further angering her critics (but also solidifying herself as a star).
Fiona Apple proclaimed "This world is bullshit" in 1997.
Apple won the Breakout Award for her song "Criminal," but instead of thanking people, she had a very direct message to viewers at home.
"This world is bullshit, and you shouldn't model your life about what you think that we think is cool, and what we're wearing and what we're saying and everything. Go with yourself."
Michael Jackson and Lisa Marie Presley kiss in 1994.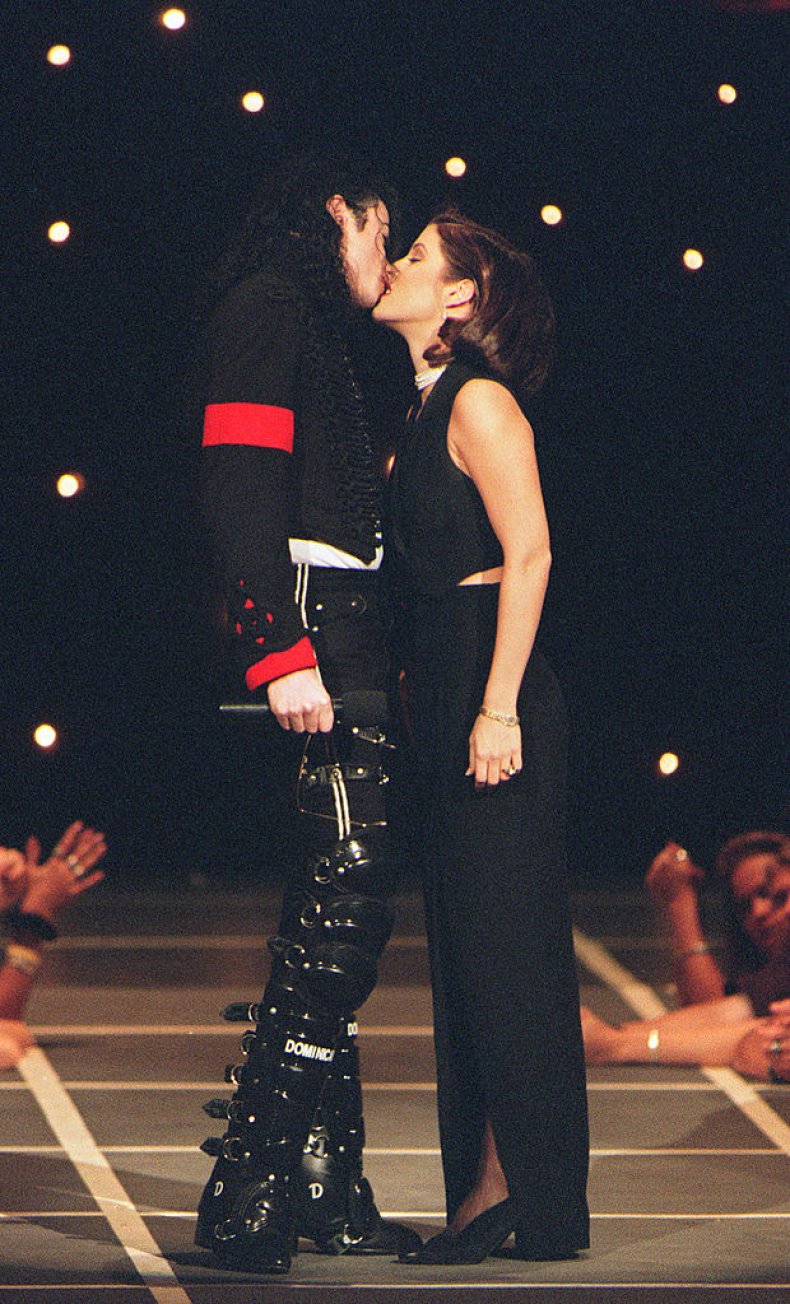 Jackson and Presley had wed shortly before the 1994 VMAs. The marriage between the King of Pop and Elvis's daughter stunned the world. In an effort to prove their love, they appeared on stage.
"Just think, nobody thought this would last," Jackson said before kissing Presley. It lasted only a few seconds, before Presley hid in Jackson's shoulder, seemingly embarrassed. The couple divorced two years later.
Michael Jackson accepted an award that didn't exist in 2002.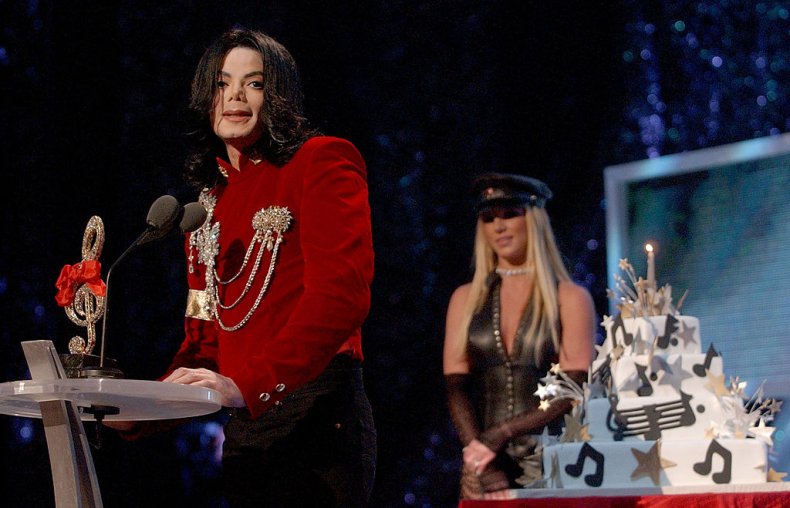 In 2002, the VMAs aired on the same day as Jackson's birthday. Producers planned for Britney Spears to wish Jackson a happy birthday, and then Jackson would come out and surprise the audience. There was even cake! Sounds pretty straightforward, right? Wrong. Jackson heard Spears call him "artist of the millennium" from backstage and must have assumed it was another accolade for the artist. So when he came out and spoke, he gave an acceptance speech for an award that doesn't exist.
Madonna, Britney Spears and Christina Aguilera kiss in 2003.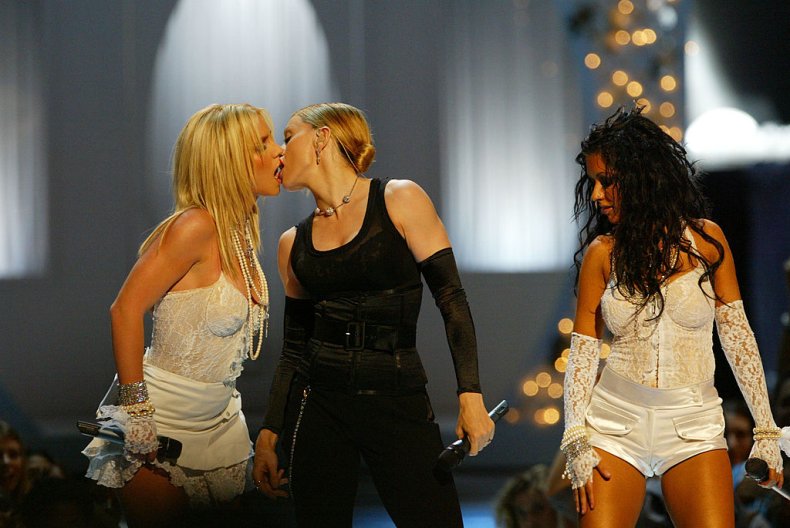 Picture it: Britney Spears and Christina Aguilera in wedding dress inspired costumes. The two pop stars were there to honor Madonna's "Like a Virgin" performance from 1984. During the performance, Madonna appeared and they all performed Madonna's new song at the time, "Hollywood." Then, out of nowhere, they all kissed. Like tongue and all. It was very... Madonna.
Beyonce revealed baby bump in 2011.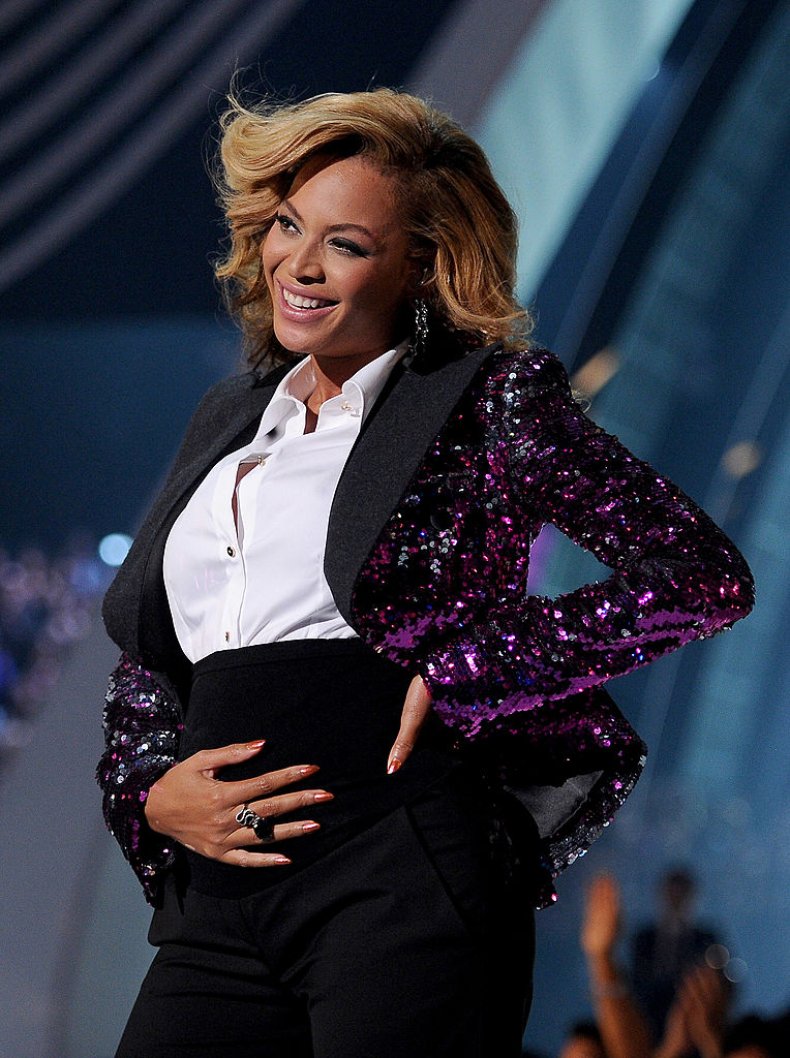 Beyonce is famously one of the most secretive artists, rarely giving fans a glimpse into her life. At the 2011 VMAs, the singer performed her hit "Love on Top." At the end of her number, she unbuttoned her jacket and revealed a baby bump, rubbing her bellow. Her daughter with Jay Z, Blue Ivy, was later born February 2012.
Miley Cyrus and Nicki Minaj fight it out in front of millions in 2015.
A very public feud between Cyrus and Minaj began after Minaj won the award for Best Hip Hop Video. Shortly before the broadcast, Cyrus called out Minaj in a New York Times interview for going after Taylor Swift on Twitter, so when Minaj ended her speech, she threw a not-so-subtle diss at Cyrus, who was hosting the show.
"And now back to this bitch that had a lot to say about me in the press," Minaj said. "Miley, what's good?"
"What's good" immediately started to trend on social media, because of course it did.
Jay Z and Alicia Keys performance interrupted by Lil Mama in 2009.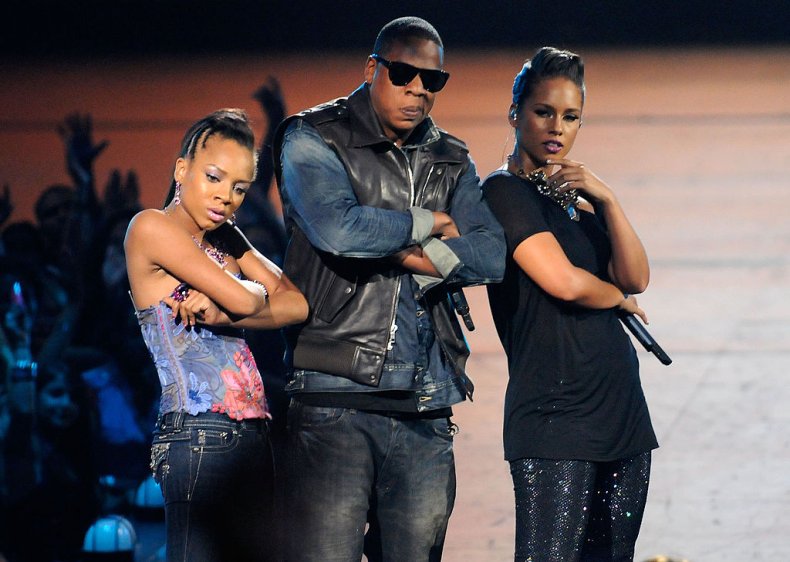 Jay Z and Alicia Keys were performing their hit "Empire State of Mind," rapper Lil Mama stormed the stage and tried to take part in the performance. Jay Z and Keys did the ultimate did, they just ignored her.
Robin Thicke joins Miley Cyrus in a twerk-fest to end all twerk-fests in 2013.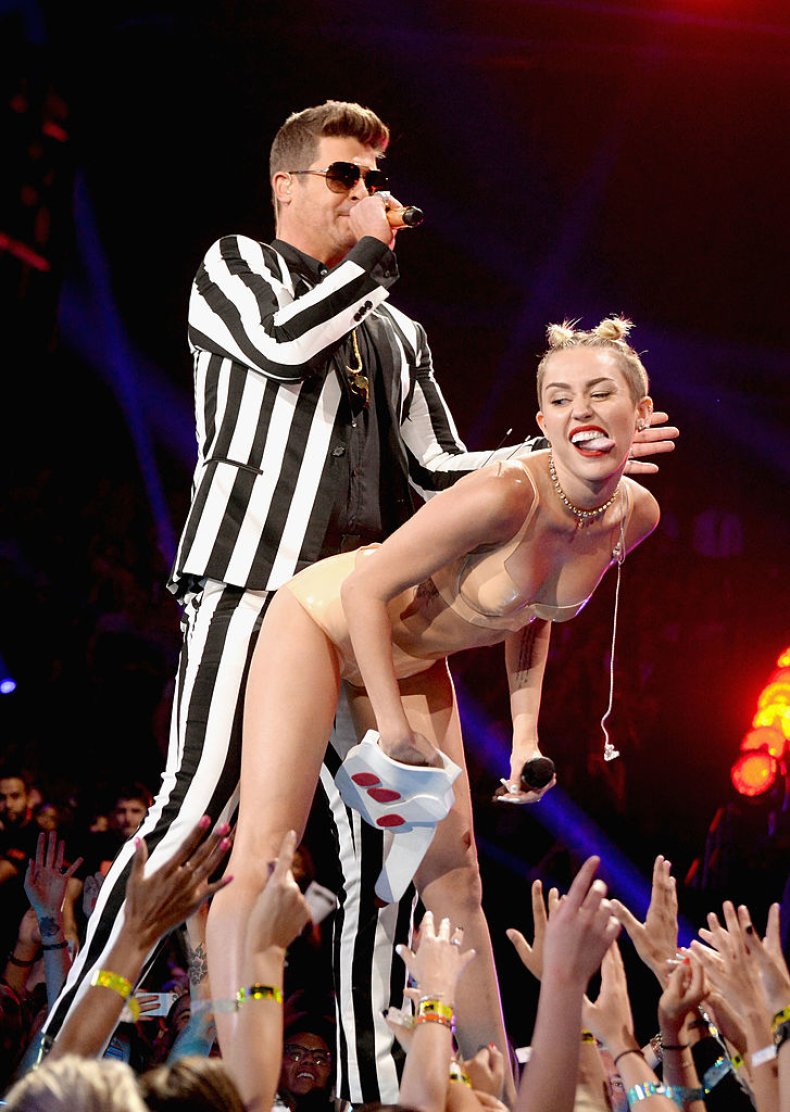 In 2013, Cyrus buried her Disney Channel character Hannah Montana for good with her twerk-drenched performance of her song "We Can't Stop" with Robin Thicke. The performance was filled with a sexual energy that barely made it SFW, but it definitely made it memorable.
Honorable Mention: Courtney Love ambushes Madonna.
OK, this one didn't happen during the VMAs, rather outside on the red carpet, but it's such an iconic moment that no list about outrageous VMA moments would be complete without it.
Madonna was being interviewed by MTV's Kurt Loder when out of nowhere small items came flying through the air. Loder looks over the railing and sees Courtney Love throwing items from her purse up at them.
"Hi Courtney," Loder says.
"Should we let her come up?" Madonna asks, and then quickly says, "No, don't. Please?"
But it was too late, Love was already on her way up.
"Courtney Love is in dire need of attention right now," Madonna says as Love arrives.
The moment that follows, Love seemingly out of it, Madonna unsure what to say or do, is TV and VMA gold!