2019 NCAA Baseball Tournament College World Series: Dates, TV Channels, Schedule and Odds
The college baseball season comes to a boil over the next two weeks, with the eight teams left in the NCAA Division I tournament battling it out in the College World Series.
The final phase of the tournament gets underway at TD Ameritrade Park Omaha, Nebraska, on Saturday, June 15. The eight teams who progressed from the Super Regionals phase have been split into two brackets, with the two winners advancing to a best-of-three championship series.
Michigan vs Texas Tech gets the ball rolling at 2 p.m. ET on Saturday, with the final game of the two brackets scheduled for Friday, June 21.
Here's everything you need to know to keep up with the action.
Newsweek subscription offers >
Which teams are in?
Of the eight teams left in the tournament, four come from the SEC—Arkansas, Auburn, Mississippi State and Vanderbilt. The ACC has two representatives in Florida State and Louisville, while the Big Ten and the Big 12 have one team each—Michigan and Texas Tech.
Who are the top seeds?
Five of the remaining eight teams entered the tournament as one of the 16 national seeds. At number two, Vanderbilt is the highest seeded team left in the tournament, followed by numbers five and six Arkansas and Mississippi State.
Louisville and Texas Tech, meanwhile, are ranked seventh and eighth respectively.
National seeds have tumbled like domino chips so far in the tournament. Number one overall seed UCLA was eliminated by Michigan in the Super Regionals over the weekend.
The tournament had already lost number three and four seeds Georgia and Georgia Tech and defending champion Oregon State, which was ranked 16th overall.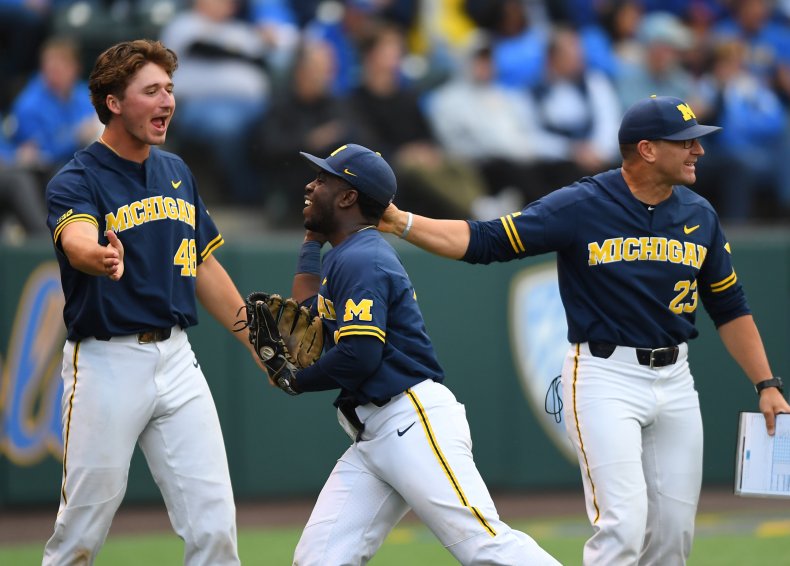 Format
The College World Series features a pair of four-team double-elimination brackets.
Michigan, Texas Tech, Florida State and Arkansas are in Bracket One, while Mississippi State, Auburn, Vanderbilt and Louisville are in Bracket Two.
TV channel
The tournament will be televised across the ESPN networks, with ESPN broadcasting both games scheduled for Saturday—Michigan vs Texas Tech and Florida State vs Arkansas.
Live stream
The tournament will be available via ESPN digital platforms Watch ESPN and ESPN+.
Odds
The second and fifth overall seeds respectively, Vanderbilt and Arkansas are the bookmakers' favorites to win the national title. According to BetOnline, the two SEC rivals are 3/1, followed by Mississippi State at 7/2.
Louisville and Texas Tech are 8/1 and 17/2 respectively, while Florida State is 9/2, followed by Auburn and Michigan at 10/1 and 14/1.
Schedule
(All times ET, number in between bracket denotes overall national seed)
Saturday, June 15
Game 1—Michigan vs. Texas Tech (8), 2 p.m., ESPN
Game 2—Florida State vs. Arkansas (5), 7 p.m., ESPN
Sunday, June 16
Game 3—Vanderbilt (2) vs. Louisville (7), 2 p.m., ESPN
Game 4—Mississippi State (6) vs. Auburn, 7:30 p.m., ESPN2
Monday, June 17
Game 5—Game 1 loser vs. Game 2 loser, 2 p.m., ESPN
Game 6—Game 1 winner vs. Game 2 winner, 7 p.m., ESPN
Tuesday, June 18
Game 7—Game 3 loser vs. Game 4 loser, 2 p.m., ESPN
Game 8—Game 3 winner vs. Game 4 winner, 6 p.m., ESPN/ESPN2
Wednesday, June 19
Game 9—Game 5 winner vs. Game 6 loser, 7 p.m., ESPN
Thursday, June 20
Game 10—Game 7 winner vs. Game 8 loser, 8 p.m., ESPN2
Friday, June 21
Game 11—Game 6 winner vs. Game 9 winner, 2 p.m., ESPN/ESPN2
Game 12—Game 8 winner vs. Game 10 winner, 7 p.m., ESPN
Saturday, June 22
Bracket 1 (if necessary)—2 p.m., ESPN/ESPN2
Bracket 2 (if necessary)—7 p.m., ESPN/ESPN2
2019 NCAA Baseball Tournament College World Series: Dates, TV Channels, Schedule and Odds | Sports