Paris Fashion Week 2019: Viktor & Rolf, Chanel, Gaultier and More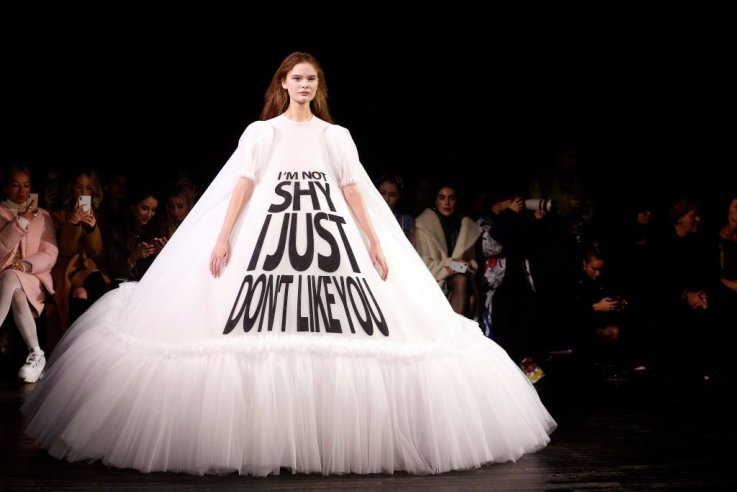 Paris Haute Couture Fashion Week brought a ray of ligh to dreary winter, with Chanel, Viktor & Rolf, Gaultier and other fashion stalwarts bringing bold and beautiful designs down the runway.
On Tuesday, Chanel unveiled what the label is calling "the world's first bridal swimsuit." Italian model Vittoria Ceretti gave us Esther Williams in a glittery onepiece, with matching swim cap and veil. Chanel called the embroidered bathing suit "a summer take on an haute couture wedding dress."
Viktor and Rolf made their message clear on Wednesday: they literally printed statements like "Give a damn," "I'm not shy, I just don't like you," and "Sorry I'm late, I didn't want to come," on billowy gowns. The collection, called Fashion Statements, was inspired by the question, "To what extent can you say something with clothing, literally," according to Vogue.
Kenzo made a more subtle statement with a collection inspired by designer Humberto Leon's Chinese-Peruvian roots. "At a time when the movement of peoples and the spread of cross-cultural dialogue marks our daily lives more than ever, our interest in telling personal stories has never felt more appropriate," said Leon in a statement.
Nonbinary model Oslo Grace was among those who walked for Kenzo Haute Couture, having walked in the label's men's show just prior.
There were celebrities on the runway, too: Dita Von Teese walked for Jean Paul Gaultier, whose collection was inspired by an Asian water motif. Asia Argento appeared in Antonio Grimaldi's finale for his spring 2019 runway show on Monday. And Valentino sent Naomi Campbell down the runway in a sheer black top with no bra, the first time the supermodel walked for the house in 14 years. The sight was enough, apparently, to bring Celine Dion to tears.
Also showing spring-summer collections were Louis Vuitton, Elie Saab, Tom Brown, Givenchy and Christian Dior.
For more from Paris Fashion Week 2019., scroll through the slideshow below.