College Admission Scandal Landed Parents in Jail in 2019—Here's What to Expect in 2020
In 2019, the FBI operation "Varsity Blues" landed some parents in jail, left others looking at hefty sentences and changed how schools in at least one state will handle their admissions process.
In what is commonly known as the college admission scandal, more than 36 parents were arrested for paying large sums of money to ensure their child's admission to college through fraudulent test scores and athletic records. Twenty pleaded guilty or intend to do so—13 of whom have already been sentenced—and more than 10 parents are gearing up for a trial, possibly in 2020.
At the helm of the scheme was mastermind William "Rick" Singer. As a cooperating witness, he wore a wire for the FBI while he spoke to his clients, bringing down his entire operation.
What Went Down in 2019
In March, 35 parents, including actresses Felicity Huffman and Lori Loughlin, were indicted for conspiracy to commit mail fraud and honest services mail fraud. Another parent, Karen Littlefair, was charged in October and agreed to plead guilty.
The parents utilized Singer in one of two main ways: to boost their child's college entrance exam scores or have their child admitted to a specific school as an athletic recruit based on falsified records. Some parents turned to Singer to have someone take college courses for their child.
For the 13 parents sentenced, the punishments ranged from a year of probation to six months in prison. Huffman, who paid to have her daughter's test score altered, was the first sentenced and received 14 days in jail.
"In my desperation to be a good mother, I talked myself into believing that all I was doing was giving my daughter a fair shot," Huffman told the judge before her sentencing. "I see the irony in that statement now, because what I have done is the opposite of fair."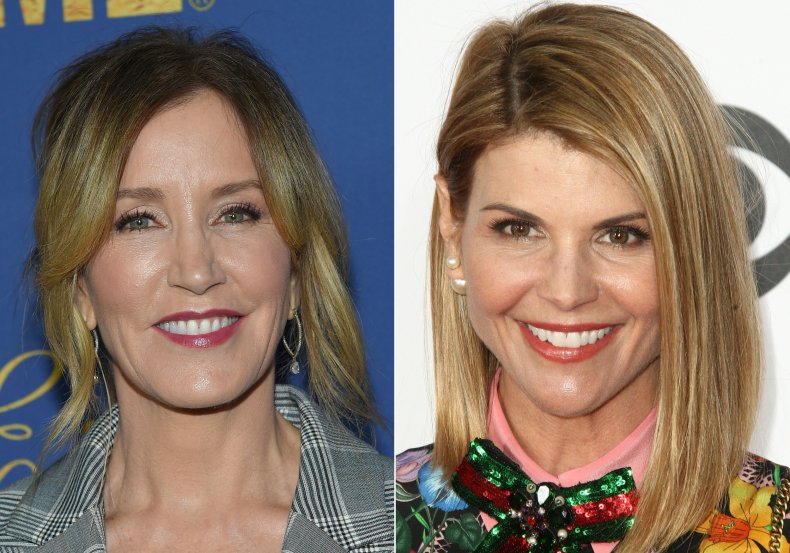 Nineteen parents who pleaded not guilty, including Loughlin, were hit with additional charges in a second and third superseding indictment.
Along with the parents, 17 other people were charged for playing a role in the scheme. The accused included college admission administrators, people who worked directly for Singer, and coaches and athletics officials at the University of Texas, Georgetown University, Wake Forest University, the University of Southern California (USC), Stanford University and the University of California, Los Angeles.
So far, prosecutors haven't targeted any of the children for possible criminal behavior related to the scheme, but some of the schools dished out punishments of their own. Two Georgetown students whose parents were arrested in the scandal were expelled, and Littlefair's son could have his degree revoked.
As of October 23, Loughlin's two daughters, Olivia Jade and Bella Giannulli, were no longer enrolled at USC. The school didn't elaborate as to whether they withdrew or were forced out.
What's Coming in 2020
Parents in the college admission scandal accused the government of withholding evidence that could help prove their innocence. In a motion to the judge on December 13, Loughlin and her husband Mossimo Giannulli's attorney, Sean Berkowitz, claimed the withheld evidence showed his clients thought their payments would go to USC itself for "legitimate" purposes.
"The Government's failure to disclose this information is unacceptable, and this Court should put a stop to it," Berkowitz wrote to the judge.
The government has until January 17 to respond, the same day a status conference is scheduled before federal Magistrate Judge Page Kelley. The Boston Herald reported the court may hold a hearing on five motions on February 11, and a separate status conference is scheduled for February 27 before U.S. District Judge Nathaniel Gorton.
Legal experts told Newsweek fighting the charges will be an uphill battle but said the right jury could make all the difference. It's possible that jurors will sympathize with the defendants for being part of a generation of overzealous parents who will do anything for their kids and vote to acquit. Or jurors with strong distrust in the government could refuse to vote guilty even if other jurors agree on a guilty verdict, causing a hung jury.
If Loughlin and Giannulli are found guilty, they face up to 45 years in prison, although legal experts told Newsweek it's unlikely they'll serve anything close to that number of years. Attorneys speculated that Loughlin, and similarly positioned parents, would be sentenced to somewhere between six months and two years.
Aside from several parents possibly going to trial in 2020, seven people are expected to be sentenced in the upcoming year. They include Mark Riddell, who took college entrance exams for students, and several coaches and parents.
The college admission scandal will also bring changes for people not implicated in the crimes. By June 30, all colleges and universities in California that participate in the Cal Grant program will have to disclose if applicants tied to alumni or donors receive preferential admissions treatment. If schools do provide preferential treatment, they must report which of those students did not meet admission standards, how many were offered admission and how many enrolled.
Correction: This story previously identified Georgetown as an Ivy League university.