The statement from Apple CEO Tim Cook, issued just after the New Year, was chilling for stock market investors. "We believe the economic environment in China has been further impacted by rising trade tensions with the United States. As the climate of mounting uncertainty weighed on financial markets, the effects appeared to reach consumers as well."
Largely as a result of that, Cook said, Apple would not reach its previous forecasts for sales and profits in the current quarter. Apple's stock promptly tanked, as did the broader market.
To what extent trade tensions
affect Apple's results is hard to quantify. A slowing Chinese economy also contributes, as does the diminishing appeal of Apple's pricey phones in a market where cheaper domestic competitors have improved their products. Apple, however, is a flagship American brand with big stores in heavily trafficked areas of China's largest cities; to the government and its citizens, Apple making its iPhones in China, rather than shipping them from the U.S., is of no consequence. But given the tensions between Beijing and Washington, which are at their worst level since the early '70s, before China reopened relations with the U.S., "Apple's got a big, fat target on its back," says John Rutledge, who sits on the board of directors of seven different companies doing business in China.
Trade wars, Donald Trump has said in the past, are "easily winnable." As a self-described "tariff guy," Trump thinks the numbers are basic: China exports more to us than we do to them; thus, we can apply tariffs to more of their goods than they can to ours, inflicting more economic pain. Therefore, to his mind, we win.
That crude calculus might have made sense in the 1980s, when the U.S. and Japan dueled on trade—and our current U.S. trade representative, Robert Lighthizer, first served in that agency. Japan's economic system promoted exports, shunned imports and made foreign direct investment expensive and difficult. But that is not analogous to the current situation with China.
The architects of Beijing's grand reopening to business in the late 1970s knew well that the lure of the world's most populous country—and one day, almost certainly, its biggest market—would be irresistible to the U.S. Americans would bring their dollars, their manufacturing expertise and their technology to ply their wares in a vast market.
Which they did. And that, amid the escalating trade conflict between Beijing and Washington, is China's
whole card. As Trump is now discovering, fighting a trade war with a dictatorship, which controls all media in the country, is a tricky thing. As the U.S. has tried to increase pressure on Beijing by imposing tariffs on Chinese goods, the biggest American brands operating in China—including Apple, Starbucks, General Motors, Ford—have become deeply vulnerable. The government doesn't necessarily need to injure those companies directly (through, for example, new and expensive regulatory requirements, or snap inspections on workplace safety or environmental compliance), but those options certainly exist; companies that have offended Beijing in one way or the other in the past have certainly felt such treatment.
Rather, the easiest way to hurt U.S. companies is to allow hotheaded and "patriotic'' citizens to rant about them on ubiquitous social media sites such as WeChat. Beijing keeps a close watch on such vituperation, carefully controlling the tenor and tone of anger expressed in state-owned media organs. Last summer, for example, Reuters reported that Beijing had circulated a memo (based on verbal directives from government officials) to reporters and state-run news outlets: Don't criticize Trump directly. "When exposing and criticizing American words and actions, be careful not to link it to Trump and instead to aim it at the U.S. government."
But the Chinese government, to date, is more than happy to let the country's vast army of nationalists condemn the U.S. as the trade conflict grinds on. "Boycott all Apple products!" is a typical message, this one from Xingchu 88—in a group chat that included over 200 other participants. Another WeChat user wrote, "After a period of time, if the trade war really incites a sense of hatred against the United States, then I will not watch American movies, not listen to American music, not recommend Disney to friends.'' Wei Shoachuan, who lives in Chengdu, in central China, added: "I will start writing social media posts saying that Americans are not good, in order to counter American cultural products."
American executives acknowledge that such sentiment has an effect. In October, GM reported a 15 percent decline in sales in the most recent quarter, and all analysts agree that the trade tensions, not just a slowing economy, are affecting the result. The timing is particularly difficult for GM, which is rolling out a new line of electric cars, per a Chinese government mandate.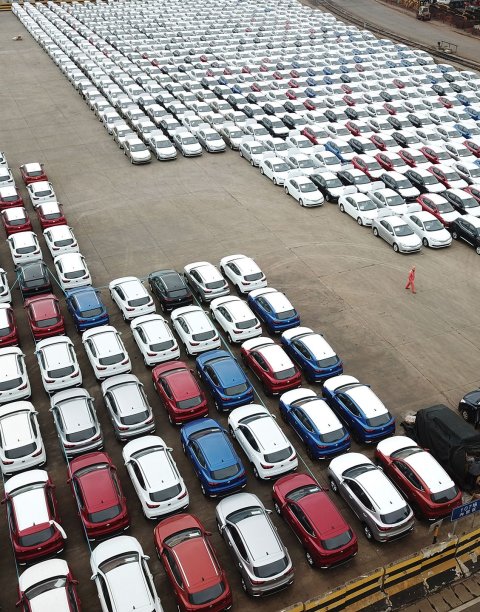 Smaller companies are feeling it too. Newell Corp.—which makes Mr. Coffee coffee makers and Sharpie pens—has seen its sales weaken as stores switch to local suppliers. An executive at one popular Chinese retail chain wrote that he was boycotting Newell products because of the trade dispute, and he received hundreds of supportive responses.
The Chinese government can just sit back and let the damage mount. And unless Trump and his counterpart Xi Jinping come to a deal, that's probably just what it will do. —BP