In 1953, the actress Ida Lupino directed The Hitch-Hiker, a hard nut of a film—the first noir directed by a woman. Twenty-five years later, Lina Wertmüller's art house thriller Blood Feud pushed the grieving widow—a distinctly unglamorous Sophia Loren—from the hand-wringing shadows into a position of fierce retribution.
Female directors are rare, but those directing thrillers remain rarer still. Kathryn Bigelow opened the door a crack more with her 1991 cult classic Point Break. Mary Harron's gleefully deranged American Psycho followed in 2000. But both films featured men in the leading roles. Traction for Wertmüller's groundbreaking choice—placing female avengers front and center—took a lot longer. Highlights include Jane Campion's 2003 film In the Cut, Debra Granik's 2010 Oscar winner Winter's Bone and Claire Denis's 2013 Bastards.
This past December, Netflix released Bird Box, from the Danish director Susanne Bier and starring Sandra Bullock. It quickly broke records for the streaming service, becoming the most watched film in a seven-day period. On January 18, Netflix's Close premieres, from British director Vicky Jewson, and starring Noomi Rapace as a bodyguard assigned to protect a billionaire's troubled daughter (Sophie Nélisse of The Book Thief). What both thrillers demonstrate (in addition to Netflix's commitment to hiring diverse creators) are the singular qualities women bring to the genre—among them a willingness to subvert traditional tropes, and to feature distinctly nuanced female characters, well beyond the oversexed bunny-boilers and victimized arm candy common to the genre.
Bier—the only female director to have won an Oscar, a Golden Globe and an Emmy—displayed considerable skill for driving tension with an adaptation of John Le Carré's The Night Manager, a big hit for BBC One and for AMC in the U.S. But with Bird Box, she created something women clearly crave: a hero they can relate to. Bullock's Malorie is antisocial and ferocious, an aggressive mother protecting her children from an undisclosed evil. She is not, as Bier has put it, "a male-defined mother figure"—soft, calm and idealized. "That was why Sandra was attracted to [the film] and why I got attached to it."
The women of Bird Box and Close defy the decorative stereotype—extensions of men, displayed provocatively. Rapace and Bullock spend much of their respective films in shapeless clothing, looking rough and battered. They both have unusual, imperfect faces and a spiky sexuality—what Bier has said she hopes to see more of as women cast their own films.
Jewson cast and wrote Close with her screenwriting partner and husband, Rupert Whitaker. She had long been frustrated by female-driven action films "where you think, There's nothing about this person that makes them a woman; it's just that they stuck a woman in the role," she tells Newsweek. With Close, she steered clear of Atomic Blonde–style clichés: "leather, leotards and women running in 6-inch heels. I wanted to avoid cat fights and anything that would use sexuality to sell that it's a woman in the lead," says Jewswon. "That frustrated me massively growing up."
She grew up loving the action genre; as a kid, she made James Bond movies with her friends. "I wanted to be a filmmaker, but all of the films were telling male stories," she says. The lack of role models led, at one point, to Jewson calling herself William, "really embarrassing my parents."
That changed when she saw Luc Besson's 1990 film La Femme Nikita. The character of Nikita, played by Anne Parillaud, "had a level of emotionalism that you'd never see in a Bond film. I'm an emotional filmmaker. I thought, That's it!" says Jewson, who, quite remarkably, had written, financed and directed her first film, 2008's Lady Godiva, by the time she was 22. (Close is her third film and second thriller.)
Other influences included Ridley Scott's Thelma & Louise and Tony Scott's True Romance, starring Patricia Arquette. "When Arquette goes up against James Gandolfini in the bathroom and wins—it's just the most amazing action scene to watch. She's fighting from a place of feminine power, with a raw fire, and we took that into Close."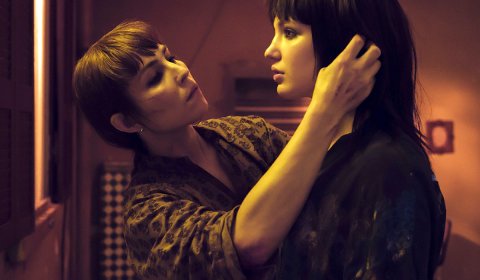 For stunt coordinator, Jewson hired Julian Spencer, who had worked on the famously savage Turkish bath fight scene in Eastern Promises. "When we met, he asked me, 'What kind of action do you want to do, choreographed fight sequences or brutal and real?' I was like, 'Brutal and real!' And he said, 'OK, I'll definitely work with you then.'" Jewson laughs. "It's almost like he was testing me."
Rapace, whose international breakthrough came playing the merciless Lisbeth Salander in the Swedish Girl With the Dragon Tattoo films, spends much of Close emotionally and physically ravaged. "I don't think you get to see—particularly with women in action films—the harsh reality of getting punched in the face: You bleed! But those raw scenes are underpinned by the emotional journey. The characters drive the action, not the other way around," says Jewson.
Rapace's Sam is based on a real bodyguard, Jacquie Davis, who consulted on the film. She and Jewson spent time talking about how Davis navigated her job mentally. "When Jacquie would tell me a story, I'd ask her how she dealt with it afterwards. How did it make her feel? In reality, if we went through those extreme scenarios, our lives would be affected by it. I find that just as fascinating."
The double standard, of course, is that seeing women getting beaten up or beating people up or simply behaving in unlikable ways can provoke backlash. Violence against women in films is often labeled "gratuitous," and in the hands of men it frequently is. Bier caught heat for a scene of a woman being tortured in The Night Manager, and Bullock in Bird Box was criticized for being an overly assertive mother. That's perhaps to be expected: indoctrination is powerful, and male directors and screenwriters—and the men who decide what to finance—have defined how women behave on the big screen for over a century. Showing them as powerful and redemptive is a last Hollywood taboo. (Though not, it should be noted, for TV creators of international crime dramas, with their mother lode of gritty female characters.)
The Bird Box script was around for years before it got made, largely because the industry couldn't wrap its head around Bullock's character. Despite box-office bonanzas like Alien, Terminator, Crouching Tiger, Hidden Dragon and Kill Bill, Jewson was repeatedly told in pitch meetings for Close that "women leads in genre movies don't sell, and as a director I was making life harder for myself."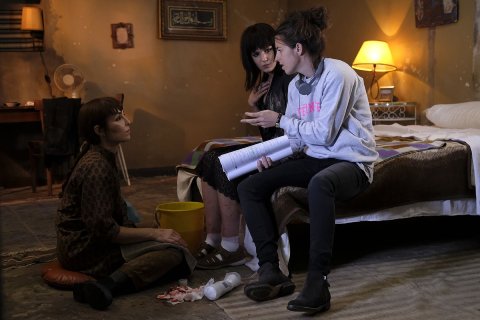 It was thanks to the production company, WeLove, the distaff arm of the U.K.'s WestEnd Films, and Netflix that Close got made—that and Rapace signing on to the project. The response to the film remains to be seen. Critics weren't overly enthusiastic about Bird Box, but that, as it turns out, didn't matter in the least—good news for female directors and female-driven action films. As Bier told The Hollywood Reporter, "Classical measurement has either been box office or awards. [Bird Box] defies all of it. But creating a phenomenon is bound to translate into something."
Perhaps even a Bond film. Bier was rumored to be on the short list of directors for the franchise, until Cary Fukunaga was tapped for the 25th outing (due next year). Maybe for Bond 26. It's about time 007 had a good cry.
Close will begin streaming on Netflix on January 18.