There's a scene in the SyFy network's The Magicians where the characters speak exclusively in pop culture code. "Someone is 'XOXO, Gossip Girl'–ing our shit," says Eliot, the flippant bad-boy ruler of a kingdom. "So we have to keep it very 'best episode of Buffy.'"
Based on Lev Grossman's best-selling series of the same name, The Magicians doesn't expect you to get all those references; the scene comes with subtitled "translations," explaining that Eliot believes someone is spying on him and his queen, Margo, so they need to keep things confidential ("Hush" being the referenced Buffy episode). But it does expect you to respect the effort. "This show is for people who grew up reading Harry Potter, who have seen all the Lord of the Rings movies, who have an opinion about Star Trek vs. Star Wars," says Sera Gamble, who co-created The Magicians with John McNamara.
The Harry Potter association is evident in Grossman's trilogy; on the back cover of the first book, published in 2009, Game of Thrones author George R.R. Martin opines that "The Magicians is to Harry Potter as a shot of Irish whiskey is to a glass of weak tea." The story's Quentin Coldwater (played by Jason Ralph on the show) is a depressed 19-year-old nerd who discovers that his childhood obsession, a fantasy series called Fillory and Further, is real. He heads off to magic school, Brakebills College (Brakebills University on the show), where he collects a crew of magician friends (aged up for graduate school in the series), drinks heavily and battles inner and outer demons.
Both Gamble and McNamara frequently profess their love for Grossman's novels, but after the first season, which more or less follows the first book, attempts at faithful adaptation ended. Plotlines were remixed, rearranged and reinvented; with each passing season, Grossman's tone of introspective gloom moved toward irreverent fun.
"There was a necessary and important discovery process in Season 1," says Gamble. "This happens on every show: The crazy alchemy of the writers' room, the production team, the actors and their chemistry moves you in an unexpected direction." (Grossman, a creative consultant, has admitted that while he likes the show, the changes "took some getting used to.")
Season 2 included fan favorites Eliot and Margo (Hale Appleman and Summer Bishil), rulers of the Fillory realm, spontaneously breaking into song ("One Day More," from Les Misérables) as they head into battle. Season 3 included a full-on musical episode, a nod to Buffy the Vampire Slayer's ambitious "Once More, With Feeling." Gamble, like Buffy creator Joss Whedon, adeptly juggles fantasy tropes, subverting them with a cheeky wink. "Yes, we are Buffy fans," says Gamble. "I assume that it was a reference point for pretty much every show of this nature for the last 15, 20 years. I would be flattered if people considered The Magicians part of that lineage."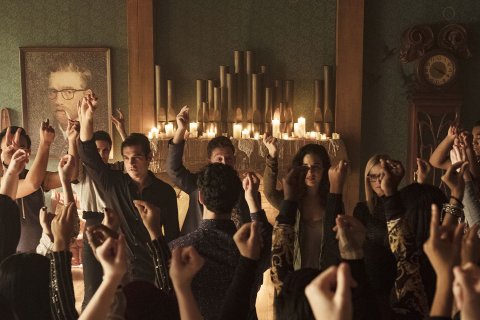 Whedon's influence is everywhere: in the ensemble cast playing the central group of quippy friends, those sly pop culture references and the subversive humor. Season 4, premiering January 23, will include a down-on-his-luck Santa Claus, imprisoned for improper use of magic. It's also in the shifting formats, like the episode broken down into six short stories about characters both minor and major. And in the way star student Alice (Olivia Taylor Dudley) suddenly loses her dad to a pre-existing heart condition rather than the magical beast she was protecting him from. (Echoing Buffy's "The Body," where the slayer's mother dies of an aneurysm.)
The 35-year-old Gamble, who is simultaneously running the series You on Lifetime, is also drawing on her seven-year experience writing for and running the CW hit Supernatural. "I've written so much fantasy at this point," she says, "that I have a pretty strong desire to be irreverent and specific—to tell those classic stories in ways that surprise you and also me.
"After 150 episodes of Supernatural," she goes on, "the one thing I didn't want to do was procedural stories. I always looked at those as an excuse—if we presented you with a little puzzle box of an episode that functioned in a closed-ended way, then we would buy your attention for what I cared about most: the characters. I'm really enjoying that we don't have to do those gymnastics here." (She appreciates, too, the recent loosening of SyFy's language regulations, allowing her characters to use the f-word liberally.)
Magicians influences beyond Buffy include C.S. Lewis's The Chronicles of Narnia—"Fillory is a fictionalized version of Narnia," says Gamble—and Pan's Labyrinth, Guillermo del Toro's 2006 film. "Anytime you see a creature or monster, that's del Toro."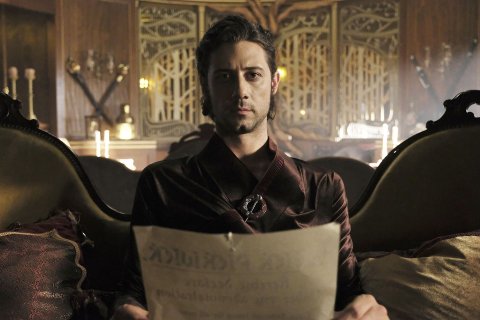 There's even a nod to The Princess Bride, Rob Reiner's 1987 film. "I had literally begged John McNamara for swashbuckling on The Magicians because I grew up loving the Princess Bride duel so much," Appleman says of Eliot's duel with King Idri of Loria in Season 2. "Then, on top of that, he turned it musical [with the Les Mis number], so I was like, 'This is my Men in Tights and Princess Bride moment."
McNamara, the writer and co-producer behind the 2015 film Trumbo, is a comparative traditionalist. "He would tell you he's not a fantasy fan," says Gamble. "When I reference Anne McCaffrey, he's, like, 'Who?' [McCaffrey is the author of the Dragonriders of Pern sci-fi series, among other books.] That was the necessary voice to keep it from getting too 'See you at the convention.'"
Perhaps, but the show's screaming followers did fill a room at a recent Comic-Con in San Diego. The Magicians has yet to reach Buffy's status in critical acclaim or viewers, but it is consistently SyFy's highest-performing original series. The show isn't geeky so much as bonkers, with a breakneck pace that, in its first few seasons, has seen the death of three main characters, all of whom have come back to life in some complicated way. "Admittedly, we have a lot going on," says Gamble, who gets lost herself from time to time. "It's the job of several staffers to keep track of what has happened in past seasons."
New viewers can catch up with past seasons on Netflix, and even fans might want to brush up before Season 4, which references what many consider to be the show's best episode, Season 3's "A Life in the Day," when Quentin and Eliot lived out a lifetime together (and shared a sweet kiss) in the span of a few hours. It's particularly heart-wrenching now that Eliot—major Season 3 spoiler alert!—has been possessed by a murderous monster, which Gamble confirms will be the main arc of Season 4.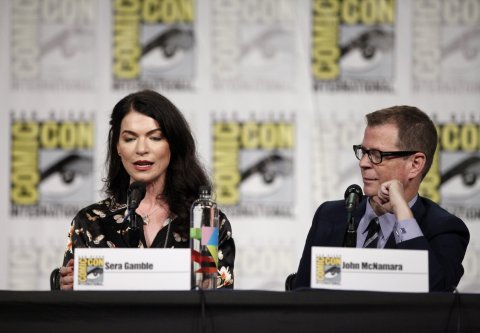 "The monster is a creature who has essentially been locked up in a dungeon for 1000 years," says Appleman. "There's something tragic about him—he desires connection but has no way to it, while Quentin and Eliot's connection was organic from the start."
When asked if Quentin and Eliot might pick up their romance again, Appleman says he "can't make any promises, though I think it would be really beautiful for that to be explored. I will say that the life they shared is something that they can't unknow, and it has potential repercussions down the line, in terms of how they feel about each other."
Gamble, unwilling to give away any secrets, says, "Maybe Eliot is dead and the monster is wearing his meat suit. Maybe he's alive in there, struggling, freaking out, while a monster controls his body—which is, come to think of it—even more horrific!"
Season 4 will also contain some real-world parallels via the Library of the Neitherlands, a massive archive currently in control of all magic. "I wouldn't say things get unusually political," says Gamble, "but we all watched the election of Trump. The Library was an opportunity to explore how authoritarianism happens. That's a huge world this season, and also a door into some of my favorite, eeriest environments so far."
More generally, Gamble says, Season 4 is about "how to live with problems that cannot be perfectly solved. They've now lived through four seasons of trying to fix things. Every time something gets fixed, something gets worse. In my opinion, that's how life works."
A certain slayer from Sunnydale could relate.
The Magicians returns to SyFy on Wednesday, January 23, at 9 p.m.