From families being separated over the summer to border patrol agents firing tear gas at migrants in Tijuana several weeks ago, conflicts and conversations surrounding the U.S.-Mexico border dominated headlines throughout 2018.
Though many of us are hundreds or even thousands of miles away from the border, photography provides a portal into world events that would otherwise be less accessible to the broader public.
Three Getty Images photographers—John Moore, Spencer Platt and Mario Tama—have spent weeks documenting various touchpoints of the immigration crisis in 2018, from the migrant caravan in southern Mexico to the crossings in border towns.
Below, these three veteran photographers reflect on their experiences photographing the many stories from the southern border in 2018 and provide some insight into their images.
President Donald Trump's immigration policies have made the issues at the border more politicized than ever before. Did those policies increase tension at the border? How palpable was that tension?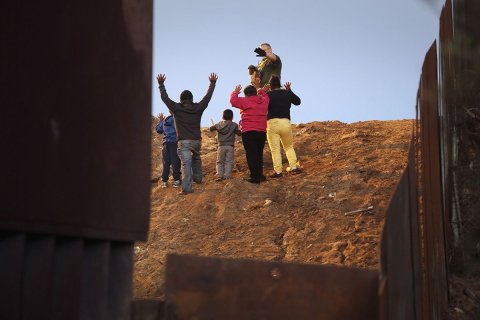 Moore: The policies and rhetoric stemming from the White House were harsher this year, in line with the Trump administration's "zero tolerance" immigration policy.
Tension in U.S. border agencies is probably higher because they are enforcing existing law in different ways than before, especially when children were controversially separated from their families during the spring of 2018.
We've also seen a drastic rise in the number of families from Central America fleeing poverty and gang violence in their home countries to seek political asylum in the U.S. They were already anxious when they set out on their long journey to the United States and when they left their home countries, many had no idea that U.S. policies had changed.
There is a lot of conjecture about the lack of context in media in 2018, but you all take pride in providing context in your images. As photojournalists, what do you see as the importance of context when covering immigration in this current media climate?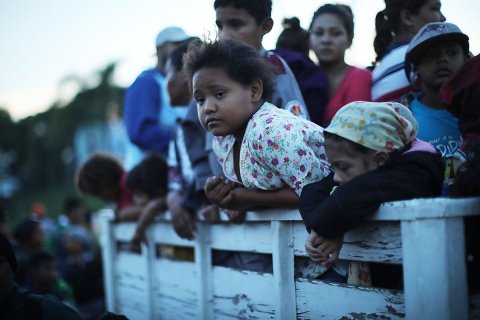 Platt: As a photojournalist, we are put in situations with a lot of moving pieces and where everything happens very fast. We snap hundreds of images and try to anticipate the frame in order to capture the best picture.
When I was in Southern Mexico covering the caravan, I was extremely aware of the hyper-partisan nature of this issue and how media coverage was being used to stoke fear in the run up to the midterm elections. So, while it was important to document the scope of the caravan and show the amount of people embarking on that journey, it was equally important to highlight the struggle of the individual.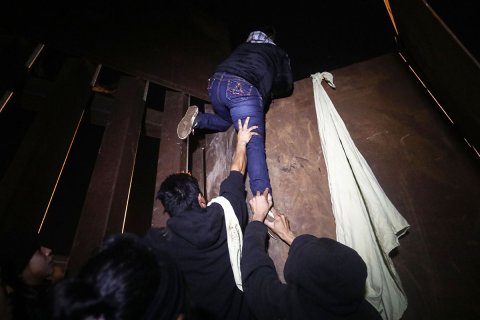 Tama: The photographs we take are never seen in a vacuum and the viewer looks at each image through the filter of their own personal perspective. We did our best this year to objectively illustrate the complex set of immigration issues on both sides of the border.
Beyond caravans and patrols, we documented migrants waiting to seek asylum at the border, ICE arrests, deported veterans, the reunification of families, anti-immigration protesters, Mexican farm workers and U.S. citizenship ceremonies.
Spencer and Mario, you have both covered wars in places like Iraq, Afghanistan and Ukraine as well as the aftermath of natural disasters like Hurricane Katrina. But this year was your first experience covering immigration in Mexico and border towns in the United States. Describe some of the unique challenges that the migrants face?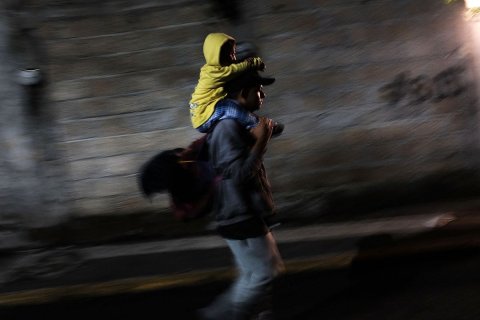 Platt: I was essentially parachuting into Southern Mexico—a place I had never been before—to cover the migrant caravan for about 10 days. Before flying into Oaxaca, I did a ton of research in order to prepare myself and devise a plan that would put me in a position to cover the issue appropriately.
But after walking with the migrants on that first day, I remember being struck by the treacherous conditions of the journey. Members of the caravan would walk for up to 14 hours each day or hitch rides on the back of trucks with small children, which is no easy task. The fortitude they displayed to wake up each day before dawn and do it over and over again was incredible. And, they did all of that without any real expectation that they would be granted asylum when they reached the border.
Covering a situation like the caravan you see things that are so heartbreaking and mentally taxing, but I have learned to stay tough in the moment and take time when I'm back home to decompress.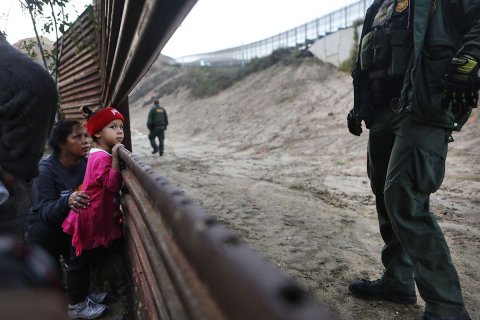 Tama: Many of the thousands who arrived in Tijuana as part of the latest caravan planned to request political asylum in the United States after traveling more than 6 weeks from Central America and parts of Southern Mexico. U.S. border officials only process a limited numbers of asylum cases per day at the Tijuana port of entry, between 30-100.
Asylum seekers are then left to choose between crossing illegally or possibly waiting for more than a month in ramshackle shelters in Mexico for U.S. asylum hearings. It isn't surprising that some choose to cross illegally into the U.S., plead asylum, and turn themselves in.
One instance in Tijuana that struck me was when a small group of migrants, including a Honduran mother and young daughter, were scrambling downhill to find a place along a section of fence to cross. They happened to pass a hole in some of the fencing and soon encountered a border patrol agent who approached from the U.S. side. The mother and agent were nearly face-to-face as the mother pleaded again and again, through the hole in the wall, to let them cross into the United States. Of course, they were not allowed to pass. In my limited experience, policy and humanity seem to intersect sharply at the border.
John, you have spent a good deal of time with border patrol agents and photographing the work that they do. Why do you think showing that side of the story is so important?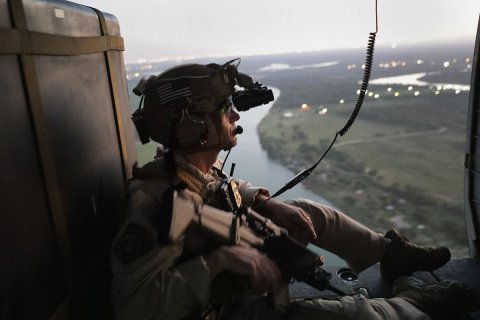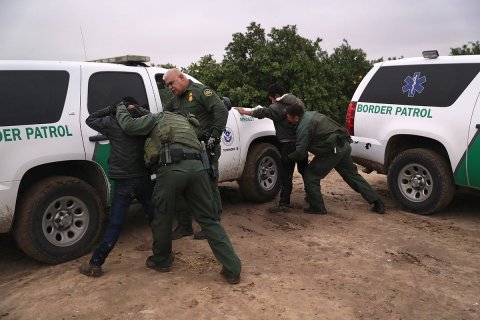 Moore: The men and women who patrol the border are enforcing the law and following a mandate that is determined by their superiors. Obviously, the priorities of the Obama and Trump administrations are different, but the agents on the ground enforcing those changes are the same.
Covering this issue for Getty Images over the past decade and over three administrations, I have seen law enforcement at the border become more militarized than ever before. There are higher levels of enforcement, especially in urban areas of the border, which has forced migrants to attempt the crossing in more remote areas. Most recently, we've seen the U.S. Border Patrol overwhelmed by the numbers of families coming over in these remote areas.
The recent deaths of migrant children have been heartbreaking to see and have caused U.S. Customs and Border Protection to review the way it's handling the influx of asylum-seekers, especially children.
In an age when we are overwhelmed with visual content you consistently take images that make an impact, especially you, John. Why do your photos cut through the noise and connect people to the story?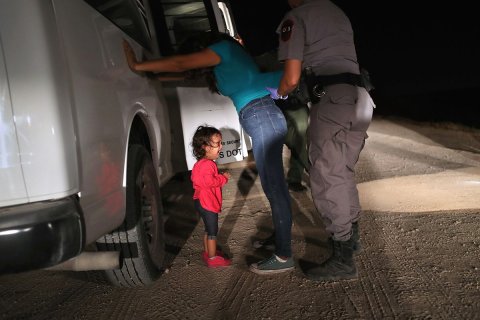 Moore: Photojournalism can transport the viewer, at least in a small way, to important news events, both local and far away, as well give a unique perspective into the most daily, even mundane, of life's chores. The most powerful photojournalism both tells a story and touches people's hearts. The pictures people remember are the ones that allow them to feel.
John Moore, Spencer Platt and Mario Tama are Getty Images photojournalists.
The views expressed in this article are the authors' own.​​​​​