The hilarious, often gross and frankly weird saga of Abbi Jacobson and Ilana Glazer debuted in 2010, as a web series, with the two stars and co-creators playing heightened versions of themselves: Young women living in New York City, drifting from one small adventure to the next, often making mistakes (like Ilana's occasional appropriation of black culture), rarely getting what they want, but always taking comfort in their friendship. Abbi, an aspiring artist and the more timid of the two, works as a cleaner at a gym called Soulstice; Ilana, the wild one, spends her days sleeping in the bathroom at her sales job, an online company called Deals Deals Deals.
The two struggling comedians would see their careers explode after Comedy Central turned it into an untraditional sitcom, thanks to comedian and executive producer Amy Poehler. Through it all, Jacobson and Glazer have remained the closest of collaborators. "We came with these essential parts to creating a partnership that moved each other forward," Glazer tells Newsweek, which spoke to the girls—as they call themselves—and their many collaborators about the story of Broad City, as it draws to a close.
"Tune in to Comedy Central on March 28 and get ready for a cry fest," says one of those collaborators, Lucia Aniello, her own voice quavering with emotion.
THE BEGINNING
Jacobson was 23 and Glazer 19 when they met in New York City in 2007, the only female members of a small improv team, Secret Promise Circle. The two Jewish women from the suburbs of Philadelphia (Jacobson) and Long Island (Glazer) had an instant rapport. Each was taking classes at Upright Citizens Brigade, the legendary improv theater founded in 1990 by Amy Poehler, Matt Besser, Ian Roberts and Matt Walsh.
ILANA GLAZER: We had been on an improv team together for two years. Running around the city, losing money—paying for rehearsal space, paying improv coaches. And there was no receipt left of our work. Abbi was working on this project, and her partner at the time did not want [to do it]. I was like, "Why don't you work with me? If I were your partner, I would have gone forward!"
ABBI JACOBSON: We met up at the pizza shop right near UCB, on 30th and Seventh Avenue, and started to come up with ideas for a web series. I still have the composition notebook that we wrote in that night—little ideas that were very New York–based; our experience and hustles and little things that bothered us or made us laugh. I was more improv.
GLAZER: And I was more sketch and stand-up. We made a spreadsheet, stayed organized and reached out to everyone we knew in the comedy community. We were like, "Does anybody want experience on a set or directing or editing? We can pay no money!"
JACOBSON: Our friend Rob Michael Hugel, who we knew from the improv scene, was our first main collaborator, directing and editing most of the web series's first season. I was working at Birdbath bakery in the West Village.
GLAZER: I was doing social media for a cosmeceuticals company, walking through the Diamond District every day. It was so gross. But after work, we'd meet in this beautiful Barnes & Noble.
JACOBSON: And that's where we came up with the name Broad City.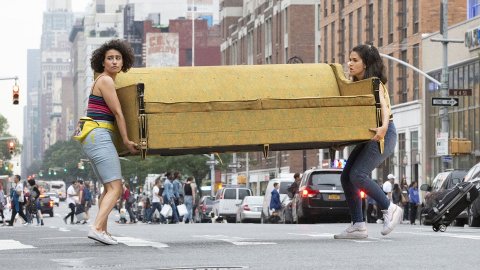 THE WEB SERIES
Broad City made its YouTube debut on February 15, 2010. In a grainy two-minute video, Glazer makes change with a homeless man asking for money on the street, to Jacobson's dismay.
LUCIA ANIELLO (executive producer, director, writer): I knew Abbi and Ilana through UCB. I really reacted to the first web episode, " Making Change." It was just the two of them being their authentically funny selves. Paul [Downs] and I emailed them immediately to say, "This is really funny and unique. We're into it."
PAUL W. DOWNS (executive producer, director, writer and actor—he played Trey, Abbi's super cheerful boss, at Soulstice): I met Abbi in an improv class and Ilana on the streets of New York. She stopped me and said, "You are Lucia's partner, and I am Lucia version 2.0." They had seen each other at a party, wearing the same outfit, and instantly clicked. The four of us became fast friends.
GLAZER: I was hanging out with Lucia, and she had gotten a job copywriting at a Groupon-type site called Lifebooker. I was like, "Can I get some sort of job there?" I got a sales job at Lifebooker, and since I needed to merge my life with Abbi, I got her a job. So then it's the three of us at this place on which we later based Deals, Deals, Deals.
ANIELLO: I directed one of the episodes of the web series, and it was literally just the three of us making a video at Abbi's apartment in Astoria on a Friday night after our job. That was the whole crew—no sound person, no camera operator. It was a really fun, stress-free shoot. There's a moment where Ilana is FaceTiming Abbi, and she's topless and starts pressing her boobs together. That wasn't scripted. We weren't thinking that this was going to be seen by a ton of people.
But enough people watched that Season 1 grew into 18 episodes. Season 2 would have seven.
JACOBSON: The second season, we upped it. We shot more on location, even if that meant paying a place $50. And we had a business strategy. We were like, "OK, we need to get some press, no matter how small it is." A friend worked at the Food Network, and she sent me about 2,000 contacts of agents and managers. I had those in my phone until last year. We had our friend Eric Michael Pearson take photos of us to make little ads. The one I love is when Ilana is doing a handstand, and I'm holding her legs. There was one where we were John and Yoko. We were running this weird advertising campaigns for ourselves.
GLAZER: It was so loosey-goosey! We weren't like, "Here's $250 for photos." It was, "We'll take you to a really nice lunch." It wasn't even that nice.
JACOBSON: We got a couple of good press things. Megan Angelo said the web series was "sneak-attack feminism," and it's still used to describe the show. Then we were in The New York Times because we showed a couple of episodes at the Iron Mule Film Festival. We were like, "This is it! This is fucking it!"
GLAZER: For the finale of the web series, we wanted to go big. We reached out to Amy Poehler. Our teacher at UCB, Will Hines, had been her former student, and he owed us favor, so we asked him to reach out. Amy had seen the web series and wanted to be in it. We freaked out. Abbi was out of Lifebooker at that point. She had gotten money for some drawings.
JACOBSON: It was like $5,000, and I was like, "Buh-bye!"
GLAZER: We later played on that with the $8,000 cold open with the Drake [song]. But it was more than five—that would have been stupid to quit on.
JACOBSON: OK, yeah, I sold three drawings for $5,000 each.
GLAZER: Then I also gave my notice, because Amy joined on the web series [for the finale], and I literally knew what that meant: We were going to sell the show.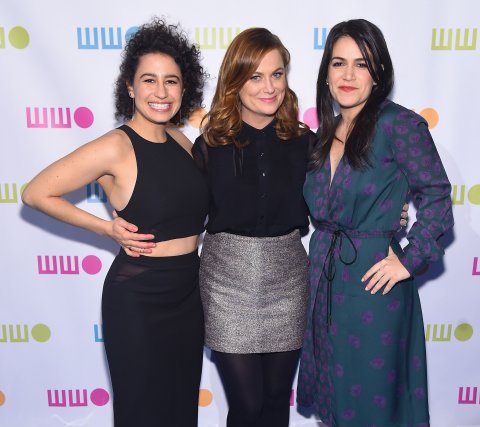 Poehler's appearance in the web series finale was, indeed, a game changer.
AMY POEHLER (executive producer): Abbi and Ilana were partners in all the best ways. Young women figuring out the world and having each other's backs as they do it.
GLAZER: We met Amy in the West Village, and we all got along immediately. We were the same height, so we literally and figuratively saw the world in the same way. We were hard workers—all "Fuck you, mister" types. Hard women who were small but knew that they had to fill up space in the comedy scene.
We had a big party to introduce the finale, at 92Y Tribeca, which doesn't exist anymore. I believe it was May 11, 2011. People lost their minds when Amy came on screen. There was a gasp across the room.
JACOBSON: I remember we were up on stage together, and when the gasp happened, we were like, "Holy shit."
GLAZER: At the end of Season 2, with the help of our then-manager Sam Saifer, we had a pilot written. We had planned on pitching the show with this pilot in August in L.A. We said, "You know what? We're going to fucking ask Amy." We asked her, "Do you wanna come with? Do you want to be attached to this project?" And she did.
POEHLER: At Paperkite [Poehler's production company], we are always looking for unique voices that have a strong point of view. Broad City felt fresh and original. Plus, the women behind it were ready to work hard.
PITCHING THE PILOT
With Poehler on board, the three women flew to L.A. in August 2011.
DOWNS: Lucia and I had just moved to L.A., so when Abbi and Ilana came out to pitch the show, Ilana slept on our couch. We called her our house cat because she was always falling asleep in odd positions and areas. It was a fun, special time when we were all broke and dreaming of what could be.
JACOBSON: FX bought the script, and we were over the moon. We developed it for almost a year, and then they passed. We were devastated. Amy was pretty extraordinary in that moment.
GLAZER: She said, "FX wasn't the right move anyway. They were like a cold boyfriend who doesn't really want you. Comedy Central is going to be the good girlfriend or boyfriend who is ready to love us and support us." And she was right.
KENT ALTERMAN (president of Comedy Central, Paramount Network and TV Land): Abbi and Ilana came in with Amy to pitch their vision for this show, and we were taken with them right away. It was clear their talent was rare and special; they had amazing chemistry on screen. But they also had very strong producorial minds. They had basically done the first two seasons of the web series by sheer force of will and talent.
There was a conventional wisdom when I came [in] that everything on Comedy Central should reflect the core audience, which is males 18 to 34. I felt like there was a way to develop shows that wouldn't be at the expense of our core but also would have the potential to build beyond it. Broad City was a controversial pickup—there were supporters, but there were people that really weren't sure it belonged on the network. I'm not by nature a vindictive person, but I do feel some vindication.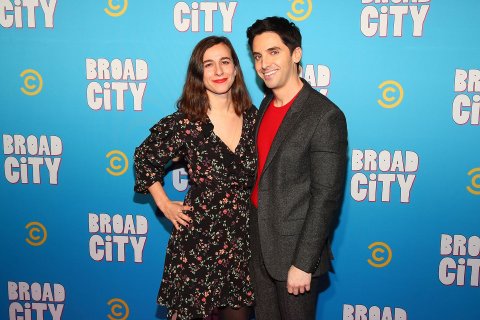 THE PILOT
Comedy Central committed to the show in June 2012, and Jacobson and Glazer shot an original pilot. The two fought for the then-unknown Aniello to direct. Once the show was picked up to series, the pilot was reshot with significant changes.
JACOBSON: In the original pilot I worked in a coffee shop, Joe Coffee. The owners were friends of the show—they let us shoot the [web series] finale in there.
ANIELLO: We ended up feeling like working at a coffee shop was a funny idea but had been done in other places.
DOWNS: I was taking a cardio mixed martial arts class at Equinox that was very new age-y. Abbi wanted to take it, so she passed out flyers for Equinox to get a free membership. Long story short, it became a funny idea—that Abbi would work at a gym and want to be an instructor, but would only end up getting hired as a cleaner. My character, Trey, was an amalgam of those über upbeat personal trainers that I think all of us have experienced.
ANIELLO: Rachel Dratch was originally Abbi's nosy neighbor, who was trying to force all the neighbors to do a chore wheel—like she's still in the mentality of an RA. She was so funny, but we had already established a neighbor, Jeremy, and we didn't want to make the show too much about Abbi's apartment building. Luckily, we were able to rewrite the character to be Linda Lodi—which is actually my aunt's name—and have Rachel come back later.
LILLY BURNS (executive producer): Mark Consuelos played Jeremy [Abbi's neighbor and crush]. I remember us all being so shocked by how handsome and TV-ready he looked in our scrappy, real-looking show.
KELLY RIPA (guest star; married to Mark Consuelos): Mark came home after he shot the pilot: "Kelly, you would love these two women. They remind me of you. They are so irreverent and sharp." He wound up having to do another job once the pilot was picked up, and he was so bummed.
STEPHEN SCHNEIDER (Jeremy): I heard I was replacing Mark Consuelos. I was like, I am 1 percent as attractive as that man. There's no way I'm getting this. I did the audition shirtless, and I clipped the mic onto my chest hair.
ARTURO CASTRO (Jaime, Ilana's roommate): The first day we shot, the real Jaime came to set, who is one of Abbi's best friends. Jaime the character—his wide-eyedness, the sweetness—it's from studying the real Jaime.
JOHN GEMBERLING (Bevers, the annoying boyfriend of Abbi's roommate): When you first see [Bevers], I'm playing video games—it's not clear what, but a first-person shooter, online game. My dialogue made it clear that [Jacobson and Glazer] had no idea what a video game was. [Laughs.] They're like, "Oh that's not video game lingo? We asked some people about Halo." So they let me rewrite it. I was big into Call of Duty at the time, which is why you get the "variable zoom scope"—specific dialogue.
ANIELLO: John was somebody we all knew from UCB and absolutely loved. [Bevers] is so abrasively annoying, but because everybody loves John, you still kind of like him.
Hannibal Buress was somebody who Ilana was friends with. He was doing stand-up, and it was getting bigger, but it wasn't really the Hannibal we know now.
HANNIBAL BURESS [Lincoln, a laid-back dentist and Ilana's occasional boyfriend]: First, they were toying with having my character be named Hannibal, but maybe they thought that would be distracting. So they made it Lincoln. It took some time for me to adjust to people yelling at me public, "You're Lincoln!"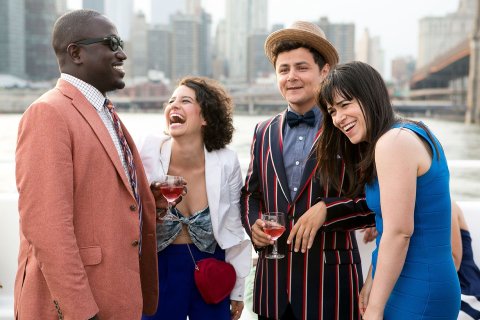 THE WRITERS' ROOM AND BEYOND
Jacobson and Glazer had never written for TV and Comedy Central paired them up with an established executive producer, or showrunner, Tami Sagher, for the first season.
DOWNS: Other than Tami, the first season writers room was me, Abbi, Ilana, Lucia and Chris Kelly, who had just been hired at Saturday Night Live. The five of us had never written narrative television. We had to stumble through this baptism by fire and figure it out. We were like, "Oh, wow, we tricked them! They're letting us make this TV show." I think that's one of the things that made it feel fresh and different; we didn't know the rules to follow, so we didn't follow any.
GLAZER: Abbi and I did need Tami's help seeing how a writers' room is run. But this show is a show of two auteurs. If you're one auteur, you need a fucking partner, but if you're two… So at the end of Season 1, we parted ways with Tami and became the showrunners.
DOWNS: Almost every episode comes from an experience that one of us had living in New York, hustling in our 20s. Of course, we make them more absurd, but really there is a kernel of truth at the genesis of every idea. There's an episode [Season 1, Episode 4] called "The Lockout." I tried to make my studio just a giant walk-in closet, so I bought a huge pole from Home Depot. Trying to get that pole onto the L train was such a fiasco, and that led to the scenes where Ilana is locked out and carrying a poll around the city, including on the subway.
GLAZER: Amy was on Parks and Recreation at the time, so she was like double-timing, mother-producing us too. Everyone was really busting their asses the first and second season. We used to be so nervous, stomach's wrenched, sitting 10 a.m. to 7 p.m. in the edit room.
JACOBSON: We could not find a theme song for forever!
GLAZER: Abbi's old friend from camp, Dave Chaitt, found a seven-second slice of this unbelievable song, DJ Raff's "Latino and Proud." It was perfection.
We got picked up for a second season literally the last day of editing Season 1. I remember we were in my new apartment in the East Village. We were like, "LOL, no days off," which is a thing rappers say. Literally, though, for the first three seasons, we had no fucking days off! We were dying. It's a privilege. It's an honor. It's a dream come true. But there was not even a breath to take.
Season 2, we're the showrunners now. We're the head writers. Here we go.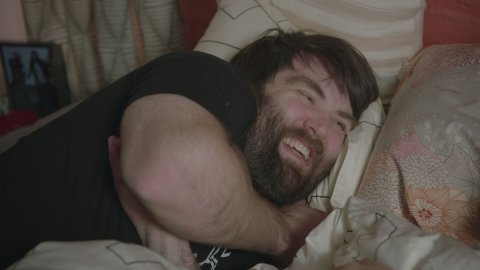 MAJOR EPISODES
In Season 2, Episode 4, "Knockoffs"—known as "the pegging episode"—Abbi finally hooks up with her longtime crush Jeremy, only to discover he has a preference when it comes to sex: He likes being pegged by a dildo. The episode is written by Aniello and Downs, and directed by Aniello.
DOWNS: We were talking about Abbi finally sleeping with Jeremy. Abbi said, "Yeah, I'll come back and I'll be like, 'Hey, Ilana, I fucked him!'" And I said, "Oh man that we would be funny if you fucked him," just as a joke. Ilana was like, "Absolutely yes. Abbi fucks him. We've got to do it." I was like, "Wait a minute, wait a minute, I was only kidding! That's a joke pitch!"
GLAZER: One of my old friends from high school was into getting pegged by his girlfriend. We did not want the episode to be "straight dudes who like anal pleasure are gay!" We specifically wanted it to be represented by a more complete whole masculinity. And Stephen Schneider is the man to deliver that message!
SCHNEIDER: Abbi emailed me in the off-season and was like, "Hey, so we have this great idea of you and me pegging." I immediately Googled "pegging," because I hadn't heard that term before. Then I wrote her back, "Do you mean on the show, or in real life? Because yes to both."
BURNS: There are lots of Standards and Practices notes about how to show vibrators and dildos. I can say that, thanks to Broad City, I have become well acquainted with the rules of what dicks you can show. It can't be flesh colored or have realistic elements, like veins. We found ourselves on the show, so many times, being like, "Wow we're having a legitimate business meeting about the nuances of the strap-on."
SCHNEIDER: Of course Jeremy, this super masculine guy, wants to flip the script when he gets in the bedroom. He wants to feel like he's no longer in control. It makes perfect sense to me. Lucia directed it, and she came up with that idea of shooting through Abbi's legs, when she has the dildo hanging between her legs.
BURNS: Like The Graduate. What a proud moment.
JACOBSON: The scene that we rewrote so much was the fight between Abbi and Jeremy, because he thinks she's judging his preference. I love that fight and I think it's hilarious because I'm still wearing the strap on.
SCHNEIDER: People are constantly coming up to me and being, like, "Hey dildo guy!" I'm like, "How can I help you?"
One of the early standout guest stars was Ripa playing herself in Season 2, Episode 9, "Coat Check." After losing Ripa's coat while working at a coat check gig, Abbi finds herself spending a surprisingly wild evening with her. The episode is written by Aniello and Downs, and directed by Jeff Tomsic.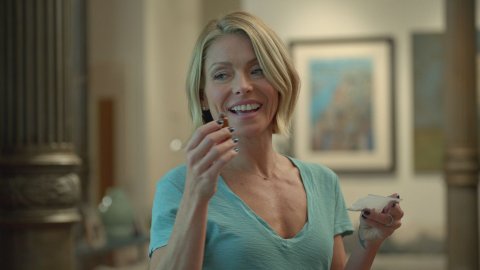 ANIELLO: That one was based on an urban legend, but we believe it's about Blythe Danner, who took her friend's coat as kind of a joke.
JACOBSON: We really wanted to do the episode with someone that was America's sweetheart—and then it will be completely flipped in the episode.
RIPA: After Mark did the pilot, I started watching Broad City, and I thought those girls were geniuses. Cut to that summer—they called me and asked, "Would you mind playing a demented version of yourself?" I said, "Demented versions of myself are my favorite thing."
It went so much farther than what I had envisioned. I was like, "Oh, they'll probably have me do something really naughty, like smoke a joint." Never in my wildest mind did I think I would smoke a joint laced with…whatever it was. PCP? There were drug references that I didn't even understand! The biggest challenge was rolling the joint, which I didn't know how to do. Truly, every crew member was like, "I'll half-roll it for you, and then you just lick it and seal it." When did everybody get so good at rolling joints? Did I miss that whole era?
GLAZER: I can't believe she took that leap of faith for us, from her sunshine persona to being a bad bitch. It was seriously brave. She's still so proud of it, every time we hang.
RIPA: I worked on a soap opera for 11 years, a sitcom for three years, and I've worked on a talk show for 18. The number one thing I am recognized for is playing myself on Broad City.
THE BEGINNING OF THE END
Comedy Central picked up the show for Season 4 and Season 5 simultaneously, prompting Jacobson and Glazer to think about the end of the show.
JACOBSON: It gave us a bit more confidence, I think. Like, "OK, we can see the legs of this a little more." Season to season, you really see a change in the show. In between 3 and 4, there was a longer hiatus, in part because we wanted to shoot in the winter. We took a break for the first time [in seven years], which allowed us to rewrite a lot. During that rewrite period, Trump got elected. We were going to rewrite anyway, but now that this had happened, we ended up rewriting in a more pointed way. Then again after 4, we took a break.
GLAZER: We decided our age and our life experience were only going to serve Broad City through Season 5. We talked to Kent about [ending the show with Season 5] and it was such a fucking hard conversation.
ALTERMAN: I was a little heartbroken when they came to me and said that they wanted to end it. After some long conversations, it became clear that what was driving them was their creative integrity. They didn't want to overstretch the boundaries of suspended animation.
ANIELLO: The show is about being broke in your 20s and struggling to find your place in the world. As we became more successful, we weren't personally trying to find our place as much. That made it harder to have stories that made sense for the show. The core idea felt less and less authentic—a little bit like putting on a dusty baseball cap and being like, "Wow, look at me struggling."
JACOBSON: A lot of people didn't really understand why we wanted to end it because it's so rare to get a show and go on longer than five seasons.
GLAZER: And it put Kent's ass on the line. He's such a good guy, and he spoke up for us to his higher-ups. He made the case for celebrating that the show was ending, and celebrating two women who successfully ran a culture-shifting show.
We knew we were going to keep working with Comedy Central. We're producing and creating some stuff for them. We knew it wouldn't be the end of our relationship, just the end of this show.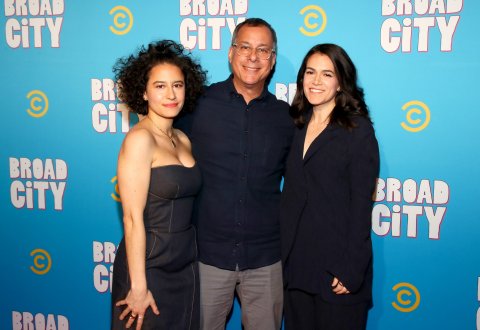 THE END
The series finale of Broad City, "Broad City" will air on Comedy Central on Thursday, March 28.
BURNS: Something that I hope viewers will see and feel is that we thought a lot about Season 1 while we were making Season 5—the simplicity of the storylines, these small moments that you can make an entire plot from.
ANIELLO: A lot of the [Season 5] stories are things we've been trying to do for a really long time but just didn't make sense for whatever reason—like losing a Holocaust survivor [Episode 6] and Abbi surprising herself by dating a woman [Episode 5].
JACOBSON: The final episode goes back to our roots. It's one of the things Ilana and I first talked about in the pizza shop. When we were finally writing it, we let everyone go home. Ilana and I were writing at this Airbnb that we rented. As we wrote our separate acts, across the table from each other, we were both crying.
GLAZER: We were laughing at ourselves crying, and then we would quiet down and keep writing. Then we would cry again.
DOWNS: We were able to shoot the last two scenes of the last episode on the last day. And not to give spoilers, but every single character is in the second to last scene. As everyone's scenes were done, it was a series wrap. Everybody was crying! We've got some grips and teamsters who are big dudes—sweet as can be. You wouldn't expect them to get teary, but everybody did.
BURESS: Three words: Jet Ski exit. [Laughs] I think my final scene was like background work, then eventually we wrapped. It was kind of wild. Five years went pretty fast.
GEMBERLING: It was on a rooftop, and it was beautiful because we could see the whole city. We huggedand it was emotional. But it was also November and really cold and I wanted to get off the roof.
JACOBSON: But it was so perfect. Everyone was there. Amy came in for it. It was a really small moment and also a really big moment.
ANIELLO: The last scene is the girls having a very emotional scene. I think maybe that's one moment in the show where the lines were blurred: Is it the girls' characters or is it real? It was OK that we can't tell.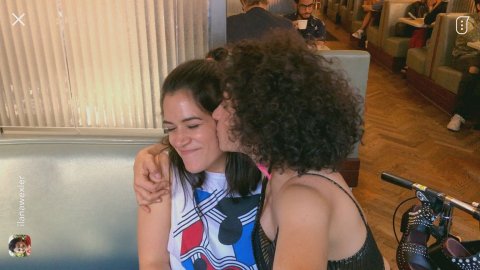 THE LEGACY
It's safe to say that Broad City will have a life beyond its finale date.
BURESS: I didn't anticipate how much people would connect with the story and the characters. After Broad City came out, people would say to me, "I love Lincoln. Why'd you break up?" It's like, "Why did I break up with Ilana? It's because Ilana wrote that!" [Laughs]
ANIELLO: It was about a kind of woman who does not have it together, who can be a lazy slacker, who's just looking to have fun. Saying that she's cool for being herself—not for her accomplishments, just for being herself, and for having cool friendships with other women—is not something we've seen a lot in media. That was what we were trying to say.
RIPA: So much of film and TV focuses on the dissolution of the relationship between women. I find that my relationships with my girlfriends are what gets you through the hard times. The fact that I'm not going to have these two boss young women leading the way makes me incredibly sad. I hope that they turn it into a feature film.
CASTRO: It portrayed a real New York—there are interracial couples and there are LGBT characters, and it's not a big deal. It's just what New York looks like!
BURNS: I don't think that the show got bigger, grander, more TV, and that's probably the proudest achievement for me. We closed out with Broad City not having morphed into something vastly different than it originally was.
ALTERMAN: It's such an intense experience for two people to partner up the way Abbi and Ilana did, and to maintain a very healthy relationship. The affection and respect they have for each other is remarkable.
DOWNS: It's a family. Especially for Abbi, Ilana, Lucia and I—the chance to make a show with your best friends is so rare. I don't know that we will have an experience quite like this again.
POEHLER: I'm just proud that I made an honest and funny show that held female friendship in high regard.
GLAZER: One of the most important things TV can do is make you feel like you're a part of something. This world is too much—saturated with people, but also isolating and alienating. Broad City can feel like you have your Abbi or your Ilana with you—until you do in real life. Then, when you get them, you can rewatch it together.
JACOBSON: I really hope that people felt included.