Developer Media Molecule is setting the stage for a new way to play video games. Its latest project, Dreams, is a game about making games—an intuitive tool kit that encompasses all aspects of game development: music, animation, 3D modeling, logic and more. The concept, however, aims to attract anyone with a creative idea, and although Dreams is still in development (its release on Sony's PlayStation 4 is expected this year), it already has a partnership taking it where games have never gone before: the theater.
The project's open call to creative professionals and amateurs captured the attention of Punchdrunk, a theater company best known for its production Sleep No More, an immersive interpretation of William Shakespeare's Macbeth. The show puts audience members inside a five-story hotel with more than 100 rooms and tasks them with wandering through a wordless, nonlinear version of the play at their own pace. They can follow 30 different actors and eavesdrop on scenes, as well as discover details in cabinets and drawers.
Now, Punchdrunk is using an early version of Dreams to design sets like Sleep No More's McKittrick Hotel for future productions, proving that the video game has far more potential than its "game about making games" elevator pitch.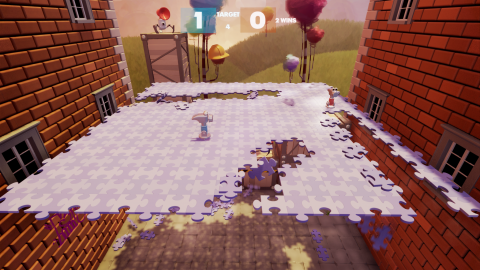 "Agency is a language people are growing up with. To be passive feels bizarre," Felix Barrett, the founder and director of Punchdrunk, tells Newsweek. "The theatrical stage is to the book what the immersive stage is to the video game. It reflects the forms of storytelling we grew up with."
Punchdrunk's partnership with Media Molecule began, unofficially, when studio head Siobhan Reddy saw Sleep No More in New York City. She took her mother and sister to what she thought would be a straight performance of Macbeth. Her experience in the space, which spoke to her sensibilities as a game designer, piqued a curiosity about Punchdrunk's work. "It was the only thing I ever experienced that felt like walking around somebody's head. It completely blew my mind," she tells Newsweek . "In games, we want people to have that feeling. That immersive, transportive feeling. And I had just never felt anything like it."
Later, her boyfriend, also a game designer, would work with Punchdrunk on an unrelated project, providing an introduction.
The collaboration, says Reddy, was initially born of kindred spirits—two teams of creative people who had great chemistry. But soon, Punchdrunk realized the potential of Dreams as a design tool, one that bridges the gap between the time-consuming detail of constructing set boxes—miniature real-world models of the stage—and the cold, hard angles of architecture design software.
"Dreams is more expressionistic," says Barrett. "With architectural programs, it's all about being in a fixed position in one room, and you can spin it around and look at it. With the video game, you can put yourself in a character and explore and get the sense of moving through the space. When you can build it in a matter of minutes, it's extraordinary."
We don't give ourselves the permission to be pointless. - Siobhan Reddy, Media Molecule
Punchdrunk used Dreams to build digital scale models of sets, complete with a slew of camera and effects options, some custom made. The game's light and sound features—the "smoke and mirrors of theater," says Barrett—help replicate the emotion of experiencing a Punchdrunk performance. "Nothing beats being on the set because so much of what we do is a cerebral approach to the space," he adds. "We could not only quickly replicate it but actually port ourselves into it and be there. It's quite remarkable."
While there may not be much external benefit to a mass-marketed video game getting the seal of approval from a modern theatrical company, internally, the Punchdrunk experiment proved to Reddy that her Media Molecule team was on the right track. Dreams is not a project designed for one specific use or audience. Conceptually, it has more in common with a grand piano than Mario Bros. She says the goal is to provide a creative instrument with a broad purpose.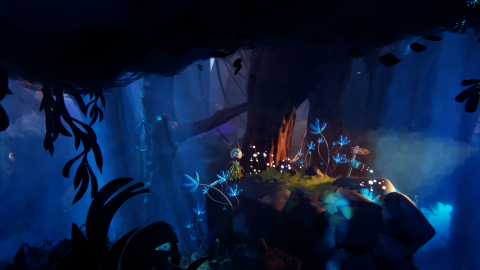 "It didn't box us in to being a games tool. It immediately made people see that we're properly thinking about this going beyond games," she says. Reddy hopes Dreams can continue to partner with major creative professionals (Media Molecule has begun reaching out to composers) and, upon its release, inspire ideas among ordinary players too. The game's audience is anyone in need of an outlet.
"As we grow up, and as people enter into adulthood, we don't give ourselves permission to do creative things or just creatively play around," she says. "We don't give ourselves the permission to be pointless."