Lauri Kranz's passion was always large, but she started small, in her father's vegetable patch behind their house in Bloomfield, Connecticut. The land sloped down to the edge of a wood, and as a child she would work by his side, "talking or not," she says, "pulling weeds and watering—that was enough magic for me."
There were cucumbers on the vine, a watermelon or two, juicy tomatoes and towering sunflowers. And when she'd venture beyond the garden, into the woods, she found skunk cabbage and "low-growing shrubs, dripping with red berries. It was my entry into the woods and the wonders of nature."
Kranz grew up, moved to Los Angeles, became a singer-songwriter and had two sons. Eventually, she also found a way to turn her childhood enthusiasm into a career and, more than that, a mission. It began by volunteering at her oldest child's primary school; she picked its garden as her activity, quickly becoming obsessed. "I went to the library and took out all the books on gardening," says Kranz. "The school's garden became my laboratory."
Soon, she was raising vegetables at home, and when her youngest started school, there was no gardening curriculum. "So I started one," says Kranz. "Parents would ask if I could help them with a garden at their homes, which friends of theirs would see...," and on and on until she had a business, Edible Gardens L.A., founded in 2009. In ten years, her client list has grown to include local celebrities (among them Katy Perry, Adam Scott and Nicole Richie), as well as top restaurants, museums and anyone interested in growing their own food. It's an enlightening experience even for an award-winning chef like Suzanne Goin, whose family garden was planted by Kranz eight years ago. "Seeing and feeling the plants and being aware of where they are in the season changed how we thought about food."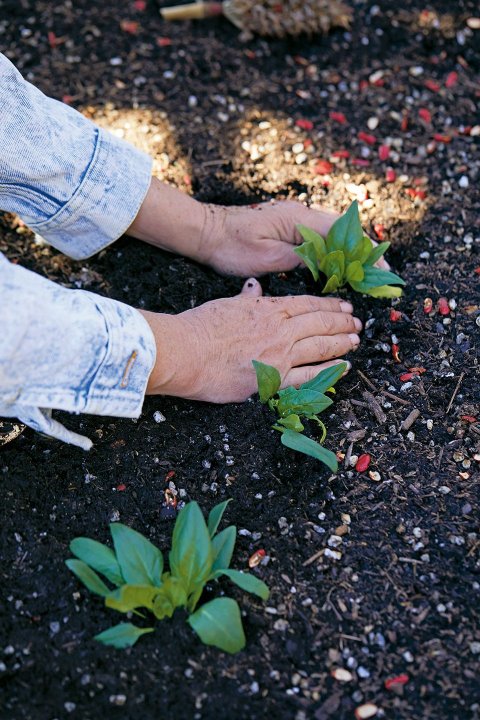 Kranz is now sharing her wisdom in a new book, A Garden Can Be Anywhere: Creating Bountiful and Beautiful Edible Gardens (Abrams), a collaboration with her husband, Dean Kuipers. The luscious photos by Yoshihiro Makino will make you long to get dirt under your nails, and Kranz's facility at simplifying the process of raising fava beans or beets or lemon verbena—yes, anywhere—will have you scouring seed catalogs. "Every time I see Lauri, I come away feeling nourished—her superpower is her warmth," says another client, actress Maya Rudolph. "There is no ego to her approach."
Nor is there a desire to dominate what she grows. "I embrace wildness," Kranz says of her approach. "I don't like too much order; rows can be helpful or unnecessary."
Kranz is a persuasive advocate for the restorative powers of nature. "Diving straight into the earth's natural processes makes you part of the real world again," she says. "You start to make good soil, and you feel better. You start growing things, and then you realize, Oh yeah, I co-evolved with all this stuff. We know one another."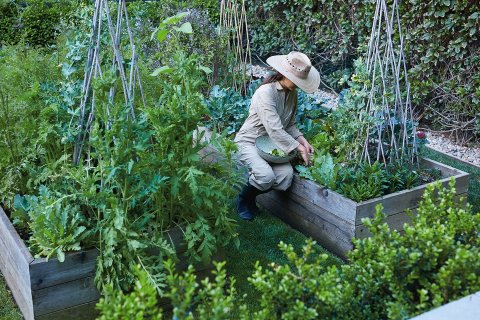 Kuipers had been studying and writing about environmental politics and the human-nature relationship for decades when he met Kranz in 2012. His two sets of grandparents had farms in Michigan. "Until I left there," Kuipers says, "I sort of assumed everyone knew when it was time for tying grapes or detasseling corn." His new memoir, The Deer Camp (out in May, Bloomsbury), is about how working 100 acres near Kalamazoo healed his family after decades of emotional trauma.
In his book, he quotes ecologist and author Paul Shepard, who believed the physical earth to be essential to our welfare: "The soil was a source of complex life long before men or agriculture first appeared," Shepard wrote. "It is as fundamental to our well-being now as ever, though most of us never put our hands in it." He maintained that humans today are sick because of our separation from nature.
Kranz and Kuipers are intent on offering a pathway back, whether it begins in a backyard or an apartment window box. To that end, she continues to create and teach gardening curriculums for children. Eating food pulled from your own soil, says Kranz, is not only healthier, it reveals the process of growing (food doesn't, in other words, "magically appear on grocery store shelves"), the patience required, the value of failure ("our best teacher") and the necessity of coexisting with wildlife (using deterrents as opposed to poisons). Gardening illuminates our connection with the larger ecosystem "that we are part of it, and if nature succeeds we all do."
Nothing makes her happier than seeing the faces of young gardeners as they watch their plants and vegetables "move through the seasons and come full circle. When we understand nature's processes," says Kranz, "we can engage more fully in the deeper parts of ourselves."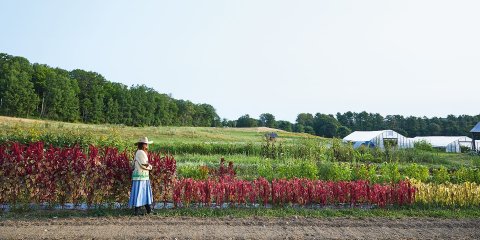 A Garden Can Be Anywhere, by Lauri Kranz with Dean Kuipers, can be found here. You can preorder The Deer Camp: A Memoir of a Father, a Family and the Land That Healed Them, by Dean Kuipers, here.