Months before terrorists opened fire on a crowd at the Chhatrapati Shivaji Maharaj Terminus train station as part of a series of attacks in Mumbai in November 2008, a 17-year-old Patel was filming his final dance scene for his breakout role in Slumdog Millionaire. "No one I personally knew was injured, but it rocked my family, myself and my friends in India," says Patel, who was born and raised in England by Gujarati Indian Hindu parents. "When I heard there was a film being made, I wanted to be a part of it."
Hotel Mumbai, opening March 29, takes place at the Taj Mahal Palace Hotel, one of the sites of the attacks, with Patel playing a fictional waiter, Arjun, working under head chef and real-life hero Hemant Oberoi (played by Bollywood star Anupam Kher). The staff risks their lives to save their guests, which in the film includes a newly-wed couple (Armie Hammer and Nazanin Boniadi), their infant baby, their nanny (Tilda Cobham-Hervey) and a Russian businessman (Jason Isaacs).
Patel, known for Best Marigold Hotel and his Oscar-nominated role in 2016's Lion, didn't say yes to director Anthony Maras right away. "I loved the material," Patel tells Newsweek, "but I felt we could push it further. Anthony won't mind me saying that Arjun was slightly two-dimensional at the time." (The following interview has been edited and condensed.)
There were two competing scripts about the terrorist attacks. Why did you choose this one, by John Collee?
This one just got more heat behind it, and then Armie [Hammer] jumped on. I remember telling Anthony about this Indian actor Anupam Kher, who I thought would be perfect for Oberoi. Slowly it all started to fall together. Anthony and John had spent a lot of time with the manuscripts of survivors and been to the hotel and done so much research, that I was like, "Wow these guys really want to do it right." In my heart I could see we're not going to exploit this, and we can really make this an anthem of human resilience. That was my push.
You asked to make your character a Sikh man. Why?
Part of it was trying to be more versatile as a performer and part of it was trying to break down stereotypes. I love going to India, and I jump on every opportunity I get to explore my roots. At the same time, I don't want to repeat the same character again. I had been reading articles about Sikh cab drivers being abused after September 11th, and what struck me was people didn't understand what their faith was about. Then I read an article about a young Sikh man who took off his turban to stop someone from bleeding after a car crash. I pinned these moments on the existing skeleton of my character, which was—Anthony won't mind me saying—slightly two-dimensional at the time.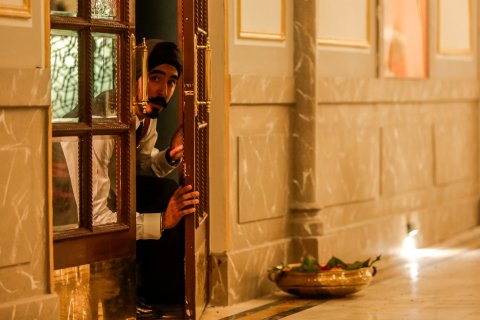 How did you prepare for the role?
I went to India a month or two before we began filming, just to get the city into my pores again, and to get the accent right—I speak a lot of Hindi in the film. I stayed at the hotel and spoke to a lot of staff members who were very close to the event. I spent a lot of time with the Sikh community. One of the slums in Mumbai is predominantly Sikh, and it's an incredible community, so selfless. They have this holy temple called a Gurdwara, and there's a quote when you take your shoes off to enter. It says, "My turban, my pride" I took a picture of that on my phone and that became one of the speeches in the film.
The 2008 Mumbai attacks happened at the same time you were becoming a big star with Slumdog. That must have been a strange time for you.
Yeah absolutely. My costar and partner at the time, Freida [Pinto], she's a Mumbaikar. The whole film was this anthem of humanity. You go to India and it's just teeming with people. Danny [Boyle, the director] made this spur of the moment decision to create a massive ode to Bollywood, with the dance at the end. I remember shooting on this platform at midnight, and still, you couldn't move, there were so many people and women and children.
Fast forward to the [press] tour, coming back into my home and seeing the news, seeing blood on the concrete…the thought of these young radicalized young men just unloading AK47s on masses of people is shocking. No one personally that I knew was injured, but it doesn't take much to really be shaken by that. You're absolutely torn to pieces. There's just so many perspectives to this tragedy. We tried to touch on as many as possible, but the devastation will echo for centuries.
What do you say to those who think action movies based on real terrorist attacks are exploitative?
As an executive producer on the film, that is what I was most vocal about. We weren't going to make a Die Hard or a movie where the handsome American hero saves the day. Even if your character was doing something selfless, firing a gun never turns into a "cool moment." And Anthony was bold enough to give screentime to the terrorists, including a scene where one of the [them] calls home; you start to understand the socioeconomic situations that breeds such mindsets.
It's been two years since your first Oscar nomination for Lion. How did that change your professional life?
Lion was a blessing in every way. I made a lifelong friend in the director, Garth Davis—he changed me as an artist and as a person. The critical acclaim that came afterward was a bonus, and the roles that I'm getting access to and the way people see me now is very different, which is nice. I was doing a lot of comedies, so to be able to step into a more soulful, grounded space was great.
What can you say about your upcoming directorial debut, Monkey Man, which you also wrote and star in?
It's a grounded revenge story that takes an old Indian mythology that I grew up with, about an Indian god called Hanuman, and sets it in the context of modern Mumbai. It's got themes of John Wick and Oldboy … it's not a graphic novel, but it almost feels like one.
You were part of the cast of HBO's The Newsroom, and there are rumors it might return. Would you be on board?
I don't know. I absolutely adore [creator] Aaron Sorkin, but I don't think that will ever happen.
Hotel Mumbai opens in theaters March 29.