It was early February, and the main thoroughfare through Hajin was a mess of concrete and rebar. Structures were toppled, and children played in the wreckage, surrounded by unexploded artillery shells poking from the earth like daisies.
The small town in the Euphrates River Valley in southeastern Syria had long been a Kurdish outpost and, until recently, a battlefield amid the death rattle of the Islamic State militant group. American and French munitions and warplanes, backing
Kurdish-led militias, repeatedly blasted ISIS forces here, reducing the extremists' self-declared caliphate to a tiny sliver of territory—and then to nothing.
But as Kurdish civilians began returning from displaced-persons camps, there was a deep sense among locals that victory was far from assured and peace far from secure. ISIS was not so much falling as transforming. Instead of an occupying army, it was becoming a stateless insurgency, directing suicide bombings, setting up roadside bombs and installing random checkpoints to trap unsuspecting civilians into pledging continued allegiance.
More concerning for the Kurds, though, was another development: the U.S. exit from Syria. Having declared ISIS defeated, President Donald Trump announced in December plans to withdraw the roughly 2,000 American troops that, for the past four years, had trained, armed and supported the Kurdish-led Syrian Democratic Forces. The partnership not only fostered military victory but also lent unprecedented political clout to the Kurds, a historically marginalized minority. The SDF came to control about a quarter of Syria's territory amid the country's bloody civil war, with oversight of valuable farming and energy resources.
Kurdish leaders had hoped that this elevated status—and the U.S. alliance—would lead to a new model of self-governance, if not total autonomy, for their people in Syria. But now, with the impending U.S. withdrawal, those dreams are quickly dwindling.
The Kurds face existential threats from all sides. Turkey views the Kurds—and the SDF-affiliated militia known as the Kurdish People's Protection Units (YPG)—as terrorists, and it backed a two-month offensive in the city of Afrin to prevent the Kurds from gaining a foothold in northwestern Syria, near the Turkish border. Meanwhile, Syrian President Bashar al-Assad is also determined to shrink the group's territory, eager to retake lands that the Kurds adopted as they swept ISIS from city after city. For the most part, the presence of American troops has served as a deterrent.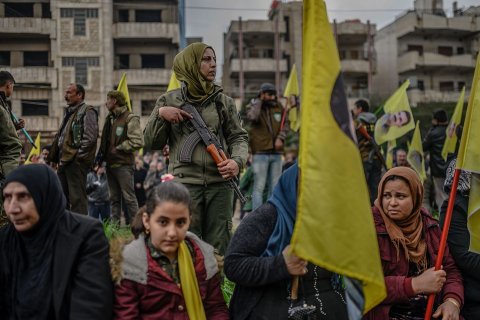 Now, the Kurds see a simple equation: Either the Americans stay and stabilize the region, or they leave and put the Kurds in their neighbors' crosshairs. "There is no third option," says my driver Osama, who asked me not to use his last name for fear of retribution. "The war in Syria is like the Third World War."
Political confusion is not new to the Kurds. The Ottoman Empire largely ignored them until oil was discovered in what is today northern Iraq, due east of Syria's Rojava region. After World War I, Britain took over, and its feckless divisions of land left out the Kurds—a legacy that still haunts the region.
Tension has been most pronounced in Turkey, where, since the 1980s, the Kurdistan Workers' Party, or PKK, has waged an insurgency for autonomy. Like Turkey, both the U.S. and the European Union have long designated the PKK a terrorist organization.
But as the Arab Spring arose and Syria descended into civil war, allegiances began to blur. All sides soon found a common enemy in ISIS, which capitalized on the unrest and seized large swaths of land in Iraq and Syria, creating a rogue state the size of Britain. The YPG led the fight against ISIS in the region, and, in 2014, the U.S. approved plans to arm it and support its military campaign with airstrikes. Troops followed, mostly in advisory roles.
The U.S. presence in Syria, however, has always been shadowy, so much so that soldiers do not wear patches to denote their military company insignia. (Their commanders denied requests for interviews.) The military is not there by U.N. mandate, and Congress never authorized occupation. Despite this, the U.S. built bases in the Kurdish north.
For the U.S., staying could be as bad as withdrawing. Not only are troops' lives on the line but the commitment could mean spending billions of dollars more on a conflict with no foreseeable end. It also runs the risk of a devolving situation, like Afghanistan, where U.S. troops have advised a nearly 20-year peacekeeping mission that only recently has seen movement toward promising peace talks. Moreover, an U.S. military presence in a country that does not sponsor it is a foreign policy more akin to colonization.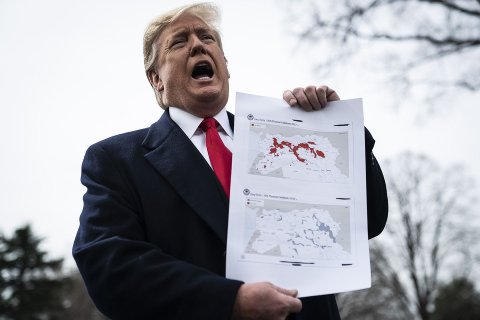 All of this has driven Trump's desire to, as he put it, "get out." The president's sudden announcement in December of plans for an immediate withdrawal shocked the Kurds, as well as his own administration; Secretary of Defense Jim Mattis resigned, as did the special presidential envoy to the international coalition fighting ISIS. The international backlash prompted Trump to reverse course, and in February he offered a compromise: a "peacekeeping" force of 400 troops—half to counter Iran, which supported Assad in the civil war, and half to back the Kurds in a "safe zone" on the Turkish-Syrian border.
Some experts see a continued U.S. presence as key, both for the Kurdish-led coalition forces, which have grown to an estimated 60,000 with American funding, and for a U.S. counterterrorism strategy.
In 2018, Turkish forces invaded Kurdish territory in northwestern Syria. When the SDF moved to fight them, ISIS staged a comeback. Even with U.S. air support, the militia was spread too thin.
"If the United States were to disappear tomorrow, just poof , the Syrian Democratic Forces coalition would collapse," says Max Markusen, associate director of the Transnational Threats Project at the Center for Strategic and International Studies, in Washington, D.C. "Turkey would invade. That's the first thing that would happen."
Then there's the threat of Hayat Tahrir al-Sham, an Al-Qaeda affiliate that has grown to hold 5 percent of northwestern Syria, opposite the Kurds' territory. These small pockets of insurgents—similar to those in Afghanistan, as well as the ISIS affiliates in Africa and the Philippines—could be seeds for future conflict. Last fall, Jennifer Cafarella, a research director and Syria analyst at the nonprofit Institute for the Study of War, outlined the risk.
"The experience of the Syrian war will be as formative for Al-Qaeda as the Afghan jihad," she said. "Syria is the next Afghanistan."
For now, the Kurds seem to be exploring all options.
In December, Kurdish representatives turned to Assad in the hopes of forming an alliance, perhaps undermining and signaling the end of their fight for some sort of autonomy. They are also looking to Washington, which has sent conflicting signals in recent weeks.
In late March, The Wall Street Journal reported that U.S. military leaders were drafting plans to keep as many as 1,000 troops in Syria—the product of protracted talks and disagreement among American, European, Turkish and Kurdish leaders over how a Syrian "safe zone" would work. But in the hours after publication, General Joseph Dunford, chairman of the Joint Chiefs of Staff, declared the report "factually inaccurate."
"We continue to implement the president's direction to draw down U.S. forces to a residual presence," he said in a statement.
Among the people, sentiment toward the U.S. is mixed. Some, like Abdullah Salim, a 30-year-old farmer from Hajin, express bravado about the ability of Kurdish forces to protect him, regardless of American help. "If ISIS returns or if Turkish invaders come here, the tribes of the area will push them back," he says. "And we will do the same if the Assad regime attacks us."
But others describe a more tenuous existence, dependent on U.S. troops. Warshin Sheko, a 27-year-old appliance salesman in Manbij, fled Syria during the civil war and lived in Turkey for four years before returning home in February. His town sits at the crossroads of regime territory, to the south, and areas controlled by Turkey, to the west and north. It is also the gateway into the independent region of Rojava, where the majority of Kurds live.
"Our cousins were calling us and telling us that the conditions were fine and stable, and they were saying no one would wrong us," he tells me as he warms his hands over a gas stove in his shop. "But when they say that the Americans will leave, I, frankly, got very sad. I tell my cousins that we will see what happens. The situation is good now, as Americans are there, and that the area is stable, and that people have good jobs and are working."
Khamis Mohammed, a 42-year-old shop owner in Manbij, also maintains that America must stay to protect the Kurds. "As a fact, as long as America is here," he says, "Turkey cannot do anything."
ISIS, however, can. As the final battles for land played out in March, U.S. military leaders warned that the group was simply changing form as it lost its last speck of territory in Syria.
"What we are seeing now is not the surrender of ISIS as an organization but, in fact, a calculated decision to preserve the safety of their families and preservation of their capabilities," General Joseph Votel, the head of the U.S. Central Command, told lawmakers. "The ISIS population being evacuated from the remaining vestiges of the caliphate largely remains unrepentant, unbroken and radicalized."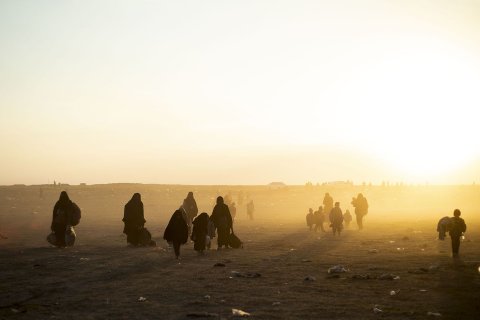 A few days before I visited Syria, four Americans—two U.S. soldiers, a Defense Department civilian and a contractor—were killed in a suicide attack outside a Manbij restaurant frequented by Westerners. As many as 16 additional civilians died in the January 16 attack, which members of ISIS claimed, although the group had not been a presence in the city for more than four years.
Within a week, the restaurant was cleaned and open for business. Abu Omar, 30, watched the scene from a nearby storefront. "The bomb blast was a terrorist act, and it harmed the civilians and the environment more than it harmed the Americans, who are there to defend us and fight for us," he says. "We want to have a decent life where humans can live with dignity, and we want to have a quiet life where no suicide bombers kill our children."
→ Kenneth R. Rosen won the Bayeux Calvados-Normandy Award for war correspondents and a Clarion Award, and he was a finalist for the Livingston Award for international reporting for his reporting from Iraq.