The reviews for the gleaming, ultra-posh New York development were bad. Police Academy 6 bad.
New York magazine's architecture critic, Justin Davidson, wrote that every time he approached Hudson Yards he felt "a volatile mix of wonder and dejection roil in my chest." He added, "I can't help feeling like an alien here.... I suppose this apotheosis of blank-slate affluence is someone's fantasy of the 21-century city, but it isn't mine."
Davidson wasn't alone.
Hudson Yards "is, at heart, a supersized suburban-style office park, with a shopping mall and a quasi-gated condo community targeted at the 0.1 percent," Michael Kimmelman of The New York Times wrote of the 26-acre development on the West Side of Manhattan. "It gives physical form to a crisis of city leadership, asleep at the wheel through two administrations, and to a pernicious theory of civic welfare that presumes private development is New York's primary goal, the truest measure of urban vitality and health, with money the city's only real currency."
The project is the brainchild of Stephen Ross, the 78-year-old billionaire developer and owner of the Miami Dolphins football team. At $25 billion, Hudson Yards—featuring stores like Cartier and Dior, $32 million penthouses and sleek office towers—is billed as the largest mixed-use project in North American history and touted as the epitome of urban development.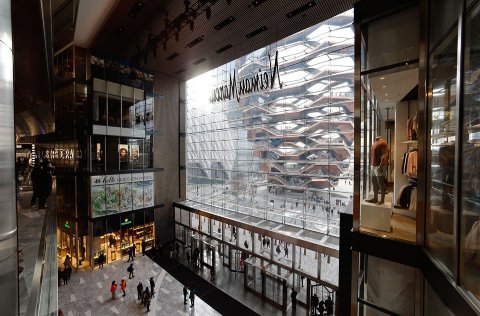 "We saw that what New York needed was a new neighborhood, where you could live, work and play, that would attract the best and the brightest," Ross said at the opening day ceremony in March.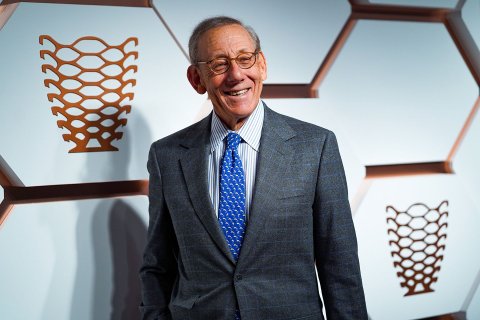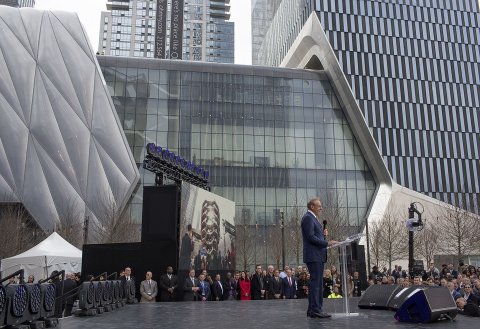 But much like Ross's NFL team, the reception for Hudson Yards hasn't quite met expectations. The project has—fairly or not—become a symbol of high-end urban development gone wild, one that has accentuated the growing canyon between the 1 percent and the rest of us. In other words, instead of spreading the wealth, these mega-developments mostly service the wealthy, spawning more luxury stores, pricey sushi joints and high-cost housing.
There are signs of major pushback to this kind of development from more than just architecture critics. A coalition of activists, residents and politicians, including Representative Alexandria Ocasio-Cortez, deep-sixed Amazon's dream of a facility occupying 4 million square feet on the East River in Queens. They and other opponents of the project argued that its promised economic benefits—some 25,000 jobs, for instance—weren't enough to outweigh the nearly $3 billion in tax subsidies.
"I think," said city planning expert Richard Florida, "the urban economists got it wrong."
But developments like Hudson Yards and others in cities from Seattle to Washington, D.C., aren't going to face the wrecking ball anytime soon. The real questions: Can this sort of urban development, which serves the upper classes so well, create good jobs and housing for the middle class? Can the wealth be spread fairly? And if we agree these are worthy goals, how can they be achieved?
Answer: Not easily.
Everyone knows that the look, feel and character of many American cities have been changing for years—from Baltimore's Inner Harbor development to the Big Dig in Boston. And for good reason. You have a barely used wasteland, like the home base of Hudson Yards. Or a dumpy waterfront, like Baltimore's Inner Harbor. Or a strange brew of roads, bridges and neighborhoods in Boston.
Why not develop an area that would attract tourists and workers—and bring in tax revenues at the same time? And maybe eliminate a traffic jam or two?
As Partnership for New York City CEO Kathryn Wylde said of Hudson Yards, "If anybody looks at what [was] invested and compares it to 50 years of vacant, dead space, creating no jobs and contributing nothing to the tax bills, it's hard not to see the benefit."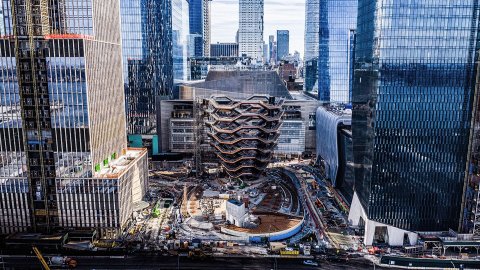 It's an approach articulated by Florida in his hugely influential 2002 book, The Rise of the Creative Class. The popular theory held that cities could inject vibrancy into their downtown area by courting members of what Florida called the "creative class," a mix of artists, intellectuals and college-educated millennials. Their arrival, he argued, would attract better employers, lead to the inevitable creation of new jobs and boost tax revenues. City leaders could appeal to them with quality-of-life amenities, such as parks, vibrant nightlife options and restaurants, and offer generous tax breaks to lure real estate developers and persuade high-tech companies to set up shop.
A small group of coastal cities and technology hubs, like San Francisco and Austin, Texas, roughly followed Florida's blueprint. Wealth, jobs and tax revenues rolled in, just as Florida said they would. But negatives also emerged. In the case of the mega-projects, many of the workers who staffed the stores, restaurants and office buildings were pushed out of the local housing market and forced to move farther away, to areas with lower rents, and cope with long, expensive commutes if they wanted to keep their jobs.
For example, according to New York University's Furman Center for Real Estate and Urban Policy, in 2000 a family that earned 80 percent of the local median income could afford more than 77 percent of the available rental units in gentrifying New York City neighborhoods. By 2014, less than 50 percent of the units were affordable to these families. Meanwhile, homeownership in many U.S. cities has plummeted, and families have been increasingly priced out. Between 2000 and 2015, the median home price in Washington, D.C., soared more than 228 percent. In Portland, Oregon, it rose about 130 percent.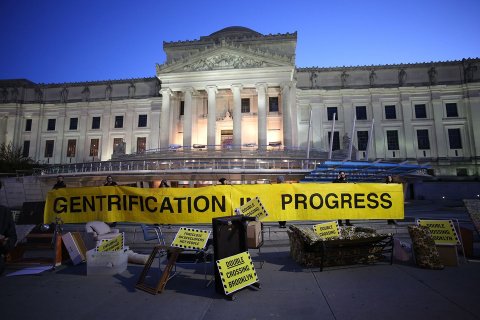 The pace and ferocity of the metamorphosis shocked Florida and other urban development experts. "If you look back to when I wrote [the 2002 book]," Florida tells Newsweek, "no one would have imagined this—no one. Not a single mayor, not a single urban pundit, not a single urban economist…. And it has happened in a flash."
Florida's second thoughts about the urban development boom were evident in his 2017 book, The New Urban Crisis: How Our Cities Are Increasing Inequality, Deepening Segregation, and Failing the Middle Class—and What We Can Do About It. "Developers build…rich people housing," he says. "Because that's where their profit margins are because land is expensive in places like" Manhattan. So how is this problem solved?
Florida says cities must require developers to build more middle-class homes if they want to move forward with a particular project—and receive the massive tax breaks that go along with it. (Hudson Yards? Nearly $6 billion worth of tax breaks, according to press reports.) "You have to make provisions to build affordable housing just to round this out," he says.
Joel Kotkin and Wendell Cox, in a recent report called "Beyond Gentrification" from the Center for Opportunity Urbanism in Houston, argue that cities like Dallas, Chicago and Los Angeles can help ease the affordability crunch by opening land on the urban fringe and building more housing attractive to the middle class, like single-family homes and larger, multi-bedroom apartments. Ingrid Gould Ellen, director of NYU's Furman Center, concedes there's "no magic bullet" but tells Newsweek that building up good public transit is critical. That way, people can live farther away from the expensive urban core and more easily keep their jobs.
Other measures include discouraging the 1 percenters from buying inner-city land by placing a tax on homes that aren't the buyer's primary residence. (Good luck with that—are the rich really all that bothered by a puny tax when they can afford a $5 million condo or house?) Similar taxes are on the books in London, Paris and Vancouver, British Columbia.
Whatever the solutions, don't count on developers like Ross to play ball with critics like Florida. Ross, predictably, defends Hudson Yards and the subsidies to build it. The tax breaks were "a way to grow a whole new part of New York," he argues. "Look, today we have a lot of politicians who are extreme left…. They killed the Amazon deal. It's like the popular thing for them to do right now. That's not where the mainstream is."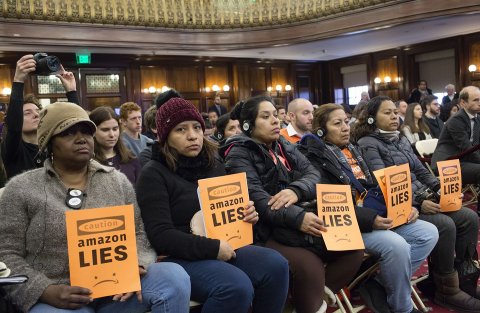 Ken Himmel, president and CEO of Related Urban and the man who put the massive seven-story retail and restaurant component of the Hudson Yards project together, offered a different explanation for the criticism. "I think it's because no one is taking the time to understand what this is," he says. "There's something here for everybody."
In the end, economic factors—like the real estate crashes in Florida and Arizona a decade ago—will force the issue long before lawmakers do. Inventory gets too large, and housing developments come screeching to a halt. Home prices decline. Rolex and Tumi may even decide they don't need yet another store in a hot urban neighborhood. Ever see a dying shopping mall? Nobody had to pass a law to send all the retailers packing. The online stores helped take care of that.
Maybe building middle-class and low-income housing will come into vogue. And maybe developers, the 1 percenters and the rest of us can live together.