In anticipation of the 50th anniversary of NASA astronauts landing on the moon, Newsweek is spotlighting pioneers in science and technology, highlighting their very own moonshots and how they hope to change the world.
Sukhmeet Singh, the founder of A2P Energy, which stands for Agriculture 2 Power, is tackling a big environmental problem in Southeast Asia: straw burning. After the harvest, grain farmers set fire to the wheat and rice stubble that's left over to make room for the next planting. Burning is the cheapest way to clear fields, but it is a big contributor to massive air pollution in places like New Delhi. Singh and A2P Energy instead buy straw from farmers and process it into a range of pellets that can be burned as fuel, fed to animals or used to enrich soil. A finalist in the Mohammed bin Rashid Initiative for Global Prosperity's Sustainable Energy challenge, a contest for up to $1 million in funding for entrepreneurs launched by the crown prince of Abu Dhabi, A2P says it has so far kept more than 1 million pounds of CO2 from being emitted into the atmosphere.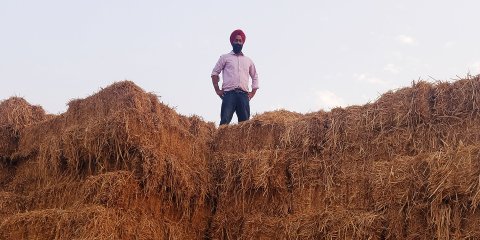 What is your moonshot?
Every year 35 million tons of straw are burned in northern India in just September and October. I want to turn all of that straw into clean fuel for industry.
What is the inspiration behind this idea?
All the straw being burned has a significant negative impact. New Delhi ranked as having the worst air quality in the world in 2018. The air has 20 times more polluting particles than the World Health Organization recommends. And children in Delhi have smaller lungs than children in the U.S. because of the air pollution. The economic and health costs of this are estimated to be $30 billion in a single season, 1.5 times the Indian budget for health and education.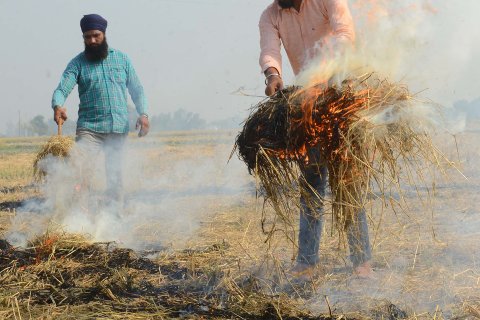 How does A2P work?
We make different several products. Our first—fuel—is made from straw and replaces conventional fuel like wood and coal. Other products include a particle board made from rice paddy straw, like what you'd find in furniture at Ikea. We also make bio-char which is a more eco-friendly replacement for coal that's used as a soil nutrient.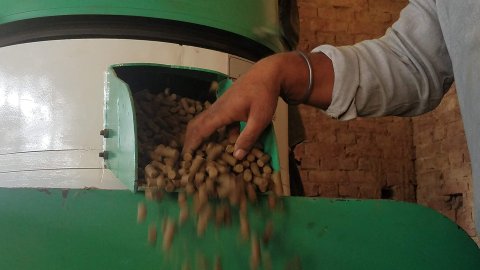 How do you get the farmers involved?
Governments want farmers to put the straw back into their fields instead of burning, but farmers don't want to do that because it hampers the next crop and can increase the presence of pests. They say if the government wants to do something about the straw, the government can take it. But there's no available land for storage. We decided to buy the straw from the farmers to help them generate extra income and then make products that are high value for industry. We also help them buy machinery for straw collection.
How do you determine which farmers to partner with?
We use satellite data from NASA, which lets us see how and where the straw is being burned. Then a machine-learning algorithm scans the images and tells us which fields have straw that is continuously being burned.
What have you learned from people who try to tackle similar problems?
There are reasons why other people are not doing this type of work. Straw is very hard on any machine used to process it. My co-founder and I put our backgrounds in academia and industry to work and did extensive research on the subject.
How close do you feel you are to overall success?
We finally have the perfect model in terms of the right machinery. Now we have to scale up; we need multiple manufacturing plants to justify the cost and achieve more success.
What is your biggest obstacle?
Funding. Venture capitalists don't like this kind of business where we're building manufacturing plants; the turnaround cycle on their investment is much longer than they prefer. We need people to understand the value of what we're trying to build. We're not just a profit-focused organization.
What do you see the world being like in 20 years if you are successful?
I see a world where farmers earn additional income, where we have clean air in Delhi and where children can breathe normally.