Daniel Birnbaum, the American-born CEO of the Israeli company SodaStream, is on a mission. But whether that mission is to make millions of dollars selling fizzy water makers, to promote his personal brand of Zionism, or a combination of both, depends on whom you ask.
SodaStream is navigating a complicated political landscape in which private companies are often called on to defend the state of Israel and engage in public diplomacy, providing a shield for some of the government's most controversial policies. And Birnbaum, a public figure in Israel, wants to appeal to a liberal, humanitarian audience largely based overseas.
In the middle of the Negev desert, just a little over 10 miles from the conflict-ridden Gaza Strip and next to the world's largest Bedouin city, Birnbaum has opened a factory that employs Jews, Palestinians and Bedouin men and women who work side-by-side.
Bedouins have the highest poverty and unemployment rates in Israel, and it is rare for Bedouin women to work outside of the home. In the Soda­Stream factory where young Bedouin women manage teams of Palestinian and Jewish men, they tell Newsweek that they are treated with respect by their male colleagues. The factory has prayer rooms for both Muslims and Jews, and employees are permitted to rest while they're fasting for religious holidays. Birnbaum has personally fought to obtain work permits for the 120 Palestinians employed in his factory so that they can travel from the West Bank past the Israeli checkpoints to get to work.
But even the decision to build SodaStream's factory in the Negev has been colored by politics.
SodaStream moved its factory from the Israeli settlement of Mishor Adumim in the West Bank to Rahat in the Negev desert in 2015, and some say that this decision was the direct result of the Boycott, Divest and Sanction (BDS) movement, a campaign modeled after the campaign to end apartheid in South Africa.
Omar Barghouti, the founder of the BDS movement, said that he sees SodaStream's closure as a success that is "in line with our commitment to end Israel's violations of Palestinian human rights."
SodaStream, however, says that it moved the factory to the Negev because it needed more space to continue its expansion, and company representatives deny that BDS played a role in the decision.
Still, the BDS movement was somewhat successful in European markets like Sweden, where many potential customers refused to purchase the products of a company perceived to be profiting from the Israeli occupation. And after the company left the West Bank and publicized itself as a brand that promotes harmony between Israelis and Palestinians, its revenue has increased. In 2016, sales in Western Europe increased by 15 percent. The company brought in a record $171.5 million in the last quarter of 2018.
Employees say that this success was a result of their rebrand as a company that focuses on sparkling water instead of unhealthy soda. But it's impossible to ignore the political messaging embedded in SodaStream's recent success.
When SodaStream first announced that it would leave the West Bank, the company's Palestinian workers lost their jobs.
Observers note that Birnbaum succeeded in obtaining work permits for SodaStream's Palestinian employees after releasing an emotional video in which he apologized to his Palestinian workers for political dynamics that prevented the company from continuing to employ them.
"It's created from the beginning with subtitles in English," Shir Hever, a political economist focusing on Israel, told Newsweek about the video. "They were giving a very direct signal to the government," said Hever. "I think that had a very successful impact to get the Israeli government to offer more permits [to Palestinian workers]." The video has since been taken offline.
According to the 56-year-old CEO, his vision for SodaStream is intricately linked with the fate of Israel itself. He describes his decision to move the factory as an extension of former Israeli Prime Minister Ben Gurion's dream of developing the desert.
"I think they are one and the same," Birnbaum told Newsweek about the fate of SodaStream and Israel. "It's called Tikkun Olam. It's a very fundamental value of Judaism, which means betterment of the world. That's our purpose. I want to make sure that through our work here we make society better, we make Israel better and stronger, and I think that's reflected in how we operate."
With this in mind, Birnbaum hired a social worker at the SodaStream factory to help employees with any problems they might have at home. The factory also aims to employ an equal number of men and women. Of the around 700 Bedouins now working in SodaStream's factory near the city of Rahat, around half are women. The first Palestinian woman began working in the factory a month ago, he says.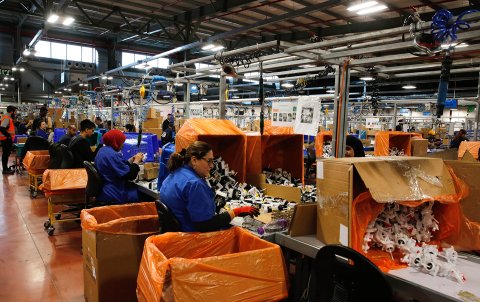 "Palestinians and Israelis, we are trained to hate each other. Everybody told us that we have to be afraid of each other," Birnbaum told Newsweek. "That's the state of mind right now in this part of the world. And here we come and we're able to prove that wrong. How cool is that? All of that is some version of Tikkun Olam."
As he walks around the factory explaining how each machine makes cylinders and molds that become the ubiquitous SodaStream machine found in millions of homes worldwide, Birnbaum greets employees by name and shouts "Ramadam Kareem," a blessing for the Muslim month of fasting. Several of the employees tear up when they talk about him. "It's like he's one of us," said a Jewish assembly worker named Mirta from Argentina.
SodaStream pays most of its factory workers around 20 percent above minimum wage and provides them with transportation to work and subsidized meals, company representatives say. The company is also in the process of opening an on-site preschool facility.
Birnbaum says that making his employees happy is more important than shareholder value. "It's about the mission. Shareholder value will come."
This is a surprising attitude to hold when Pepsi Co. recently acquired your company for over $3 billion. But Birnbaum believes that socially responsible practices are also good business, as SodaStream attempts to attract a broader international client base.
Birnbaum's outlook also raises questions about the role of the private sector in Israel. Can a company represent the aspirations of a nation? How does capitalism overlap with nationalism and Zionism? To what extent does a country reflect its economy and vice versa?
"Birnbaum speaks like a liberal Zionist. There is a movement like that in Israel. It's not unheard of. But he is the only one who speaks like that as a CEO," Hever told Newsweek.
"SodaStream's way of handling the pressure against them with the BDS movement and the various pressures of a boycott makes them stand out," said Hever.
Avi Weiss, an economist and the President of the Taub Center, an institute focusing on social policy in Israel, notes that SodaStream's political messaging is unique, but there are other industries, including the pharmaceutical industry, where Israelis and Arabs work side-by-side without conflict.
"In those industries, you find everybody living together, working together, with no type of discrimination issues," Weiss told Newsweek. "But SodaStream has made a point of giving employment to people who would otherwise have difficulty finding employment. This was true when they were in the West Bank and when they moved to the south with the Bedouin workers."
The decision to move from the West Bank, giving up some of the perks the Israeli government offers companies, hasn't made Soda­Stream immune to criticism. Some critics now argue that SodaStream is helping promote a modern version of the Prawer Plan, which encouraged the Bedouin population to give up their traditional agricultural practices and move into urbanized communities to provide cheap labor for Israeli businesses.
Although the Bedouin community is the poorest in Israel, the BDS movement's Barghouti says that SodaStream is playing a positive role in the Bedouin community in the same way that "white settlers played a positive role in civilizing the American Indians." According to Barghouti, SodaStream is contributing to the destruction of the Bedouins' traditional culture.
Soda Stream's investment in the Negev is part of a broader trend. Daniel Gordis, an author and Senior Vice President of the Shalem College in Jerusalem, notes that there is a major push to develop Israel's Negev region.
"Israel is moving its whole army headquarters from Tel Aviv to the Negev, and a whole city is sprouting up with everything that's attendant there, commercial, residential, schools, medical services," Gordis told Newsweek.
"Ben Gurion had a very famous statement that is quoted often, that the gumption of the state of Israel would be tested in the Negev, because it's the most uninhabitable and also the largest. So his argument was that if we ever want to make a go at it, we have to prove that we can live in that part of the country," Gordis continued. "So tapping into this idea is a very Israeli thing to do."
Some critics, however, argue that Birnbaum's form of Zionism normalizes occupation and promotes a form of economic neocolonialism.
"There are a lot of Israeli politicians who have a very similar line of reasoning, who say that through economic cooperation we can make peace. The Israeli politician who was most known for it was [former President] Shimon Peres. He called it the 'New Middle East,'" Hever told Newsweek. "Peres' New Middle East was criticized as a form of neocolonialism, and what Birnbaum is saying is not that different," Hever told Newsweek.
Perhaps coincidentally, Soda­Stream's head of global public relations, Yael Pedatzur Livne, was previously deputy spokesperson for Peres.
Despite these charges, SodaStream regularly promotes Palestinian and Bedouin workers to management positions, including 24-year-old Sharoq El Krenawi, a Bedouin woman who manages teams of men.
And Weiss argues that SodaStream is now providing employment to a Bedouin population that desperately needs it.
"This is the population that's suffering most. Fifty eight percent of the families and about 70 percent of the children are below the poverty line," Weiss told Newsweek.
On a hot day in late May, Birnbaum gave a tour of SodaStream's factory to a group of journalists from around the world. Following the tour, the company organized a "peace festival" that included an Iftar dinner for around 2,000 people to mark the end of a day's fast during the Muslim holy month of Ramadan.
The Iftar has special significance for SodaStream. The company came under fire in 2014 after it terminated the employment of around 40 Palestinian workers over a dispute related to a Ramadan meal. The night-shift employees discovered that there was not enough food provided for them after their approximately 16-hour-long fast. The workers, who had been prohibited from bringing their own food into the factory, "went on a rowdy strike" according to Soda­Stream management at the time. The manager on duty sent the workers home to eat, and the next day those who had left the factory were fired.
Five years later, the Iftar hosted by SodaStream was so extravagant that it left many of the Western observers amazed. The surrounding event was an unexpected blend of Eurovision song contest and political rally. SodaStream employees gave speeches during which they shed tears and claimed that the company meant as much to them as their own families.
Children sang songs and praised Birnbaum, who everyone calls Daniel. "My father makes soda, but really he says that he makes peace everyday," a little girl, the daughter of a factory employee, shouted from the stage.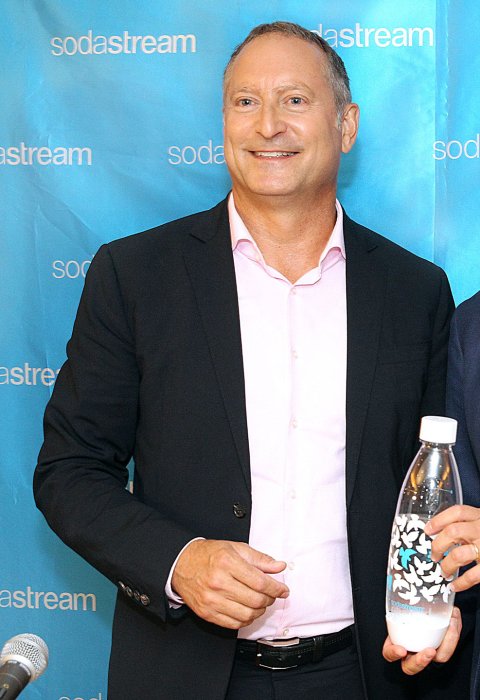 A large screen showed an image of a flying dove, and then a flock of real doves were let loose to fly over the people eating together. "SodaStream makes the wilderness bloom," one speaker said without a trace of irony.
U.S. ambassador to Israel David Friedman attended the event and extolled SodaStream's virtues. "This is the real peace," Friedman assured the guests. "It's a model that works."
Some Western spectators wondered aloud if they were missing something that would put this spectacle into context. Was it a sign of respect to show this much emotion? Was this purely a public relations stunt? Is SodaStream a cult and were the employees speaking under duress? All of these questions were asked by several of the Western observers.
"Forget drinking the Kool Aid," one European journalist quipped. "From now on, we'll call it drinking the soda water."
Israelis, however, said this display was entirely genuine. And none of the SodaStream employees seemed to question whether a company making millions of dollars selling fizzy water machines could be a catalyst for social change and a role model for a nation.
When Birnbaum reached the stage and began to shout words of inspiration to the crowd, it was hard to believe that he wasn't running for office. But the SodaStream employees insist that he doesn't have political ambitions. Instead, they describe Birnbaum as a man who is genuinely enthusiastic about fostering peace and multiculturalism through employment, even if he is a bit eccentric.
He's the kind of person who flies his employees to Honduras to clean up plastic waste and then shows up on a boat dressed like Jack Sparrow, they say. "That's just Daniel," one employee shrugged, recalling the anecdote.
When I left the dinner, Birnbaum, the Jewish CEO of a multinational company, had been hoisted onto the shoulders of some of his Palestinian employees and was dancing enthusiastically. His wide frame was captured on the big screen like a sports fan caught on camera during a game.
"What did you think of the event?" one employee asked me as we mounted the bus to leave the factory. "It's not a company, it's a political ideology," I responded, still watching the dancing Birnbaum on the screen out of the corner of my eye. The woman smiled. "Yes, it is," she replied.