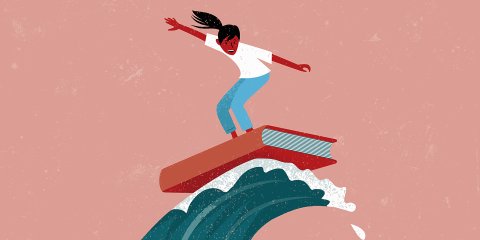 The summer of 2019 is speeding by—and the season has been one for the books, literally, when it comes to must-reads. The staff at Newsweek has compiled a list of 30 books of all genres to take with you on these final days at the beach, the pool or wherever you might be cooling off this August. Here are our top picks for fiction, mysteries, science fiction and nonfiction.
Fiction
A Woman Is No Man
By Etaf Rum
Harper | $26.99
Palestinian-American novelist Rum writes of the complexities inside the lives of Arab American women. She probes the dark and the daunting as she tells the story of a Brooklyn teenager navigating the wishes of a family who want her to marry.
Patsy
By Nicole Dennis-Benn
Liveright | $26.95
Patsy leaves her native Jamaica to reunite with her oldest friend, Cicely, in America. She leaves behind her young daughter, Tru, who wrestles with her own pursuit of self, in a way that mirrors her mother's more than either of them can know.
The Stationery Shop
By Marjan Kamali
Gallery Books | $27
The solace of a stationery shop serves as a haven in turbulent 1953 Tehran, and the backdrop for a powerful love story. Spanning decades and decisions, enduring love and devastating loss live side by side in Kamali's second novel.
In West Mills
By De'Shawn Charles Winslow
Bloomsbury Publishing | $26
Winslow takes us to rural North Carolina in this expansive story of individuality and community. At the center of this book is Azalea "Knot" Centre, who doesn't quite fit in.
Cape May
By Chip Creek
Celadon Books | $26.99
A young couple arrives in a desolate beach town to celebrate their honeymoon and shed their innocence. Things slowly boil over after they meet a group of not-so-innocent socialites who are intent on bringing the newlyweds into their web.
Ask Again, Yes
By Mary Beth Keane
Scribner | $27
Two families are rocked by the unthinkable when a mentally ill mother shoots her neighbor in the face. As their children fall in love and grow up, they're haunted by the events of their past in this complex family drama.
Searching for Sylvie Lee
By Jean Kwok
William Morrow | $26.99
When the eldest daughter of an immigrant family goes missing, what ensues propels us through the depths of a family's secrets, complicated discoveries and what makes us individuals.
The Nickel Boys
By Colson Whitehead
Doubleday | $24.95
The author of renowned bestseller The Underground Railroad returns with a stunning novel of Jim Crow-era Florida, where two young black boys are sent to a sadistic reform school, based on a real-life school that operated for 111 years. Whitehead again proves his abilities in this powerful and nightmarish story.
Fleishman Is in Trouble
By Taffy Brodesser-Akner
Random House | $27
When Toby Fleishman's wife doesn't return from dropping off their kids, he must work to understand what happened. New York Times Magazine writer Brodesser-Akner explores love, marriage and divorce in this urgent and witty debut.
On Earth We're Briefly Gorgeous
By Ocean Vuong
Penguin Press | $26
Vuong's debut unfolds in the form of a letter from a son to his illiterate mother. "Little Dog" writes of secrets and history in this stunning and poetic story.
Outside Looking In
By T.C. Boyle
Ecco | $27.99
The master of American storytelling turns his pen to the 1960s and the early days of LSD. Boyle's trip follows Timothy Leary and his merry band of grad students as their research spreads well beyond the academic.
Thriller & Mystery
Man of the Year
By Caroline Louise Walker
Gallery Books | $26
A sinister slow burn unfolds when a young interloper moves into a prominent doctor's guest house for the summer. Everything is not what it seems in idyllic Sag Harbor.
Tell Me Everything
By Cambria Brockman
Ballantine Books | $27
Brockman's novel of secrets and murder at a New England college will undoubtedly remind readers of Donna Tartt's The Secret History. Dripping with drama and mystery, Tell Me Everything is a page turner to the last.
A Stranger on the Beach
By Michele Campbell
St. Martin's Press | $27.99
Caroline Stark embarks on an affair with the handsome young man she sees from the window of her luxury Long Island beach house. But who is he really? And could one dangerous decision ruin everything? Prepare for A Stranger on the Beach to chill your bones, even if you're reading it on the beach.
The New Iberia Blues
By James Lee Burke
Simon & Schuster | $27.99
Louisianian detective Dave Robicheaux must navigate increasingly dangerous waters after the body of a young woman is found on an influential Hollywood director's property. Burke is at his best and will make you want to chew on the gritty details of a case over cajun shrimp on the Bayou.
A Nearly Normal Family
By M.T. Edvardsson
Celadon Books | $26.99
Swedish writer Edvardsson's electric legal thriller follows a family after seemingly typical 18-year-old Stella Sandell is accused of murdering an older man. A Nearly Normal Family is a uniquely organized and engrossing read.
An Anonymous Girl
By Greer Hendricks and Sarah Pekkanen
St. Martin's | $27.99
The duo behind The Wife Between Us returns with another compulsively readable psychological thriller. Jessica Farris signs up for a psychological study where she just has to answer a series of questions. But as those questions get more personal, it becomes clear that something more sinister is afoot.
Nonfiction
One Giant Leap: The Impossible Mission That Flew Us to the Moon
By Charles Fishman
Simon & Schuster | $29.99
Thousands of people had to accomplish herculean and seemingly impossible tasks in order to get us to the moon—and it's been 50 years since Neil Armstrong took that one small step. Fishman explains in dazzling form just how unbelievable it actually was.
Out East: Memoir of a Montauk Summer
By John Glynn
Grand Central Publishing | $27
What better way to close out the season than by immersing yourself in the salt and secrets of a Montauk summer? Glynn takes us with him to a house on the Atlantic where he spent a season finding friendship, love and himself.
Broken Places & Outer Spaces: Finding Creativity in the Unexpected
By Nnedi Okorafor
Simon & Schuster/TED | $16.99
When the author, a star college athlete, becomes paralyzed, her life has the potential to fall apart at the seams. Instead, she transforms her limitations into her greatest strengths, and in doing so, sets an example for others.
The Castle on Sunset: Life, Death, Love, Art, and Scandal at Hollywood's Chateau Marmont
By Shawn Levy
Doubleday | $28.95
If walls could talk the Chateau Marmont would have plenty to say. And talk it does, through Levy's history of the hotel's glitter and shadows. The escapades that took place within its bungalows will keep you entertained through plenty of sun-soaked days.
Underland: A Deep Time Journey
By Robert Macfarlane, W.W. Norton & Company | $27.95
How much do we really know about what's beneath us? Not much, you'll find, after diving underground with Macfarlane. This subterranean journey through time is as expansive and educational as it is interesting.
Range: Why Generalists Triumph in a Specialized World
By David Epstein
Riverhead Books | $28
Is it better to be a jack-of-all-trades than a master of one? Epstein probes the benefits of being broad through a series of stories and anecdotes that couldn't be more relevant in today's changing times.
Loonshots: How to Nurture the Crazy Ideas That Win Wars, Cure Diseases, and Transform Industries
By Safi Bahcall
St. Martin's Press | $29.99
Technologist and businessman Bahcall investigates the nature of radical ideas in this groundbreaking book that spans industries and time.
Three Women
By Lisa Taddeo
Avid Reader Press /Simon & Schuster | $27
Journalist Taddeo explores the intimacies inside the relationships of three women in this fascinating and true account. She expertly weaves together the stories of a high school student, a married restaurant owner and a suburban mother—each of whom represent the varied and profound experiences of female sexuality in America.
The Mastermind: Drugs, Empire, Murder, Betrayal
By Evan Ratliff
Random House | $28
Ratliff, a journalist, delivers a true crime masterpiece that'll keep you enthralled until the very last page. Multimillion dollar drug shipments, arms deals, North Korea—like the title implies, The Mastermind has it all.
Science Fiction
The Last Astronaut
By David Wellington
Orbit | $15.99
Former NASA mission commander Sally Jansen is the last astronaut alive on Earth. Retired for years after a catastrophic mission to Mars, she believes her spacefaring days are long behind her. That is, until an alien object heads straight for humanity—and she might be the only one who can stop it.
Salvation Day
By Kali Wallace
Berkley | $26
Long-buried and fatal secrets lie aboard an abandoned spaceship. When the virus that was hidden inside the vessel is reawakened, death hurtles toward humanity at breakneck speed.
Light From Other Stars
By Erika Swyler
Bloomsbury Publishing | $27
Young Nedda Pappas has grown up in Florida watching NASA race to the stars, but when her eccentric father builds a machine that changes the essence of time itself, she has to contend with things beyond the scope of known reality. An epic exploration of parental love, with a universe hidden in every sentence.
Vessel
By Lisa A. Nichols
Atria/Emily Bestler/Alloy Entertainment | $27
Astronaut Catherine Wells returns to Earth after a decade in deep space in which she lost all contact with NASA. She's the only surviving member of the mission, but she has no memory of the last 10 years. Nichols' eerie and taut storytelling speeds to its conclusion: What is Wells hiding, and what really happened to the rest of the crew?