It requires nerves of steel to take on Mitch McConnell, arguably the most powerful man in Washington. But Amy McGrath has already been to war and back, three times. The 44-year-old retired Lieutenant Colonel, an Independent-turned-Democrat, is challenging the self-declared Grim Reaper for the Senate seat he's clung onto since 1985.
McGrath has had tougher, though. During her 20-year career with the Marines, she became the first woman to fly in a F/A-18 fighter jet in combat and took on 89 missions in the Middle East, fighting Al-Qaeda and Taliban insurgents. When she retired into civilian life in 2017, she was dismayed by what she saw as a lack of action in Congress so she ran for office in a district that voted for Trump by 15.3 points. She lost by only three points—a small enough margin to encourage her to give it another go.
There seems to be hope. Within 24 hours of announcing her latest run, McGrath raised $2.5 million, the most ever earned in the first day of a Senate campaign. McGrath intends to run a campaign based on road maps devised by two successful red state fighters: former El Paso Congressman Beto O'Rourke and Alabama Senator Doug Jones. The O'Rourke model: visit every county and talk to as many voters as you can. Jones' strategy? Stick to kitchen-table issues and stress your willingness to work with Republicans.
She's already found a niche with Kentucky's coal miners, who she says feel abandoned by McConnell. They feature in a video by her campaign that has been viewed nearly 3 million times. But her campaign hasn't been without controversy; two miners featured in the ad said they did not know their images were being used for political purposes and asked not to be included. The miners claim they were told filming was for a documentary, but the McGrath campaign contends they were told what the footage would be used for.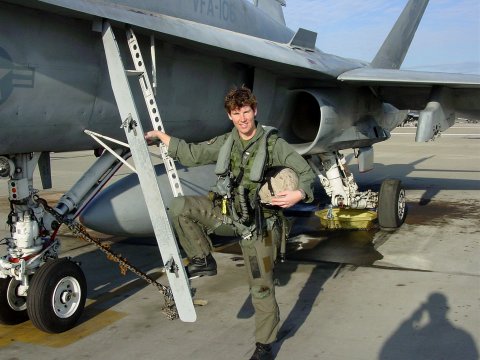 I spoke to McGrath in late August, after her meeting with members of the Black Lung Association in Eastern Kentucky, and again in early September. Here are some edited excerpts from our conversations:
You lost your House race, so why run for Senate?
I'm afraid that our younger generations have never seen a functioning federal government because of guys like Mitch McConnell. And so, to me, taking him on is absolutely not only something that I want to do, but something that I have to do. We all know this is an uphill battle. I mean, Kentucky is a red state, but to me it is worth it. Look at where we were in the midterms. I ran in a red district that Trump won by [almost] 16 points. People said we had no shot and we almost won.
The GOP say you're too progressive...
They don't have anything else, they don't have a vision. All they can do is throw a bunch of bullsh*t labels out at us. It's hilarious.
Your husband is a Republican and you were an Independent for many years. What changed?
When I was an Independent I believed the same things I believe now as a Democrat. I was an Independent because I was a military officer. I felt like that was the best thing to do because I wanted to be a leader and I didn't want to influence people under me in that way. But running for office, you've got to pick a side. And I'm certainly not going to be on the Republican side. Not with the lack of leadership and lack of courage that I'm seeing, selling out to big business and Wall Street. If it wasn't for Democrats in Congress back in the 1990s, guess what? I wouldn't have had a job in the last 25 years as a woman, I wouldn't be able to fly fighter jets. And so to me it was an easy decision.
How do you convince conservative McConnell voters to vote for you?
Mitch McConnell has been unpopular for a long time. I think there's this narrative that he likes to put out there that he has to be reelected because he's so powerful, "Look at me, I'm the Senate majority leader and I bring so much power to Kentucky." It's very simple for me. I say if he's so powerful, look at what he's done with that power. He didn't secure the border, he didn't fix the immigration system, he didn't do anything that we need to get done on infrastructure. Not only fixing roads and bridges, but 21st century infrastructure to revitalize places like Eastern and Western Kentucky and all these places where we really need roads. He didn't fix the opioid crisis which we're being ravaged by in this state. He didn't fix the health care system, the plan he put together to repeal and replace Obamacare was so bad that even President Trump said it was mean. My message to people is: Do you think that if you reelect him then all of a sudden he's going to change? It's been 34 years, he's not going to change.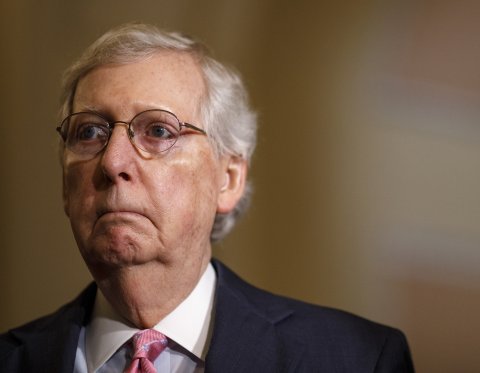 What drew you to coal miners as a campaign issue?
I think the miners are just really happy that their message is getting out. We as a country came together and said we need to help them, they need to have health benefits, they need to have a reasonable, modest pension. Now it's in jeopardy of not being solved and it could be fixed so easily.
How do you fix this if you win office?
The first thing we need to do is to protect the benefits, and that includes Social Security and Medicare, these programs that Mitch McConnell has said he wants to cut. Number two is we have to revitalize these regions that have been left behind. McConnell has no plan for the decline of that industry even though he watched it happen. That's my big message: We need leaders that go to Washington that say to the rest of the country, "We owe it back to this region because this region has powered our country." We need a new economy, bring in manufacturing jobs, work on education, work to fight the opioid crisis that is ravaging the region.
Will you campaign on McConnell's comments about cutting Social Security and Medicare?
It's something I'm going to remind people. McConnell has wanted to take away benefits for years and that he will continue to do it. That if we reelect him, he will work very hard to take away these benefits that hardworking Kentuckians have earned. He will do it in order to pay for his ridiculously irresponsible tax cuts for the wealthiest 1 percent and corporations that aren't paid for and have added $2 trillion to our national debt.
What do you think of McConnell's handling of election security?
As somebody who has spent her entire adult life defending this country, I'd say defending our elections is a fundamental part of defending our democracy. We need to do two things: We need to defend ourselves, and we need to have a policy that gives our adversaries that want to interfere in our elections actual consequences for doing so. One of the most important things that came out of the Mueller report is that we have a foreign adversary who not only interfered in our election in 2016, but is doing it as we speak, and we are unable—because of our political dysfunction and really because of McConnell—to even do the most basic things that people in his own party, in the national security community and the intelligence community say that we need to do. I trust Robert Mueller, I trust our intelligence community and I trust our national security community because I've worked with them my entire adult life. You know who I don't trust? Mitch McConnell.
What's your climate change stance?
If you don't believe climate change is happening you ought to ask every single leader of our military, because they're all planning for it. Climate change is impacting stability in areas where our troops are operating today. We're going to see mass migrations, instability around the globe, and we have to have a plan for that.
Are you a fan of the Green New Deal?
I think that's more of a theory, it's more of an idea. I'm somebody who wants to see actual policy before I make an up or down vote.
Let's talk about gun control...
I'll tell ya, I'm a pro-Second Amendment person, I'm a gun owner. I went to combat with a 9 millimeter strapped to my chest and a 20 millimeter cannon on the front of my jet. I'm no stranger to weapons. But at the same time, I'm the mother of three small kids, and my kids have to do school shooting drills. We have to do something about this. There are some basic things that most gun owners and most non-gun owners actually agree on and we haven't been able to get it done. Why? Well, it's not rocket science, it's the gun lobby. This most recent shooting in Odessa, Texas, if we would have had better background checks, he wouldn't have gotten a weapon. These are things that most gun owners want done.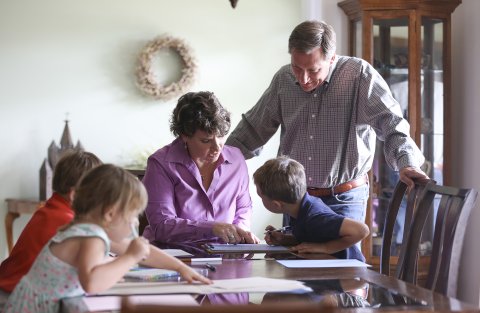 Do you support universal health care?
I believe that every American should have affordable and accessible health care, and I think that's very important. But we need to work within the system that we have to make it happen. The Affordable Care Act was a move in the right direction, but it was not a perfect piece of legislation. There were many holes in it. We need to fix it, we need to get prices down. That's why I'm for things like the public option…Every American should have the opportunity to buy a plan from Uncle Sam. That would force all of these private insurance companies to compete with the government plan and that's really important because it would drive down prices.
Trump is taking $3.6 billion of military funding to build the border wall. How do you feel about this?
Let me preface this by saying that I'm for a strong border. And we can do that, by the way, with better technology and better drones. We have them and it's way cheaper than building a physical wall around the border of Mexico. What happens when you take away military construction money? That's from military housing, repairs for our troops and their families to the houses and the apartments that they live from on base. That's what you're taking that money from, you're also taking it from childcare centers and construction. It's directly affecting our troops and their livelihoods and the things that they need that affect military readiness.
If you are in the Senate in 2020 and the president is reelected, impeachment will likely come up. What's your stance?
I think impeachment is a political question, and I think right now it would just be a waste of time because it's not going to go anywhere. The way to go is our elections.