Chairman and CEO of DICK'S Sporting Goods Stores Ed Stack grew a small family business from two storefronts into the largest sporting goods retailer in the country with over $9 billion in sales and close to 800 locations—and he did so with a sense of responsibility to the communities he serves. In the wake of rising gun violence and school shootings in the United States, Stack made a series of controversial decisions curtailing firearms sales at his stores, which culminated in the wake of the 2018 Parkland, Florida, school shooting, when he completely stopped selling assault-style rifles and raised the age to 21 for any firearms purchases. Since then, he has further limited firearms sales and spoken out on behalf of more restrictive gun laws—despite vocal criticism and boycotts from many of his formerly loyal customers—a decision he describes in the following excerpt from his recently published book, It's How We Play the Game.
In the immediate aftermath of the Marjory Stoneman Douglas High School shooting in Parkland, Florida, my wife Donna and I found ourselves feeling, at some level, a certain degree of guilt—one we shared with America's other political and corporate leaders. All of us, an entire generation, had shirked our responsibilities. We were failing the nation's children. We had to do something.
That weekend, I wrote a first draft of a position paper for Dick's Sporting Goods. It opened by saying how much respect we had for the young people behind the "Never Again" drive, and that our thoughts and prayers were with "so many of you that have lost loved ones, friends and mentors." But thoughts and prayers weren't enough, I wrote. "We need to take action to address this problem."
I then offered a list of recommendations. Some were vague—the first item on the list was "revision of gun laws," but others were aimed at specific targets: A "ban on assault-style weapons." A change in laws nationwide "to include 21 as the required age for buying guns." A ban on the bump stock, which modifies semi-automatic guns to allow them to fire their rounds in rapid succession. A nationwide waiting period for gun sales, during which a buyer's social media posts, as well as his or her criminal record, would be checked.
"I encourage our lawmakers to come together to find a solution to this problem," I wrote. "The country needs for you to put partisan politics aside and thoroughly discuss and pass a practical solution. We do not want to hear partisan discourse. This is too important."
I was in emotional turmoil when I wrote one of the final points I made in the document: "Until we are confident there are checks and balances that ensure we are not going to sell a gun to someone who plans to walk out of our store and kill, we are suspending the sale of guns."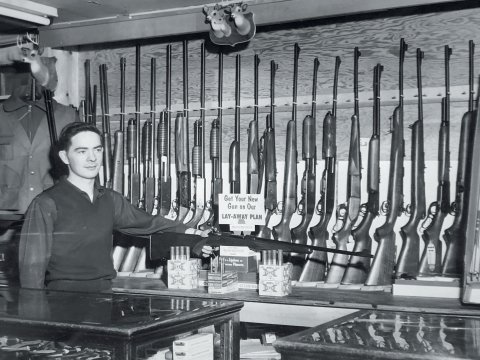 Monday morning, back in Pittsburgh, we convened a meeting of the leadership team. I said, "We have to take a stand. And we can actually do something about it—a small thing, maybe, but it's a start. And we should." I had the draft with me and started to read it—and halfway through, I got so choked up that I couldn't speak. Our chief of staff, Ami Galani, took the paper from my hand and read the rest of it.
All 10 people in the room favored most of the points I'd made. Just one caused concern—suspending the sale of guns. The problem, they pointed out, wasn't all guns—it was specific weapons. And what kind of impact would such a move have on the bottom line? I didn't care about that second point and said so. "Well, okay, CFO Lee Belitsky said, "but I'm just going to run some numbers so we have them. We're a public company, and the first thing everyone will want to know is how it will affect revenue and earnings.".
The conversation turned to discussing in greater detail just how extensive this suspension of sales should be. As a group we found it a tough question to answer fully. Here was the issue: the margin rate on guns was not great, but hunters bought not only guns, they also bought a host of other hunting products that are very profitable. All told, our hunting and outdoor business approached $1 billion in sales per year. Beyond that, hunting had been a mainstay of Dick's business since the company's earliest days. Did it make sense to needlessly alienate loyal, law-abiding Dick's customers who bought shotguns and deer rifles and who used them for legitimate sport?
Eventually, we reached a consensus that we might have more impact if we narrowed our focus down to the actual source of trouble—the guns favored by mass shooters. Which is to say, AR-15s and similar rifles, along with the accessories that went with them. You might think that we wouldn't have much at stake by pulling just the assault-style rifles. But guns are such a polarizing issue that we stood to lose a lot of customers. The people we'd anger didn't just buy firearms from us. They bought baseball gloves, running shoes and sportswear for themselves and their families. We estimated that the damage would amount to well over a quarter-billion dollars, at a minimum.
After much discussion, we figured we could offset the potential loss by boosting sales in other categories. Even if we fell short, I was okay with it. The choice seemed plain. If those kids from Parkland could muster up the courage to take their fight to the country, we had to be brave enough to make this move.
We made arrangements to consult with the board of directors. There was pushback, but ultimately, the board as a whole supported us, though not without questions. The board shares our fiduciary duty to our shareholders, and they wanted reassurance that we'd thought this through. Satisfied that we had, they gave us the green light.
Our leadership team, along with our outside public relations consultants, argued that if we wanted to have the greatest possible impact with our announcement—if we wanted to truly influence public opinion—we might want to go bigger than a press release. This is a big deal, they said. This deserves something more. So we chose to book an interview with one of the morning news shows.
So it was that at 7:08 a.m. on Wednesday, February 28—two weeks after the shooting—I sat with George Stephanopoulos on the Good Morning America set. By sheer coincidence, that was also the morning that classes resumed at Marjory Stoneman Douglas High School.
I told him how saddened we'd been by the attack, that we'd felt compelled to take action in response. We discussed the fact that the shooter had bought a shotgun from us even though he hadn't used it in the attack. That had been part of our impetus for taking the assault-style rifles off the shelves, I explained: "The systems that are in place across the board just aren't effective enough to keep us from selling someone like that a gun."
Stephanopoulos asked me, "Any regrets at all about not taking a move like this sooner? After Newtown, after Sandy Hook, you announced a temporary suspension of assault weapons sales but then came back to selling."
I answered, "We did. We said we were going to temporarily take them out of the Dick's stores, the Dick's Sporting Goods stores.
We never put them back in the Dick's stores. And then, in 2013, we developed a chain, Field & Stream, which was a full-on hunting and outdoors store. And we put them in those stores. But based on what's happened, and looking at those kids, and those parents, it moved us all unimaginably." I was fighting, here, to keep my voice from cracking. "And to think about the loss and the grief that those kids and those parents had, we said we need to do something, and we're taking these guns out of all of our stores, permanently."
"So yeah, no chance you're going to reverse this?" Stephanopoulos asked then, and my reply was, "Never."
"Are you ready for the backlash?" he asked.
"We are," I told him. "We know that this isn't going to make everyone happy."
Stephanopoulos changed tacks. "You want Congress to act as well."
"We do," I said. "We hope that they'll act and pull something together. We don't want to see the partisan politics, where one side espouses their position, the other side espouses their position, and they actually never do anything."
At the end, Stephanopoulos nodded. "It's a big move," he said. I walked out of the studio, relieved that it was over. Except it wasn't.
We were receiving thousands of letters. Many people were writing to thank us. Some said they'd never shopped at a Dick's store before but would now. There were so many warm, emotional comments from parents thanking us for making the world safer for their kids that I got choked up. I told my executive assistant to instead read me the nasty ones, so that I could get ahold of my emotions.
And oh, there were so many to choose from.
Soon after, about 65 of our own employees quit right away in protest, and more followed in later weeks, people up and down the organization. We have a cross-section of the country working with us, so it didn't surprise me that some were upset with us. But the negative backlash, hot as it was, was overwhelmed by the positive response to our decision. People came into our stores with donuts, pizzas and flowers for the staff. We got thousands of emails and letters. The manager of our store closest to Parkland emailed us the day after my TV appearances.
"Before yesterday, my community continued to struggle with healing," he wrote. "That began to change at 7:15 a.m. yesterday. Thus far I have received 42 phone calls of support and 17 walk-ins that wanted to speak directly with the store manager."
We seemed to have started a shift. And momentum seemed to be building toward something good.
Excerpt adapted from It's How We Play the Game: Build a Business. Take A Stand. Make a Difference. by Ed Stack, published by Scribner.