Kacey Musgraves is taking a much-needed break. The past year has been a whirlwind for the genre-bending musician, one that took her on an international tour and saw a coveted Grammy Album of the Year win for her fourth studio album, Golden Hour. Musgraves has proven her worth in a variety of genres. She's considered country by some, pop by others and can house her talents in the singer/songwriter category any day.
Musgraves seemingly hasn't had a moment to breathe since the album was released in March 2018. She picks up the phone with a cheer in her voice, relevant to the topic at hand. Throughout our conversation, she talks about her love of reinventing Christmas music, writing songs and the polarizing reaction that hooked fans of a multitude of genres to the soothing, otherworldly Golden Hour. She's spoken about it all hundreds of times, I can assume. Still, a wave of genuine gratitude is audible in everything she says.
"I don't think I have the human capacity to really put into words just how unbelievable the past chapter has been," she starts, when asked about the Golden Hour era. "I just never dreamed it would be received in such a way. As an artist, you hope that it will be received positively, but that's not why you make what you're making...it felt really good," she said. "It was a little bit of a change for me, and I was excited about that. But it's opened up a million little portholes to new worlds that I never thought were possible." Though she'll play a handful of music festivals next summer, she's now moving on.
Musgraves' impressive Album of the Year award is just one of six Grammys she's won since 2014. For the Golden Hour album alone, she swept her nominations, including best Country Song, Country Album and Country Solo Performance. Still, Musgraves has a long way to go in terms of acceptance.
While she's been nationally awarded for her successes, country music radio rarely plays the artist. She's easier to find on SiriusXM's Coffee House singer/songwriter station than she is in the genre she dominated this year. Her ghostly reputation on the stations nationally has been the subject of dozens of articles from top-shelf publications. Why, if everyone knows Musgraves' name, isn't her music celebrated on air as it is on stage?
The answer may be hidden in her lack of definition. Musgraves first broke into the country music scene in 2013 with the release of her album Same Trailer Different Park. Her song "Follow Your Arrow" was celebrated for its progressive lyrics which mention same-sex relationships and smoking marijuana, a break from classic country tropes, which are typically inspired by Southern morals. If she's still a country artist is widely debated. To Musgraves, it doesn't matter.
"I feel like you can't really say that I'm a country artist, and you can't really say that I'm not," she explained. "I'm from Texas. I sound country when I talk, I can't help that. Ultimately, I just love good music. I just wanna be wherever I have people who champion me expressing myself in whatever way that may come out."
Musgraves still seems mildly astonished at her own success. From the stance of her top-tier fame, it would be simple for her to stay stagnant. Though she's discovered a secret formula to crossing musical borders, wowing distant audiences and presenting a sound of authenticity that's rarely been matched, she's up for changing her whole routine again.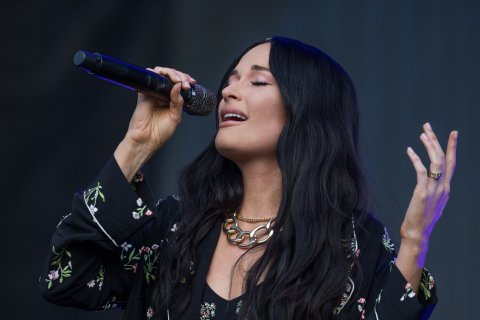 The success of Golden Hour came from its risk, Musgraves explained. "I think you can trick yourself into thinking 'Don't fix what ain't broke.' But that's not the way we get great music and great art in this world—staying complacent," she said. "I hope I still have the courage to poke around and see what's there."
Before the next creative project, though, Musgraves is taking a brief hiatus to unearth new inspiration. She created Golden Hour with a generous amount of writing time: a full year. Her next chapter is likely not far off, she explains, but it has yet to be identified.
"I think time is really the secret ingredient there. This business does not lend itself to having time. I'm looking forward to—in the next year—having that. Maybe traveling for fun," she laughed. "That's a novel idea. I haven't ever gotten to do that." She continued. "Living normal life and absorbing new vibrations and energy. I think I'll be excited to get to the next chapter, but I have to find it first. Or, rather, I guess it has to find me."
Recently, Musgraves has documented her trips to Japan, and her love of Japanese culture. She writes admiringly about her travels abroad, and often shares personal photos—often decorated in pastel colors—on her Instagram.
Musgraves also seems to bridge her love of small towns with her care for small businesses. In August, the musician began advertising for a Los Angeles photo studio on Instagram. The vintage photography haven was soon flooded by Musgraves fans, other celebrities and local visitors when Musgraves asked her followers to help "keep this charming business afloat." In less than a week, the Instagram account Musgraves created for the shop acquired 45,000 followers. Now, it's nearly reached 90,000.
In our conversation, Musgraves spoke about finding inspiration in the little things around her. She noted it's not just huge life events, but everyday moments, that prompt a new idea. With that concept in mind, it's easy to see how snaps from her travels and praise for businesses she cares for can spark change and new chapters in herself, and in others.
Musgraves explained that even in downtime, her creativity is ever-changing. She described it as looking for the next train to jump on. When asked what her professional goals are moving forward, Musgraves joked, "Has anybody ever played on Mars?"
In our conversation, Musgraves continuously circles back to the word "fun." Throughout talk of her passions, it seems her decision making lies in the emotional profit of an opportunity, rather than financial gain. In November, Musgraves released her first Christmas special, a project partnered with Amazon that brought her 2016 Christmas album, A Very Kacey Christmas, to life.
For Musgraves, the idea was to tie a sense of nostalgia with an album she loved making. In The Kacey Musgraves Christmas Show, her appreciation of family and classic television specials is paired with impressive guest stars and lighthearted comedy. Musgraves tries her hand at acting and "light choreo" as she calls her dance moves. It's a step in a new direction. She jokes. "Look, I'm a triple threat now. Everyone is gonna have to get on board with that."
But even with her newfound talents, or trucks full of Christmas glitter, Musgraves isn't rewriting her career goals anytime soon.
"My soul's passion is writing songs," she explained. "That's what everything else boils down to. If everything else had to go away, I would plead for the chance to still be able to write songs. It fills my soul with complete happiness. As long as I can have that, the other things are fun to explore, but whether I'm writing for myself or another artist, I feel like that's my mission here."
Musgraves' sense of self and confidence in embracing peace is not surprising. Each song on Golden Hour shares with listeners a bit of herself. It's like a pep talk from a wiser friend. Musgraves created the album to negate the social and political turmoil of the time, she told Newsweek. "Instead of ruminating more on that and putting those complaints out there, I just wanted to offer a beautiful hiding place for the people who feel affected by it."
That escape, the sound and the way Musgraves runs with her creativity all tie into her larger vision. "My main goal in life—I just want to be happy. Whatever that looks like," she reflected. "If that means touring, if that means making more records, if that means just being a songwriter, if that means abandoning it all and working on a horse farm. Whatever that is. I just want to have the freedom to figure it out and to make the kind of art that I want to make. I feel like Golden Hour has gotten me closer to total freedom of that."